This is the first interview of series, where we have decided to publish the first story of Bacancy's head of business – Harshil Sanghavi. Who has been working at Bacancy since May 2013 and reason behind Bacancy's success. Harshil is the father of two cute twin boys: Hrihaan and Hridaan.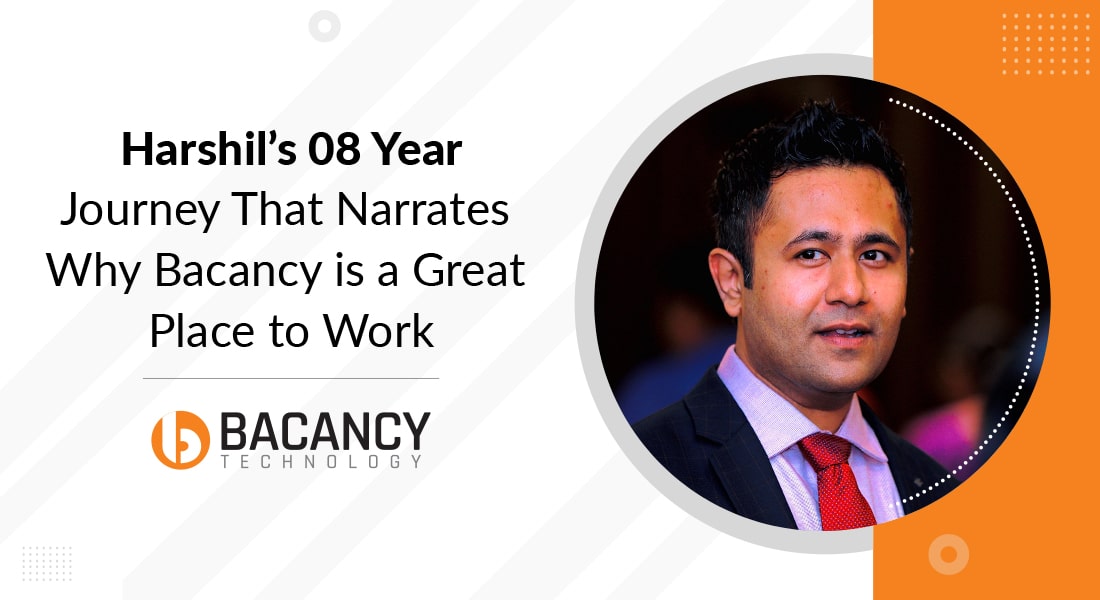 With Bacancy, how has your journey been so far?
My journey with Bacancy has been really amazing, and it's a great pleasure to be part of one of the fastest-growing IT organizations. I am associated with Bacancy for the past 08 years, and it feels wonderful to reach so far. Now I can proudly say that we are a team of 500 Bacancyers.
From business development executive to head of business, my techno-commercial role has allowed me to gain in-depth knowledge and extensive experience. At Bacancy, what I love most is the 'Trust' that directors put in myself. I have taken many business decisions, and the directors, Chandresh Patel and Binal Patel, have always supported my ideas."
In the 8 years, the company has diversified in different domains & verticals and have successfully grown from strength to strength.
Personally, how has work been for you here at Bacancy?
"I have been a part of the diversification process and got many opportunities as the company grew. I have seen how the business has grown from limited clients to where it is now.
It has been really a fruitful journey, and it all has all been possible due to the ingenious Bacancyers that work here as a team. Every individual makes sure to give 100% in their day in and day out to grow the business and support the organization's vision."
The work culture has been one of the main reasons the Bacancy has grown so well, and employees like me are since associated with the organization till today.
What has the work culture been like, according to you?
"The best part about the organization is the work culture. There's no organizational hierarchy. Every individual's ideas are being heard, and the best to the organization's vision is being implemented.
The work environment has always been top-notch, with everyone loving their roles and accomplishing their tasks with accountability.
What does the future hold for Bacancy?
"I believe Bacancy is in a sustainable position now, and the organization has a really bright future ahead. Bacancy has the potential to turn into something bigger with exponential growth in the near future.
If I have to specify about myself here, then I am still here, as motivated and as hungry as I was on my first day at Bacancy."
I hope you have found this post quite interesting, and every week, we will introduce you to star Bacancyers. If you don't want to miss what's happening at Bacancy, please follow us on LinkedIn, Facebook, Twitter, and Instagram to stay tuned.