Last Updated on April 5, 2023 | Written By: Paridhi Wadhwani
November 27, 2020
9
min read
Quick Summary: Communication is the underlying success factor in improving the health center and patient experience. In this article, we overview how the growth of the healthcare industry has hiked over the last decade, especially in the critical times of the pandemic. The barriers and challenges faced by the healthcare providers and the patients or healthcare service consumers can be overcome by implementing modern digital technologies like AI, IoT, Cloud Communication, and Blockchain.
Read in-depth about the 4 best custom healthcare applications aided by Cloud based solutions. How has the health industry grown over the years, and what amazing transformations are yet to be discovered? Check out the glorifying examples of cloud computing in healthcare.
Introduction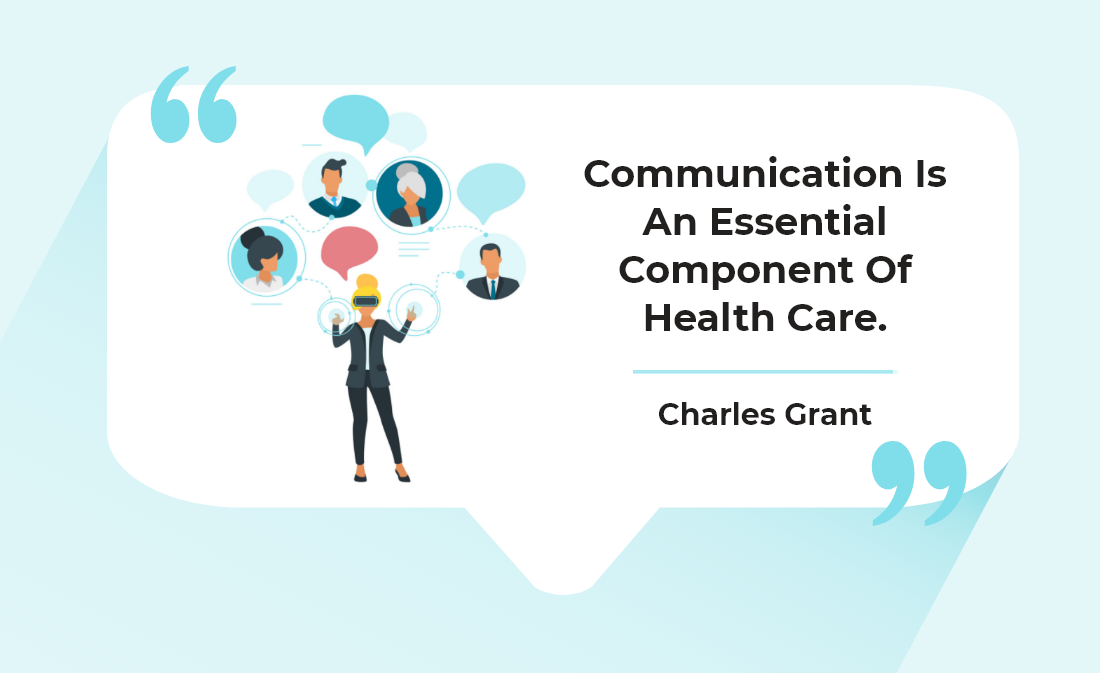 The above quote by Charles Grant emphasizes the significance of communication in the healthcare domain. A flawed communication medium can cost massive damage to the healthcare provider and patient relationship. Technology plays a crucial role in carrying out barrier-free communication, and the modern healthcare industry leaves no stone unturned to deliver the best patient care services.
Over the years, technologies like AI, IoT, Cloud computing, and more have helped the healthcare industry glorify their futuristic goals. Let us find out how the healthcare sector has evolved in the past decade and how it has impacted the world economy and patient lifecare.
Growth of Healthcare Industry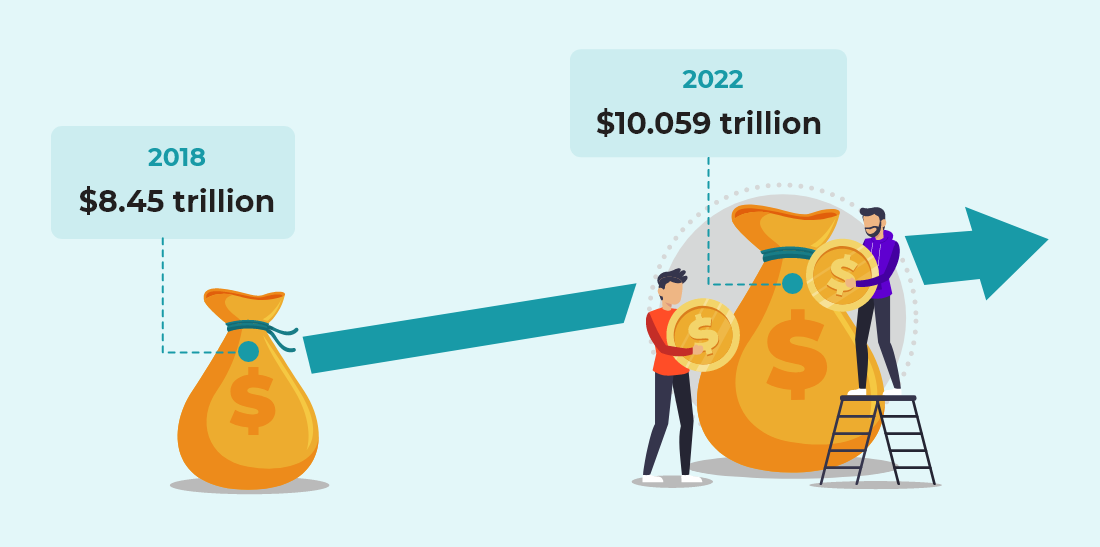 In 2018, the healthcare industry marked $8.45 trillion and was growing annually at 7.3%. Over the years, with the growing and aging population and unhealthy lifestyles, the rate of chronic health conditions has multiplied exponentially. As per the USA's current estimate, the market size will increase to $808 billion this year, 2020.
Since the COVID-19 pandemic hit the globe, there has been an influx of patients seeking emergency care in the time of crisis. Researchers predict that by 2022 the market will reach $10.059 trillion.
Digitalization in the healthcare sector has already begun as the industry, doctors, and patients have started implementing modern technologies like IoT, AI, blockchain, video consultation, etc. In the difficult times of the air-borne pandemic, getting in close contact and communication is a real struggle for the patients. Doctors prefer voice call consultation and telephonic services.
COVID-19: Disrupting the Healthcare Industry
Even after a year of this deadly pandemic's first instance, there isn't any cure or solution to keep it at bay. Initially, it was too troublesome for patients and doctors to execute routine tasks like making appointments, scheduling and rescheduling appointments, adopting new products and technology, hardware and software failures, and more. In such difficult times, cloud-based healthcare solutions like cloud-communications and API solutions are a boon to patients, that too, at affordable prices.
Cloud solutions for healthcare industry turn out to be convenient and safe for both doctors and patients. We have witnessed an incredible growth of telemedicine and telehealth apps during this pandemic. From a broadened perspective, if you look at cloud computing's business side, it reduces operational costs while delivering high-quality personalized healthcare services.
Also read: World Bank is Mitigating the Impacts of COVID-19 in the Health Sector
Communication Challenges For Healthcare Stakeholders
The healthcare providers, care-givers, and patients face unseen barriers that hinder them from availing and serving glitch-free health services. Let us analyze which challenges are stopping them from healthcare.
1. Hospital barriers
Tracing patient conversations- several patients call the hospital receptions and burst with their problems. Now most hospitals do not have track of those conversations, which are vital in preparing the solutions to their issues.
Monitoring patient experience- ddespite providing custom cloud based healthcare solutions, most hospitals still hold a bad reputation in the public's views. This happens because the admin staff is unable to trace the feedback from satisfied patients.
Performance measurements- medical departments lack a proper system for tracking agent performance.
Management of outbound campaigns- hospitals seldom arrange campaigns for the fit-healthy body, blood donations, and full-body checkups. But it is a challenge for them to preserve these databases.
2. Patient barriers
Making appointments- being technically keen to book medical appointments is a big task for most consumers. Thus, despite various healthcare applications, patients find barriers to making an appointment with the doctor.
Tracking appointments- patients are not notified in case of postponed or canceled appointments. This leaves an inadequate and unsatisfactory experience, especially towards the doctor and healthcare facility.
Sending alerts- specific reminders, calls, and alerts are still carried manually, like when a patient needs to be notified about their upcoming appointment or regular check-up. It takes a vast human effort behind such procedures.
3. Other healthcare service provider challenges
Managing distributed centers- when you have multiple healthcare centers under the same company, it is imperative to have a centralized database, which is the biggest challenge. Another thing to manage is customer communication, which is difficult to monitor.
CRM integration- Most healthcare service providers do not keep customer relationship management CRM software or keep one with limited functionalities.
Top 4 Use Cases of Cloud Based Solutions For Healthcare Industry
To overcome the barriers in healthcare communication and propel healthcare industry's growth, let us check out 4 best use cases of outstanding cloud based healthcare solutions. Also, learn about the types of cloud computing in the healthcare industry, and I hope you learn from these cloud computing examples in healthcare.
★ Mobile Healthcare Information Management System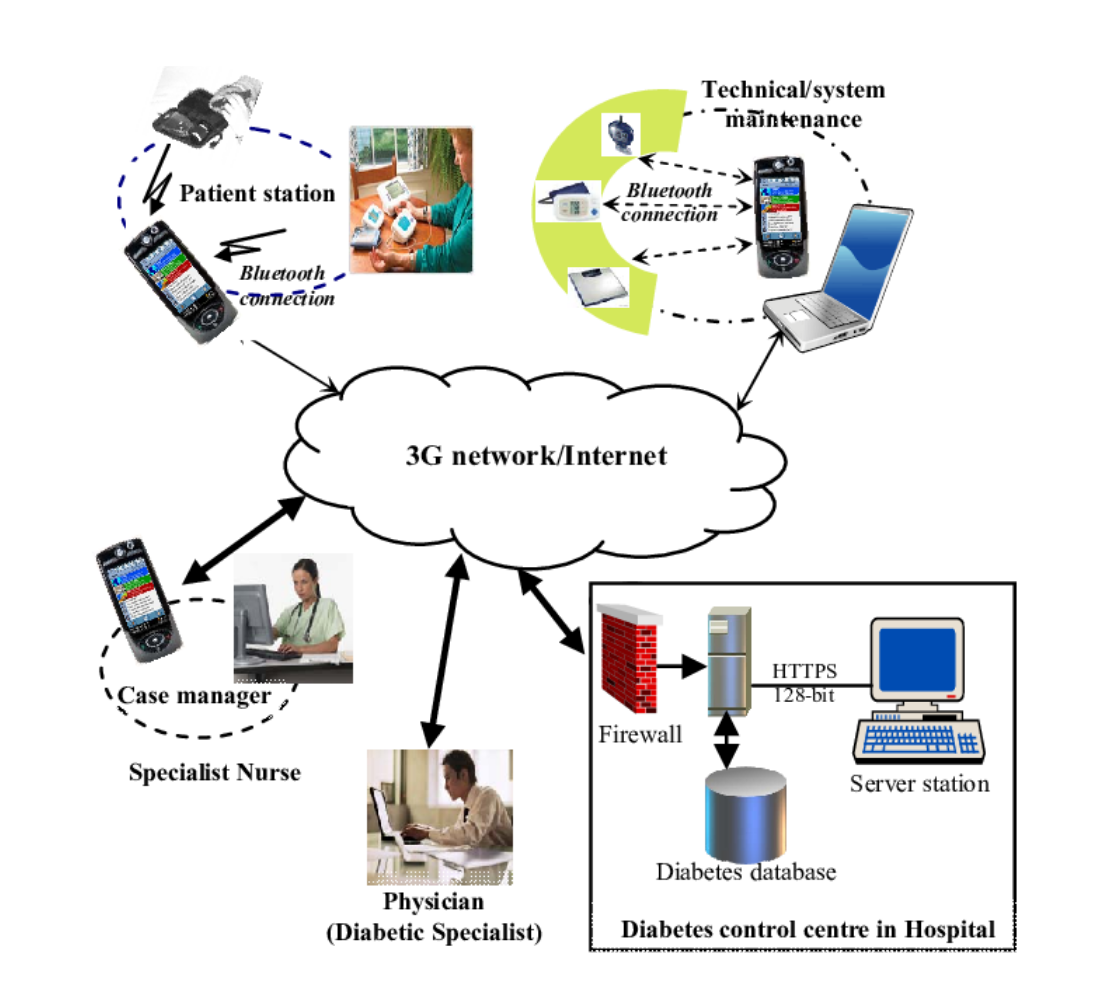 You can ubiquitously manage your healthcare information data, distributed, and pervasive process with the help of cloud computing. With a custom healthcare application backed by healthcare cloud communication in mobile systems, you can save and store electronic health records and update and retrieve the data.
Get image and media support with Google's Android operating system, which is evaluated by Amazon's S3 cloud service.
★ Cloud-enabled Wireless Body Area Networks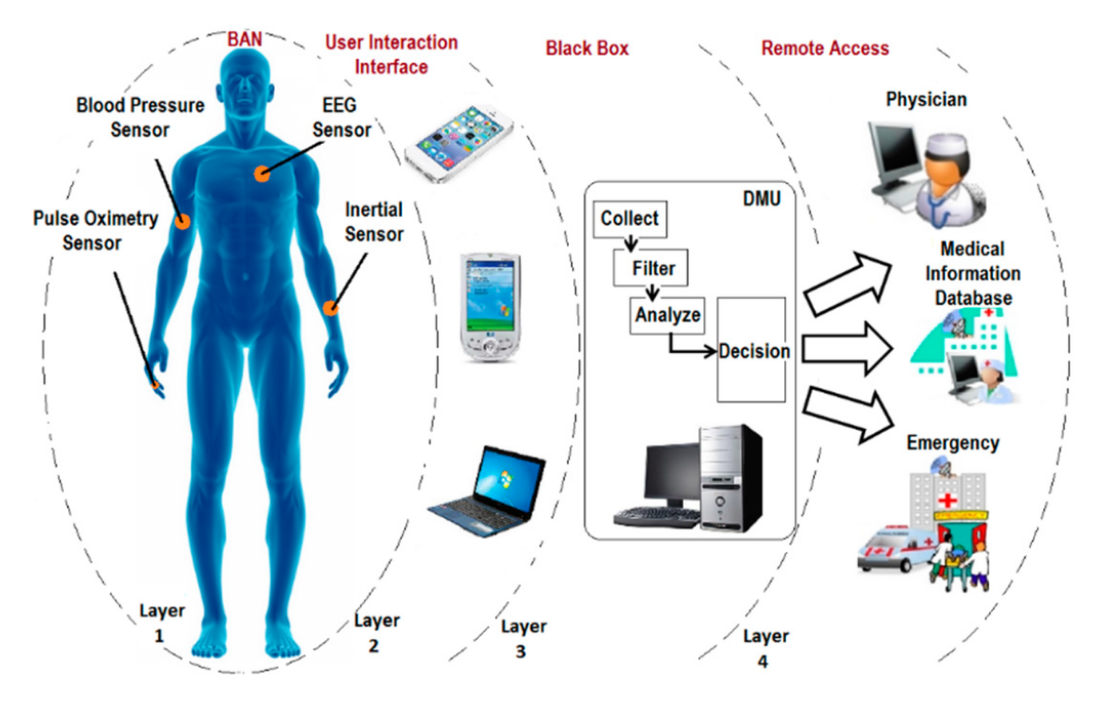 Pervasive healthcare solutions are now possible for massive deployment as you combine the wireless body area networks with cloud computing. However, combining mobile cloud communication (MCC) and wireless body area networks (WBAN) is not easy. There are several technical challenges for integration.
In this exciting amalgamation, we can leverage cloud computing's desirable features like cloud resource allocation, energy-efficient routing, data security mechanism, and semantic interactions.
★ Unified Communications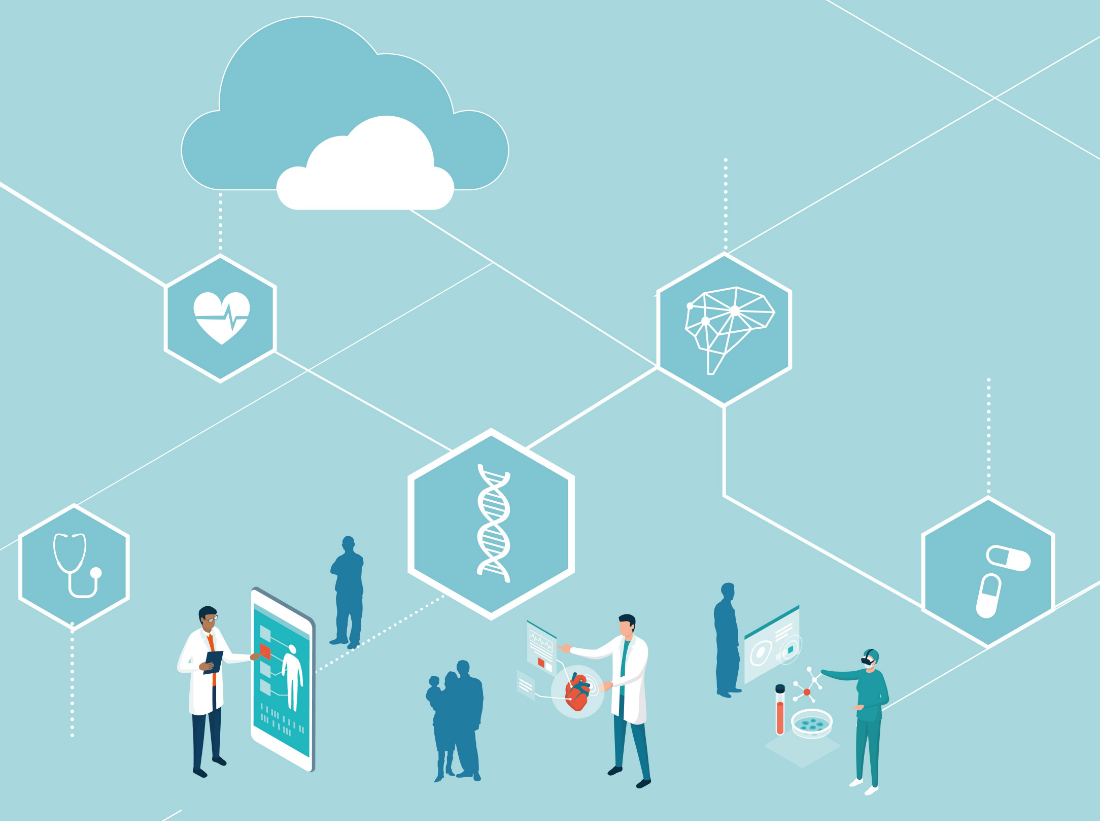 To avail full fulcrum patient care, much healthcare information is not sufficient. It would be best if you had knowledgeable colleagues and unlimited IT staff and support, along with collaborating with several IT aids. Here, we offer to combine cloud solutions with unified communications, voice, IM, web conferencing, video conferencing, mobility, etc.
Such unified communications prove to be successful in serving patients with aspired cloud based healthcare solutions.
★ Telemedicine Apps: Voice APIs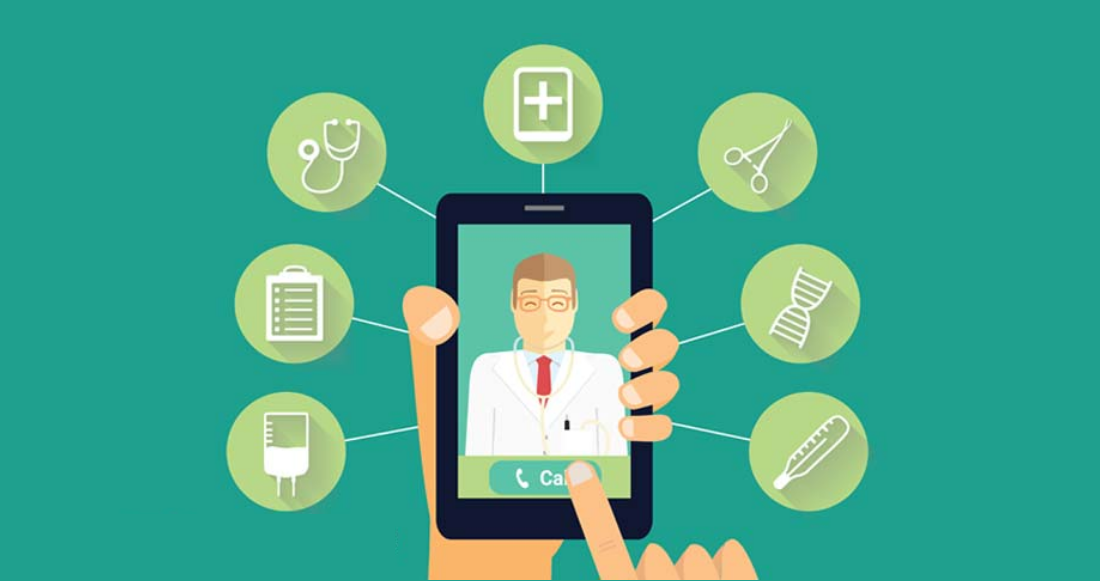 When you think about a custom healthcare application development, you should first think about the disabled and physically impaired patients who have difficulty in clear vision, hearing impairments, shivers, movement instability, and more. Certain elderly patients will not be technically-aided or comfortable using a smart device.
Keeping all the above criterias in mind, telemedicine applications are supported by fantastic voice-APIs that ensure that the user-interactivity is wholly achieved. After all, a healthcare app should be the most satisfactory for the patient first.
Advantages of Cloud Communication for Telemedicine
To give you a clear insight into how the benefits of healthcare cloud communication are inclined towards the growth of the healthcare industry. Below I have mentioned all the seen and unseen advantages of collaborating cloud solutions in custom healthcare application development.
Communication through a single platform: Both the caregivers and caretakers shall be relieved as the full contact occurs through a single platform. They are no more searching here and there for all patient information on a single platform.
Easy patient support: Healthcare cloud communications enable patients to be updated with their status like appointment time, rescheduling, report collection, and help desk. They can inquire about the primary and confusing FAQs.
Automatic reminders: The hospital staff need not take notes and fret about reminding the patients about their upcoming or rescheduled medical appointments. The cloud solutions for healthcare industry keep all the patient healthcare databases in the cloud and beep automatic reminders that make patient-hospital relationship easy-functioning.
Easy Feedback: Patients can now vent out their hospital staff's experience, nursing staff behavior, and doctor's recommendations by anonymously leaving feedback comments.
Accessible on any device: The best part of telemedicine apps is that they are available to all platforms-mobile, desktop, web, and even smart appliances. Patients and doctors can get in touch at any time of emergency.
Establish a secure connection always: Cloud computing and processing ensure safe connectivity, and all your crucial data is protected in the cloud servers.
Manage increased users easily: Mostly, hospitals are a mess when a peak viral or disease spread, just like in the current pandemic situation. Now that all the healthcare service is provided via the custom healthcare application, the cloud ensures that no matter the rush, all patients will be accustomed and hosted by the healthcare platform.
Provides 24/7 care: There are no day and night shifts while seeking online healthcare on telemedicine apps. Healthcare cloud communications avail 24/7 services, sometimes even by incorporating AI support or chatbots.
Ensures personal safety: Doctor's personal and patient's health information is highly confidential, and the cloud solutions keep such critical details discreet.
Cost-effective: Beyond doubt, cloud-enabled telemedicine is a highly cost-effective solution because there is no hassle of hospital errands, maintenance reductions, office, and administrative cost cuttings.
Updated health information: As the system keeps track of patient electronic health records EHR, the hospital staff, as well as doctors, can feed the latest health conditions in the updated database. This way, patients also can get proper healthcare.
Includes therapy and counseling: Doctors can provide custom health consultation and broadcast everyday health regime to their patients, generally maintaining a healthy mind and body. Even psychologists and psychiatrists can interact with their patients via video conferencing, which makes patients comfortable.
Offers COVID-19 consultations: How can we forget the significant big-time relief and advantage of the cloud-enabled healthcare software that are the most effective mediums for battling the deadly coronavirus. An airborne disease that spreads my mere contact and in close-vicinity.
Conclusion
You get how valuable such cloud communication aided custom healthcare software developments and make one such system; you need nothing but the best. Bacancy Technology is the best custom healthcare software development company that hosts experienced cloud architects that provide unique, cost-efficient, and intuitive solutions.
The risks of cloud computing in healthcare are nil, and as per the healthcare industry trends 2020, the applications of cloud computing in healthcare are more than valuable. Our proficient experts will explain to you how cloud computing is used in healthcare for the growth of the healthcare industry. By studying the healthcare sector growth, you should be convinced that by indulging in custom healthcare software development, your business will grow exponentially.