Quick Summary:
This blog post in the form guide will help you understand why Microsoft Dynamics 365 is a perfect fit for your small and mid-sized business. What benefits you will get after implementing dynamics 365 into your business, and how you can gain a competitive advantage in your respective field with this robust CRM platform.

Table of Contents
Introduction
Moving traditional businesses to digital platforms has become integral now. Every 3 out of 5 businesses plan to take advantage of this digital transformation. Robust CRM platforms, ERP software, and smart business applications have become a top priority for organizations globally.
Large-scale enterprises and MNCs have successfully adopted these systems into their business for hassle-free operations and revenues. But what about small businesses? For a startup or an SME, it is impossible to invest in such platforms initially. But that doesn't mean they will fail in providing better customer services and business solutions. So what is the solution? Here's Dynamics 365 For Small Business comes as a savior.
Running a small-scale business has always been challenging. The market is over-jammed with various technologies and business management systems that might confuse the business owners; which one to pick or leave? When it comes to starting a small business, it is obvious that a CRM system is not on your priority list.
But, as per the research conducted by Capterra, 65% of businesses adopt CRM software within their first five years. It takes contact management to a whole new level of refinement. Helping businesses capture and organize data and make more informed sales decisions based on customer data.
CRM is important, no matter what type of business you have. And Dynamics 365 business central comes as a great fit for the small business. Many organizations confuse with the dynamics 365 business central; they generally ask questions like-
Is it an ERP or CRM?
Is it available for small businesses, mid-sized or large organizations?
Can we use it for our startup?
So, let's get started to dig into detail about how Dynamics 365 helps a small business.
Microsoft Dynamics 365: An Overview
Dynamics 365 is a cloud-based system that addresses the ERP (enterprise resource planning) and CRM (customer relationship management) requirements with dozens of applications and other functionalities. Microsoft released this product in 2016 to help businesses improve their sales and customer service operations and enhance the employee's experience.
This system comes with an inclusive suite of productivity tools that help organizations boost their customer relationships with expedite communication.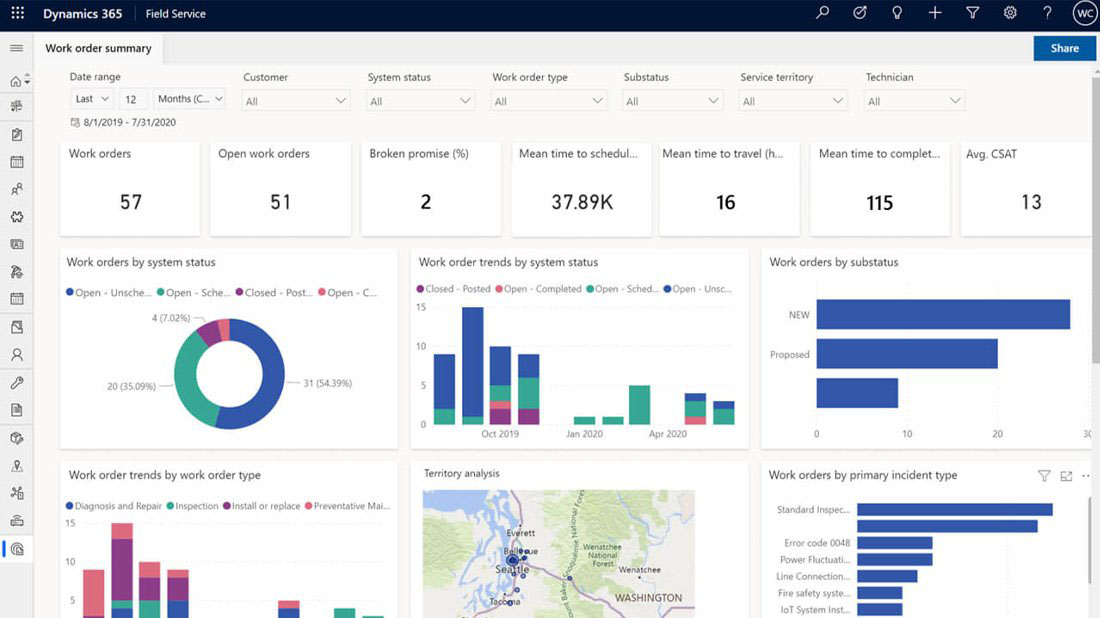 In a nutshell, Microsoft Dynamics 365 incorporates-
Flexibility
Effective productivity
Better Usability
One-stop platform for all business apps
A better understanding of customers
Moving on, let's discuss-
What is Dynamics 365 Business Central?
Dynamics 365 business central is a product of Microsoft which is specifically designed for small and medium businesses. It is a platform that connects all the operations across your mid-sized or small business.
The dynamics 365 business central allows you to discover how to work smarter by connecting all your teams with a single solution. Whether sales, service, finance, or operations, your teams can adapt it faster and deliver better results.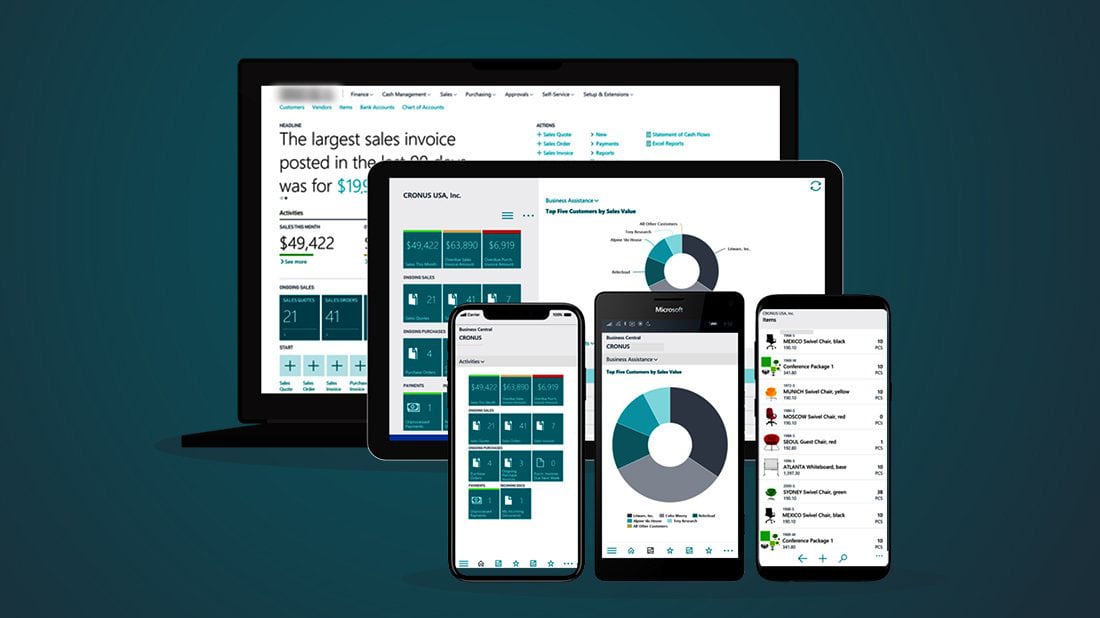 Business central comes with a few robust CRM capabilities that let you "Sell smarter and improve customer services."
Dynamics 365 business central will help you in-
Work smarter and faster
Streamline financial management
Accelerate sales processes
Deliver exceptional customer service
Facilitate project success
Drive supply chain optimization
Optimize warehouse management
Provide optimal manufacturing outputs
Adapt as your business grows
Why is Dynamics 365 business central the ideal choice for small businesses?
Dynamics 365 for small businesses is an ultimate business management system with big plans, rich features, and advanced functionalities. As a small business, you might be looking for an easy-to-use, scalable, customizable, and affordable; Dynamics 365 has all.

In this section, we have mentioned a few critical reasons to help you understand why Dynamics 365 for small business is the perfect partner for you.
1. Business insights
One of the biggest advantages of using Microsoft Dynamics 365 is its insights and analytics. This platform comes with a robust ability to gather data from a variety of sources. The system puts all the critical information together to deliver crucial insights. No matter what type of data your teams are required, this system takes less time to collect and analyze the relevant data and provide it to the respective teams to make informed decisions.
2. In-house department connectivity
Microsoft Dynamics 365 is a perfect combination of CRM and ERP that benefits organizations in connecting their various departments. You can bring all your teams together and coordinate from sales, marketing, customer service to finance and operations. Another best thing about the department's interconnectivity is anyone can access the collected data anytime and anywhere. Nobody needs to ask about sharing data personally or through other sources; they can easily get the data from the shared platform and use it in making decisions.
3. Broad business support
As discussed earlier, dynamics 365 is available for all teams in the organization; anyone from any team can access it. Whether a marketing professional, a sales personnel, a finance person, or even an admin, people can access the required reports and data anytime. Moreover, dynamic 365 offers an amazing feature known as field services, which lets you efficiently schedule your important or daily meetings.
4. Scalability
Another critical Microsoft Dynamics 365 benefits is it lets you grow with the running market trends. It is scalable, helping you with robust customer engagement processes and better sales collaboration. Moreover, the system helps you drive more innovation, mobility, better accessibility, and security.
Benefits of Dynamics 365 for Small Business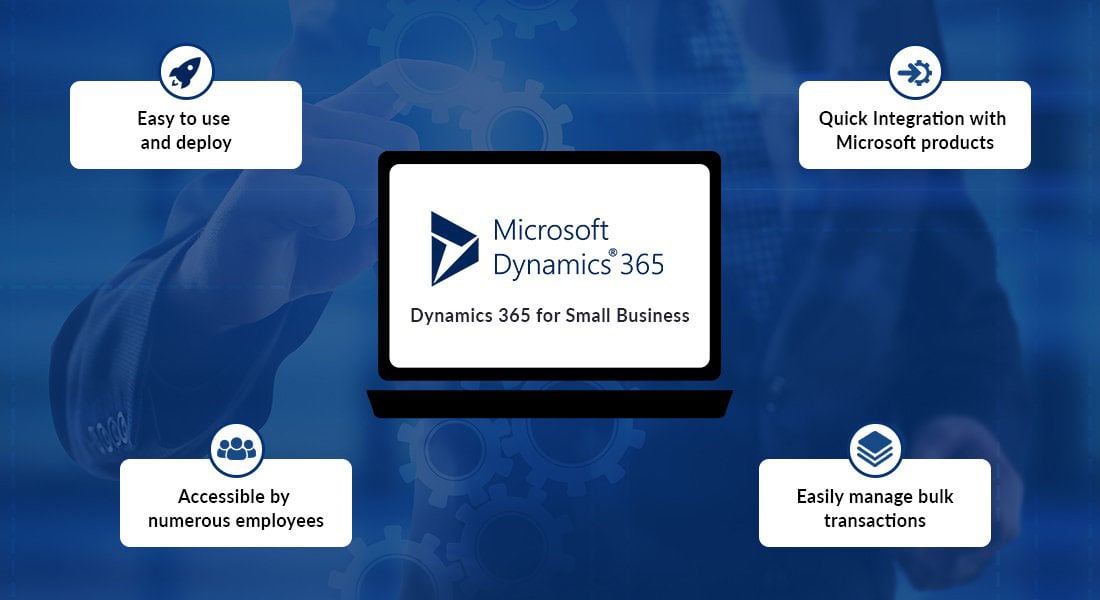 Below are the critical benefits of microsoft dynamics 365 that helps you understand whyshould you opt it for your small business.
1. It can be used by the Nth number of employees
Dynamics 365 business central and finance are the key tools that play a significant role in your small business. The best part about using Dynamics 365 business central is you do not require a big team size. The minimum number of users for business central is 1, whereas, with dynamics 265 finance, the number is 20. If you have 20 employees or fewer teams, dynamics 365 business central is a perfect BMS partner for your business.
2. Number of Transactions
Another significant Dynamics 365 benefits is it will let you perform hundreds and thousands of transactions seamlessly. It keeps your entire finances aligned and updated. And if you are looking to manage and report on these transactions, business central will help you with it. It will manage complete reports and data that will help you make profitable business decisions.
3. Easy to use and deploy
Microsoft dynamics 365 can be used in the cloud or hybrid cloud environment. No matter your budget and infrastructure, this system is extremely simple to manage and deploy in the way you want.
4. Integrate with robust Microsoft products
Dynamics 365 can integrate with Microsoft products, including the Office 365 suite. This integration makes communication easy between the different platforms. The teams can easily move from dynamics 365 to outlook for communication. It also makes data transferring easier between applications.
So these are a few critical advantages of Microsoft dynamics 365, which you can relish after implementing it into your business systems.
Why should you choose Microsoft Dynamics for small business?
If you are looking for-
Increased flexibility
Smart and native insights
Improved security and compliance
A unified way of working
Boosted productivity
Microsoft Dynamics 365 small business is a perfect partner for you. To know more about it in detail, feel free to contact our Microsoft dynamics consultants.
Final words
So, here we have come to an end. We can easily see that despite several options available in the market, Microsoft Dynamics 365 is a perfect solution for small and medium businesses. The tools, functionalities, and features offered by this platform are highly intuitive and are capable of fulfilling business requirements. Small businesses get perfect aid to achieve their business goals.
So what are your waiting for? If you are a beginner or mid-level entrepreneur, adopt Microsoft dynamics 365 today for better business results. We can help you with it; we are a leading Microsoft dynamics consultant who will help you adopt this robust BMS that will benefit your business manifolds.
Frequently Asked Questions (FAQs)