Quick Summary:
Are you looking for ways to connect with more customers easily? Do you face issues in managing your bulk eCommerce orders and records? Are you planning to migrate your current eCommerce business to cloud platforms? If yes, then it's time for you to check and learn the Salesforce commerce cloud. Check out this post to know more about what solutions and benefits Salesforce commerce cloud can offer your business. This blog post will guide you through the excellent features, benefits, and importance of this robust CRM software that will help you make informed and right business decisions for your eCommerce business.
Introduction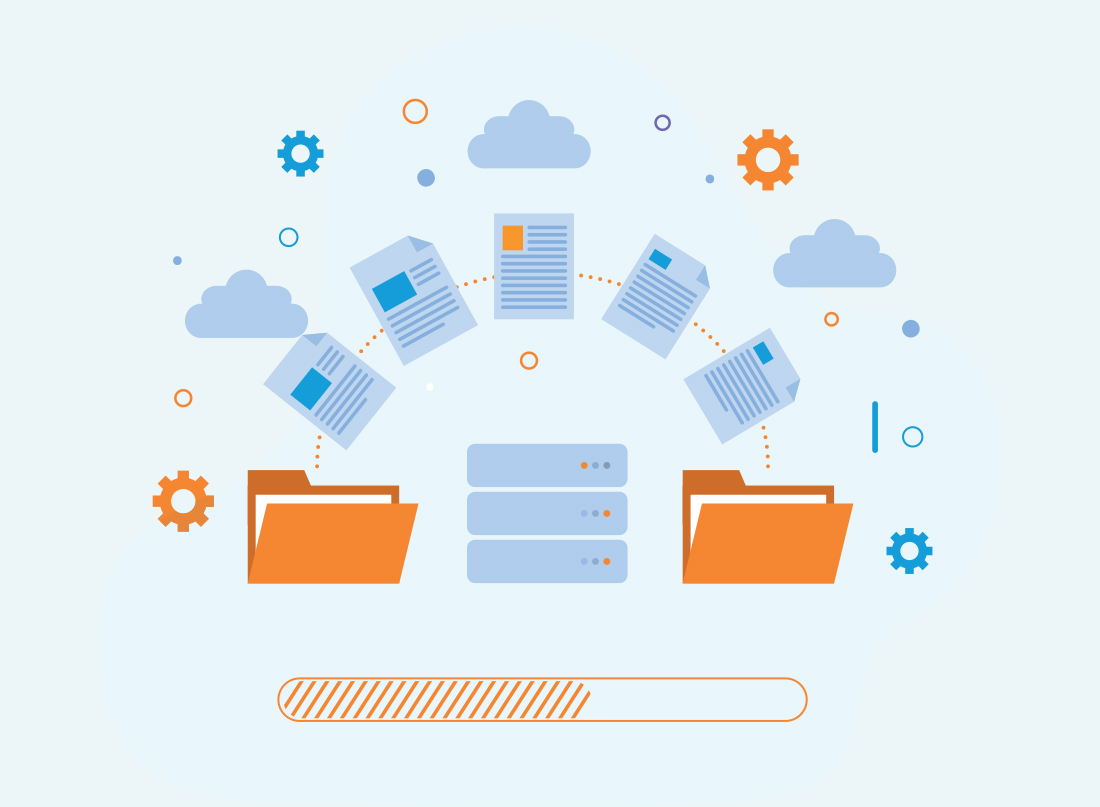 Today companies have left no stone unturned that enhance their business productivity and drive ROI. From healthcare to eCommerce, every industry has experimented and adopted all the latest technologies, software's and platforms that bring business value, raise customer engagement, and make their business successful.
One of the leading sectors that have witnessed dramatic growth and advancements in its business paradigm is the eCommerce industry. It has become one of the massive and most successful sectors. If we look at the stats, on average, there are 12 million to 24 million eCommerce websites in the entire world. It is huge.
Today taking the business online has become the most common and easy practice, but what makes it complicated is its maintenance?
Being an entrepreneur, you might know that handling eCommerce websites and operations are not an easy task. From inventory management, warehouses, product listings, prices, delivery tracking to services, it involves many things to consider.
Earlier, when the customers were fewer, it was easy for the businesses to manage and report the activities manually or with small-size software and tools. But with the increasing customer's number and business operations, it will become more challenging for the eCommerce companies to handle the activities on their own. Here migration to Salesforce commerce cloud sounds like a perfect solution.
Today, Salesforce commerce cloud has become an integral part of many eCommerce businesses. Thousands of organizations have already adopted this leading CRM software in their business operations to manage and control the eCommerce activities closely. Still, some businesses have a few concerns regarding Salesforce and its functionalities.
To help them out, we have come up with this post. This post will guide you through the Salesforce Commerce Cloud overview and the reasons why you should migrate your traditional eCommerce business to the Salesforce commerce cloud.
So without further ado, let's get started with its concept:
What is Salesforce Commerce Cloud?
In an eCommerce business, selling a product is not the only goal; offering a smooth shopping experience is another significant factor that plays a crucial role in its success. And here, Salesforce commerce cloud jumps into the picture.
This CRM software is specifically designed to help retail businesses to create seamless eCommerce experiences, market faster and smarter, connect shoppers, and grow speedily around their customers.
According to market reports, The global commerce cloud market size is expected to grow from USD 8.9 billion in 2019 to USD 27.0 billion by 2024, at a compound annual growth rate (CAGR) of 24.9% during the forecast period.
This agile commerce platform comes with robust features and functionalities that let you unify the customer journey, build powerful customer relationships and drive success from anywhere in the world with customer-centric commerce built.
Let us show you an example:
PUMA, one of the leading brands, is using the Salesforce commerce cloud platform.
According to the PUMA's global director of eCommerce– With Salesforce, the site is faster. The user experience is better, and the conversion rate is better. Full stop."
It makes PUMA "forever faster" with a truly mobile-first approach.
Don't let outdated technology hold you back from achieving success.
Make the strategic decision to migrate to Salesforce Commerce Cloud and set your business on a trajectory of growth and prosperity.
Moving on, let's discuss what features you will get when you are ready for eCommerce site migration:
What critical features Salesforce Commerce Cloud offers to eCommerce businesses?
1. Order Management
In the eCommerce business, the real hard work begins with order management. And why not? Orders are the epitome center of your business which drives revenues. Moreover, it ensures that your business workflows run smoothly.
Salesforce commerce cloud offers a significant feature of order management that helps eCommerce businesses to manage the ordering with ease, simplicity, and accuracy. Its built-in drag and drop functionality helps businesses customize their supply chain workflows, payment capture, invoices, and order fulfillment. Apart from it, it will offer a complete cancellation process in your customer's hands, extending the capabilities and making things easier.
2. Content Management
Content is another essential part of an eCommerce business that requires significant consideration. The content management feature of Salesforce commerce cloud will help you create, customize and deliver the content across all channels. With this CRM software, you can build content in a single place and share it anywhere without requiring any complex coding.
To offer a personalized content experience across multiple customer segments, this feature will let your content creators collaborate, manage approvals and tailor the content. It lets you create the content fast and bring your vision to life in any format innovatively.
3. B2B Commerce
To manage the orders from distributors, dealers, and retailers, organizations go for the B2B commerce store. Salesforce B2B commerce will help you maximize online growth by making online buying easy. This feature offers simple and self-service online buying that helps in solving the complex B2B eCommerce complexities.
The B2B eCommerce migration helps you optimize your daily B2B activities and empower your sales team by eliminating manual tasks and giving them accurate and real-time customer data. By building the branded sites and an excellent digital portal, it enables your partners to grow by your side.
4. B2C Commerce
Converting the shoppers into transactions is the ultimate goal of every eCommerce business, and the Salesforce B2C Commerce feature will help you with that. This feature lets you build better digital commerce experiences for your customers, which will help in converting them into potential buyers. It optimizes the conversion funnel by reducing the abandoned carts significantly.
Moreover, it empowers customer service teams by providing them access to real-time data of digital storefronts and order histories. It will also help organizations control marketing and merchandising by building and launching campaigns and promotions faster and smarter without any IT support.
Moving on, let's take a look at the Salesforce commerce cloud benefits you will get by migrating eCommerce site:
What benefits companies will get from migrating eCommerce business to Salesforce Commerce Cloud?
1. Rich Mobile Experience
Salesforce commerce cloud is renowned for its rich mobile experience and supreme mobile-friendliness. The rising number of mobile phone users is a secret to none; this puts extreme pressure on the store owners to create beautiful, user-friendly, and responsive eCommerce stores.
One of the key SEO strategies says that responsive designs have far better chances to get your business page in lead rankings. Salesforce commerce cloud allows businesses to achieve this; it comes with stellar user-friendly features and functionalities that help businesses to offer a fantastic shopping experience to their end prospects.
Whenever an organization decides to migrate its current business operations to other platforms, security and data confidentiality become the top concerns. Commerce cloud eliminates these concerns and ensures ascendible growth in the long run.
2. Pocket Friendly
The salesforce commerce cloud is the most affordable solution available for all sizes of businesses. This software comes with a subscription-based model, making it highly cost-effective and preferable for even startups and small businesses. This CRM software completely works according to your business requirements.
The more or fewer things you will require, you can ask the SaaS provider to customize your fee package. Hence you will only pay for the things that will benefit your business.
3. Security
The security offered by cloud solutions is the key reason businesses have started migrating their operations to online platforms. And When it comes to security, nothing can beat Salesforce to date.
Salesforce comes up with five types of record-level security, including org-wide defaults, role hierarchy sharing, sharing rules, manual sharing, and Apex-based sharing. These levels do not entertain any unknown or false access, making this software highly favorable for keeping data secure.
This CRM is specifically designed to help out businesses improving productivity and bringing revenues. It takes care of all the significant security points that will keep your data highly secure and confidential.
4. Predictive Intelligence
AI Einstein in the Salesforce commerce cloud is another reason that has enhanced the demand for this platform worldwide. To run a successful eCommerce business, businesses need to keep a close eye on the competitors, customers, and changing market trends.
Einstein AI of Salesforce does the same; this next-generation artificial intelligence platform helps eCommerce businesses with detailed insights and data analysis that will help them to make informed decisions. It comes with powerful tools and strategies that eliminate the need for manual data analysis and third-party extensions.
So, these are a few best Salesforce commerce cloud benefits that have made this platform highly demanding and preferable by most eCommerce businesses globally.
You might also want to read: Benefits of using Salesforce for Nonprofits
6 critical reasons to migrate your eCommerce business to salesforce commerce cloud
If you are looking for:
Boundless business opportunities
24*7 Availability
Low operating costs
Ways to operate the business from anywhere
Connect with customers anytime
Better customer service
Then it's time for you to migrate your eCommerce business to the Salesforce commerce cloud platform.
Final Words
If you have plans to run your business for the long term, undeniably, Salesforce is the perfect partner for you. This CRM software is a one-stop platform that has excellent solutions for all your requirements. Whether you are looking for eCommerce migration or data security, Salesforce has everything you need.
So do not waste your time; grab the best opportunity for your business by adopting Salesforce commerce cloud and take your business to new heights. To know more about it, get in touch with us.
No matter how complex your requirements will be, be it B2B eCommerce migration or B2C eCommerce migration, you can hire salesforce developer from us we will be glad to help you with the best solutions. We will deliver you the best eCommerce site migration solutions.
Frequently Asked Questions (FAQs)