Last Updated on April 14, 2023 | Written By: Nikhil Rangpariya
December 20, 2019
8
min read
The evolution of the digital marketing landscape is consistent and to keep up with the latest trends and stay ahead of the herd; it's a great time to look forward that what are the new marketing trends, platforms, and technology that will shape the digital marketing on 2023.
In this blog, we will be going to have a look at the top-notch 10 key marketing trends along with examples on the adoption of technology marketers and the latest marketing techniques that are here to stay. You are going to learn the marketing trends as well as the biggest trend in online marketing to clear the modern marketing landscape for 2023.
With this consideration, I have chosen the 2023 marketing trends and explained tech predictions in detail that without a doubt you should take into consideration in the upcoming year.
1. Artificial Intelligence:
The extensive reach of AI in digital marketing in 2023 explains the importance of this technology in today's digital era.
Artificial intelligence is transforming lots of enterprises in 2023. You know that machines and computer systems are working like humans with tasks like voice-recognition, translation, visual perception, and also decision-making. AI automation is the major technology behind smart assistance and voice search. In this, all processes of human intelligence are required, but nowadays, artificial intelligence can finish those tasks independently.
In 2019, 40% of digital transformation services providers use artificial intelligence and by 2025, the AI industry will grow to $190 billion.
According to Techgrabyte:
"Artificial intelligence is the biggest commercial opportunity for companies, industries, and nations over the next few decades" and "will increase global GDP by up to 14% between now and 2030," which means that "AI latecomers will find themselves at a serious competitive disadvantage within the next several years."

AI software help you work faster and also help in digital marketing, at lower costs, and without errors, so hire Artificial Intelligent development company to craft compelling and innovative AI solutions.
2. Chatbots:
Chatbots will remain to play a crucial role in digital marketing trends in 2023. Chatbots does not require any introduction. As per the recent research, 57% of customers liked live chat to get their questions answered.Chatbots are AI software that interact with humans in a natural way and offer a competitive advantage as well as improving service. According to a survey, 85% of customer services will use chatbots in future.
Advantages of Chatbots:
Lessen the waiting time.
24*7 service available
No need for any live representative
Cost-effective
Is quick and Agile
Find feature-rich and quality chatbot development services for your small business and stay connected with your customers 24*7.
3. Voice Search and Smart Speaker:
The latest trends and statistics in voice search compared to the previous years, you can see the usage of smartphone's assistants and smart speakers like Amazon's Alexa, Google Home, and also Apple's Siri has skyrocketed. According to research more than 60% of users are also expecting to use voice search more in the near future.
Consider some points and numbers:
More than 50% of searches will be via voice in 2023.
55% of homes in America will own a smart speaker by 2023 compared to 2017; it's increased by 42%.
Voice shopping is also reached $40 billion in 2023.
72% of people said that they are used, voice-activated speakers in their daily routines.
As per the Digital Marketing Institute:
"Adopting a voice search strategy isn't just about remaining relevant – it's also about creating a unique and optimized customer experience that will foster relationships and build brand loyalty."
4. Video Marketing:
In today's digital edge, businesses are getting more benefits from creating a short video by introducing their products and services. Buyers 64-85% more likely to purchase product or service that has video representation.
Take a look at some of these video stats:
70% of customers claim to share a brand's video. (Wyzowl)
72% of the organizations have improved their conversion rate. (Wyzowl)
52% of users say that watching product videos makes them more confident to buy online products. (Invodo)
65% of businesspeople visit the marketer's website and 39% call a vendor after seeing a video. (Forbes)
If you add video on your website, it means it's 50X more likely to drive organic search results compared to text. Google urges pages that include videos higher in the rankings because of people like video content.
5. Social Messaging Apps:
People using the instant messaging application for personal communication as well as for business inquiry, product selling, and product purchasing makes social messaging apps more popular compared to social media apps. 1.3 billion monthly users are active on Facebook Messenger: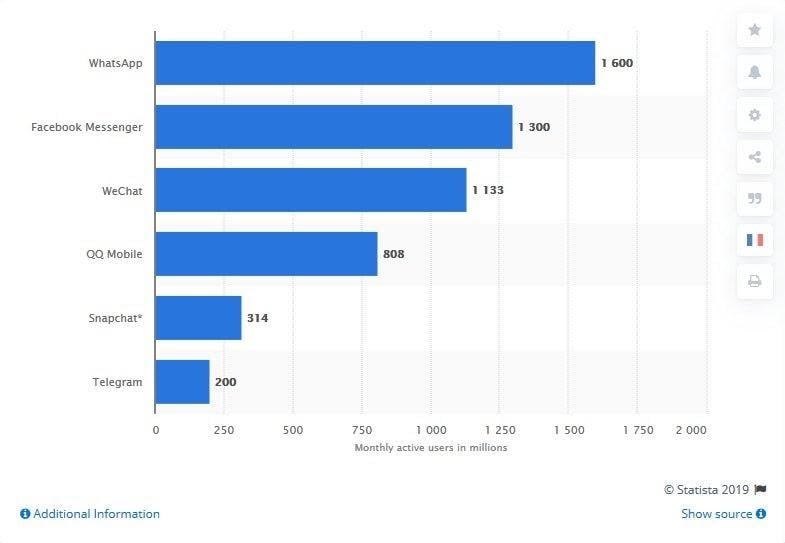 So it is significant that your brand should have been on any of these instant messaging applications as it provides support, assistance, and vital information to boost sales.
6. Big Data and Deep Learning:
Digital marketing is a fundamental part of brand promotion today. Everyone is looking for valid promotion, marketing influence, increase sales, so they are using Big data, Machine learning, and AI tools to boost the success and performance of their marketing campaigns.
What Forbs say: 78% of the organizations either already use Big Data, and many others are developing a customer data platform to manage, analyze, and leverage the data.
Below are three main implications of big data and deep learning in Digital marketing:
7. Social Media Marketing:
The powerful and one of the best ways for businesses is getting high reach prospects and customers on social media marketing. You are missing out on your customer's interaction if your brand, your business, are not using social media tools and platforms, then leverage Facebook, Twitter, Instagram, and Pinterest are the best platforms.
Exceptional marketing on social media can produce remarkable success for your business and also creating devoted brand advocates or also even driving leads and sales from it.
As per the social media consultant Neal Schaffer:
"If your business wants to survive in organic social media in 2023, I believe that this sort of humanization of your brand will be necessary."
8. Google Ads Smart Bidding:
Paid advertising will be a more trusted force in 2023 and when you use the Smart Bidding feature of Google Ads.
AS Google explains that with Smart Bidding:
"Machine learning algorithms train on data at a vast scale to help you make more accurate predictions across your account about how different bid amounts might impact conversions or conversion value."
Advertisers will give their pay-per-click campaigns to google's AI system, which helps him to get the maximum number of ROI.
In Smart bidding, you can use many different signals for your bid optimization like device, operating system, location, weekday and time of day, Ad characteristics, interface language, and many more.
9. 5G Technology:
In the last couple of years, the world has gone crazy for mobile. 5G technology, or in other words, fifth-generation technology, is one of the most important trends of digital marketing in 2023. This update starts the new period of digital communication and its impacts on every industry.
As Adage explained:
"The arrival of 5G may also finally bring millions of rural consumers into the high-speed data lanes where marketers increasingly sell their products. It might even disrupt the digital duopoly of Google and Facebook by arming telecom companies with unprecedented data for ad services."
If you watched a recent video of T-mobile on augmented reality in 2023, in this video, they give one example of how one bicyclist avoids a crush after a virtual heads-up display alerts him that an SUV is approaching fast from behind.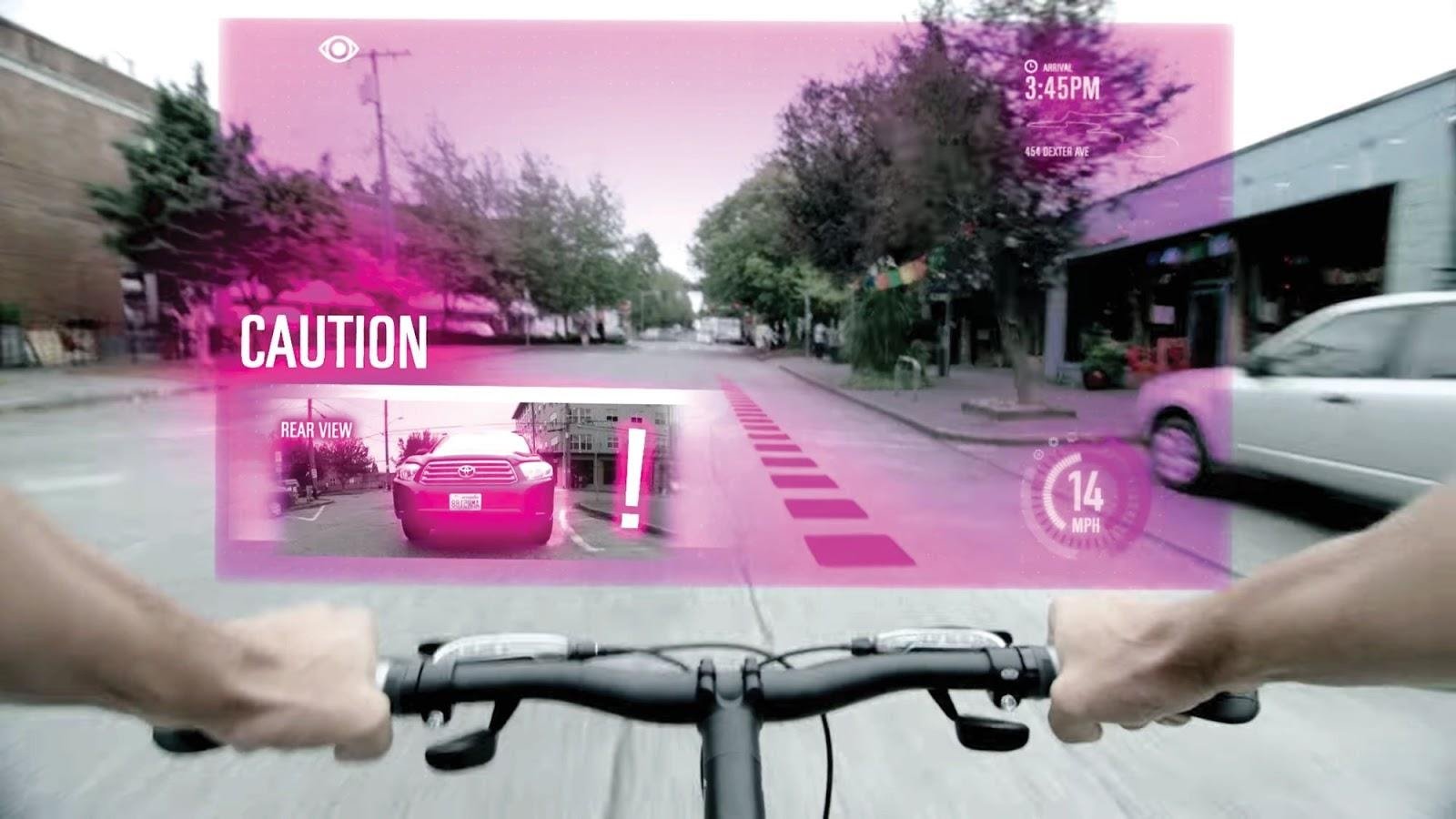 10. IoT Advertising:
Digital marketers can understand what kind of product quality want by their customers with the help of IoT. These things not only help to increase product quality but also calculate the demand and planning for new products. Your business makes better and faster with accessing data from IoT devices. IoT is changing marketers' strategy to businesses that can be implemented to reach your target audience.
As per QuanticMind:
"These days, it's expected that connected devices and technologies will unobtrusively, and sometimes stealthily, collect data on our vital functions, what we do, where we go, what we share, what we believe, what we buy, who we know, how we move and even what we eat."
Final Word
What is digital marketing's heart?
The answer is simple
"What people want where people want and when they want. Give your customers what they want at their ease and their convenience".
Let me define it in a layman's language. The heart of digital marketing is taking care of your product or service of what users want. Reliable support, upon their convenience, attracts a high-quality audience in the digital world. Now, start planning your 2021 marketing strategy if you haven't already. Make sure you start your new year keeping in mind your goals and how to achieve the same. Without a doubt, I can say that content marketing will grow continuously in some or the other way. To gain success you will require the best quality of content across all your marketing channels.
I hope the blog about the top 10 digital marketing trends to look for in 2023 is engaging and insightful and worth the time spent. If you have enjoyed reading the blog post, feel free to comment and share it with others who will benefit from this blog post.
For more information visit the best Digital marketing course in Delhi
Frequently Asked Questions:
What are the new trends in digital marketing?

In today's quickly evolving digital world, immersive tech like AR and VR, shoppable posts,interactive content,social messaging apps and visual search are the latest trends.

Is Digital Marketing the future?

Yes, Digital Marketing is the future that is gaining continuously adapted to meet the needs of customers and brands with an estimated $46 billion by 2023.

What are digital marketing tools?

Some of the best digital marketing tools are organic social media, paid social media, email marketing, display retargeting, programmatic advertising, website testing, video hosting and content creation.