Last Updated on June 23, 2022 | Written By: Riken Solanki
April 20, 2020
9
min read
Tough times don't last, tough people, do!
Who knew the COVID-19 disease would spread like a forest fire, infecting hundreds of thousands of lives across the globe. Originated from China, this meteorically spreading pandemic is not just a threat to human life. Instead, the cataclysm of the same has taken everything under its grip.
Life has come to a halt with zero social interaction. Everyone is locked behind their doors, forced to be low key. The big, the small, the mediocre, everyone is now under the agony of what's next. A major influence has been on the businesses and their daily undertakings.
Even though the corporate sector has been wise enough to migrate to remote working, adopting a work from home culture. However, what if an organization doesn't have the manpower to pull the job?
It is, in fact, a topic of paramount importance. Even though there are certain tasks that can be distributed among the team, development is something that needs experience and expertise. In case your organization is facing a similar situation, this blog post might be of help.
Acknowledging the distress caused by the pandemic, hiring dedicated offshore development team just like your in-house team is a tough task. Even if you do find one, not all will map your expectations, and this is where we recommend you hire remote a full stack developer. Not only would this save you, the team needed to hire individual developers but also guarantee the work quality.
Growing Demand of Full-stack Developer
Let us begin with knowing, What is Full Stack Developer?
A full-stack developer, as the name suggests, is one that can execute all of the tasks related to the frontend and backend of the development. Starting with the basics of designing to the development of front end and back end, the full-stack developer would do all. As a bonus, the developer would also take care of the database integration and maintenance needs.
As per the US Bureau of Labor Statistics, there are going to be 8.53k jobs for full stack developers in the USA by 2024.
In short, a well-versed programmer with the ability to adapt itself to any or every technical need. No matter what challenges do you give them, they will find a way to resolve them.
Top 3 Characteristics to Look into a Full-stack Developer
When it comes to hiring full-stack developer, there are so many things that are required to take into consideration and several aspects to analyze when you hire full-stack developers for product development.
It is significant that the resource you opt for must be proficient in popular web development frameworks, programming languages. A full-stack programmer should also be efficient in managing CMS tools, RDBMS solutions, APIS, and all aspects relevant to web development.
Ideally, the resource you hire remote full-stack developer should be efficient with the languages like HTML, JavaScript, and CSS. The developer should be well-versed with Python, PHP, Ruby, and frameworks based on these technologies. He should also have knowledge of SQL and tools like Joomla and WordPress, and he must be aware of web security.
Top-of-the-line Expertise
Make sure the developer you are planning to hire has independently worked on both frontend and backend technologies individually. You can check out the projects the developer has already worked in. It is better if the developer has worked on similar projects. These can be found in the resume, but some developers have their websites, and they showcase their work samples online. Take time to analyze the experience of the developers before zeroing in on anyone. It is always better to hire such developers who have worked on several big projects and have several years of experience to their credit.
Outsourcing Full stack-developer from a Reliable Source
The development of modern full-Stack has come a long way, as web technology has changed a lot. In general terms, a "stack" represents the technologies working in unison to operate a website. This means frontend code, backend code, a database system, and a web server platform + operating system for the server. Becoming a good full-stack developer obviously requires time and experience. Hiring from a reliable organization will help you complete full-stack product development on time, get the complex tasks done speedier, and improve the quality of the solutions with on-time deliverables.
Top 6 Tech-stack to Take into Consideration Before Hiring a Full-stack Developer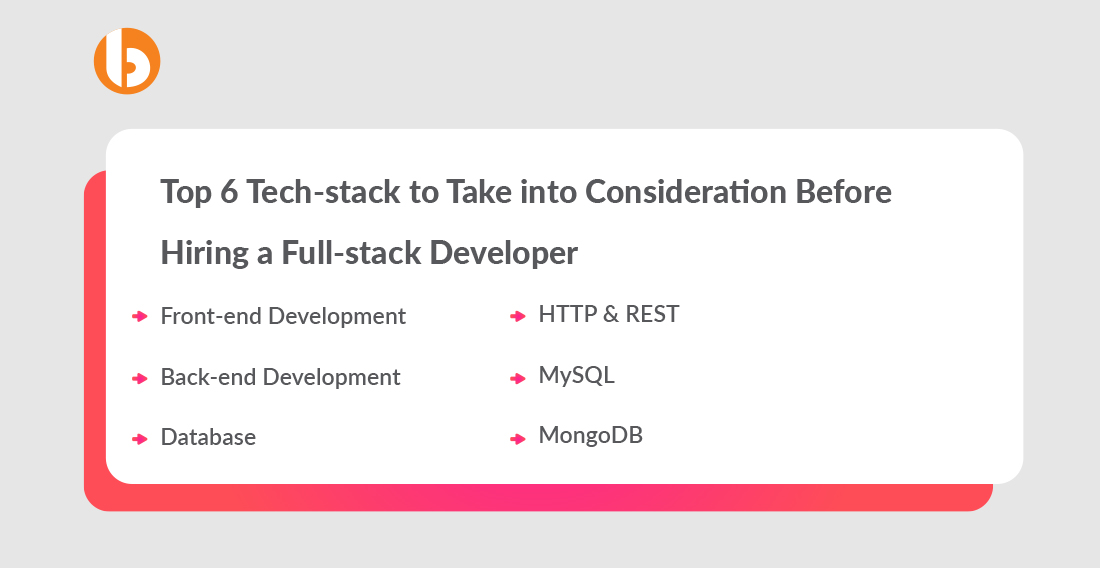 Front-end Development:
When you hire frontend developer it is essential to have proficiency in three programming languages: HTML to create structure and content, CSS to provide the page with colors, styles, fonts and background images, and JavaScript to give to the page greater dynamism and possibility of interaction.
Should be well-versed with Angular.js, React.js, Vue.js, Ember and some of the frontend web development tool
Should have knowledge of extensive libraries like Backbone.js, Knockout.js, Ember.js, jQuery and much more
Required proficiency with CSS preprocessors like DtCSS, Less, Myth and DtCSS
Web fundamentals such as HTML, CSS and JavaScript
Frontend frameworks like Semantic-UI, Pure, Bootstrap, Foundation and many more
Client-based scripts like AJAX
Back-end Development:
when you Hire backend developer, it takes care of its server-side operation and of interventions that have no impact on the graphical interface and, therefore, on what users see by visiting the site. At the coding level, the Back-end developer usually uses languages like PHP, Python, and Ruby.
CRUD Operations: Create, Read, Update, and Delete
Database Technologies such as MongoDB, MariaDB, Microsoft SQL, Oracle, MySQL, and IBM DB2
API Development, Designs, and RESTful Services.
Server-side technologies — J2EE, Apache, Nginx, etc.,
Well-versed with some unusual server-side languages like JavaScript, Perl, ASP, PHP, Ruby, and Python.
Database:
There are 2 types of databases, such as relational and non-relational. The full-stack developer is also needed for the skilled for at least a couple of database languages. There are numerous database languages, such as MongoDB, MySQL, and Oracle.
HTTP & REST:
HTTP is the protocols that help to communicate between the servers and the client. HTTP helps the web apps to run based on client-side, so full-stack developer understands the commands of the HTTP and REST.
MySQL:
MySQL helps with high performance and scalability. MySQL database is ideal for the applications that are heavily relied upon thousands of transactions in a minute, such as banking app. MySQL is still a great choice for enterprise application development.
MongoDB:
MongoDB is an open-source NoSQL database, which empowers businesses to be more agile and scalable. MongoDB has a flexible architecture, and it supports different data formats. It's ideal for eCommerce, gaming, and event apps.
Top 4 Advantages of Outsourcing Full-Stack Developer
⦿ Saves Your Job from Hiring a Team
In order to ensure that your website achieves all of the above, you would need to connect with experts. Here, there are two ways to get the application developed.
Hire a team of developers. This team would have a front-end developer, a back end developer, a UI/UX designer, and a database engineer. All would conjointly facilitate the task of creating a website.
Hire a T-shaped full stack developer. He would take care of all your project development needs. Starting from ground zero to lifting the application high, the developer would be the sole point of contact and foster the job of development.
Now, consider you go with option 1. Given the prevailing COVID-19 crisis, you would need to spread out a word for each of the profiles and hire them individually. It clearly requires more work, more effort, and if you aren't able to find either one of them, your job of project development would halt.
On the other hand, if you stick with the idea of hiring a full stack developer, all you need to do is find one candidate that would map all the requirements of the job.
⦿ Experience Bundled Together
One thing that fascinates project leaders about the full-stack developers is their experience and expertise. It is proven that a full stack developer is more knowledgeable and skilled as compared to other average developers. They have been working in the industry for quite a long time and have sufficient leverage when it comes to software development.
It is a well-known fact that experience counts the most. Even though it is the skills of the developer that an HR prioritizes, yet one with a decent amount of experience stands out among the crowd. Also, when you pick an experienced developer, you can rely on them about the quality and efficiency of the application.
These developers do not require any stringent monitoring and have the ability to pull the job. And yes, without mistakes. In fact, they are eager to improve their knowledge and upscale their offerings by keeping up with the industrial trends. Where a traditional developer is more likely to excel in his domain, full-stack developers resonate around modern tools and technologies, adding more to your application.
⦿ Increase Productivity
Even though the developer would do all of the jobs, he still needs to connect and collaborate with your other organizational members. Where individual developers grapple with interacting with others, a full stack developer can easily coordinate with your team, increasing the overall productivity.
As seen, full-stack developers are excellent team players and always open to conversations with others. They look for ways to increase their skillset and add as many qualities as needed for their job. In simple terms, a full stack developer would increase and enhance the overall productivity of your organization and help your business grow.
⦿ Reduce The Cost of development
Another benefit of hiring a full-stack developer is that it reduces the cost of hiring and development. This will pretty easy to guess. The fact that the developer would perform the job of the frontend developer, the backend developer, the UI designer, and the quality engineer, you no longer need to pay them individually. A single paycheck and your job is done.
In fact, you can increase the amount slightly as a bonus for your developer. And given the current situation, a small incentive would help your retain your developer and motivate him to render the best solution.
Epilogue
It is obvious that a full stack developer is a better choice as compared to hiring a team of two individuals. While task-specific professionals do have their own expertise, when it comes to software development, a full stack developer leads the charge. Not to mention the existing situation where hiring individual developers seems tough, a full stack developer is the best fit.
Do not let your business be affected by unexpected external outcomes. Go ahead and hire full stack developer to keep your business running and active as well as save your valuable time and hard-earned money.
FAQs
What is meant by full stack developer?

A full-stack developer is one that can execute all of the tasks related to the frontend and backend of the development. The same developer would also take care of the database integration, designing, and maintenance needs.

What is the role of a full stack developer?

To role of a full stack developer is to eliminate the redundancy and single-handedly take care of the frontend and backend of the project development and maintaining the database as well.

What a full stack developer should know?

A full stack developer must have keen knowledge of the frontend and backend development along with database insights.

What skills are required to be a full stack developer?

Front-end, Backend, and Database skills are essential for a full stack developer.

What are the best frontend and backend combinations for full stack developers?

The top 3 fullstack combinations that we'd like you to try are:
1. AngularJs + Rails framework
2. ReactJS + RoR
3. VueJS + Rails