Last Updated on August 4, 2022
January 29, 2016
5
min read
With the advancements of new technology, we continue to see how we accustomed to take shape in a new technology which is smaller, faster and more compact.
We have already experienced the same with desktop computers to laptops, telephones to mobile phones, satellite dishes to HDMI streamers, there are so many examples around us. And this same change has inevitably occurred in the eCommerce space too. eCommerce platform is also evolving and following the trend in technology getting more concise and efficient as well.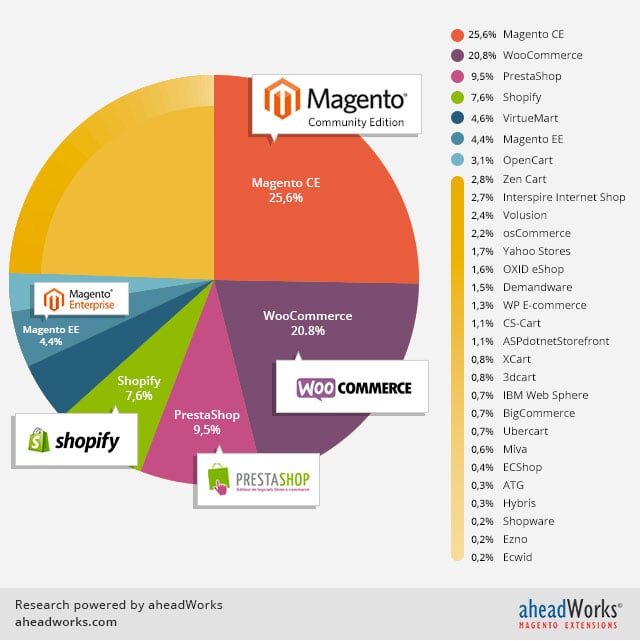 There are lots of options out there and as per the statistics report; Magento is a clear winner when it comes to the eCommerce platform market share. Magento solely holds 26% of the total market.
However, on the other hand, Spree commerce is relatively a new choice. It is one of the fastest growing and most promising open source projects. Nearly, 500 active contributors on the daily basis contribute to the code base as well as also update the software documentations.
Take A Look At The Market Shares
The numbers speak for themselves.These figures are strictly based on sales of goods and exclude fuel sales and prepared food sales, as well as insurance, tickets, holidays and gambling, as these are not classed as retail.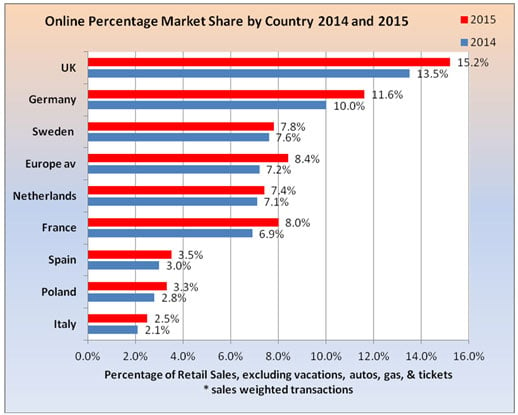 Image source:-
http://www.retailresearch.org/onlineretailing.php
Online spending by device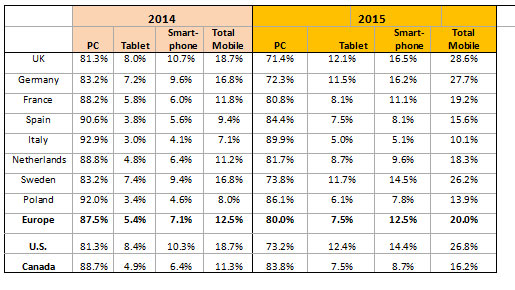 Image Source:-
http://www.retailresearch.org/onlineretailing.php
Don't miss out the latest trade and trend
Yet, if you have not jumped into the online storefront, then I am sorry, but you are undoubtedly missing a slice of a very lucrative pie. There are numbers of convincing blogs and articles available on the web which will for sure make you understand that why you should start selling online. I you are already convinced then let me tell you why you should only choose Spree?
Why you should only choose Spree?

Speed and Ease of Use
This open source e-commerce solution is very easy to use, and the backend dashboard of the platform is very clean and intuitive. Spree commerce also presents you with the wealth of support with its documentation.It covers every type of support issue that you may encounter.
Ruby On Rails
Spree is built on the open-source web framework Ruby On Rails, which emphasizes the use of convention over configuration (CoC). Ruby on Rails is a very popular framework that is already in use in applications all over the web, including some of the biggest e-commerce sites out there like Shopify.
Licensing
Spree's BSD licenceis one of the least restrictive licences out there. Indeed, no matter what the size of your business, Spree always uses the same open source software.
Design
Alternatively, an entirely custom-made design can be built, with endless extensions and modifications that can be implemented with ease, allowing you to create the exact storefront that you want.
Mobile – Optimise for the Small Screen
Spree stores render excellently on mobile phones, and of course when designing the store, everything can be customized to suit all platforms.
Extensions
Any additional extensions can also be developed very quickly using Spree's sturdy application programming interface (API).
Scalability
As Spree is open source, so it helps gain popularity of your online store, the Spree platform allows scaling with minimal effort, and also cuts out additional hardware and development costs.
Analytics
Analytics report to monitor your customer's behavior, to identify what's hot and not, what are working and selling and then taking action to focus on the specific areas of your storefront according to your findings. Although Spree doesn't come with a built in analytics, there are plenty of third party extensions that have been built, which can be integrated very simply and easily into the backend of your online store.
Search
The API provided by Spree allows for a variety of specialized high-functioning search platforms to choose from – Spree Maker Search. It allows customers to filter their search by the product maker's name.
Booming Internet Economy
If you are still not convinced with the above bullet points then let me show you the actual numbers that how eCommerce sites have noteworthy and meaningful depth to the internet economy.As per the recent Econsultancy report, over 50% of the US shoppers did more than half of their Christmas shopping online. So, the growth of the eCommerce sector is growing more rapidly than the retail sector and starting your online business with spree commerce platform (the future of eCommerce) can undoubtely a beneficial deal in so many ways. .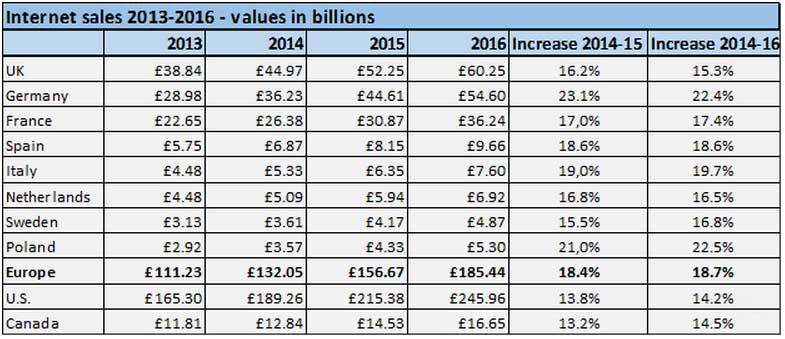 Image Source:-
Econsultancy.com
https://econsultancy.com/blog/66007-uk-online-retail-sales-to-reach-52-25bn-in-2015-report/
Mobile Shopping
As the mobile revolution continues to take hold, more and more of us are choosing to shop using a variety of smartphone and table devices. Indeed, as much as 45% of all website visits are done so on mobile browsers. In the UK alone, mobile sales are expected to grow by 62%, which equates to £7.2 billion of UK online retail sales, and 17.6% of online sales overall. In the US, the rates are climbing even faster, with 19.9% of online spending expected to be completed via mobile, which equates to $61.06 billion (£37.66 billion). 40% of these sales are represented by tablet sales, and 60% by smartphone.
So, if you have made up your mind and have already made a decision to start your online business with Spree commerce then it would be advisable to make it mobile friendly. The number of mobile shoppers is increasing rapidly day by day, so make sure to build your spree commerce website mobile friendly.
Make These Figures Work for You With Spreecommerce
There are hundreds of Spree users who are so much excited about Spree. The endless capabilities to adopt the storefront provide your shoppers something new and something valuable and on the other hand it is also beneficial for your business to grow. The Spree is constantly growing and improving with each day that goes by. Spree commerce is evolving with efficiency trend.
Epilogue
At Bacancy Technology, we have skillful developers who have in-depth knowledge and extensive experience in spree commerce development. So, for your next Spree commerce development hire Spree Commerce Developer from Bacancy Technology to get it done correctly.