February 24, 2021
7
min read
Last Updated on January 21, 2022
Quick Summary: A comprehensive decision-maker blog when confused about choosing the best PHP framework for your web application development. PHP Laravel Vs Symfony is the most debated topic in the world of web development, and CTOs like yourself want to know the ideal framework for your business website.
Pore over this discussion to learn about the critical aspects that make these two popular PHP frameworks stand out in modularity, popularity, performance, database, and learning curve.
Preface
The ongoing battle between the two leading PHP frameworks- Symfony and Laravel will come to a closure after you read this blog. This blog has covered the merits and demerits of Laravel vs Symfony, along with the difference between Laravel and Symfony, we have covered the detailed categorized comparison on their modularity, scalability, popularity, performance, community, database support, and learning curve.
PHP frameworks are the most popular, preferable, and reliable choices for entrepreneurs to develop their cross-platform web applications. Developers love PHP frameworks' coding style and believe that they are available handy and follow best practices and methods. The delay occurs because of the difficulty in finding the best-suitable PHP framework.
Laravel Overview
Before we indulge in comparing Laravel vs Symfony 2021, let us answer What is the Laravel framework?
Laravel is the top most famous and useful PHP framework having an expressive and elegant syntax. Taylor Otwell created Laravel in 2011 and availed everyone of us freely(open-source) under MIT license. Laravel uses the MVC architecture pattern for web application development.
Official Website: https://laravel.com/
GitHub stars: 63.9k
Coming to the most searched query, Is laravel frontend or backend? Laravel is a server-side framework, and hence it is useful in backend development. You can create exceptional templating, HTML authentication, routing handling, custom backend logic, predefined architectures, and much more.
Market Usage Statistics of Laravel
Of all the frameworks that exist today, Laravel stands at a market share of 0.35%.
Approximately 86,032 live websites are currently using the PHP Laravel framework.
In the USA, 307,911 websites are using Laravel.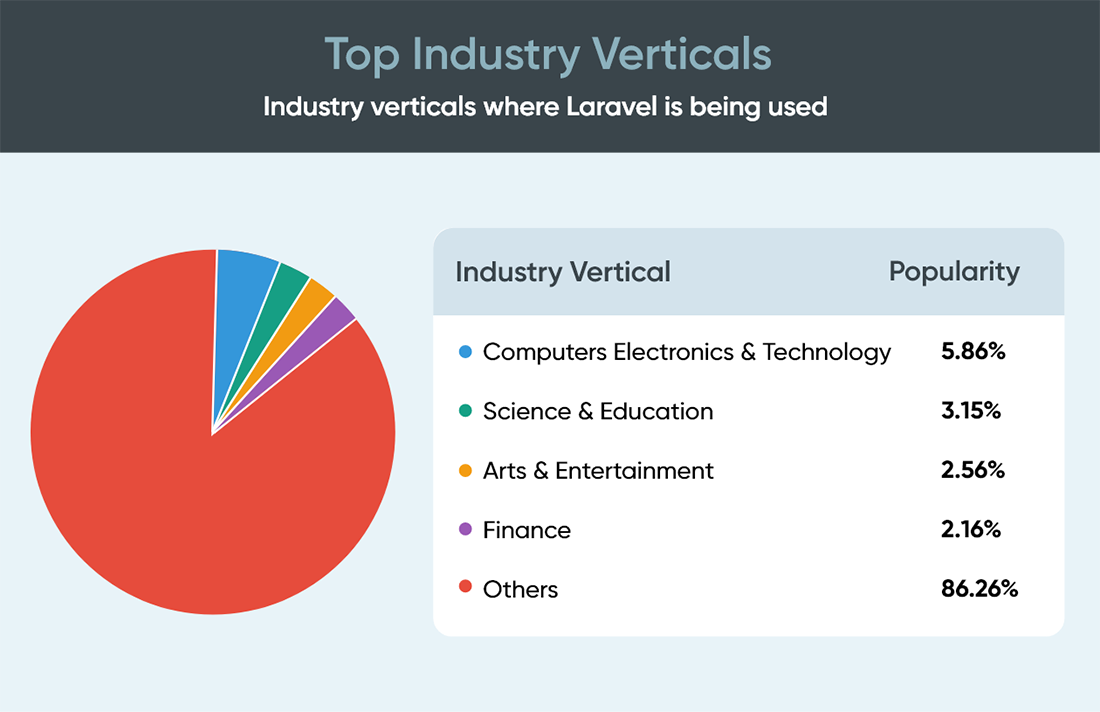 Use Cases of Laravel framework
On-demand streaming web applications
SaaS-based applications
Multilingual CMS systems
Self-hosted website performance monitoring app
Symfony Overview
Now, it is the turn of answering What is Symfony?
Symfony is so many things altogether. It is not just a framework; it is a set of reusable PHP components, a philosophy, and a community. Fabien Potencier launched Symfony in 2011 under the MIT license to build robust enterprise applications.
Official Website: https://symfony.com/
GitHub stars: 24.7k
Market Usage Statistics of Symfony
Relatively, the market share of the Symfony framework is quite low at 0.05%.
At present, 10,974 websites are using Symfony.
In the USA market, 18,998 websites are using the Symfony components or the framework.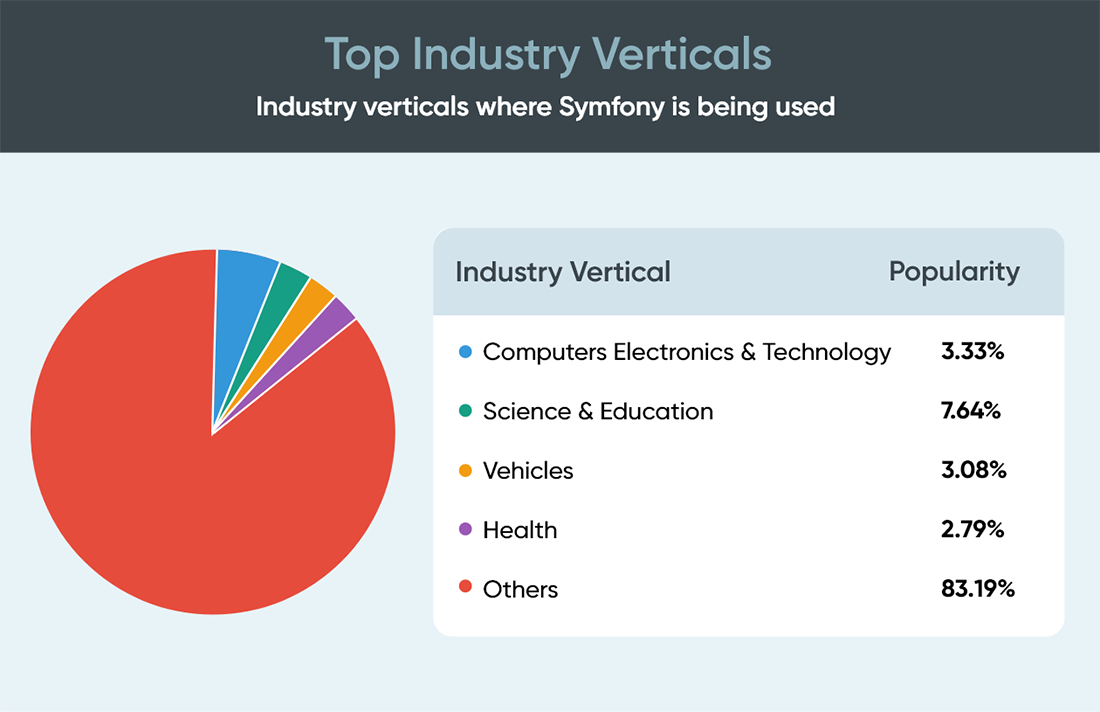 Use Cases of Symfony framework
Microservices
Content Management Systems
Accounting
Reporting
E-Commerce platform
Blogs
Bots
Laravel vs Symfony Pros and Cons
Let us check out the pros and cons of both these fantastic PHP frameworks: Symfony Laravel comparison. Let us begin with checking the pros and cons of Laravel.
Pros of Laravel Framework
Pre-built tools
Templating engine-Blade
Routing
Automation with Artisan CLI
Automated testing
Cons of Laravel
Backend congestion because Laravel is lightweight
Unreliable third-party libraries
The vast community size is a drawback here because it gets challenging to find a reliable library.
Pros of Symfony
Biggest Community
Up-to-date
Popular platforms using Symfony, like Drupal, Magento, eZ Publish, recommend Symfony.
Cons of Symfony
It has a steep learning curve making it difficult to learn in the beginning as compared to other frameworks.
Some applications using Symfony perform slowly because it is dependant on other technologies.
Development time is slow because reusable development is for multiple uses.

Laravel vs Symfony Popularity
You are wondering how the popularity of a framework is going to affect your web application development? Sure it does; think it differently. When a particular technology or framework is popular, you will quickly get developers for your web application development using that technology.
Hence, before choosing the PHP framework, find out how popular that framework is so that you can always have back-hand support.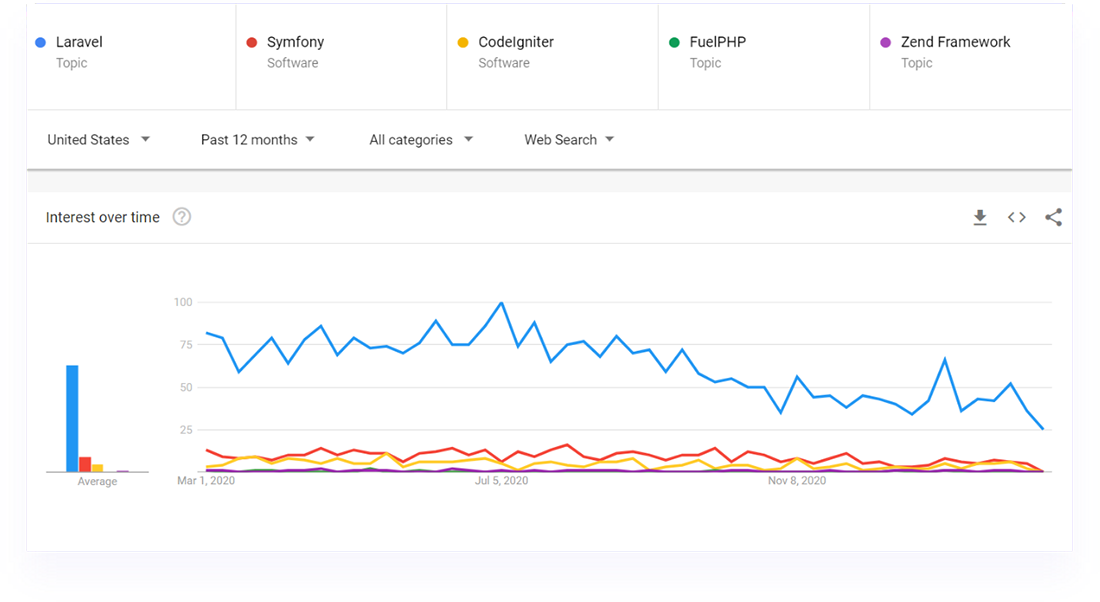 Laravel Popularity
Beyond any doubts, Laravel is the most popular of all PHP frameworks. From the above Google Trends graph as well, the PHP Laravel framework stands on the top. Laravel developers can find immense support from the latest Laravel documentation, Laracast discussion forum, Codebright, Treehouse, and Sitepoint.
Symfony Popularity
Just after the most popular Laravel framework stands the Symfony framework in the graph. The Symfony developers get enough support from the official documentation page.
The Symfony community consists of 600,000 developers from over 120 countries of the world.
Laravel vs Symfony Performance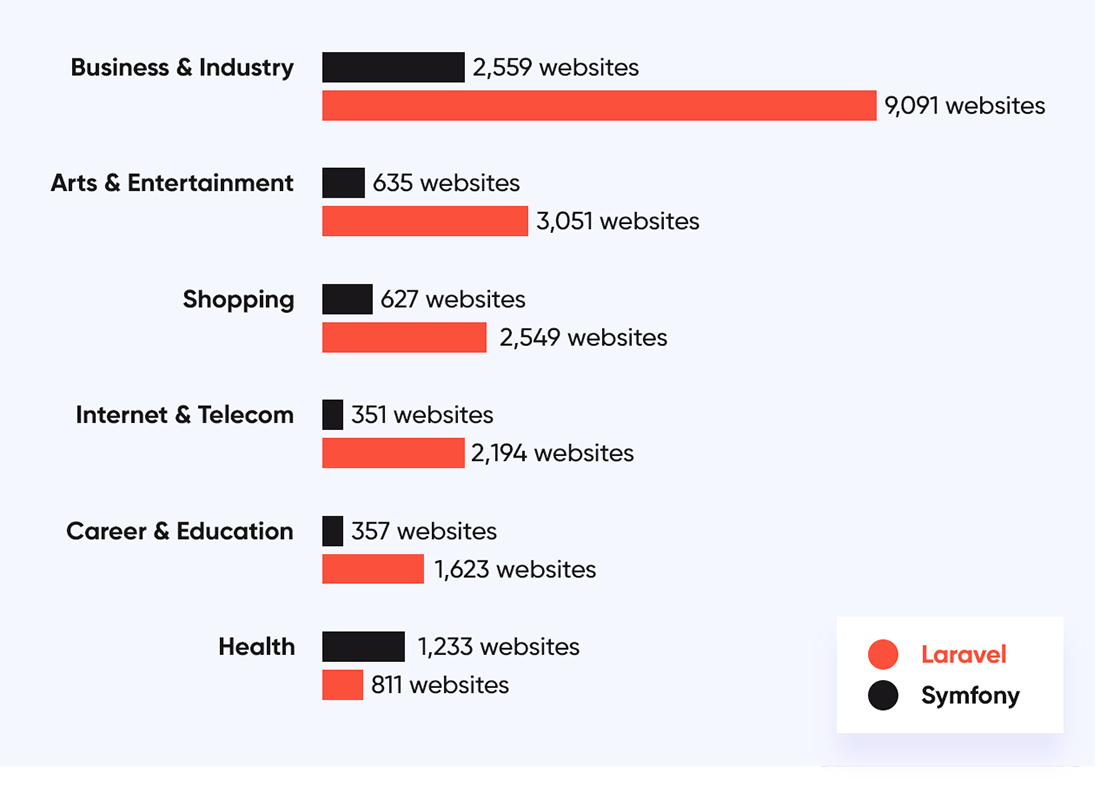 The above graph shows survey results where different domains use which framework out of PHP Symfony vs Laravel benchmark to compare your distribution. We executed a test of both the competing PHP frameworks Laravel vs Symfony performance by checking their load time with web servers Apache and Nginx.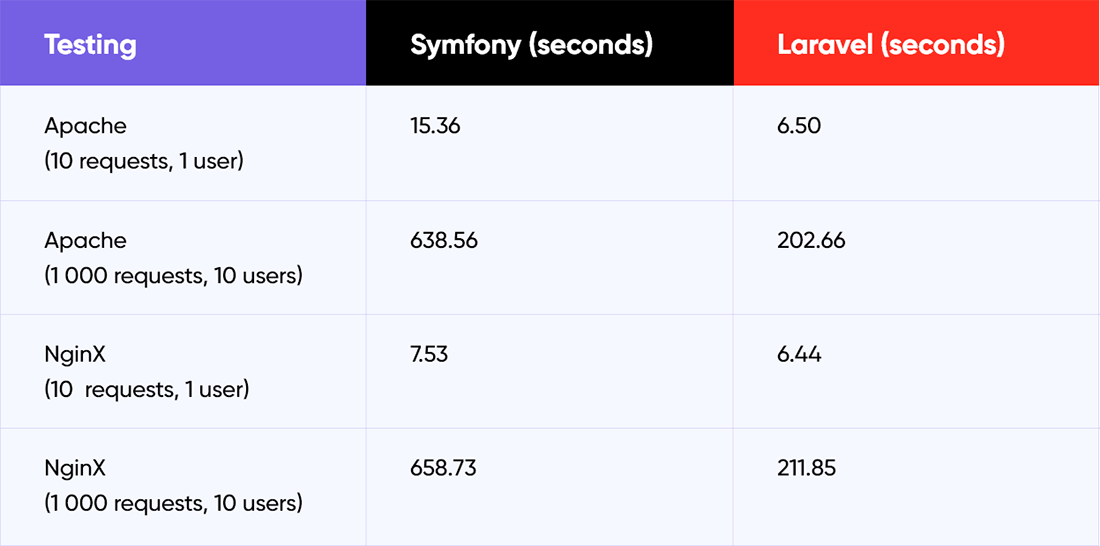 Laravel Performance Monitoring
The Laravel performance benchmark is easily extensible. Laravel supports high-speed development with fewer coding efforts and delivers faster results. Laravel uses Symfony components and is flexible.
Symfony Performance Monitoring
Symfony is comparatively slower for complex web projects. The framework supports adaptability and optimal performance. It is easily extensible, and there are several scalability options available for PHP Symfony.
Laravel vs Symfony Templating Engine
Laravel Template Engine
Laravel uses the Blade template engine. The blade has a lot more to offer compared to the default PHP templating engine. Additionally, Laravel uses the Lumen sub-framework to build microservices and APIs.
Symfony Template Engine
Symfony uses the Twig template engine. Twig is fast, secure, and flexible. Beyond the basic features like inheritance, sections, output escaping, and clean syntax, Twig goes to the extent of adding an extra security layer for your application.
Blade vs Twig
The templating engines of Laravel and Symfony are Blade and Twig, respectively. Some common similarities are compiling plain PHP, providing syntax to output variables, escaping mechanism, template-inheritance, and sections.
Now, have a look at the difference Twig vs Blade template engine.
Both the templating engines add functionality in different manners.
They have a different syntax for handling control structures.
Both templating engines handle variables and variable access differently.
Vary in security perspectives.
Here, we share examples of a sample code in both the templating engines for you to see the differences.
Laravel Blade Template Engine
Symfony Twig Template Engine
Laravel vs Symfony Modularity & Scalability
Laravel Module Structure
Laravel uses the MVC architecture, and hence there a large number of dependencies. These dependencies make Laravel a little less flexible. However, for MVC applications, there is an added benefit with Laravel modular structure.
Symfony Module Structure
Symfony makes use of reusable components, and hence it is more robust and modular. Developers can organize their application code better with the Symfony framework. The framework uses a bundled form of modular structure and can share features and code amongst different apps.
Laravel vs Symfony Database Support
Laravel Database Support
Laravel uses Eloquent for object-relational mapping ORM to access data. Database migrations are manual. Laravel enables exclusive support for the following databases: SQLite, SQLServer, PostgreSQL, and MySQL.
Symfony Database Support
Doctrine handles the ORM in Symfony. Database migrations are automatic. Symfony has available database support for Drizzle, PostgreSQL, MySQL, SQLite, SQLServer, Oracle, SAP Sybase, and SQL Anywhere.
Laravel vs Symfony Learning Curve
Laravel learning curve
The learning curve of Laravel is quite lenient. Developers can learn everything about this framework from its documentation, video support, and tutorials.
Symfony learning curve
Compared to Laravel, Symfony is a bit difficult to learn. Though the documentation is really helpful, you do not get enough community support and tutorials as Laravel.
Synopsis
Finally, to give an overview of the detailed comparison we did for this blog, we rated each category's scores.
Popularity
Laravel: 1
Symfony: 0
Performance
Laravel: 1
Symfony: 0
Templating Engine
Laravel: 2
Symfony: 1
Modularity & Scalability
Laravel: 1
Symfony: 1
Database Support
Laravel: 1
Symfony: 2
Learning Curve
Laravel: 1
Symfony: 0
The overall winner is Laravel when comparing all the aspects considered when selecting the right framework for your web application development. However, your choice ultimately depends on your project requirements. Bacancy Technology is the right destination where you can hire laravel developer who will transcend your business goals into achievements. Are you ready to outset your project development?
Share your feedback after viewing the comprehensive comparison Laravel Vs Symfony Infographic.