Last Updated on November 20, 2023 | Written By: Chandresh Patel
What do you think is one of the best ways to generate more revenue for your company? Well, it would have to be conversations. Yes, you heard it, right people.
The conversation is one of the main factors which is responsible for driving sales. For your customers, it is imperative to ask some questions that they have about products and services. After all, we all tend to have some doubt about purchases and clearing those doubts can help us in making the buying decisions faster. So, there should be someone who will be able to answer these questions, make recommendations, and provide a personalized experience to your customers.
So, in this world where conversations are the driving factor for commerce, chatbots are increasingly gaining popularity due to the important benefits that it provides.
About 71% of the people are currently using chatbots to solve their problems when it comes to online purchases.
Here, I will be discussing chatbots and telling you why investing in chatbot development services would be great for the business of yours.
What Exactly Is A Chatbot?
Before anything else, let's just make sure that you and I are on the same page when it comes to a chatbot.
So, What Exactly Are Chatbots According To You?
A chatbot can be defined as a particular AI or computer program which will conduct a conversation with the people who visit a website in the textual or auditory method. The simulation is human-like, and you will feel like you are having a conversation with a real person.
Now, doesn't that sound great? Well, this is one of the main reasons why people tend to invest so much in chatbots.
Do you remember those eBay chatbot that pops up whenever you visit a particular product?' Well, that is exactly what we know as chatbots, and these are certainly very important for the people.
Did you know: About 60% of the youth are currently using these chatbots regularly.
Majorly, there are two types of chatbots 1 — rule-based, and 2. AI-based chatbots and the most advanced ones are powered with the help of Artificial Intelligence. With the help of AI & NLP integration, Chatbot can understand users intent and content and appropriately revert them. Since there is a lot of improvements to be made in technology, we see a lot of potential in it for sure.
About 37% of the buyers want to get faster answers during an emergency, and 35% of them want details on their answers as well.
As we are moving towards automation, Chatbots will allow your customers to get rid of some routine tasks and help you focus more on the strategic implementation of the best techniques. Besides, given the speed that chatbots have in processing and answering the questions of customers, it is for sure that people will learn to trust them more.
So, what do you think is going to provide these answers to them? It would have to be the chatbots, of course, what else? What we love about chatbots is that these are entirely devoid of emotions and hence are the perfect fit for handling situations with conflict. So, wouldn't you want to make some investment in chatbot development services?
Why Do You Need To Use Chatbots?
Now that you are familiar with the concept of chatbots and their rising growth in the recent industries let us focus on something a bit important. Here we are going to discuss the benefits of using these chatbots for businesses.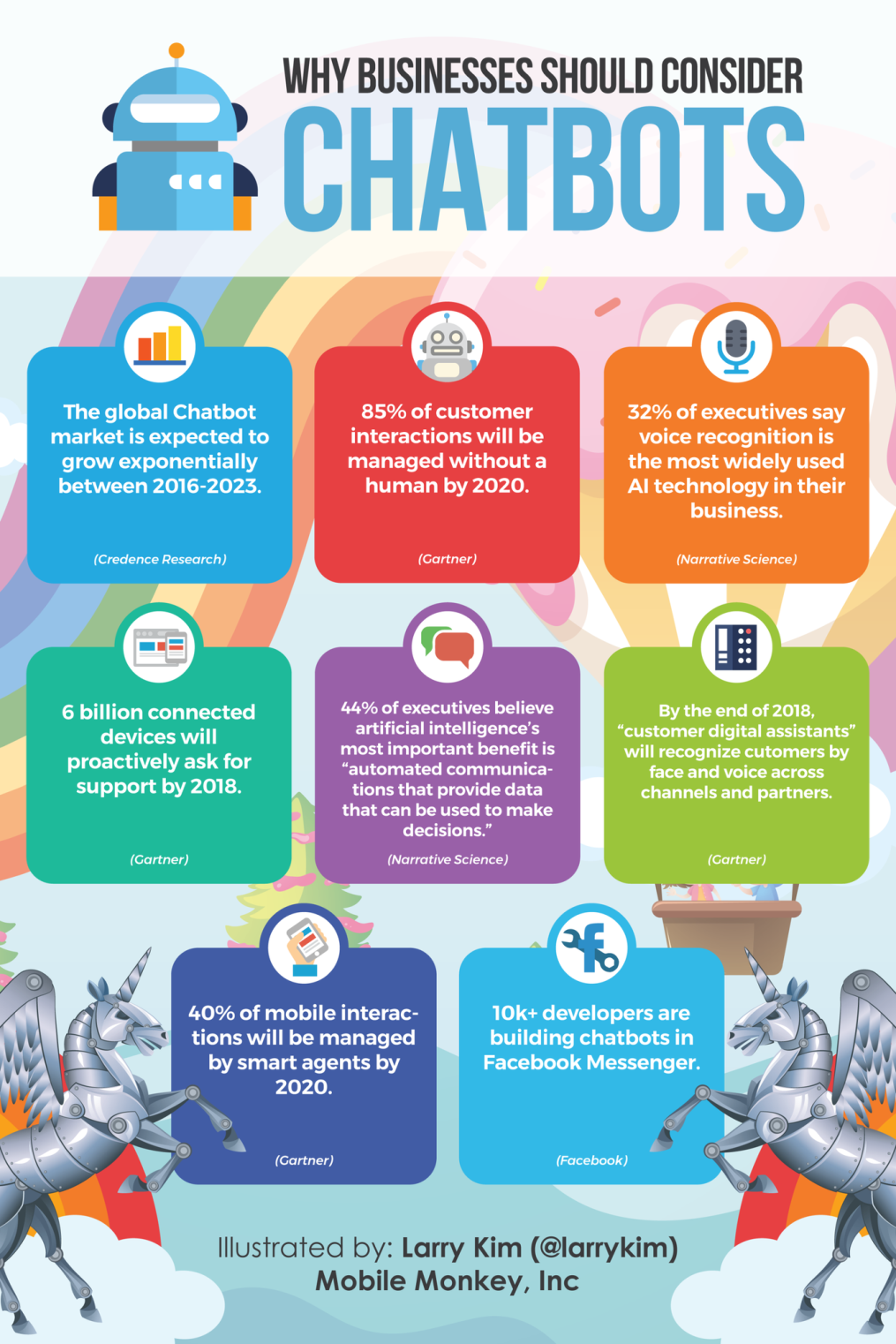 Source: Larry Kim
Round The Clock Availability

The beauty of having chatbot is that people will get instant answers whenever they need it, and there will be an improved effect on the satisfaction of the client. Who knows, they might want to make some more purchases if the customer service is right? You wouldn't want your customers and clients to wait or put on hold when they are trying to buy something, right? Well, chatbots will help in this matter for sure. As these chatbots are available 24/7, they can easily answer the questions of your clients and provide the solutions. In the process, these will help in the increase of customer engagement and satisfaction.

Large Target Audience

There are billions of people who are currently using chatbots on an everyday basis. You know Facebook messenger. Well, the chatbots which are used in this messenger have recently been increased to 100000 in the last few years. So, there is no doubt that it has a very large target audience for sure. If you are using a chatbot on your website, there is a chance that you will be able to get your message heard across a global customer base. Hence, there are so many companies that are currently trying to have the chatbot development services, and you need to do it as well if you want to be a part of the game. With such a large target audience, there is no doubt that your online business will boom like anything when you have these chatbots to help you out.

Bots Can Predict

You might be a bit surprised to know that these bots not only just with the customers that you have, but these also help in making certain predictions about their purchase behaviors and other important things. So, don't you think this might be a bit interesting for you to know what your customers want from the website of yours? We all know that chatbots analyze the user data and make some amazing improvement recommendations. It is all due to the predicting capability of these chatbots which are powered with Artificial Intelligence and hence, you need to make sure that you are using chatbots for your business.

Proactive Interaction

Most companies would have a passive form of customer interaction policy, and that means they will reply to the customers when these people contact the company first. However, you might not want to do that due to the competitiveness of the business industry. Brands these days don't have the luxury to choose a passive form of interactions. If you want customer engagement, then you need to move forward with your proposals and know exactly what the customers of yours might want. So, this is where you will need the help of chatbots. These chatbots have a proactive form of interaction with the customers. Now, what is that, you might ask? Well, whenever there is a customer on your website, the chatbot would automatically send a message to them asking them their requirements.

Low Cost Of Maintenance

Trust me, implementing a properly functioning chatbot will cost you less than creating cross-platform applications or hiring several employees for every single task. If you hire a single person, then they will be able to handle just a couple of tasks. Hiring the agents all year can also lead to some additional costs. So, why not avoid this altogether and find another solution? Well, in this case, your solution is the chatbot technology. This will not only make sure that your employee costs are reduced, but it will also save the resources of the company as well. With these amazing virtual assistants, businesses will be able to save about 30% of the total cost. Not to mention, these chatbots don't require maintenance from time to time. So, why wouldn't you want to be a part of the trend and use these chatbots for your business, right?
Some More Reasons For Business To Invest In Chatbots: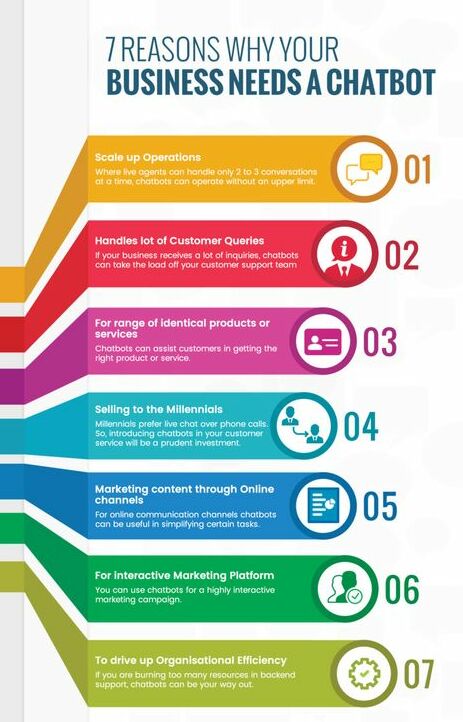 The Final Note:
Chatbots are changing the game for businesses these days by enhancing user experiences. No longer do you have to sit and scroll through complex websites to get the information that you want. Whether you have a small or a large business, you need to use this chatbot technology to have the best results for your company.
If yes, what are you waiting for? Bacancy Technology is one of the leading web and mobile app development companies withholding years of experience in delivering top-notch solutions to 100+ clients globally. Be it Chatbot development or any other; our skilled and proficient developers will sweat hard to deliver excellent and spontaneous Chatbot experience. Partner with us, and we assure we won't let you go down. Drop us your details here to get an instant proposal. Knock now to know more.