Introduction
Sales have gone through many changes over the years, starting from door-to-door, moving to telesales, and then the first CRM was introduced in the mid-90s, and we finally started tracking the sales activities seamlessly. Today we are in this new age of intelligence, and it is exciting because there are so many opportunities. But with those opportunities comes the expectations of the customers. And right now, customers have the highest expectations they have ever had.
The lines between typical B2B and B2C experiences are truly blurring; now, the organization's business partners want the same personalization and attention that they see in B2C environments. As a business entity, you have to merely come to them with value and tell them how you can help to scale up their business. But it's challenging; when you don't have one holistic view of your customers or all of the data in one place, and that's where Sales Cloud comes into the picture.
Salesforce Sales cloud helps empower your sales teams to take your customers from leads to cash to loyalty. As a business leader, you can quickly get insights into your business, so you know where to focus your efforts and make decisions based on market changes.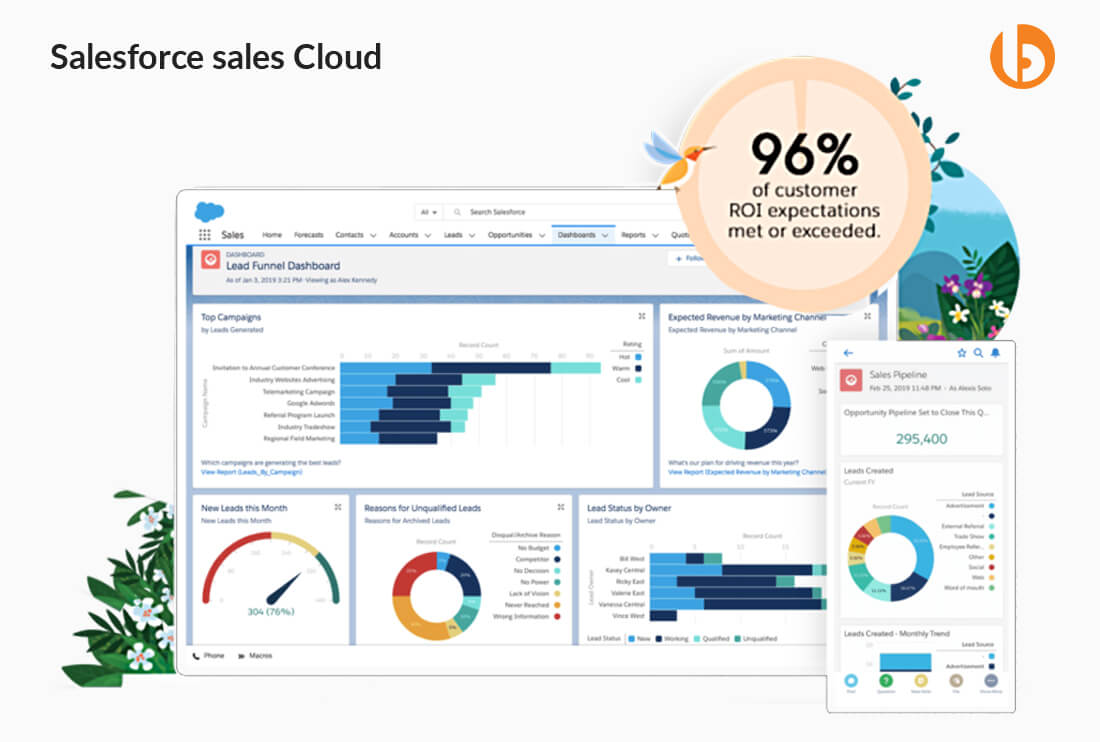 Salesforce is the world's no. 1 CRM for so many reasons; it comes with a wide range of solutions that help businesses to achieve their business goals efficiently and stand ahead of their competitors.
Today in this article, we are going to discuss the critical salesforce sales cloud features, their benefits, and salesforce sales cloud best practices, that let businesses:
Sell smarter
Sell faster
Sell the way you want
Before going in-depth, let's see what its market says:
Sales Cloud Market Size
According to Statista.com– As of its 2021 fiscal year, Salesforce.com's largest revenue-generating service offering was its "Salesforce platform and other" which earned the company over six billion U.S. dollars in total revenue. Other cloud services offered by the company include the Sales Cloud, Service, and the Marketing Cloud. Historically, Sales Cloud has generated most of Salesforce's revenue, in 2021, it has generated $5.19 billion in fees related to Sales Cloud, which is almost 26% of total subscription and support revenues.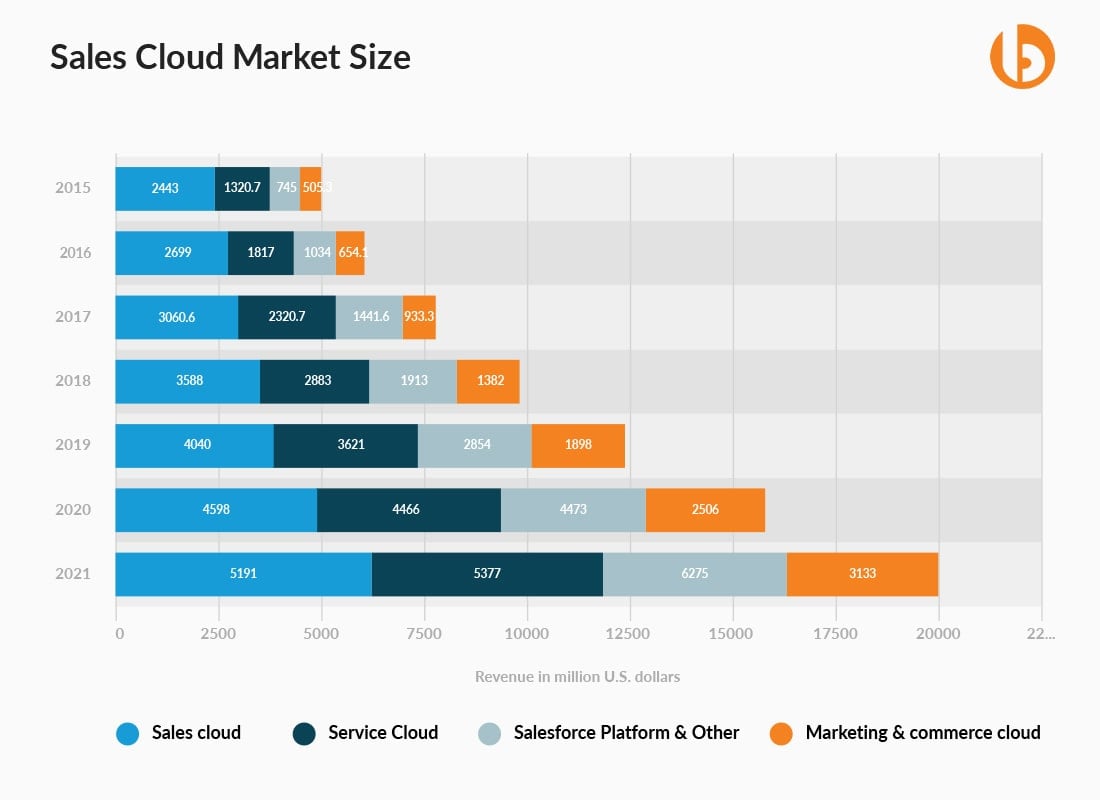 What benefits will businesses get using Salesforce Sales Cloud?
Salesforce sales cloud comes up with immense benefits that will help you grow your business manifolds-
1. Go Mobile
Today, mobility has become an integral part of businesses as it allows you to work from anywhere, anytime. Salesforce sales cloud brings mobility solutions that let you monitor sales activities from anywhere in the world. No matter where you are, this solution allows you to track every single activity of your sales team and operations from your very own personal device. You can check dashboards, sales charts, reports, call logs, respond to deals, and more with just a few clicks.
2. Sales Forecasting
Another significant benefit you can get from the sales cloud is the forecasting that helps you make more informed decisions. Sales forecasting in the sales cloud is extremely simple and easy. This functionality gives you a real-time view of your team forecasts. Also, it provides multicurrency support and overrides visibility that helps you gain a competitive advantage in your respective markets.
3. Increase your leads
If you plan to boost your conversion rates, the salesforce sales cloud is the best platform for you. This CRM platform contains all the features you need and makes you a lead machine. It offers a lead management feature that lets you track your leads closely while monitoring campaigns across all the channels. This platform is also renowned for providing the right data that will help you increase your productivity in sales and marketing.
4. Boost your productivity with AI
Artificial Intelligence is the most powerful tool that makes the sales cloud a top choice in the market. The technology Einstein AI, built-in sales cloud lets you automate the core processes, prioritize your potential leads, and help your teams to convert or close them in a quick turnaround time. AI automation in the sales cloud is one of the biggest blessings you can use for your business to boost its productivity and revenues.
Salesforce Sales Cloud Features
Salesforce sales cloud is the best CRM solution for you. How? This platform features all the critical elements required to run your business swiftly with embedded intelligence. Below we have mentioned a few critical salesforce sales cloud features that will help you understand how you can achieve your targets with this robust platform.
1. Account and contact management
Know every contact of your customer's account with the sales cloud. This feature lets you access the critical customer's data, including the communication history, key contacts, and more. This feature provides you a complete picture of your customer from insights, deals they are involved in, and how to engage them.
2. Opportunity management
Manage all your sales deals while staying busy with other operations from anywhere in the world. This feature helps you to focus on the thing which is most important for the business. It highlights all the essential aspects like your competitors, at what stage your deals are running, and what moves you can take to win those deals. It quickly creates up-the-minute quotes, streamlining your sales process.
3. Lead management
Lead management is one of the prominent salesforce sales cloud features that lets you convert more leads into real-time opportunities. It tracks all the accurate information about your leads. This feature assists you to see where the lead came from, provides you the relevant information upon which you can take decisions and route and assign leads to the right people at the right time. It also helps you to track all your marketing campaigns across all the channels.
4. Reports and Dashboards
Build customized sales forecasting reports at great ease with the sales cloud. With this feature, you are only required to drag and drop the fields, filters, groups, charts, and categories you want, and your work is finished. You will get an immediate real-time view of your report. Moreover, you can track your team performance through dashboards and other sales activities tools and quickly make decisions.
5. Pipeline and forecast management
Salesforce sales cloud forecasting feature lets you drive predictable revenues with comprehensive forecasting. It offers you an inclusive view of your entire pipeline and business activities. With reliable data insights and predictive AI, it helps you make critical decisions that drive revenue for sure.
6. Process Automation
Sales cloud lets you automate your business process with drag and drop simplicity and drive success with easy processes. The process builder comes up with a point-to-click interface that automates your business processes. It lets you create automated workflows and alerts for various deals. As the deals move through different stages, it auto-assigns the tasks, making the process simple and fast.
7. Data management
Providing the right data at the right time to the right person is important for success in business processes. The sales cloud data management feature will help you with it. With the help of AI, the lightning data help you discover smarter business-changing insights, identify the potential customers and segments, and bring the best opportunities. The lightning data allows you to choose the right type of data which perfectly matches your business requirements.
Now, let's start with Sell more innovative-
Sell Smarter with Salesforce Sales Cloud Einstein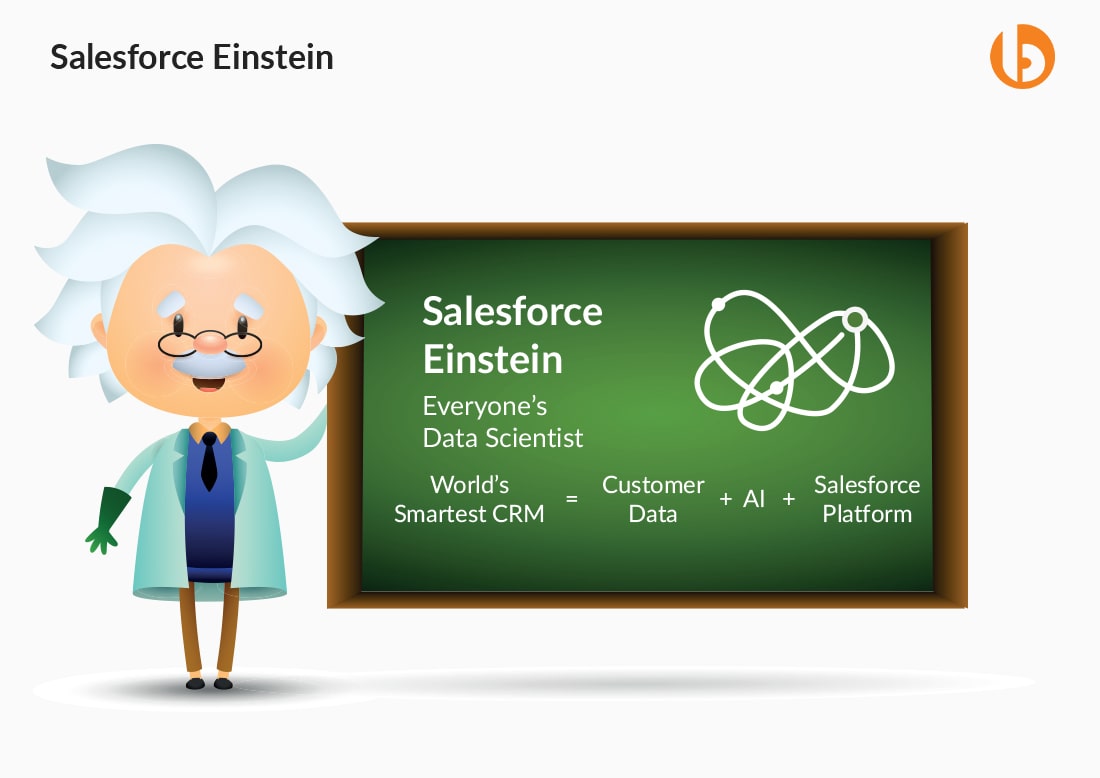 Sales Cloud Einstein is the term that we have heard a lot in Salesforce, so what is Einstein basically?
Einstein is Artificial intelligence and Machine Learning on the platform; it is pretty much like your own personal data scientist in your pocket. Because Einstein looks all across your Salesforce CRM and finds Data that is important for you and surfaces that data that helps you make informed business decisions.
For example, when you capture lead activity, Einstein helps score those leads so that you can understand which ones are more qualified.
Einstein does the same thing with opportunities; it will score the possibilities so that businesses can exactly know where to prioritize their day and which accounts to call first in the next day.

Both these features are the main reasons for the massive demand for the Salesforce Sales Cloud. However, it comes with more robust features like Account Insights.

With Accounts Insights, Einstein takes news from across all your different news sources and surfaces that into your account data in your CRM.

For instance, let's say your account got close, or they have a new CEO at the company; this helps you because-

1. It helps you become more educated on your account and have relevant conversations with your customers
2. It shows how you could impact that opportunity that allows you to close the deal faster

Now, these features are just sneak peeks of everything that Einstein can do. Those features plus with Supercharged Sales cloud Einstein businesses will get-

Einstein forecasting– offers businesses out-of-the-box predictions about how you will end up in your quarter or year by revenue. Let's say you are not tracking the targets. Einstein is going to help give you some tips and tips on how to get there.
Analytics– Analytics comes with 40 KPIs and 20 unique dashboards, including the white space analysis dashboard that lets you see where your open opportunities are.
Salesforce Inbox– Salesforce helps businesses with popular emails based on which ones are the most prioritized for you to read that day. And, Einstein tells you what you should do based on those emails, like setting up a meeting with a specific account.
So these are a few critical features of Sales Cloud Einstein that help businesses to sell smarter.
Moving on, let's discuss how to selling faster-
Sell Faster with Salesforce Sales Cloud
As discussed above, the time and pattern have been changing within sales, but something that is getting increasingly more difficult is that Salespeople are more in front of their computer screens. In fact, sales reps today, whether they are in their field or doing inside sales, spend 6 hours more on their computers than with their customers.
That's huge..
Businesses are now looking to decrease that screen time so that their sales reps can focus more on interacting with real-time customers, and the Sales cloud helps them with it and enhance productivity.
Salesforce sales cloud comes with one of the prominent features, "Macros", that helps businesses to automate manual tasks in bulk
Sales Cloud Einstein helps to prioritize leads and opportunities. The best part about the Sales cloud Einstein is whenever you click on your top leads; it shows you the Einstein score and the factors driving that score which is super helpful for the sales reps as it explains the potential of that lead. Based on it, the sales reps can take action immediately; they can send an email or call the prospects.
Lightning Sales console allows businesses to customize their dashboards in Salesforce based on what is essential for their business.
How Pardot Works in Sales Cloud and Helps Sales Reps to Serve Better?
Undoubtedly, every business wants its salespeople to be productive, but how can you make your sales reps more productive, successful and drive pipelines? Here Pardot comes into the frame.
Pardot is smarter marketing automation that helps businesses find and nurture the best leads, allowing sales reps to close more deals and maximize business ROI. And in this group, Salesforce engage is one of the prominent parts.
Salesforce Engage offers alluring space on your prospects' activity, and you can also send out an appealing marketing approved email template to your contacts and your salesforce instance.
Let's say you send out an email and you have got a response that they are not quite ready to buy. Here with Salesforce Engage, you can add someone on the email nurture campaign so that while you are busy working with your customers and being occupied in those in-person meetings, you can continually be sending them communications through this nurture and warming up those leads.
Hence, Sales cloud and Pardot collectively help organizations to close the deals effectively. Be it any device; the Sales cloud lets you sell faster and smarter.
Moving on, let's discuss a few more critical offerings of Sales Cloud that help sales reps to connect with their customers efficiently.
How Does Salesforce Sales Cloud Einstein Help Professionals?
Sales Cloud Einstein helps companies prioritize their leads, qualify and arrange based on their likelihood of converting them into an opportunity. The sales reps can find the lead lists on their Einstein dashboard, prioritizing according to their score.
The Einstein score of the leads makes it easy for the sales reps to understand where they require to spend their time. It enables them to take action immediately via email or call. But if your lead list is packed up, then you can't go through all the leads in a single day.
So how can you do it?
Einstein cloud enables you to select the top leads from the list and add them to a call list.
The platform employs a feature known as "lightning dialer, " which allows sales reps to make outbound calls to the selected leads quickly.
In the selected dialog box, the sales reps can see an option "call next". By clicking on that button, an individual box appears in which the complete information is available about the particular leads.
In that box, sales reps can connect with the specific leads or leave a voicemail. Usually, a voicemail takes 30 secs to 1 minute but here with a feature like "Voicemail drop" and sends a quick voicemail.
Sales reps can quickly move to the next leads by clicking "Call next", as they do not require to go back to the lead lists or anything different.
If a sales rep requires a follow-up with the prospects after the call, Macros helps them; it eliminates redundant activities like sending emails that are needed to do with each call.
The Macro feature automatically recorded the activities of the sales reps with a particular lead. It recorded that the person had a phone call, it went well, he is required to follow up with the clients. It records everything in seconds; the salesperson only needs to tape the button "run macros".
So these are a few critical steps that let you connect with your potential clients easily. The sales cloud turns out the minute's activities into a few seconds and saves time and dollars for the organization to a great extent.
Coming to the last but not the least part-
How Can Businesses Sell with Sales Cloud?
Here Lightning helps you with it. Lightning comes with 700 features that are enough for any business to close its deals efficiently. One of the innovative features in Lightning is the "Lightning dialer" that we have discussed above as well. This feature helps you to connect with your potential leads quickly. It is one of the productive features that significantly impact business operations and its success.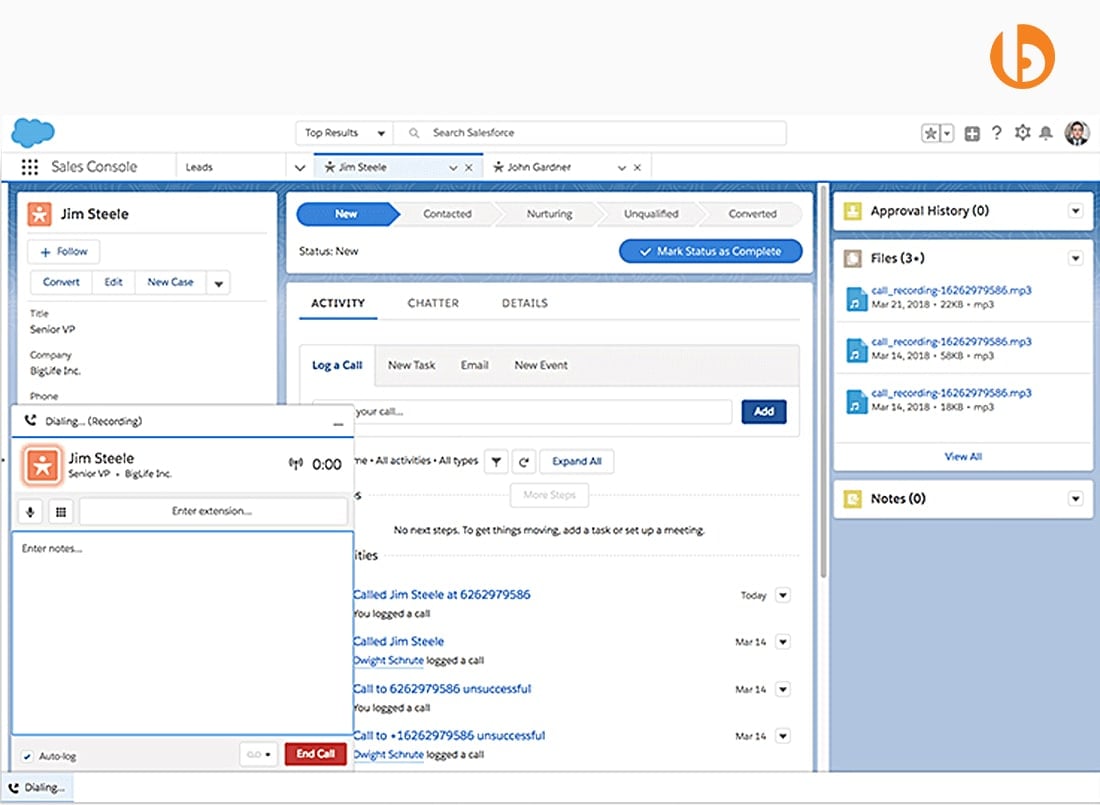 Apart from it, MyLightning is another innovative solution of Sales cloud that lets you build a customized sales dashboard. The dashboard comprises everything that helps companies track down their sales activities, including pipeline, revenues, and how their teams perform. Organizations can customize it according to their business needs.
We know that Salespeople are always on the go; they are trying to go out and meet with the customers, so all the power that Salesforce offers must be accessed on the mobile devices to use it wherever they go.
Wrapping Up
So here we have come to an end, indeed it is a long post to read, but we hope you like it and get an idea of how the salesforce sales cloud features and its practices benefit your business. Implementing sales cloud in your business systems is one of the best decisions you can make for your business. This platform not only helps you to track your sales activities but also helps in increasing the productivity of your sales teams.
Overall it gives business owners the ultimate benefits of relishing revenues along with productivity. Hence, if you are also planning to manage and boost your business sales, the Sales Cloud is the leading solution to go with. Integrate Salesforce sales cloud today in your system and take your business to new success heights.
If you are looking for helping hands, we are here to assist you. Whether you are looking for a solution or Salesforce sales cloud pricing quotation, we can help you with it.
We are a leading Salesforce development company that has robust experience in delivering excellent salesforce sales cloud solutions globally. So what are you waiting for? Connect with us today and start your project.
Frequently Asked Questions (FAQs)