Table of Contents
Introduction
Creating an online presence, be it through a mobile app or a simple website, holds tremendous importance in the current times. Customers' buying behaviour has changed, and so have the means of connecting with a business. For businesses in healthcare, retail, and education, it is necessary to have a platform that helps customers connect directly with the enterprise.
Similar is the case with real estate industry owners. Considering the fact that they communicate with their customers directly, having a real estate web platform acts as an onus. Meaning that the customers can engage with the business, get all of the required information in a single place, and connect without having the need to talk to a middleman.
Not to forget the fact that a web or a mobile app helps the business reach out to the world. It increases and enhances the visibility of the same, boosting sales and increasing profits.
With that being said, if you are still not sure how and why to build a real estate web platform, this article will help you with the same. Without further ado, let's get started with the same.
Importance of Real Estate Web Platform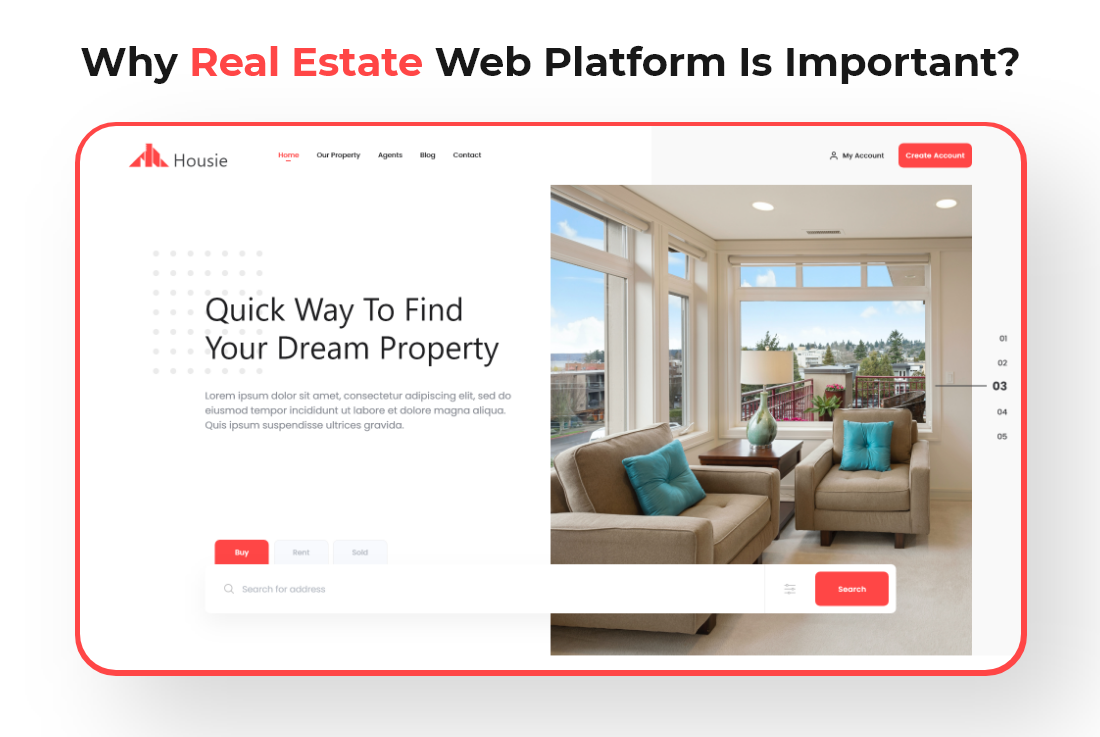 Real estate basically means the industry that deals in the buying and selling of industrial properties. It could either be a plot or a well-structured flat, or corporate space. Also, it could be dealing with new properties or the existing ones. Either be the case, real estate brokers deal in properties.
Conventionally, real estate agents would reach out to the prospects to promote their properties. The best case would be both visiting the plot to view the same and enter into business. Now considering that this would consume a lot of time and the fact that customers now seek convenience, stepping out isn't the best way. This is where having a web platform makes sense. As per research, nearly 75% of the buyers use an app to locate locations or find a property. Consider a person X planning to buy a property.
The first thing X would do is click open the web browser and find properties in the desired location. If your business doesn't have an online presence, you just lost the opportunity to make money. Irrespective of whether it is residential real estate, industrial real estate, commercial real estate, or simply land (farm, vacant land, and ranches), customers want a platform where they can buy or sell different properties, land, and buildings.
As a matter of fact, these platforms offer all that customers would need to connect to a property. Narrowing down the discussion to the U.S economy, the real estate business lays a tremendous impact on the overall economy and is regarded as the primary driver of their economy. It is seen that industry accounts for $1.15 trillion of the economic value. This number is relative to 2018, and the same would be high if we talk about the current year.
To sum up, a web platform isn't only the source of information for the users but also a way to connect with them and increase sales without spending much on physical meetups. Hence, developing a complete real estate app is the best way to drive sales and earn more profits.
Looks good?
It so happens that most of the top real estate business owners have a web app. From Trulia to Redfin and Zillow, the real estate industry is booming with success. With that being said, let's move ahead to see what are the features that every real estate mobile app must-have in case you decide to have one for your business.
What to Consider While Developing Real Estate Web Platform?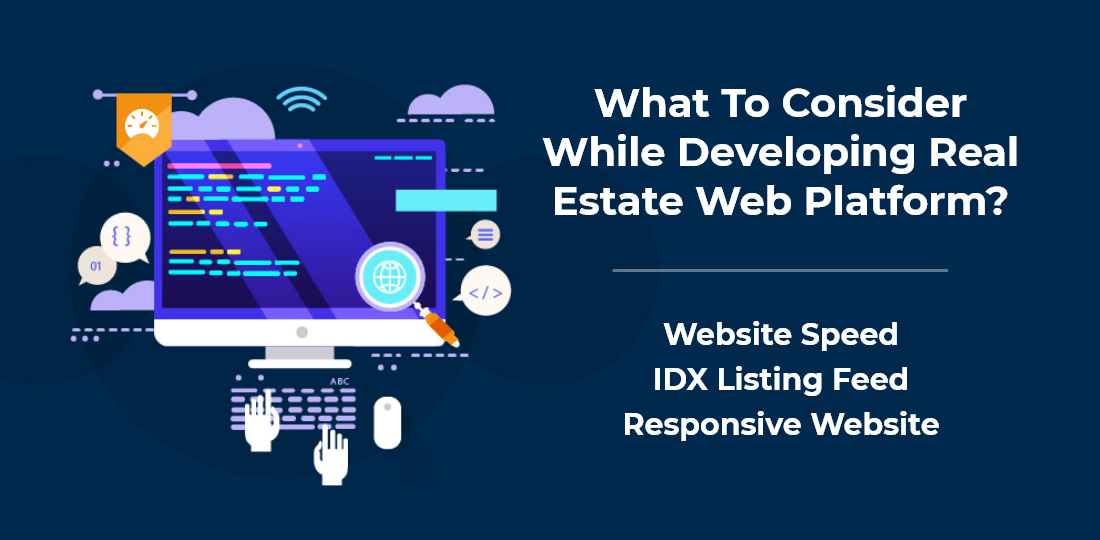 Having said that, we will discuss hat the things that you must emphasize when integrating the real estate web platform are. Even though there could be an array of things, here are the top things:
Website Speed
Website speed is one of the most important aspects of a web application. No matter how effective the web application is or how effective the features are, it is a must that the same has a tremendous speed. If the website fails to load or takes a lot of time, you might lose a potential buyer. In case your website takes a lot of time, optimize the images, remove unnecessary elements, and enhance the overall performance.
IDX Listing Feed
The Internet Data Exchange (IDX) is important for any or every real estate application. Nearly 95 percent of the real estate websites have IDX listings. This is because it allows you to extract data from the Multiple Listing Service (MLS) and then add them to your website.
Responsive Website
Lastly, a responsive website is one that ensures data can be accessed across all devices. It is a must that the app can be used on laptops, mobile phones, and other platforms as well.
Looking for a highly skilled developer for full-stack application development?
Contact the best Full stack development company for building customer centric Real Estate Web Platform and take your project aspiration to the next level.
Benefits of Building Real Estate Web Platform?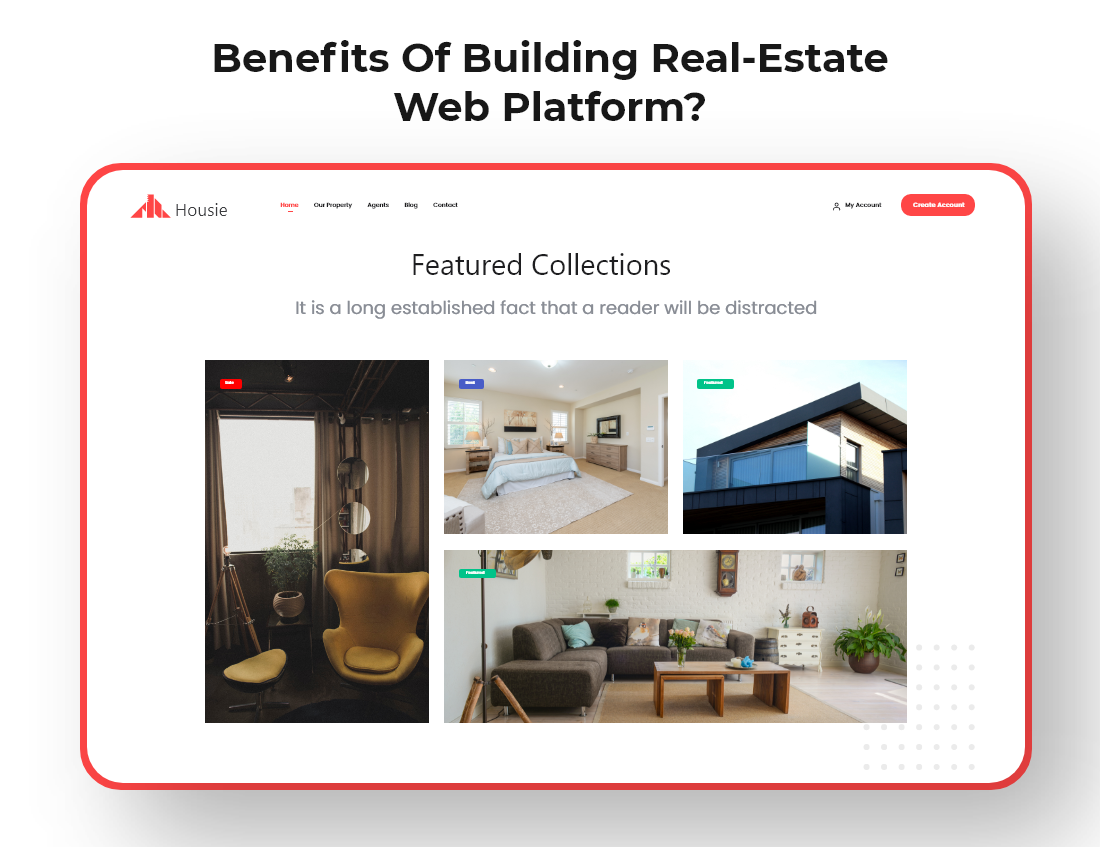 Generating revenues through a real estate web application could be tough if you aren't aware of how. There are three ways to do the same:
Premium user's fee: Have an option for premium rated users. You can allow customers to either have a free account or upgrade the same, offering additional services to the same.
Charge fees: Charge fees to the sellers where they would need to pay to add a property listing in the app.
Ads: Display specific ads in the mobile app to earn money through the same.
In case you have an idea in your mind or planning to embed a real estate web app for your business, you might want to take a look at one of our recent projects.
Successful Real Estate Web Platform Development – Case Study
Client location: USA
Industry: Real-estate
Product: Web application

Bacancy recently developed a fully-comprehensive real-estate web solution that digitized the business of our client. This high-performing application allows property management, team project management, reporting, analysis, customer interactions, calendar usage, SMSs through the interactive and user-friendly user interface. With it, the real-estate business and its employees or management could handle their operations from anywhere and update everything in real-time.
Besides all its features, the client loved how smooth and fast it loads and how well-management its dashboard is. We made all features and functionalities easily accessible from the main user interface itself so that employees never face any difficulty in using the web app.
Real Estate Web Platform: Core Features
Deciding to integrate a web app for your real estate business is the first step. As easy as it may seem, it isn't simple. In fact, creating a web app is easier said than done. That is to say; when you are convinced that now is the time to have a web/mobile app, you must keep an eye on the features that should be part of the web/ mobile app. Here we have outlined the must-have features in the real estate mobile app: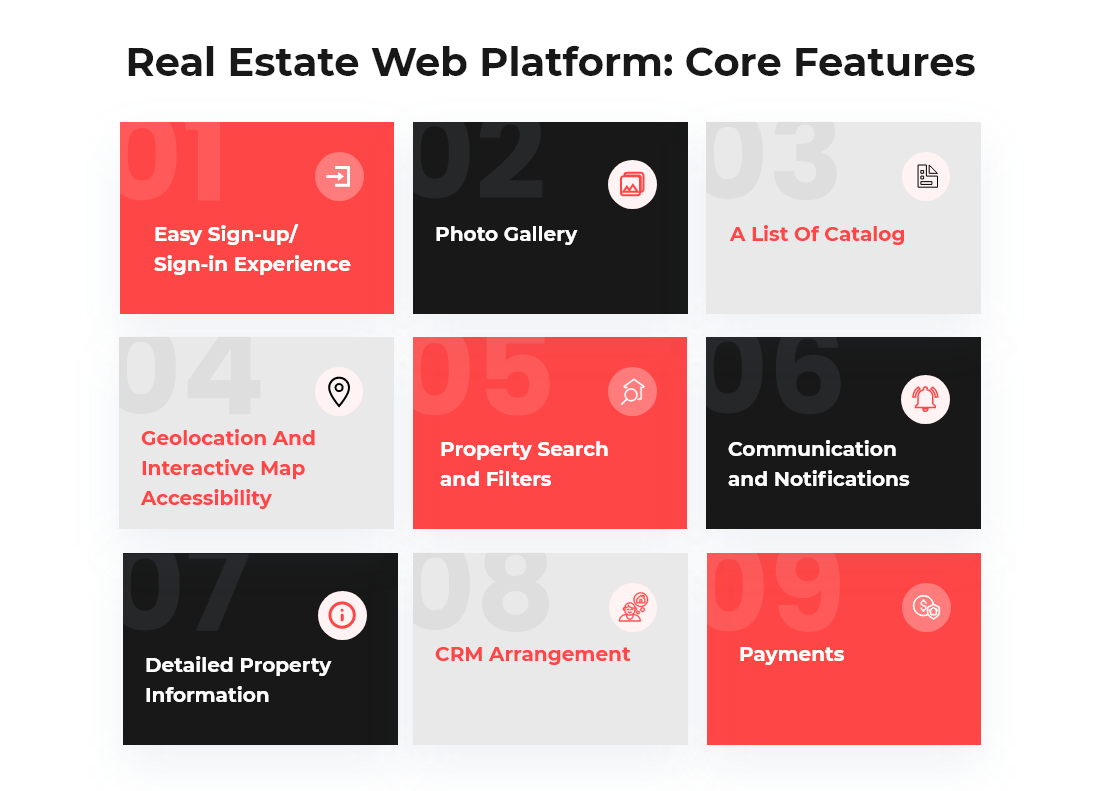 Easy Sign-up/Sign-in Experience
Make sure the app designed for the real estate business offers a simple and hassle-free onboarding experience. It is seen that customers aren't of the view that requires them to enter their information manually. They prefer a one-click sign-up experience. You can talk to the development team to integrate google sign-in or through social media apps. Either way, the visitors must not spend time while signing up. In addition to the above, you must also specify whether the login is for the customers or the sellers.
Photo Gallery
Ok, this is something that is a must when deciding on app. The real estate business is all about properties and buildings, hence the need for a photo gallery. This is where you will have all of the land or property images stored. Make sure that the app has a well-structured photo gallery.
A List of Catalog
Wondering why you would need a catalog when you already have a photo gallery, right. A catalog is where you list out all of the properties. It must have the primary features mentioned. Meaning that as a user clicks on the property, it would display all of the same information. The details of the property, the price, and the contact information. You can also have a favourite list added that would give the option to save their favourite properties.
Geolocation and Interactive Map Accessibility
Next, we have the option of geolocation and map accessibility. This will help users get to the location of the property, finding the right area. For example, if someone is from a different city, he/she might not know the exact location of the property. Hence, having a geolocation feature would guide them to be in the right place without worrying about the same.
Property Search and Filters
A search bar is one of the essential features to have in a real estate web app. This will help customers' lookout for the best option without having to scan the entire list of properties. The filter option acts as a bonus as customers can skim through the database, finding the best deal. This would include the ability to search and sort properties based on size, colour, type, price, etc.
Communication and Notifications
Imagine a real estate app without an option to send a message or a call. This would mean that customers can find all but unable to connect. What good would such a real estate app do? This is why you must have an in-app messaging or video call feature. Also, make sure that the feature works flawlessly and doesn't require much effort from the customer side.
Detailed Property Information
The property details would have all information such as the location, the property name, the total number of rooms, bathrooms, total area, and facilities such as gym, clubhouse, parking, etc. In addition to the above, user comments and display ratings also help.
CRM Arrangement
Apparently, a new feature, integrating a CRM tool, will help optimize the sales strategies. Having a CRM tool will help keep track of the customer's information and send alerts and notifications on the sales closed, progress, etc.
Payments
Not the most important, but having an in-app payment option will simplify the process of accepting payments from the customers. This will help you keep track of the same and ensure that all dues are cleared.
Other prominent features include video content of the property, in-depth property analytics, mortgage calculators, sold home statistics, price trends, digital signatures, 3D virtual reality tours, etc.
Development Challenges
Developing the web app wasn't easy as the customer had a lot in their mind. They have had tons of requirements that need to be added to the app. After intense study, our team shortlisted the below. Core features to be developed:
Property management
Reports & analytics
Dashboard
Tasks and reminders
Customer relationship features
SMS & calendar integration
Technology Stack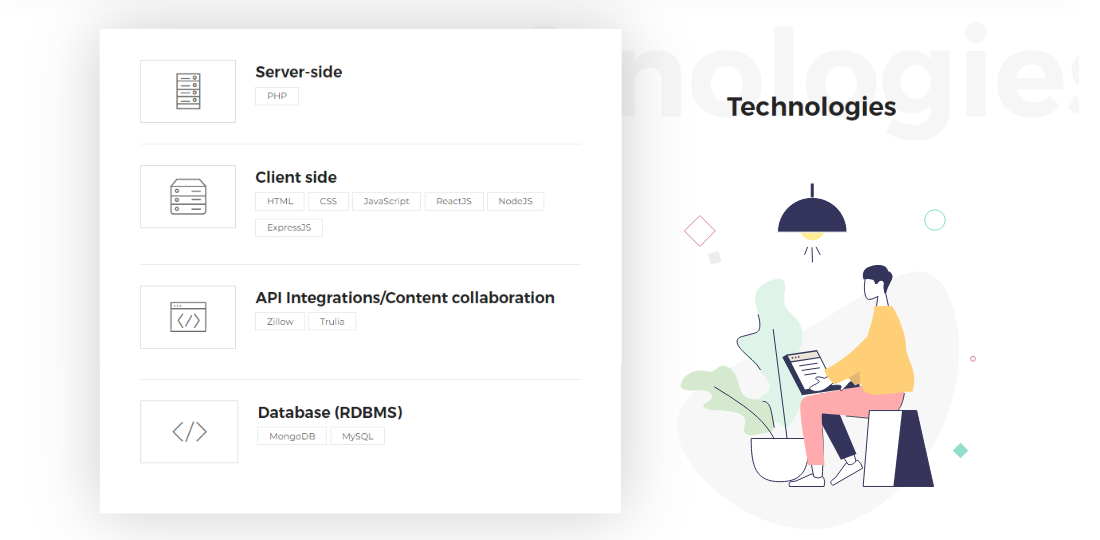 Team Size
For the complete DevOps set up and to establish an I.T. infrastructure that meets the demanding needs of the real estate market, a team of 2 backend developers, 1 dedicated UI/UX developer/designer, 1 Q.A. tester, 1 Analyst.
Time Duration
After taking charge of the project, we sorted out individual software components to use – in the first place. Additionally, we selected the technology tools that help in decreasing overall loading speed. After proper evaluation, the offshore software center team arranged a meeting with the external CTO for elaborate planning. As far as it wasn't a single website or mobile app project, nearly 2 years of continuous development efforts were required. And the team successfully fulfilled the criteria in the mentioned time period. We made sure that everything designed and developed was in accordance with the client's requirements.
Conclusion
Bacancy is a renowned full-stack development company that delivers all-around design and development support for web and mobile applications to clients and businesses worldwide. We have a proven track record of rendering satisfaction to the customers.
Our team of developers is passionate about delivering an exceptional experience to the customers and do all that's needed to build a flawless web application. Hire full stack developer and leverage the advantage of our Full-stack development services to experience tremendous growth in your business outcomes.
Reach out to us to know more about our top-of-the-line full stack development expertise and our dedicated full stack developers, along with the projects delivered so far. Hire Full Stack Developer from us, we assure you of an exceptional solution at an affordable cost. With us, you will never have to worry about the app. We are your end-to-end full stack development support partner.