Table of Contents
Introduction
Today the business world emphasizes more on managing relationships, whether it is customer relationships, sales, marketing or financial; the companies are dramatically investing in these relationships for better growth. The emergence of cloud technologies has opened the door to establishing relationships with customers and clients quickly. One of the robust platforms that promote such relationships is Salesforce. Salesforce is undeniably one of the best and finest CRM platforms that help businesses maintain business links uniquely through its various solutions. This CRM platform has a lot to offer for departments like sales and marketing, so how can it leave the financial department behind? The platform that is designed to change the future of wealth management.
Salesforce first introduced the financial services cloud platform to support wealth management, but it has become more than that today. At present, this platform assists businesses in having more personalized interactions with wealthy profile clients, automates the routine processes that avoid the chances of missing new clients opportunity and delivering customized services anytime, anywhere.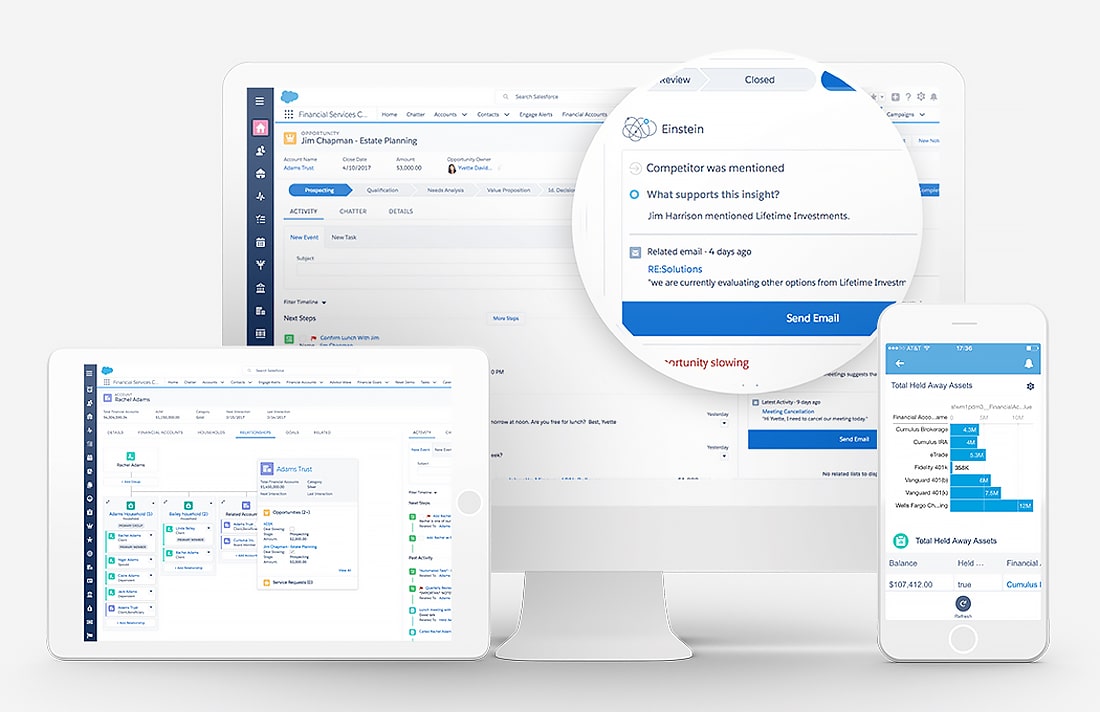 This blog post has taken account of the concept and benefits of using the Salesforce financial services cloud platform with your business process.
So without any further ado, let's get started-
Salesforce Financial Services: What & Why?
Financial Services Cloud powered by Salesforce is an integrated platform designed to drive stronger financial relationships that last longer. Financial services platform is considered the future of wealth management, as it nurtures the financial relationships deeper with its proactive tracking, reminding organizations about their client's needs.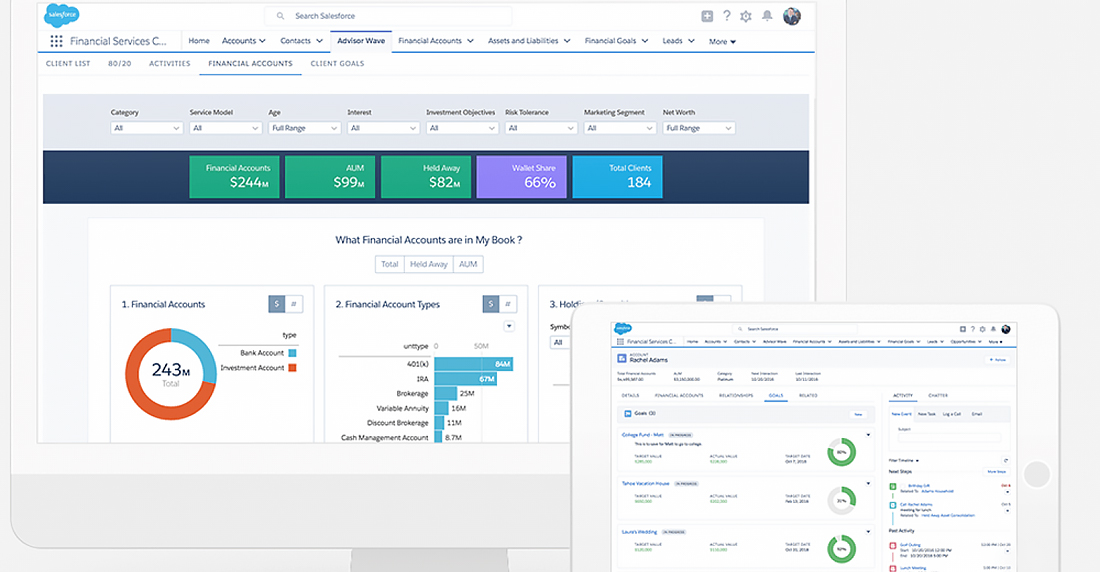 This platform helps financial advisors save time and effort by avoiding gathering information of the clients and spending more time on the things in which they are brilliant, like goal-based advice and investment advice, which ultimately helps clients grow their business.
You will get-
An opportunity to match the dreams with your client's goals
Get a 360 overview of your book of business
Automate the daily processes
Connect with clients from any device anytime
Manage the client's entire financial life smoothly.
Benefits of using Salesforce Financial Services Cloud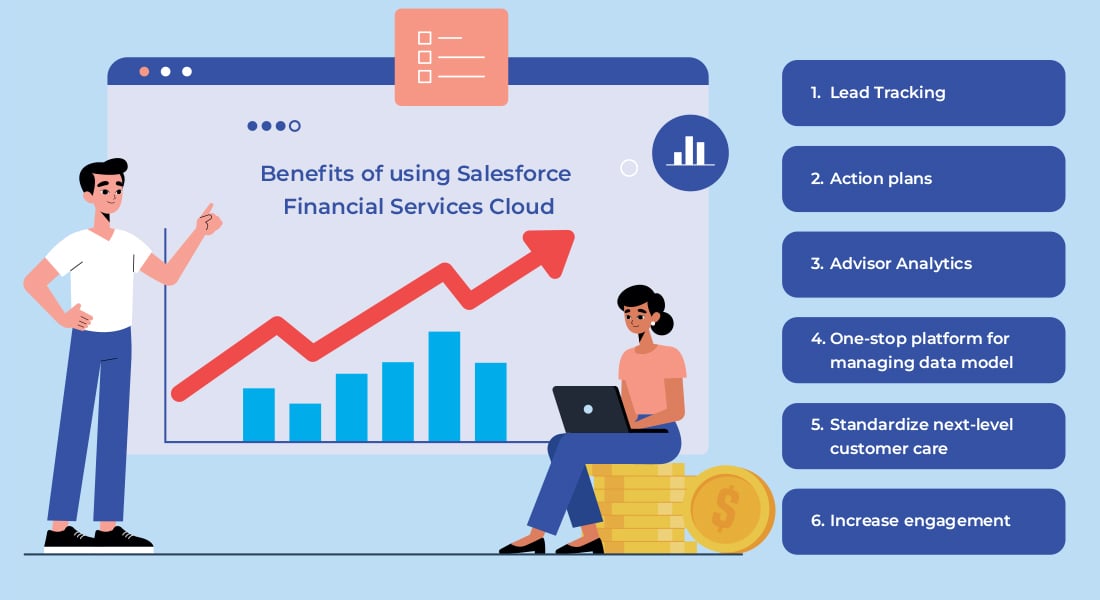 1. Lead Tracking
In finance, it is necessary to keep a close eye on the leads and referrals, and the financial services cloud will allow you to do the same seamlessly. The financial services cloud comes with powerful productivity tools and integrated partner apps that help your financial professionals keep an intelligent track of all the leads and referrals. From creation to conversion, the team will update every single move on their FSC accounts.
2. Action plans
Financial services cloud eliminates the kiosk or miscommunication regarding tasks and actions among team members. The platform offers advanced action plan features that automate the critical tasks and their deadlines to meet the specific goals. The tasks are auto-assigned to team members according to their profile and capabilities and ensure compliance as well. It also allows organizations to get a view of their action plan progress.
3. Advisor Analytics
Salesforce financial services cloud comes with an analytics dashboard and reports that help financial advisors to offer more informed decisions to their clients, which helps them in their growth and revenues. It allows financial institutions to customize their reports or dashboards as per their business requirements. The analytics are powered by the cutting-edge technology Artificial Intelligence, making this platform more reliable and accurate for making better financial decisions. The FSC is available in various editions, which is an excellent add-on for organizations in their financial journeys.
4. One-stop platform for managing data model
With financial services cloud, the financial advisors can easily manage the businesses, client's data model, household models, individual data model account or personal account data model—the platform lines up the relationships, including- Account-Contact Relationships, Account-Account Relationships and Contact-Contact Relationships.
5. Standardize next-level customer care
One of the most prominent benefits organizations get after having SFC is intuitive customer care. Customers always expect more from businesses, including beneficial advice, quick response, accessible communication, and more. Salesforce financial services allow companies to fulfil all these requirements. To offer the intuitive experience, SFC tracks all the activities, visualizes customer relationships, sources, referrals, streamlines the coordination among stakeholders, and provides complete transparency.
6. Increase engagement
Whether it is stakeholders, employees or your end customers, SFC enhances the engagement to a great level. It unlocks the wealth of new opportunities; robust features offer outstanding digital engagement to businesses. Automation and Artificial intelligence make this platform more demanding than others. By leveraging the power of AI, this platform provides reliable and trustworthy analytics, which ultimately benefits organizations in making more informed decisions.
On the other hand, Automation decreases human errors, making financial advisors' work more accessible and sorted. It relieves the employees from the tedious manual tasks and frees them to keep more focus on retaining new customers.
JTC plc: Salesforce Financial Services Success Story
Final Words
Wealth management, retail banking, corporate banking, insurance and capital markets are the essential parts that cover critical financial activities. The financial services cloud comes as a powerful tool for all these institutions, which not only saves their time and money but also gives them a boost in their work productivity.
The financial cloud journey helps advisors to stay one step ahead of the competitive market. So if you are a financial organization and planning to unlock the new doors of wealth management for your business, take a step with Salesforce financial cloud in your new journey. Implement the SFC in your business systems today and see how your business will do wonders in a quick time.
If you are looking for a professional hand, we are here to assist you. We are a leading salesforce development company that provides various salesforce cloud solutions globally with 100% client satisfaction. So do not waste your single second; drop your inquiry mail today with us, connect with our experts and start your new cloud journey.
We are just a ping away.
Frequently Asked Questions (FAQs)
Salesforce sales cloud helps businesses with their sales activities. In contrast, the financial services cloud allows teams to access actionable insights with analytics reports and offers personalized financial advice that brings value to the client business.
For delivering an intuitive customer experience, Lightning is required. The majority of FSC functions lie under Lightning experience, so if it isn't used, it affects the functionality of the FSC to a great extent.
Digital engagement
Automate the routine process
Advanced analytics reports
Smart AI assistance