Quick Summary:
This blog sheds light on the perks of why use React for frontend development and why you should outsource ReactJs development services. It offers quicker rendering, has a rich developer toolset, simplifies scripting, SEO-friendly, and more. Find out the popular and proven React.js combinations- which backend is best-paired with the React.js frontend, React js use cases.
Learn which successful brands use ReactJs for their business, which types of projects are best-built with React.js, and why outsourcing your frontend development with React.js will be a favorable decision for your business. Do share this blog with your friends and the React community along with pouring your views in the comment section on React web development.
Introduction
New technologies are always introduced as an innovative solution and an alternative to swapping the old ones. The original idea of application development has been completely revamped. It all began when Facebook introduced the JavaScript library into their newsfeed in 2011 and later Instagram in 2012. The purpose of the JavaScript library is to build interactive user interfaces as it lets build large web applications that change over time in a fast and reliable way, without reloading the page.
Why is react so popular, you may wonder? Well, the rich, multifaceted, and dynamically hyped, React is one of the most popular front end development library amongst entrepreneurs.
While there are other best Reactjs alternatives as Angular, JQuery, Vue, etc. React has emerged to be the clear winner and entrepreneur's first choice to use Reactjs for web development.

The above graph explicitly depicts the solid proof of why do we use React js and the reason why choose React over javascript frontend frameworks/libraries. Front-end plays a considerable role in the success of any modern business application. React is a widely used and robust library that is steadily gaining traction amongst programmers as well as business owners. Due to a number of its benefits, ReactJS has become a go-to web development tool.
React ensures efficiency and high code reusability. You can develop a Scalable Structure for ReactJS Application and that too faster, as compared to other frameworks or libraries. Approximately 1.2 million websites are using React as per the statistics of BuiltWith.
Why Use React? [Entrepreneurs' Quest]
ReactJS is an open-source, trendiest, and component-based JavaScript library that is widely used to build reusable user interfaces components for web and mobile applications. React is often mistaken as a tool, framework, and language, sometimes it is confused with React Native – cross-platform mobile application development tool.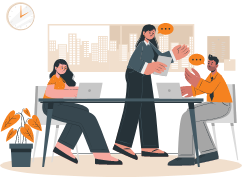 Want to know if React.js is potent enough for your business idea?
Our elite business consultants will give your idea a vetted industry test and gauge its offerings to understand why you should use React for web development.
Go sure with your Business Proposal!
Business decision-makers often have to ask three essential questions related to 'why to use React':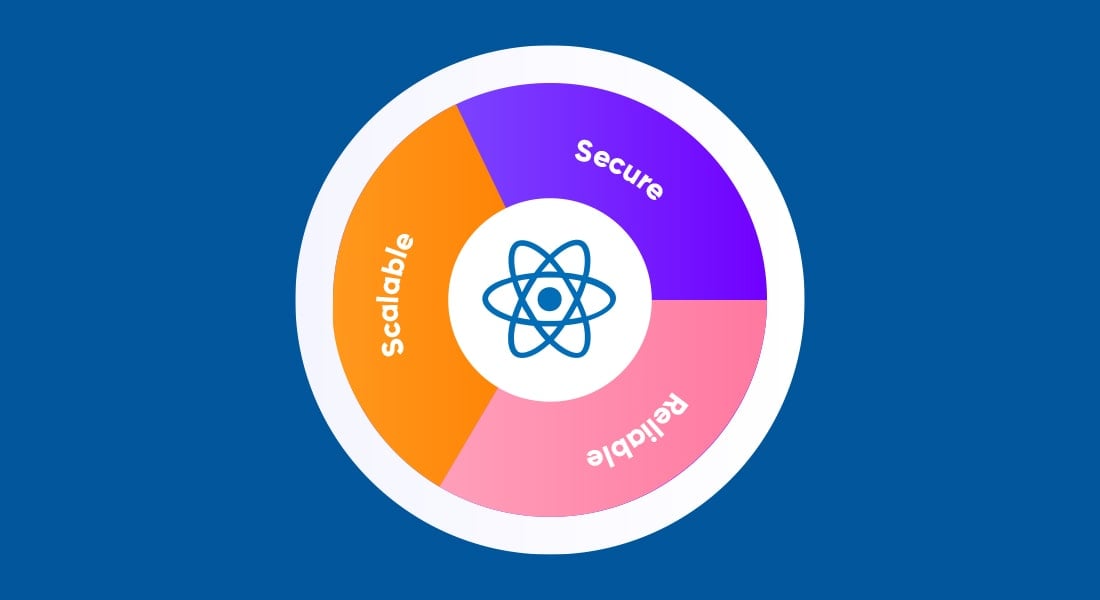 Is ReactJs secure?
Yes, ReactJS is advanced, responsive, and risk-free to build interactive and intuitive front-end interfaces. It is a safe and secure frontend technology to build your next enterprise application. Hence, your answer to- Is React secure, is a big affirmation.
Is React scalable?
ReactJS holds a rich ecosystem including must-have tools like Redux or flux along with Node.js on the backend, listed on NPM.
React's primary component and abstraction takes in data and outputs an illustration of the DOM without any adverse effects. The scalable React architecture pattern allows developers to create states in the DOM making React components easier to break down and test.
Is React reliable?
React Js provides data regarding the snippet of code and the exact section to make a specific bit of the user interface. This procedure makes the development process more accessible and eliminates errors.
ReactJS is a step ahead in the world of open-source JavaScript solutions.
Why Use ReactJs For Front-end Development?
As per SimilarTech, there are total 667,754 unique domains and 1,259,877 additional websites are using React.js, there should be a good reason for it. Here are the top benefits of React for frontend development that have encouraged so many businesses and globally renowned top companies to use React for front-end development.
Plain & Simple Learning Curve
One thing that restricts developers from using new technology is the time and effort needed to learn the same. When you have had already spent years learning one framework, allocating the same to a whole different concept isn't right. To save you the pain, React comes with an easy-to-learn interface. Irrespective of what you have been working to date, working on React is pretty easy, and if you have decent knowledge about JavaScript, trust me, React is good to go. If you have a team of JavaScript developers, you can easily switch to embedding React within your organization's tech stack and get started.
Exceptional Reusability
Building components and adding them within your applications is always an excellent way to start. Everyone wants to manifest customization and keep their approach unique to stand out in the industry. However, as the project length and duration extend beyond a reach, rewriting all the smaller components is nothing but overhead.
Even if you adopt a modulated approach, a high-end application might have thousands of smaller modules, and coding each is not feasible. Unlike others, React gives a hand to its developers here. What it does is allow React developer to reuse their existing components throughout the application. You can use them, encapsulate or wrap the way you find them ideal for your project.
Declarativeness
Imagine having to scan through portals and resources to find how a particular feature works or how does it support the application. This will not just consume time but is agonizing when you are new to the language. React, on the other hand, is developer-friendly. What this implies is that React comes with the power of declarativeness. Instead of seeking how it emphasizes on what.
Every time a view or component needs to be created, the library would only ask what has to be deployed. This accelerates the pace at which applications are built and further, makes the entire process of debugging and deploying easier. Not to mention the flexibility and ease experienced by the developer when working on React.
Slices Abstraction
Not many front end development framework or libraries facilitate abstraction in their development practices. Mandating a particular architecture makes it difficult for the developer to keep up with the development process. React comes to the rescue as it gives you the ease to pick your own choice of app architecture and design the application in a way that suits the purpose best. Also, the end-users have an obscured look at the app, eliminating any possibility of them accessing the internal code.
Rich Ecosystem Of Developers & Tools
Reactjs has an extremely rich ecosystem of developers and domain experts. Also, the library has built-in tools that further simplify the process of creating, designing, and developing an application. With ready-made charts, graphics, modules, and documentation tools, developers can cut short the overall time of the development, leveraging the existing components. What's best about the tools is that they are technically rich and encompass all possible features, one must incorporate within the application.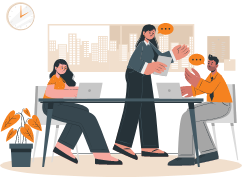 Whether you want to build, customize, deploy, or test your ReactJs application, you need the best to handle your Business application.
Reach our salient consultants who will disentangle all your queries and Uplift your App performance.
Contact Us
For organizations looking to replicate the application without redesigning it from scratch, React seems the best bet. And this is not just the only feature offered by the library. Their list extends infinitely and does all needed to add to the quality and efficacy of the developed application. Greater performance, rich SEO factors, backward compatibility, and scalability are a few add-ons in the list, compelling developers to rethink their existing tech stack and deploy React.
React Js- Developers' Choice
1. Accessible JSX file
In one manageable JSX file, React mixes JavaScript and HTML. Openly into JavaScript, the React developers write the codes like HTML. You can shape the refillable UI module along with the benefits of both HTML and JavaScript as it is fast and useful.
2. Flux Program design
'M' and 'C' are the part of MVC architecture where 'V' ( View Part ) is handled by React and 'M' (Model Part ) which is handled by the programming language Flux. This structural design is used to produce data layers with JavaScript in the applications. It recognizes and brings more Actions.
3. Collaborating user Interfaces
As per the requirement, the developers can enjoy the freedom to frame and state their user interfaces. To enjoy the preferred components the front-end developers define the interfaces concerning the functions that result in powering the development process.
4. Unidirectional data flow
During the course of the application, React confirms a clean data flow design by employing unidirectional data flow. Over the functions, the developers can have better control.
5. React Native
React has brought transformation in the field of mobile app development. To write exclusive elements React makes use of an assortment of native code for both iOS and Android. The view layer is treated as the output of state by the React. For both web and mobile, you can write code.
6. Virtual DOM
Between the developer and real browser, React.js brings about Virtual DOM. The two versions of the DOM are demonstrated by React due to the assistance from Virtual DOM. The parts of the UI notes the variances and the updates.
7. Refillable mechanisms
In accordance with the requirement of the applications, use of React also supports the components. In any form, the components can be used persistently. It can be in singular or mixed form.
React is the primary library for 27% of users associated with the latest versions of JavaScript who prefer to stay in the front.
These are the technical reasons why React js is used by frontend developers.
Popular React Combinations
Here are the three best React combination backend technologies that have a proven track record of supporting several domains and industries with ultra-modern tech solutions.
1. React with Rails
There are many combinations out there of multiple technologies and libraries based on which you can create your own SPA. We've researched and tested ton number of combinations like RubyonRails, Node.JS, React, Angular and a lot more but Ruby on Rails as backend with React.JS development on the front-end is something that assures you of performance-oriented, robust, and scalable application. It guarantees you with best user experience, swift page rendering, and quicker development. So, what else do you need?
2. React with Node
Javascript offers tremendous scope as a fullstack development package. When you use React for frontend development and Node.js in the backend for your business app development, you will be amazed to see the functionality of your application. Get assured scalability and authentication in your application with the wholesome javascript tech stack.
3. React with Laravel
Combining React.js and Laravel brings out the best of both and is proven to be the best merger for building a SaaS. React will enable you to build an SEO-friendly application, whereas Laravel can aid with its in-built libraries and data migration to pull up an extensive feature-rich enterprise React architecture.
4. React with Angular
The power combination of Angular with React js enables the utilization of the React library benefits to offer a more effective overall experience for the user. The key driver for combining react and angular is the capability to write reusable components that can be plugged into an application leveraging a robust framework.
When To Use ReactJs For Front End Development? [React Js Use Cases]
Wondering when to use React js? Or will React be suitable for your upcoming project? React powers a huge colony of applications. In case you are skeptical about React JS and its application, here are a few React use cases to understand why use React js for web development in 2022.
1. Single Page Applications
In order to please users, it's quite essential that applications be developed in a dynamic and swift way to respond to users' reactions. That's the reason single page applications have gained immense popularity.
With React.js, users don't need to wait for the website to reload each time an action is performed. As a result, their experiences improve with better performances at less bandwidth.
2. Large Scale Objects
Applications with an array of workflows and complicated server-side, React enables a component-based approach to design the same.
3. Kick-ass UIs & Intuitive Apps
Applications where one faces significant complexities over performant UI, React simplifies the process.
4. Applications that are to be dynamically updated
Static pages that still require some content to be updated every now and then consider using React to do the needful.
5. ECommerce applications
You can create excellent eCommerce applications using React.js navigation tools and design components. It will enable you to enhance the performance of your eCommerce applications.
6. IoT applications
Designed with the React library's core features and performance in mind, server-rendering, and virtual DOM lets you create large-scale and high-performant IoT apps fast.
While you can use ReactJS to build static pages, the same would not justify the library totally. Another aspect where React might be overkill is when you are developing simple CRUD operations. In case, this is the first step, and there's more to the application, you can move ahead; otherwise, it is best to opt for a different and less complicated library.
Top Companies Using ReactJs
React has gone far beyond the walls of Facebook. Today major industry leaders have integrated React into their production web applications, including the New York Times, Twitter, WordPress, and Uber.
Netflix
Need no introduction. The company's user interface programmers have decided to use React to transform the desktop and mobile user experience. ReactJS was selected to bring improvements to improve their runtime performance and ReactJS successfully did it.
Airbnb
To my surprise, the company has developed its own JS testing utility, Enzyme, just for examining the output of React components.
Yahoo
After evaluating the Ember and Angular frameworks, engineers choose to React for the next generation of Yahoo Mail. Subramanian Murali praised React for offering favorable benefits including, "predictable flow" and "independently deployable components".
Apart from these 3 industry giants, other top-level companies are also using React.js in their tech stack. Applications such as PayPal, Whatsapp, Dropbox, Facebook, BBC, and more also use this leading frontend technology.
Popular Apps Built with ReactJs
Let us quickly discuss the React js application by looking at some of the most famous apps built with React js
Facebook
Presently, Facebook uses React js for supporting some of the app features. Their webpage is built with React, as the script that is blended in the application code. The mobile app is also built with a version of React called React Native which is similar, although responsible for displaying the iOS and Android native components instead of the DOM elements.
Instagram
Instagram is totally based on the utilization of ReactJS library and has let fans fully adapt to its amazing features. The use of ReactJS within Instagram is huge. A proof for that is the numerous features including the geolocations, Google Maps APIs, search engine accuracy as well as tags that pop out without hashtags. IT is all there in the API of the app – and is really impressive.
Netflix
The React version works with Netflix too – specifically on their platform called Gibbon which is used for low-performance TV devices instead of the DOM used in web browsers. Netflix has even publicly shared a blopost explaining how the ReactJS library helps its startup speed, runtime performance, modularity, and various other advantages.
Whatsapp
Previously, there were several betas during the official launched, WhatsApp uses ReactJS for building user interfaces from Facebook, just like it uses Underscore.js and Velocity.js as some of its most efficient engines.
Dropbox
Dropbox has switched to ReactJS over a year ago, when React became very popular amongst app developers. A plethora of resources are a part of this framework and are efficiently utilized by Dropbox as well – widely contributing to the success of this amazing cloud-based storage service and online backup solution.
Key Take Away
I hope your purpose of landing on this blogpost is served, and there's no more doubt for you to figure out on why use React framework, what is the use of React js, when to use React js, where to use React js, why to use react, is React front or back end and everything you need to know about React
So, if you are planning to use Reactjs in your project, you will be required to hire ReactJS developer, who can underline your specific requirements along with ensuring to deliver your desired result, then you should definitely count on Bacancy Technology. We are a top-notch ReactJS development company and have always strive hard to achieve a client's given targets by delivering results beyond their expectations.
There are hundreds of organizational benefits and improved efficiency that proved to be significant reasons for the big business brands to adopt and implement ReactJS in their product and services. The cost and resource both are worth upgrading your existing service with ReactJS. Apart from offering interactive and intuitive front-end interfaces reactJS development services are known for offering impeccable user experiences for both web and mobile.
Frequently Asked Questions (FAQs)