November 21, 2018
3
min read
Last Updated on February 18, 2021
The connection between virtual reality and real estate is indeed obvious: instead of touring a potential property – new home, apartment or commercial office space in person, you can take a virtual reality tour and experience the same feeling for how the new piece of real estate is developed upon your expectations. In this day and age, the real estate industry is shaping its future bright by taking on the technology-based groundbreaking innovations.
The concept of real estate virtual tours is indisputably simplifying the process to see the final product before making any sort of purchase decision. Following the trend, it seems like real-estate market size will be worth $4,263.7 Billion by 2025. As per the PWC's emerging trends report, real-estate AR/VR has the potential to reach $2.6 billion by 2025.
How virtual reality tech is redefining the legacy real estate world?
Millennial homebuyers

Amongst buyers, the VR tours have become prevalent. According to the survey by Coldwell Banker Real estate, 77% buyers are choosing to have VR tour instead of physical visit, 84% prefer to watch video footage, 68% are interested to employ VR to explore the up-to-date look of the furniture and 62% would like to proceed with the real estate agent that works on VR technology.

Easy buying and selling process

The VR home tours will allow buyers and sellers to virtually visit the property at their convenience. Property owners can buy, sell and lease their virtual properties alike real-world properties. Blockchain is offering the potential opportunity to formalize the market for these virtual properties. The VR technology provides screen homes to buyers.

Influential game changer

The VR is the boon by acting as the powerful game changer both for the real estate brokers and developers that are trying to form trust with the customers. The VR experience will allow customers to match the built property by keeping real estate photography real. Through VR what you see is going to be what you get.
What are the advantages of VR technology in the real estate sector?
To have a clear picture of VR technology in real estate business, let's talk over exactly how real estate industry can be benefitted with VR technology.
Forms emotional link

An emotional connection is developed by efficiently engaging clients. The buyers can experience VR home tours as per their convenience. The full immersiveness of virtual house tours by the clients create the expressive association which was missing in the conventional 2D images.

Save money and time

The power of 360-degree videos and computer graphics save a lot of money. You only require a panoramic camera and basic rendering for the guided video tour around the property. Client and realtors both can save their precious time by employing virtual reality solution. Clients can enjoy immersive 3D tours by putting on VR headsets. All listed properties are open around the clock.

Hold Global approach

Realtors can expand their business globally, buyer/seller who is interested in buying/selling a property can buy/sell it from anywhere around the globe. The long-distance buyers/sellers can effortlessly see the properties. As a result, property owners can precisely focus on property dealing process instead of wasting their time in assisting buyers in physical property tour.

Feel of ownership

The virtual tours along with interactive add-ons like knowledge of the neighborhood, details about the similar properties and mortgage calculators can boost the customer experience. Before contacting you, the clients can acquire the needed information about the property. They can move forward for the real visit of the shortlisted property.
Create your own Virtual Reality App for your Real Estate Business
Virtual Reality holds the thought-provoking power to generate reality out of imaginings whether it can be a matter of the flat, building or the entire city. If you are excited to transform your real-estate business with high-end VR based reality application, then you have landed on the right page.
Bacancy technology is technically innovative and advanced virtual reality app development company. We hold a team of seasoned industry experts who have in-depth knowledge and extensive experience in building Virtual reality app for real-estate business. So, if you are looking for an app development partner to create an innovative solution for your business and advanced services to your customers then choose Bacancy Technology as your real-estate app development partner.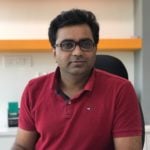 Chandresh Patel is a founder & CEO at Bacancy Technology. He is a founder of vision and mission of Bacancy Technology and constructed work ethics
@bacancytech
to achieve that vision and mission. He oversees Business development, day to day execution of strategic planning and also looks after customer service & delivery. He's an avid blogger and writes on the publications like
Dzone
,
e27.co
,
Marketo
,
Smart Insights
and featured in
Insightssuccess
.