Table of Contents
Introduction
We know you have faced several software development-related challenges or are proactive in knowing what costs must be considered. Bringing you the list of factors impacting costs for building software.
Furthermore, this blog discusses and shares an in-depth comparison of software developers across continents. After comparing, we will also discuss how a software development company (suggested at the end of the blog) can be a great fit for you.
We will also discuss different types of development you could do and how much that cost. And to make your plans for transforming your idea into reality easier, we'll also help you with the estimated time each development type takes. So, let's straightaway start with the blog.
What Does the Total Cost to Hire a Software Developer Includes?
Hiring developers is an upfront investment that can cost multiple five figures. Technical talent is some of the most sought-after skills, and the cost of hiring a software developer is higher than ever. Hence, it again comes down to the question: how much does a software developer cost? Recruitment expenses depend on whether you're looking to hire an in-house developer, a freelancer, or an agency.
The total cost to hire a software developer includes hiring, sourcing, recruitment, and other costs.
Overall Cost
Hiring is pricey. For instance:
According to the Society for Human Resource Management research, the average cost of hiring an employee is $4,129. Also, it generally takes 42 days to fill in a vacancy.
According to Glassdoor, maximum US businesses spend $4,000 on average to recruit a new employee.
According to research by the National Association of Colleges and Employers, the average cost of employing one employee for a business with 0-500 workers is $7,645.
Typically, hiring a new employee will take 20-25% of that people's basic pay. Meanwhile, the Bureau of Labor Statistics reports that in May 2020, software developers' median yearly salary was $110,140.
(Bear in mind that this represents the estimate. According to experience and seniority, developers may make more or less compensation. For instance, a DevOps expert may make more money than a full-stack engineer.)
Speaking of how to hire software developers in the USA, the process is quite the same. However, the following expenses are incurred by the US employer (on average) upon hiring a software developer. Have a look.
Legally required benefits: 7.6%
Insurance: 7.8%
Paid leave: 7.4%
Savings and retirement: 3.5%
Additional compensation (premium and overtime): 3.3%.
Each of these expenses comes to $32,601 if the median yearly salary for software professionals is considered. Overall, a developer makes $142,741 per year. The range of recruitment expenses, then, ranges from $28,548 to $35,685. In addition, your external and internal costs will also be taken into account to determine your cost per hire.
Sourcing
Identifying applicants is the first task you must do. Let's look at this.
Job boards
The job board you publish will determine your job board expenses. For instance, you can post on LinkedIn free of cost, thus displaying your advertisement to your community and in search engine results. However, you pay according to how many people click on your advertisement for greater performance. LinkedIn makes a suggestion based on your field, the position you're seeking candidates for, and other factors. The daily minimum budget for these boosted postings is $10, with a minimum lifetime budget of $100. In other words, you must agree to invest a minimum of $100 in advertising a job advertisement on LinkedIn.
However, Job boards such as Stackoverflow offer customized recommendations. On larger all-encompassing employment boards, such as Indeed, you can place ads without charge and increase your exposure for $5 and up daily.
Applicant Tracking System
A flawless hiring strategy pretty much demands the use of an applicant tracking system (ATS). The cheapest common pricing range for applicant tracking systems is about $200 per month. As your business expands, you must prepare to invest several thousand dollars annually in your ATS.
Outside Recruiters
The average cost of using an outsourced headhunter or recruiter is 20-25% of the initial compensation of the new hire. Nevertheless, depending on the position being filled, this can vary from 15% to 40%. The price comes to $27,535 if a recruitment fee of 25% is applied to the typical developer's salary.
HR/Internal Recruiter costs
As per Indeed, the typical compensation for a Human Resources Manager in the United States is $68,611. It works out to roughly $32.50 an hour.
Assume your HR manager invests 40 hours in locating applicants for a vacancy (through job postings and other sources), examining their applications, speaking with applicants, and perhaps sharing with outside recruiters. That would amount to $1,300 in total. Your team's estimated rate might be considerably higher if you have a dedicated technical recruiter on board.
Recruitment
The next step is to select your candidate after you've compiled a list of contenders.
Assessment
The initial cost is the platform for coding assessment. To examine the applications and provide comments to the prospects, you'll have to seek the help of a few of your hiring team members. Assume you ask a programmer in your department to handle it, and it takes them an hour to analyze every submission and produce a brief feedback report.
This evaluation cost might be $521 if you had 10 applicants and paid your developer the average US developer salary.
Interviews
Depending on how your procedure is structured, interview charges will vary. Generally, two in-person interviews will come after a quick pre-screening call. These all take around 2 hours and 15 minutes. The HR manager and a member of your technology team would likely be involved.
Let's determine the interview duration based on the typical salaries of an HR manager and a developer to make things more transparent. Your interviews would cost $190 for each applicant or $1,900 for 10 applicants.
(keep in mind that we're simplifying things here. Not all applicants would go to the final stage, but on the contrary hand, you'd probably have more applicants participate in the preliminary rounds).
Do you have a unique project idea bothering your sleep?
Our expert programmers will help you implement your visions into a successful reality! hire software developer from us and see your business succeed!
Additional Cost
There are additional expenses regarding how much it costs to hire a software developer. The first is the inevitable productivity loss that happens anytime you recruit a new employee. Furthermore, you'll have to pay for training and onboarding expenses to assist your new hire in joining your team.
Productivity loss
Investopedia estimates that a new worker's productivity is about 25% lower during the initial month. Therefore, the production cost is 75%, or $6,883, using the average monthly wage.
Training expenses
Although there is no information on specific and individual industries, the Training Magazine's 2020 Training Industry Report shows that US businesses have spent approximately $1,111 on training per employee on average in the same year.
Onboarding expenses
Indeed estimates the average onboarding cost totaled $400 per employee.
Example Cost Calculation
Interview process (2 hours 15 minutes*2): $1,900
Other expenses
$6,883 in lost productivity
Cost of training: $1,111
Cost of onboarding: $400
Overall: $41,049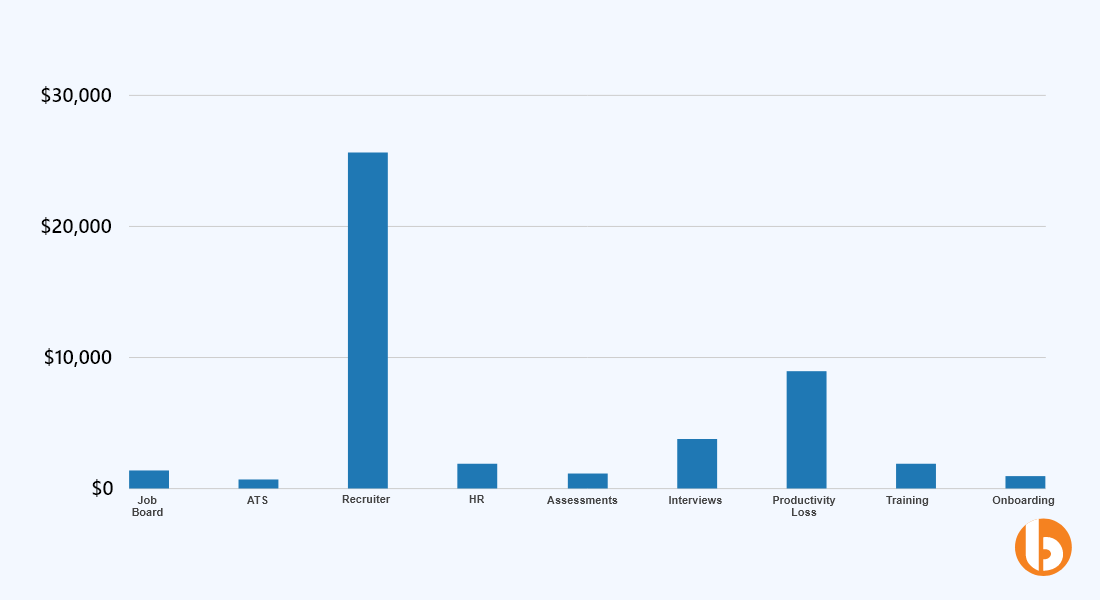 You would still be required to pay $13,514 even if you choose not to utilize a recruiter. Many indirect expenditures, including office space utilization, are still unaccounted for. Additionally, you would likely spend more cash on sourcing, which would further push your budget higher for hiring expenses.
Cost of Hiring a Software Developer Based on Engagement Model: In-house vs Outsourced
One of the crucial parameters determining the cost of hiring a software developer is the choice/expertise of the developer. As it is generally known, hiring in-house developers tend to be a wise decision if you require professionals on a long-term basis for your team. However, note that they are much more costly than an outsourcing team. In-house development calls for a vast budget and access to plenty of capital. Not to mention, not all organizations can afford the risk of investing loads in teams. On the contrary, outsourced development's cost-effectiveness and scalability are what turn tables here and make it a popular choice for most organizations.
The global revenue from IT outsourcing in 2019 amounted to $66.5 billion, sustaining a rising trend. In fact, what else can be more convincing after knowing that several big giants outsource their IT development, including Google and Slack? Below is a brief distinction as to why outsourced development is better than in-house development.
In-House Development
It is pricey. Pay attention to the evident and unspoken costs of recruiting an internal workforce. Payscale reports that the average US compensation for an IT developer is $71,508. Note that the hidden costs of hiring and onboarding each employee you've hired and the expenses of sick days, paid time off, insurance, social security, and recruitment are not included. Moreover, you will be obligated to pay the team's fixed compensation even while they are idle in between projects.
Gaining the top personnel for your firm is the least problematic, despite the potential for high turnover rates. You will struggle to thwart competitors' and recruiters' attempts to steal your IT talent, given how in-demand they are. Your developer may even accept a counteroffer with higher perks from you, which would increase payroll. If not, you risk losing your team's talent.
You must upgrade the team's skills. With the advent of new technology, tools, and languages, the IT sector experiences ongoing transformation. If the changes impact the development of your products, you will need to ensure that your crew stays informed. Either way, your company's bottom line may be dramatically affected by investments in training and equipment.
Outsourced Development
Increased cost control. The main benefit of outsourcing comes into play if your business is located in a nation where local talent is expensive. With the same knowledge, you can hire an IT company in a country where wages are far lower.
A big talent pool. You are no longer limited to a small pool of local candidates when you outsource. You will be spoiled for choice with such a vast worldwide talent pool. You don't have to waste time reading hundreds of resumes to find a suitable programmer.
No restrictions on technology. Finding people who can perform various tasks well can be challenging because specific projects require different skill sets. Nonetheless, you can deal with a couple of IT companies experienced in the diverse technologies needed to develop the solution.
Well, within a nation, the variations may also be substantial. In Texas, developers get paid $44.76 per hour, whereas developers in California typically demand $56.46.
Africa and Asia are often the least expensive continents for outsourcing comparatively. For instance, an Indian developer will bill around $29 per hour.
In other words, using these rates, you would pay an Indian developer $5104/month for a full-time position. A full-time software developer in Texas would be compensated for the equivalent amount of labor of $7,877.
Checkout the cost to hire a software developer from Bacancy- India's most trusted and promising software development company.
software-developer-hourly-rates-at-bacancy-">
Software Developer Hourly Rates At Bacancy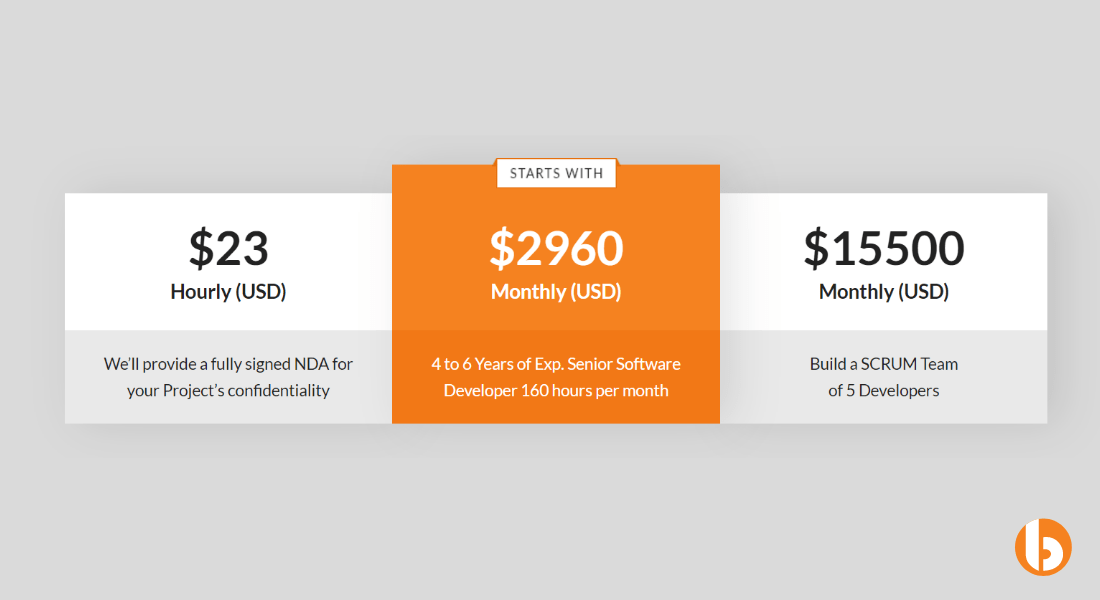 Cost to Hire a Software Developer Based on Geographical Classification
Entrepreneurs know that the cost of hiring a software programmer varies depending on the developer's location. Generally, software development costs are higher in the western developed countries, whereas, comparatively affordable in the developing nations.
If you don't consider the geographic location of developers, the response to this question will not be comprehensive. Here, we have presented a classification of costs to hire software developers in different geographical locations.
software-developer-hourly-rates-in-north-america-">
Software Developer Hourly Rates In North America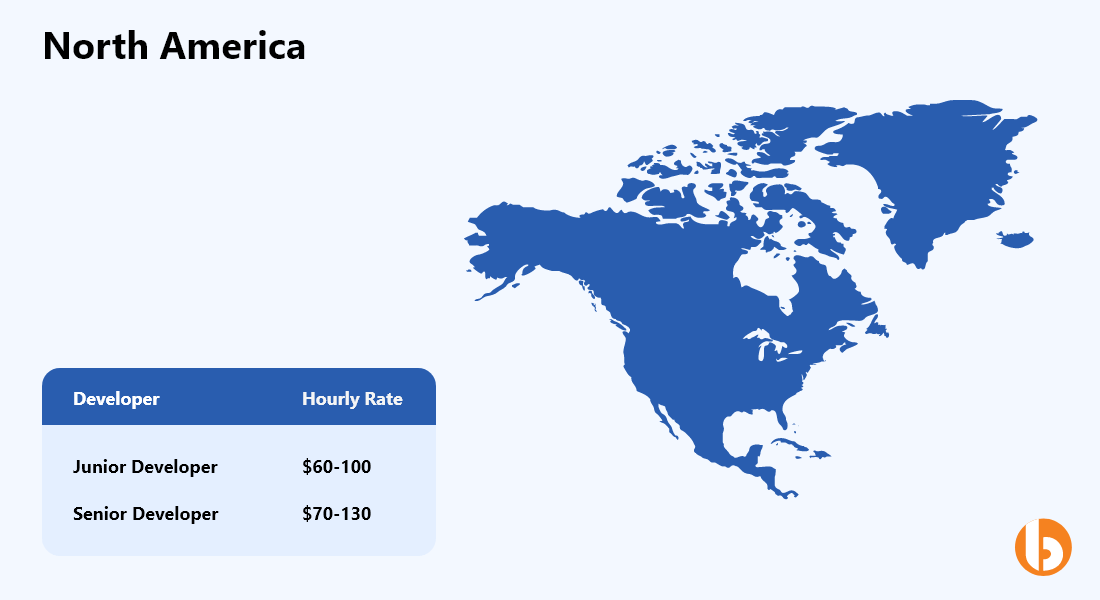 The average cost to hire software developers is $70-120 per hour in countries like USA and Canada.
software-developer-hourly-rates-in-latin-america-">
Software Developer Hourly Rates In Latin America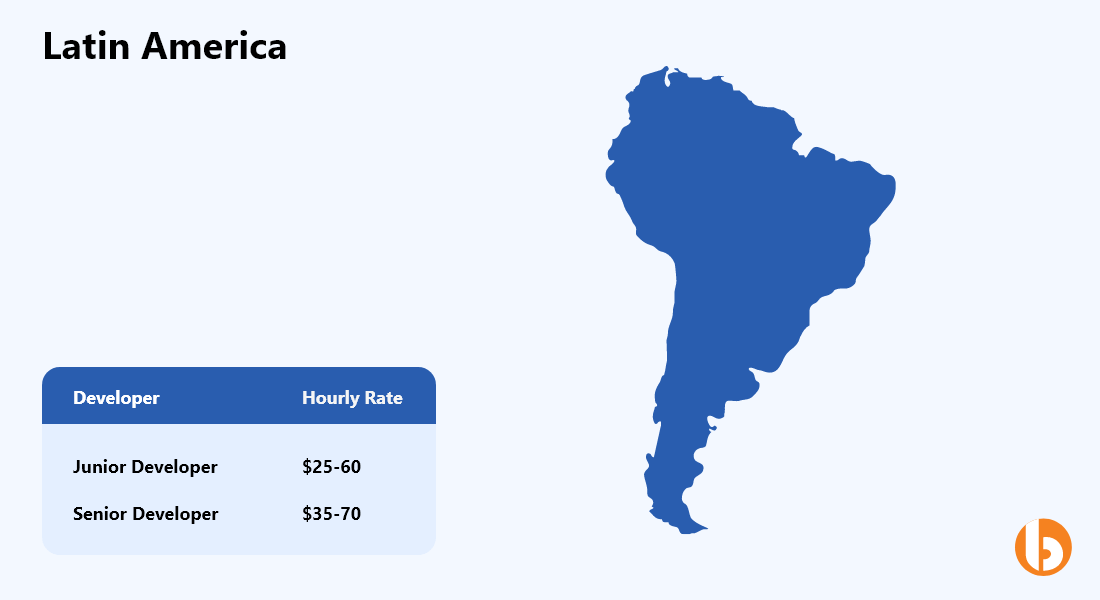 In countries like Brazil, Mexico, Peru, Argentina, and Panama, the average cost to hire programmers is $30-65 per hour.
software-developer-hourly-rates-in-central-europe-">
Software Developer Hourly Rates In Central Europe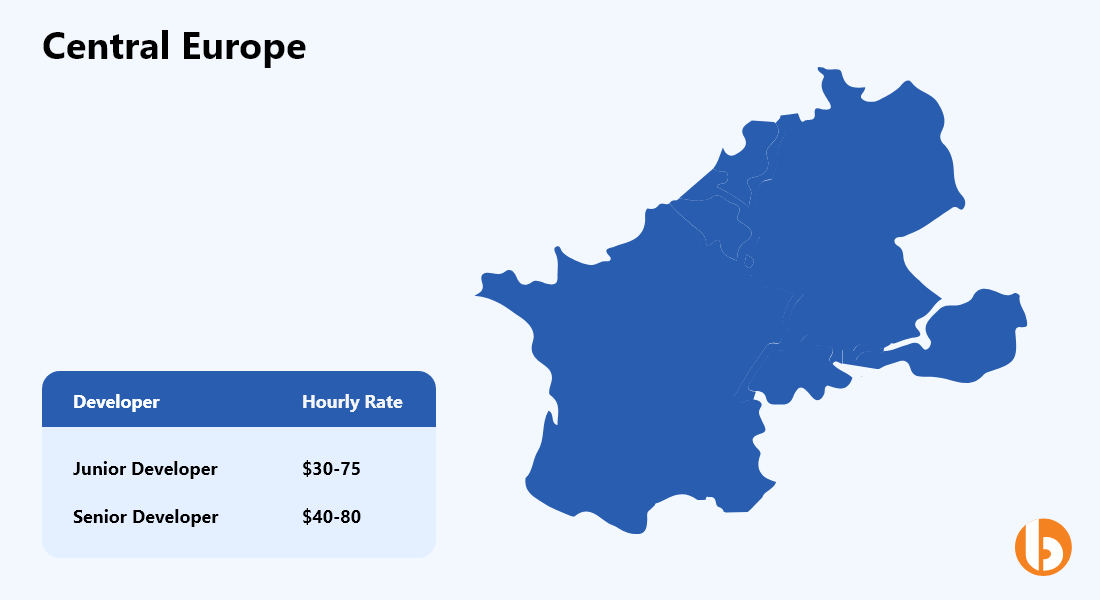 In countries such as Switzerland, Germany, The UK, Sweden, the Netherlands, France, Norway, and more, the average cost of hiring software programmer is $35-80 per hour.
software-developer-hourly-rates-in-africa-">
Software Developer Hourly Rates In Africa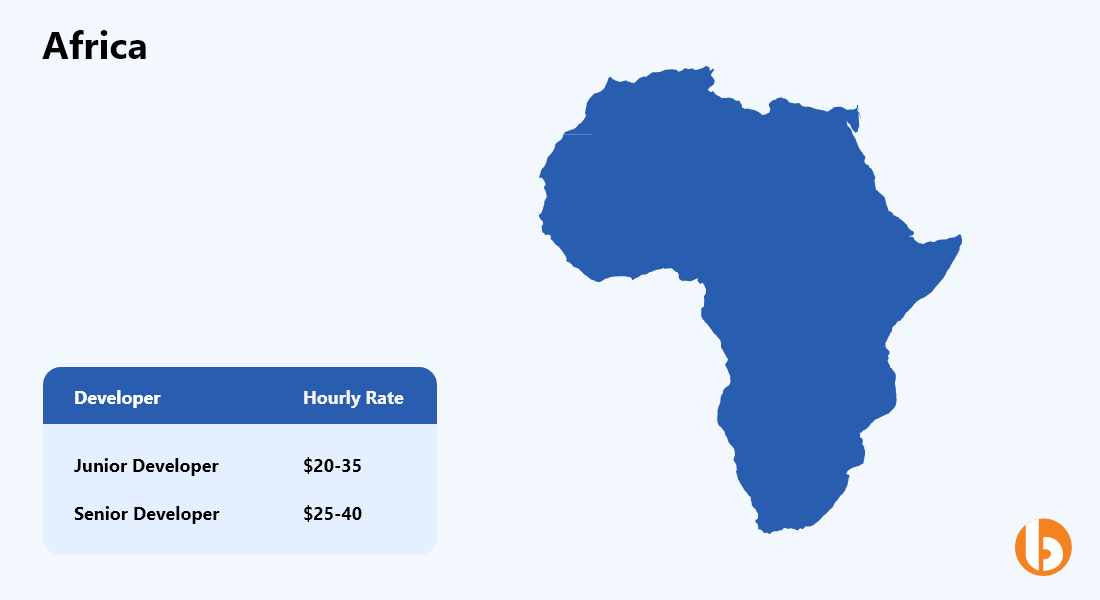 In countries like Egypt, Kenya, Nigeria, Morocco, etc, the average software development cost for engineers is $20-40 per hour.
software-developer-hourly-rates-in-asia-">
Software Developer Hourly Rates In Asia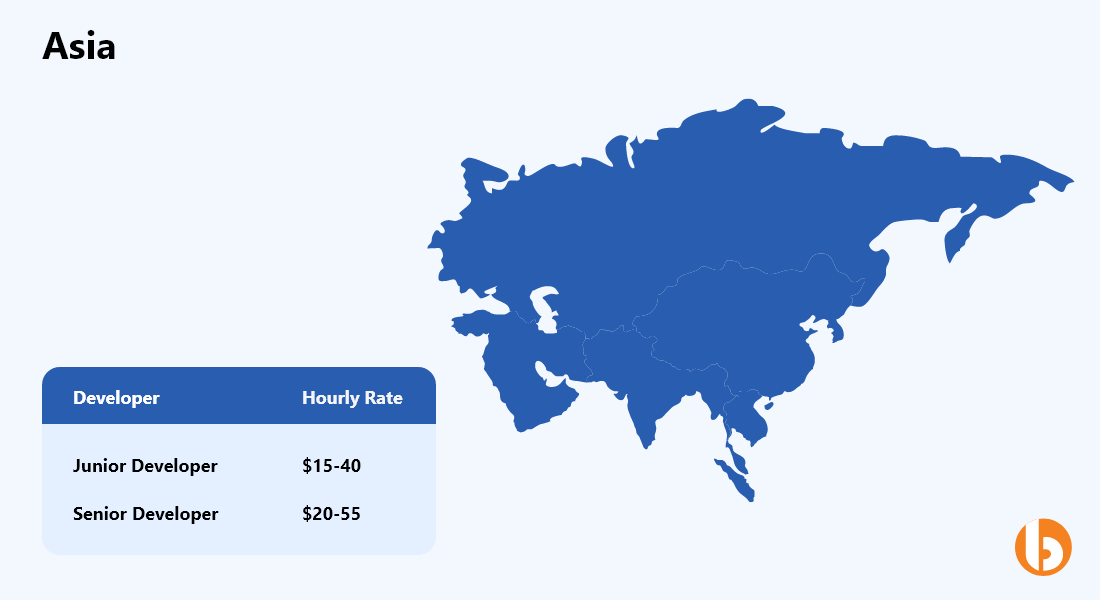 In Asian countries like China, India, Malaysia, Japan, Indonesia, Pakistan, Vietnam, and more, the average cost of hiring a software developer is $20-55 per hour.
software-developer-hourly-rates-in-eastern-europe-">
Software Developer Hourly Rates In Eastern Europe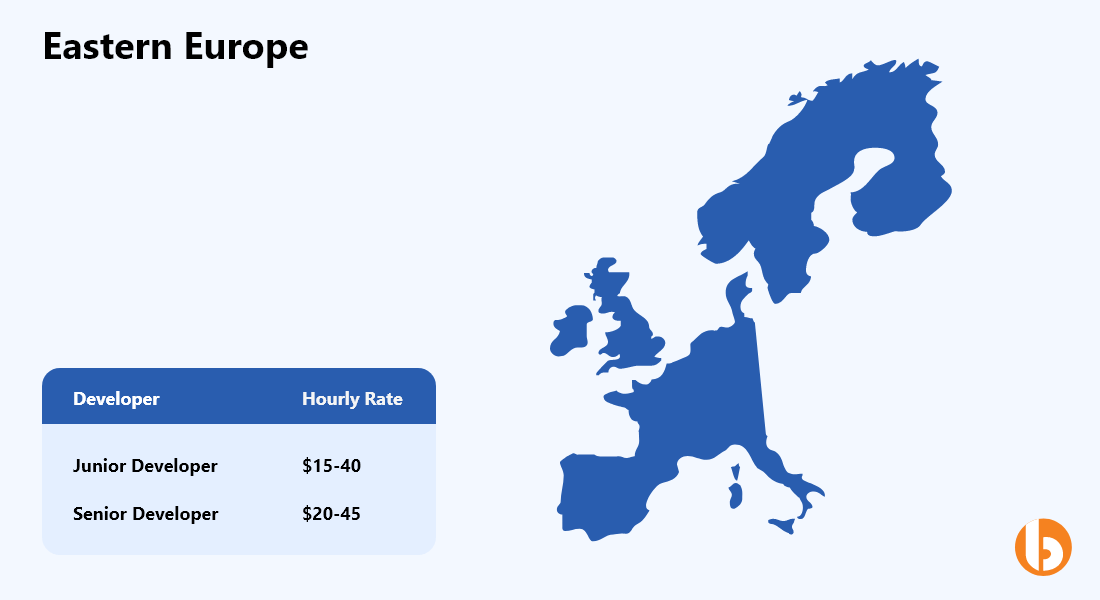 For European countries like Czech Republic, Poland, Romania, Belarus, Ukraine, Hungary, Estonia, etc., the average cost to hire a developer is $20-45 per hour.
Does it take a hard time for you to trust when beginning with your web app development?
Bacancy is the ideal Software Development company that gives you the authentication to feel secure. Hire Software Developers from us to resolve all your trust issues!
There are various steps involved in determining how much does it cost to hire a developer. Generally, you need to know invest time in
Defining your project's technology infrastructure
Determining the experience and talents of developers
Deciding whether to engage internal developers or to cooperate with an outsourcing provider
Finding out the market's average hourly rate for web developers
Carrying out interviews
Beginning the collaboration
When you join forces with an outsourcing firm, the representatives will speak with you about your needs and help you choose developers accordingly. Also, never neglect/skip inquiring about the hourly rate for web developers. Most developers charge hourly.
Why Does the Cost to Hire a Software Developer Overruns?
Instead of pondering on technicalities like technological limitations or unachievable goals, planning shortcomings and a robust absence of communication are the ultimate underlying indicators of rising software development expenses. Besides, a few other factors that lead to software developer hiring overrunning costs include
Not Covering The Full Scope
Software businesses generally believe extensive scope discussions will save the client and the company time. Assuming the rest, they receive a general description of the application the client wants to develop. In this circumstance, software initiatives will always fail.
Insufficient Planning
When evaluating the cost of software development, planning is a critical step. To finish the task within the budgeted time and money, you must be completely aware of the needs and duties involved. Planning is, therefore, highly essential for managing and allocating resources.
Interaction
Both the software company and the customers are responsible for this. Although micromanagement and excessive communication are significant issues, another undeniable issue is communicating too little. In terms of price, the key differentiator is unambiguous communication between the outsourced party and the outsourcer.
Undervaluing Tests
Testing ensures that the software operates smoothly and error-free. However, fixing errors becomes more pricey if testing is performed right before the code is fully developed or when it is in use.
Why is the Cost of Hiring a Software Developer From an Outsourcing Agency Worth it?
Considering the cost of hiring a software developer in different locations, it seems sensible to think of software developers from Asia and Eastern Europe based on typical prices. However, how can you work with such experts when your time zones are distinct, and even if you do, why is the cost to hire SD from an outsourcing agency even worth it? Take a closer look at this.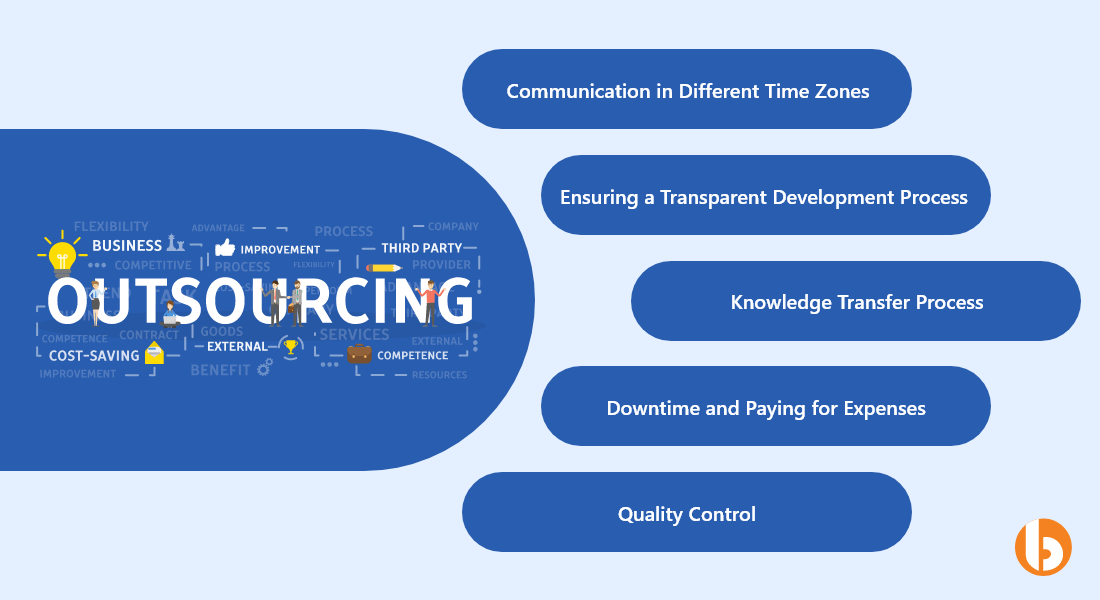 Communication in Different Time Zones
Suppose you have chosen to partner with a Belarusian business. In that case, you might have some concerns, including how to employ developers and create effective communication channels when programmers are located in a very unlike your own timeline.
But, the COVID-19 pandemic forced most of the world to rely on distant communications in 2020. As we've found, it is imperative to state that global communications have indeed been transformed. The only issue a varying time zone currently causes is a lag in response.
However, committed engineers are accustomed to working flexibly. Therefore, communication barriers can be dramatically decreased even if the gap is only 9 hours.
Ensuring a Transparent Development Process
The programmers will ensure you are completely updated about the project status. As a result, you don't need to be concerned about your project being operated on remotely.
There are solutions available that deliver you immediate access to task status and let you know what's going on with your venture at any given moment. While Jira and Trello display the status of numerous tasks and the people responsible for each, Slack, Zoom, Skype, and emails let you communicate with your team whenever you want.
As a result, you will always be briefed on everything that occurs with your project. Note that this is standard practice for any reliable outsourcing business.
Knowledge Transfer Process
When you engage software developers to improve an already-existing product, they require considerable time to study the technical specifications before they begin. The exact term for this procedure is knowledge transfer. It has two possible implementations.
Online knowledge transfer: A straightforward approach to update the team on the specifics. It can be done using Skype, Team Viewer, and similar video calls and desktop sharing programs.
On-site knowledge transfer: A committed group of developers will visit the customer's office and personally collect all the necessary data. The customer may also deliver the required data directly to the developers.
Depending on the project's intricacy and your skill sets, choose an alternative; the team will adapt.
Downtime and Paying for Expenses
These queries have different responses depending on the project's nature and your agreement with your vendor. Because the conditions may differ, inquire with your vendor about what will be addressed in your payment contract.
A dedicated team, for instance, often suggests that the vendor is in charge of downtime and that the client simply pays for the team's total functioning hours. In addition, the vendor is in charge of payroll, taxes, equipment supply, and other accounting-related tasks.
We advise picking a dedicated team if you're working on a long-term project and need a high-quality solution. If your project is uncomplicated or short-term, consider other forms of collaboration, like Time and Materials, or learn more about how outsourcing businesses operate.
Quality Control
Check what clients say about a potential software development vendor. Look for comments and reviews on the vendor's site and other platforms.
You can benefit from the websites run by research firms that are experts at compiling client feedback on software development companies. Here's a list of the sites.
Clutch
CIO Review
GoodFirms
ThinkMobiles
Simply choose the technology or service that most appeals to you, research the top providers depending on reviews and ratings from real clients, and there you go!
The next stage is to discover how your vendor will monitor and validate the standard of their solutions. Businesses usually offer references for finished products/services and can supply examples of successful projects comparable to those in mind.
Other aspects that impact quality include
Senior developers price more. Nevertheless, they are more competent in producing great work.
If a corporation has a corporate competency center, you can be confident that it will utilize the most cutting-edge best practices while building your software.

Conclusion

Software development helps preserve a competitive edge in various industries developing quickly. If your company is one of those that wants to recruit specialized/expert developers, you might be wondering how much it costs to hire a software engineer and what will be the cost of hiring a software developer. We have attempted to break the cost process charged by software developers. However, speaking with a seasoned software development business is advisable to learn more about the price. Asking about a precise cost estimate when speaking with them would be preferable if you further wish to gain valuable insight into how to enhance the value of your project.

Frequently Asked Questions (FAQs)

Before deciding on the cost to hire a software developer, one must keep in mind the project's scope, the project's complexity, and whether to opt for in-house developers or outsourcing.

The software developers' skills, experience & exposure, your project complexity, the tech-stack, and the developer's location affect the cost to hire a programmer.

Hiring software developers is not very easy these days because of various reasons, including competition in the market, lack of work experience in candidates, lack of technical know-how, candidates uninterested in the organization, lack of soft skills, and more.