These days front-end development has become a new buzz word across the web development industry. As it has progressed from pure HTML and CSS design to matters such as high interactive apps, better accessibility, testability and security. Therefore, to meet the changing trend in the app development process, developers have divided the coding work into front-end and back-end development.
Moreover, the application functionality grows quickly, and at some point, it becomes unfeasible when it comes to team up with multiple developers on a single code base. That's the reason the term "Microfront ends" has become prominent, which allows you to break up the front-end code into easy-to-maintain parts.
How To Build Micro-Apps?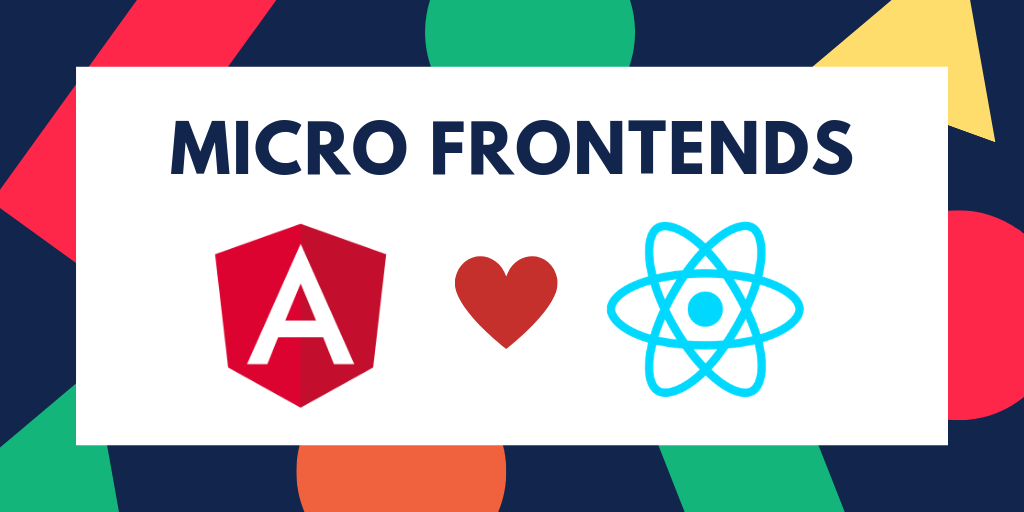 Now let's proceed with the steps that one should use to build micro front-end for angular app development or any other. We'll give you a brief explanation of the development process by developing two apps using micro front-ends, which are travel booking and bus booking:
Step 1– Whenever you build an app, you will require a few dependencies to develop and run the Angular custom elements. You can then install the following dependencies within bus booking by using below-mentioned commands:

These dependencies can be installed through npm. @angular/elements. This provides external support for Angular element that is the significant extension of Angular CLI.
Note: You should update the version for the document-register-element module to 1.8.1 in bus booking/ package.json.
Step 2– Now, you should also install the HTTP-server module within the bus booking example:

Step 3– All the angular app developers should now create a component, which is booking in bus booking/ src/app. Further, you can modify these components as you want, and we've done some changes, which are mentioned below:

As per the above-mention image, your command should be bus/src/booking/booking.component.html

Here the code used is: bus-booking/ src/app/booking/booking-components.ts
Step 4– Next move is all about defining a booking component as a custom element in bus-booking/src/app/.modules.ts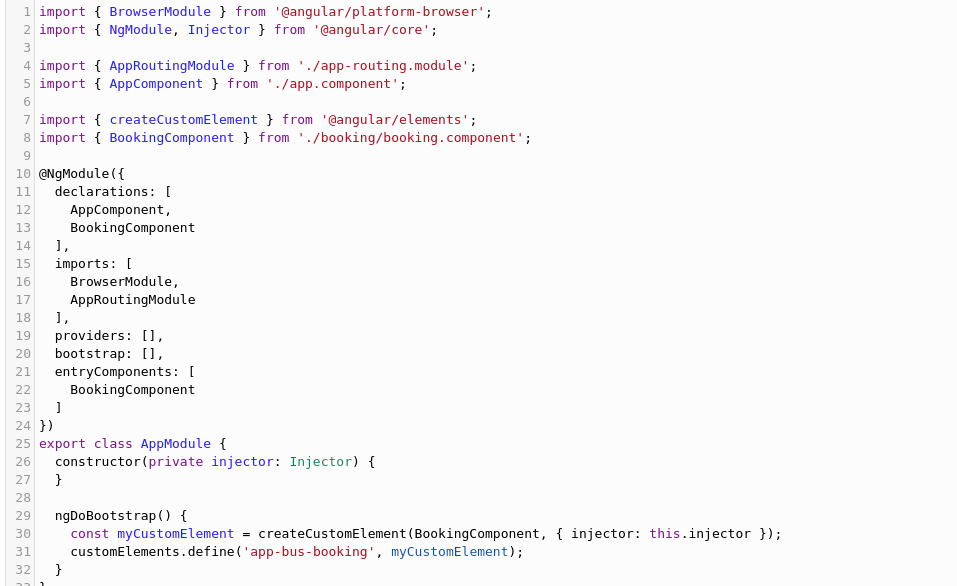 If you want to develop the app in a single JS file, you should inform the angular and ask them to use the ngx-build-plus module. Modify the code bus-booking/angular.json in three places, which are as follows:

Step 5– Running the project:
For building the app in one JS file, you need to follow the below-mentioned commands:

With output hashing, you find no more hashes in the files name.
On the other hand, a single bundle true will combine all the files into a single JS file.
For starting the server, below mentioned command:

In the same way, you should create another custom element, which is a train booking and then run the server with port 8082.
Step 6– Covering up a custom element
Let's add custom elements of train booking and bus booking in the travel-booking app. You should modify this /travel-booking/index.html accordingly:

In this, Angular need zones, and custom-elements-es5-adapter.js offer support to a custom element within the browser. We also used main.js for custom elements. To dominate the default server port, modify travel-booking/angular.json, which showed in the image:

Now run the application using ng.serve, and your app is all set to launch!
Conclusion
As the micro frontends provide the advantage of maintainability, technology liberty, and easy deployment, here are some crucial factors that should be considered for successful implementation:
Perform more in-depth analysis to break the application modules logically.
The interface should be interactive, and messages contract to communication between micro applications
All the micro applications have self-contained features
Prepare a test strategy for each micro integration point
Remember, communication is the key that enables teams to communicate properly on one project.
Looking To Partner With Trusted Angular App Development Company?
If you're in search of a trusted angular app development company, then get in touch with us today. We at, Bacancy Technologies have been offering AngularJS development services, since its initial release. Hire AngularJS Developer from Bacancy Technology to get cost-effective and efficient offshore web and mobile application development services. For more, put forward your quote here or mail us your requirement at www.bacancytechnology.com.