August 6, 2020
10
min read
Last Updated on September 15, 2020
What is Front-End Framework?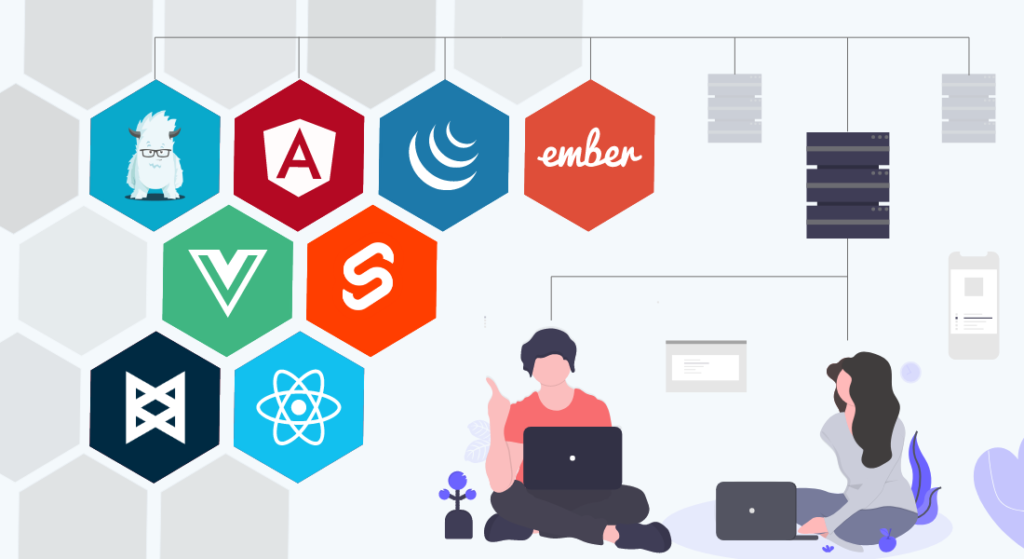 Web Development comprises of front-end development and back-end development. The part consisting of the look and feel of the website, where the users interact with your website, is the front-end development—for example, buttons, layouts, forms, images, etc.
Whereas, the back-end is made up of behind the scenes. Everything that occurs behind the curtain of the web, like database and server-side, falls under back-end development. To understand this, consider your Facebook account. You know that Facebook stores all your records, data, information, passwords, and friends, but you never get to see that kind of data on the screen. These things are handled in the back-end.
Now, to build web-applications faster, developers use frameworks. A framework is a set of code-lines for attaining specific functionality, which you can use again and again in your several projects of web development.
So, a Front-end framework is a bunch of program lines pre-built for developing attractive user interfaces briskly. You can develop the designing aspect of your web application with the help of such front-end frameworks for customized buttons, navigation bars, forms, and more. You can link your database connection with your frameworks and manage multiple HTTP requests.
Why is Front-End Development Important?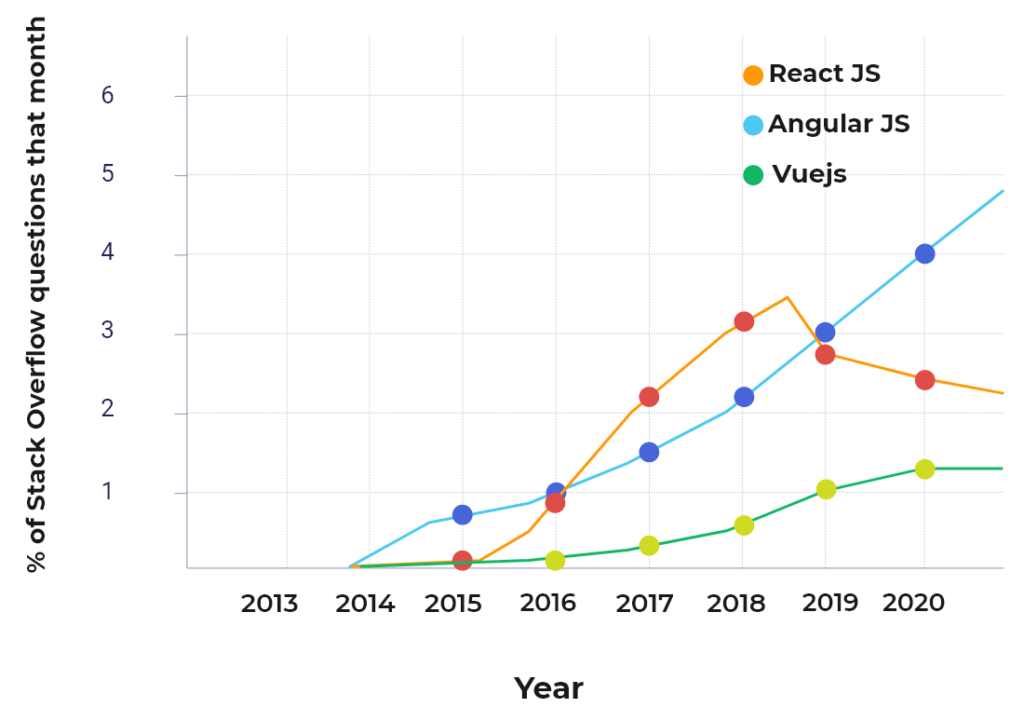 In today's world of digital impressions, future business needs to set up an appealing persona. That is possible with the help of a functional and interactive web portal or website. Not prioritizing your web appearance can become a lack of business opportunities because clients drift away. After all, your website is the key to symbolize your brand name and value. Moreover, you have the chance to build an amazingly engaging website using front-end frameworks.
Here are some of the prominent reasons you should lay foremost importance on your front-end development using front-end frameworks:
When people ask what the best JavaScript framework is. pic.twitter.com/FSYKly1gFW

— Mark Dalgleish (@markdalgleish) June 27, 2019
First Impression
Your target audience is your ultimate God, and your website is the only source of gaining their interests in your business. As we generally use the quote, "The first impression is the last impression" for analyzing human personas, the same applies to the digital world. Your website is your businesses' front-face, and that is also the first step towards your client-relationship. Web development is a must-factor to create your out-of-box first impression in your audience's perception.
Code Reusability
The sole purpose of indulging in web development using front-end frameworks is ease and reusability. You can use the code snippets of individual elements of web design multiple times when you use a framework. So, investing in a purposeful framework will be helpful in your several projects of web development.
Improved Performance
When customers come across a slow website, they get frustrated. Whereas when your site is appealing, engaging, and fast, it multiplies your business opportunities and drives performance.
Depicts Business Purpose
Many times users get tangled with amusing web interfaces and do not get above the graphics and effects of the website. Web development allows you to bring out the intention of your business venture. When your potential customers know your purpose through your web design, they are sure to tag along with your website.
Brand Identity
We surely know the impact of web design and impression on building a brand's personality. With the help of web development, your business gets a recognition that lasts in your customers' minds. The mere presence of your web exhibition or even the color of your logo or website identifies your company.
Optimized Navigation
Haven't you got lost several times on some websites? Sure, you have. You tend to forget why you went on a particular website because of its distracted and distributed attention pattern. With front-end development, you can guide your visitors to the right path of your customer-building. You get to mold your viewers into trusted customers through a planned navigation system on your website.
Retention of Visitors
With an intricately and smartly designed website, you can lay the foundation of trust and reliability amongst your visitors. Your website is the only medium that converts a visitor to become your customer. We have come across several websites where as soon as we get onto, the very sight of being there irritates us, and we abandon the site. You surely don't want your potential customers to face this with your business website.
Database Management
As you use a front-end framework for the front-end development of your web project, the framework's data model handles the application state and hence, enabling you to establish a secure and robust database connection for your web content.
Trust and Confidence
Your businesses' pride and prowess lies in the hands of your website. It is through your website that your customers will lay their trust and confidence in your products and services. Front-end development is the key to make you a star business in the hearts of your customers.
How to Choose a Framework for Web Application?
Below are the factors to consider while choosing the best Front-End Framework for your upcoming web project:
Popularity

One of the prime and crucial factors for choosing a front-end framework for your project is its popularity. When you aim for a long-term project, the framework must be popular so that you never find trouble with getting help from the community. Additionally, in longer projects, supposedly, for some reason, if your web developers leave your project in-between, if the framework is popular, you will easily get more web developers for that particular framework technology.
Also, lest's say your developers don't abandon you, but for the betterment, as you plan to grow your project, you will need more front-end developers. And if you have chosen a popular one, you can easily hire front-end developers for your project.
Core Features
Go for an in-depth comparison of features between the framework of your choice and other alternatives. Read out the documentation and look out for their set of features. If you have experience with other frameworks, this step is going to be easy for comparing. Find out if the framework has sufficient support and functionality for state management, templates, form processing, HTTP communication, validation, etc.
You will consider a framework rich if it contains all the essential features to support your project. However, the next point here will show you how using those features is equally important.
Usability
Before you start your front-end development, you must check out the usability of your selected front-end framework. As you come across close to the fundamental characteristics, potential, and drawbacks of that particular framework, you can not be sure about it. Here, no matter how much you research or study the framework and its documentation, you shall not be 100% confident about it unless you try it.
Explore the CLIs, libraries, and plugins supported by the framework. Use them in smaller projects for experimentation. You got to dirty your hands this time by indulging in the framework. Experience the IDE and typescript, and try out every possible feature of the framework before you start your web development.
Flexibility
You should consider a customizable front-end framework or your upcoming web project to configure it to your convenience. Look out for component sway and other such functionality that you intend to seek from your project.
Ease of Integration
No matter how feature-rich framework you might have chosen, but still, you may need to facilitate your project with additional tools and libraries. In such a scenario, having a flexible framework is imperative to integrate well with other things. Several libraries focus on DOM manipulation, formatting time, data processing, and rich-text editing. As you want to combine all such functionality within your project, your framework should be capable of such significant integration processes.
Server-side Rendering
Most of your customers are going to be mobile users. Hence, server-side rendering is inescapable. If content drives your website, then your front-end framework has to support server-side rendering; otherwise, your customers will shed due to the low search engine ranks.
Support for Mobile Development
Most of your customers are going to browse your website from a mobile device. Anyway, mobile development is most essential in this current age. So opt for a front-end framework that contains ease and options for mobile app development for your business.
Future Support
A digital web presence is going to be stronger than ever in the future. Hence, make sure that the front-end framework you choose has an exceptional future scope- in all manner of support, maintenance, community, and the newer version with upgrades.
You might want to read: 7 Secrets of Performance-oriented Frontend Development
Top 5 Popular Front-end Frameworks of 2020
In this section, I have assembled the most in-demand front-end frameworks for the year 2020 based on the considerations of awareness, company size, overall satisfaction, interest, ease of use, and so on.
1. React
Facebook developed React in 2013, which has become the most popular open-source javascript framework for developing interactive UIs. React works with virtual DOM updating all the edits of the user without disturbing old data because it keeps copies of the real DOM. With a massive user community of over 3 million and an evident developer community, React.js framework is the best front-end framework declared by many entrepreneurs.
Pros:
Performance-consistent and seamless
Reusability of components
Ease of Collaboration
Lenient learning curve
Advanced development tools
Cons:
Constantly upgrading, so documentation troubles for beginners
JSX is not very easy to understand in the beginning
Only capable of handling front-end of your project
2. Vue.js
Evan, You released Vue.js in 2014, and within 6 years till now, it has gained massive popularity because of its features. You can build fantastic web interfaces using Vue.js, and it is a versatile javascript framework. Web designers use Vue for making smaller components of the front-end or even for an entire single-page application. Vue.js is flexible enough to encompass several libraries and collaborate.
Pros:
Clear and Simple
Extensive documentation
Support for Typescript
Easy to learn Syntax
Cons:
Lack of Stability in Components
Comparatively smaller community
A barrier of language in integrating various plugins
3. Angular
Google launched Angular in 2016, and it is based on typescript. With AngularJS, you can look after your front-end as well as back-end development. This framework comes with command-line interface CLI and graphic user interface GUI, enabling beginners to learn it quickly. It comprises of templates, end-to-end tooling, dependency injection, and integration best practices.
Pros:
Changes updates in model-to-view and view-to-model
In-built two-way binding
Decoupling from external elements
Easy management if components by dependency injection
Vast community support
Cons:
A steep learning curve
Dynamic apps built with Angular lack in performance
4. jQuery
A front-end framework from earlier times, launched in 2006, holds a place in my list of top 5 front-end frameworks. It has undoubtedly a vast community for help and support of any sort. jQuery is a library that manipulates CSS and DOM for attaining certain functionality.
Pros:
Flexible DOM for element addition or removal
Simple HTTP request sending
Dynamic content facilitation
Cons:
Slow as compared to other front-end frameworks
Lacks in advanced mobile development
Obsolete APIs for document object model
5. Ember.js
Ember.js is a modern-day front-end framework that is component-based. Supporting both mobile and web development, Ember has an efficient architecture. Beginners may find it difficult to learn.
Pros:
Organized well
Offers two-way data binding
One of the fastest performing front-end frameworks
Well documented
Cons:
Small community
Slow updates
Syntax-not easy to learn
The learning curve is steep
Comparatively heavy framework for developing small applications
Which is the best front-end framework for your business success?
To sum up, each of the top 5 front-end frameworks' specialty, I'm going to share from my experience and knowledge when to use which framework and when not to use one. You can use any one of these frameworks as per your project requirements.
You should use Ember.js to build a large-scale website with dynamic functionality and a rich UI. Don't use Ember.js for building a simple UI and when implementing simple ajax functionality.
Consider the jQuery front-end framework when you want to build a desktop application because it will keep your code concise. However, if you wish to extend your project in the future with reusability, advanced javascript facilitation, and lesser coding, you cannot rely on jQuery.
Vue.js is the ultimate choice when building a flexible and complicated project from the beginning. However, you might not the community support as expected and needed because of its popularity.
Go with the Angular framework while you aim to build your complex enterprise application. However, you should not use Angular if you have a small team and limited scope of the project.
If you want to build single-page-applications, SPA, React.js is the best fit because of component reusability. You can develop your application in less time. However, if your developers are not comfortable with Javascript, they might find it challenging to learn React and its JSX curve.
Conclusion
You will get an unending list of options while choosing for the best front-end frameworks for your web app development. In this blog, I have guided you with the basics of front-end development, and why it is essential and crucial for your brand identity. You even got the factors that you should consider before opting for one suitable front-end framework for your upcoming project.
The list of the top front-end frameworks to be used in 2020 is my choice of selection. Do share your reviews regarding my list and also mention your favorite front-end technology in comments. If you are looking for the best front-end development company, then hire our creative and smart front-end developers.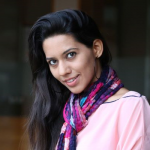 A Vivacious soul with an Idealistic mindset. I am an originator who specializes in content writing, social media marketing, and everything that lies in the vicinity. Writing about trending technologies and emerging domains is my core expertise, and I write to ignite, illustrate, and substantiate. I often submerge into spirituality, cooking, or talking without warning.