Last Updated on August 4, 2023 | Written By: Paridhi Wadhwani
August 11, 2020
10
min read
The COVID-19 scenario is barging with no sign of decline. More than 8 months have passed since the first coronavirus case was diagnosed, and now, every day across the world, millions of cases are discovered. From my personal experience, I can say that this pandemic has taught us a new way of living.
Table of content:
1. My Personal Experience
2. Need For Software Development in Healthcare
3. Need for AI Software Development
4. Contributions of AI (AI Healthcare Applications)
5. Benefits of AI in Healthcare
6. How AI can change the way of Treatment
My Personal Experience
We are four family members, and other than me, three of them got COVID-positive. Thankfully, their symptoms were mild, and hence we got home isolation. It was tough for me to sustain myself at home in that situation. However, all of us were isolated from each other. I remember how I had to update our doctor with their health-conditions every day and seek further guidance on their medications and treatment.
Every four hours, communication with doctors was the most vital part, and I know how troublesome it was with meager healthcare software solutions in my country. I am sure that if we had a better healthcare software development
solution option, it would have been convenient. Luckily the three of them got well within two weeks, and I feel like a warrior by being unaffected by the virus.
After this time the only thing that I think is to start my Custom Healthcare Software Development Company. Not for the business opportunities, but for the help of those like my family, who need it the most right now. On top of that, it is high time that we adopt the merger of Artificial Intelligence with Healthcare.
Doctors around the world are highly occupied with the COVID widespread. If anything humanity needs right now is virtual assistance of a super-powerful technology with the brains of doctors. That is only possible by AI. Artificial intelligence in healthcare is not a new idea, for years now, governments and healthcare organizations have been discussing the plans. However, it is the eleventh hour for implementing those ideas into reality.
In today's blog, I have brought for you the topic- AI in helping build custom healthcare solutions development services.
Need For Software Development in Healthcare
As the pandemic is showing no sign of downfall, we must learn to live with it. Mass social distancing, personal hygiene protection, and other public health measure are not sufficient to battle against the virus. We need to strengthen our digital healthcare systems as the prime preparation from our side. China, being the first nation influenced by the pandemic, has already started leveraging the use of digital technology in their healthcare solutions. Other countries should follow the same path.
As perStatista, six times growth is expected in the digital health market in 2025 as compared to that in 2018. The approximate market size is going to be 504.4 billion US Dollars. Healthcare software developers will help in immediate outbreak response to the coronavirus. Data-driven technology can be used in tracing contacts, surveillance, and undertaking a maximum number of tests.
Another reason why now is the right time for bringing in AI-driven Healthcare solutions is that the pandemic has mitigated the impact of other diseases. People are scared to visit healthcare facilities as most of the hospitals are occupied with Covid-19 patients. On the other hand, even doctors become reluctant to come in close vicinity of patients as the deadly virus is prone to spread while measuring patients' vitals.
Several medical services, like outpatient centers were closed due to the lockdown effect. Hence, if there is a digital healthcare facility, then humanity can leverage it in this time of crisis.
Need for AI Software Development
Artificial intelligence can enable every human task without human intervention and that is too efficient, speedily, and less costly. Gartner has predicted that by 2021, over 75% of healthcare delivery organizations will have invested in Artificial Intelligence. I've jotted down 10 reasons why modern healthcare facility needs AI.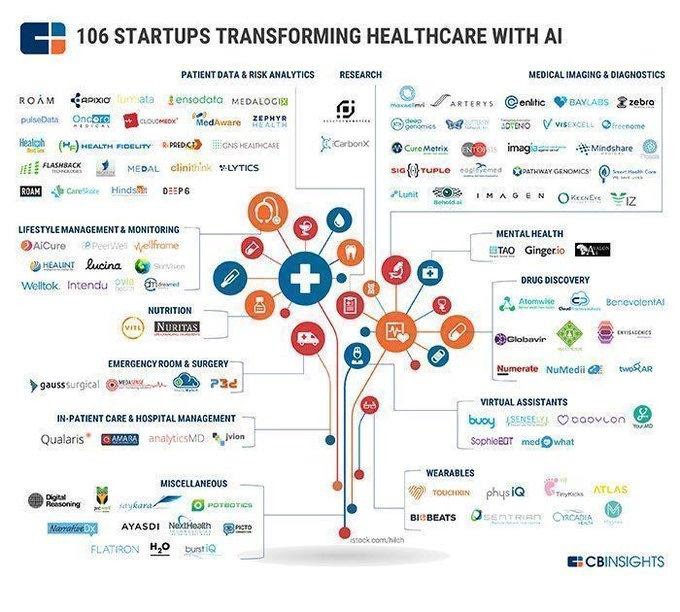 Keeping Well
Keeping humanity's health in a constant better state and enabling lesser dependence on doctors is one of the most significant achievements of Artificial intelligence. More consumer healthcare applications are now adapting to the Internet of Medical Things (IoMT) devices that encourage people to live a healthier lifestyle.
AI applications help people manage their lifestyles proactively and find out their health risks in advance. Apart from patients and society, AI also helps healthcare professionals and doctors better understand people's needs with enhanced feedback, guidance, and support.
Early Detection
As per the Northwestern University Study, AI can detect lung cancer with accuracy, even before radiologists. 1 out of 2 women in the USA are recognized with a threat of breast cancer, and a high number of those mammography results turn false. AI has the potential to verify the accuracy of cancer tests faster and with precision.
With the help of AI-enabled wearables, users can detect early-stage risks of heart and cardiovascular health problems. Doctors and healthcare practitioners make use of AI medical devices to provide better service and care to the patients, along with identifying life-threatening diseases at an early stage.
Diagnosis
One of the powerful AI devices is IBM's Watson, which applies cognitive technology to electronic health records (EHR) and enables healthcare professionals to diagnose patients powerfully. Watson stores more than ever possible information regarding the disease, including its minutest symptom, treatment, case-study, and more than a human being.
Another big-scale example of AI in healthcare diagnostics is Google's DeepMind Health. This technology uses neuroscience and machine learning to bring solutions for real-world use-cases. It builds learning algorithms that train to work like the human mind and turn to be useful in the healthcare domain.
Decision Making
Taking the right decisions at the right time is crucial when it comes to healthcare. Some patients live on the verge of getting a cure at the last-minute. We have seen many medical miracles because the patient came at just the right time. Otherwise, it could have been too late for recovery or saving their life. AI helps in this matter as well. When combined with big data technology and predictive analysis, AI can help make timely decisions to cure patients and prioritize admin tasks.
Using pattern recognition, an AI methodology, doctors can identify patients at risk by measuring their lifestyle, geographical, genomic, and environmental factors.
Also Read: How Big Data, Analytics, and AI are transforming the Future of Healthcare.
Training
Medical learning and training are not as easy as other forms of training. AI helps medical students to get their training using naturalistic simulations. Otherwise, computer-driven algorithms cannot help the bio-students as much AI does. There are many ways AI benefits in healthcare learning and training, to name a few: speech recognition, vast database collection, instant response, etc.
With AI-enabled apps for healthcare learning on smartphones, students can learn anytime and anywhere.
Research
For a new drug to become available for the patients, it costs a substantial amount of money and time. It takes on an average of 12 years for a new medicine to get approval from the research lab to be available for humanity. And over that, only 1 out of 1000 drugs get to undertake their preclinical trials, out of which only rare ones get available to humans. It is very evident from this above study by the California Biomedical Research Association, that how time and money consuming is a new drug trial.
Thanks to AI, it has prominently streamlined drug discovery and drug repurposing. With this advanced application of AI in your custom healthcare application, you can bring down the time to market and cost for new drug trials in your country.
End of Life Care
As you compare with the last few generations, our death-rate has decreased, and life expectancy has increased. Contradictory to the reasons behind deaths being the deadly diseases, now its more of dementia, osteoporosis, heart failure, and more where mostly the patients get lonely. In this matter, too, AI is advancing with its human-life emotions, voice, characteristics, and dependence.
AI-apps and robots can accompany such patients and help them to be independent of healthcare assistance. Modern robots are trained to carry excellent communication skills and social behavior.
Treatment
AI is able to diagnose risk at an early stage and assist doctors and patients well, and it also helps clinical staff in disease management. Robots-AI mind- are long since used in the health industry, over 30 years in assisting for clinical or surgical work. AI proves to be excellent in repetitive tasks for long-term illness or conditions, rehabilitation centers, and physical therapy sessions.
Contributions of AI (AI Healthcare Applications)
Machine Learning and Deep Learning- these two implications of Artificial Intelligence are making dominant footprints in custom healthcare solutions development services. Now that you know the tremendous benefits of implementing AI in healthcare, here are some examples of AI applications in the healthcare industry.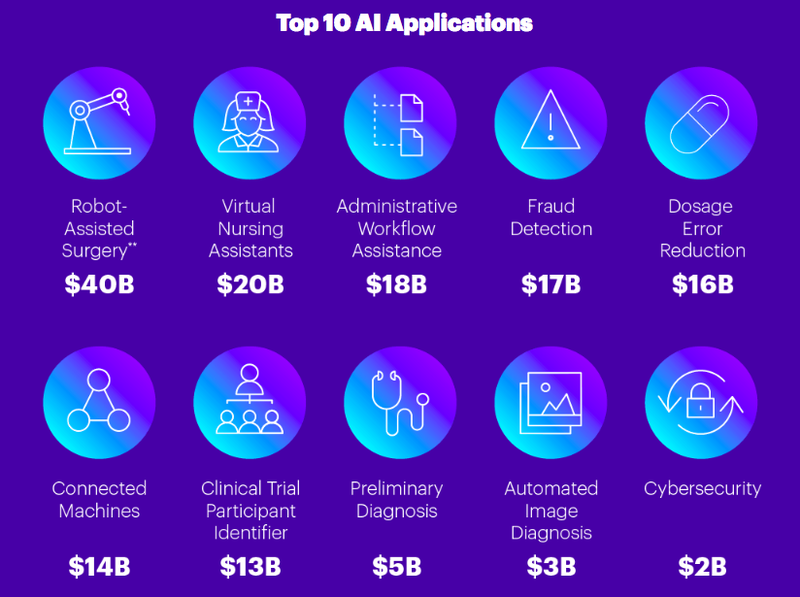 1. Medical History Management
The most common AI application for the healthcare domain is data record management. AI can trace, rectify, filter, and store data records accurately and faster. It also leaves doctors available for the patient diagnosis.
2. Faster Tests and Scans
AI-assisted machines can execute repetitive jobs at any healthcare center like undertaking an X-ray, CT-scan, blood-tests, and other frequent check-ups. The immense need for such AI apps is observed in Cardiology and Radiology, where the amount of data analysis is the maximum. As AI perceives these tasks, specialists can only attend to cases where human intervention is inevitable.
3. Online Consultation
With the ongoing COVID scenario and even before that, online doctor's consultation services have seen a hike. AI tends to be perfectly suitable for remote diagnosis by image processing algorithms. Applications like WebMD and K Health are the future of digital medical consultation.
4. Digital Nurses
Virtual nurses can observe symptoms and assist patients with timely medicinal reminders. AI programs help chronic illnesses very well with the help of digital nurses. Not only that, but virtual nurse applications also turn to be useful for the doctors as well.
5. Drug Recreation
As the manual drug trials and research are time and cost consuming, experiments are in execution to use AI-powered programs to study the existing drug and redesign it to fight the disease.
6. Precision Medicine
AI in the field of genetics and genomics, studies patient information from its DNA, which is linked to hereditary diseases. Such applications help identify the patients posing a risk of cancer and vascular diseases in the future.
7. Self-Monitoring Wearables
There is not much to say in this section as the popular health devices available in the form of wrist-bands like Apple smartwatch, FitBit, and Garmin prove it all. People are benefited by keeping track of their heart-rates, pulse-rate, and other vitals using such AI-enables wearables.
8. Chatbots
Immensely sharp and powerful human-like communication is carried out by AI chatbots that are available in text and audio formats.
Benefits of AI in Healthcare
AI is improving several industries, and healthcare is no far. Patients, doctors, mankind, and nursing staff, everyone is benefited from AI in their solutions . With the help of healthcare software development company, they can leverage the notable advantages of Artificial Intelligence in their healthcare solutions. Some of them are:
Accessibility
Healthcare is now available to all the world's people, even those living in remote locations. This healthcare system accessibility is a notable achievement and advantage of AI technology.
Early detection of health risks
Artificial Intelligence helps humanity to identify the early risks of life-threatening diseases. The AI apps accumulate the database with the causes, precautions, and cures of every health condition. Along with the predictive analysis, AI helps operational management of healthcare facilities.
Time & Cost Saving
Along with all other AI benefits, we can not forget the most critical factor that we get by adopting AI- time and cost-saving.
Surgery Assistance
AI apps enable surgeons and doctors with accurate and most essential information while undertaking any surgery which fruitfully impacts the patient condition.
Human Ability Augmentation
AI has made possible the impossible things. Smart prosthesis or smart limbs help the paralyzed or physically challenged patients with human-like accomplishments that help them react and respond like normal humans.
How AI can change the way of Treatment
Looking at the healthcare sector's current scenario globally and the parallel demand of public health, a change is sure to make way. There are high chances of AI bringing a revolution in the healthcare industry with breaking in the following ways:
Redefined Care Delivery
Digital Patient Experience
Enhanced Talent Development
Technological Operational Efficiencies
Healing and Well-being Design
Parting Note
Bacancy Technology is a globally renowned custom healthcare software development company. Here, we provide revolutionary AI solutions for healthcare to hike your business productivity. Hire AI developer or a team from us to build out-of-the-box healthcare solutions that provide mind-boggling results.