Introduction
Are you working on VueJs 2?
Is there a requirement to migrate from Vue 2 to Vue 3?
Are you frustrated and stuck with the entire migration process?
Do you want to end your struggle?
We are here to help you! Many of our technical readers have suggested writing a descriptive tutorial for beginners on migration from VueJS 2 to VueJS 3. So, here we are, back with the step-by-step guideline. Don't worry if you are not familiar with the migration process. We will be learning it from scratch.
So, let's understand why migration from Vue 2 to Vue 3 is essential.
Why Should You Migrate from Vue 2 to Vue 3?
The IT industry evolves with time so does the technology, and so do its technical requirements. To keep the project updated is inevitable even if one of the technology from the tech stack has been updated. The reason behind this is whenever the technology evolves, it updates its dependencies and libraries, it removes unwanted garbage code, it also adds new features that enhance the development and workflow.
Vue 3 is comparatively new updated technology. There's no need to immediately update your entire Vue 2 project to Vue 3, but you should start planning it out. Because as time will pass, lesser third-party libraries will be supporting version 2 and maybe VueJS will not lesser the development support for version 2.
VueJs 3 is written from scratch and comes with even better performance, better tree-shaking, smaller size, improved TypeScript support, and many new features for developing large-scale enterprise software.
You don't need to worry about it. Here in this tutorial, we will learn how to migrate from Vue 2 to Vue 3.
Tutorial Goal: Vue 2 to Vue 3 Migration
The migration process can be quite complicated and hectic. So, to ease out the process we have used a basic demo application that fetches the users' data from JSON Placeholder API and will build a simple UI to display it.
So, here's what we will be covering in our tutorial.
Overview of Vue 3
Building VueJS 2 Demo App
Update CDN scripts
Update VueJS instance
Update VueJS Router instance
Overview of Vue 3
Vue 3 was officially launched on 18th September 2020 and is considered to be the default version from 7th February 2022.
Vue 3 Features
Composition API
SFC Composition API Syntax Sugar (< script setup >)
Fragments
Teleport
Emits Component Option
SFC State-driven CSS Variables
Migrate from Vue 2 to Vue 3: Breaking Changes
Following are the breaking changes that you should look into for migration.
Global API
Template Directives
Working of the Components
Render Function
Custom Elements
Other Minor Changes (that might affect your project)
Removed APIs
Let's get started with the migration process.
Create VueJs 2 Project
Here we used Vue-2 to create our app.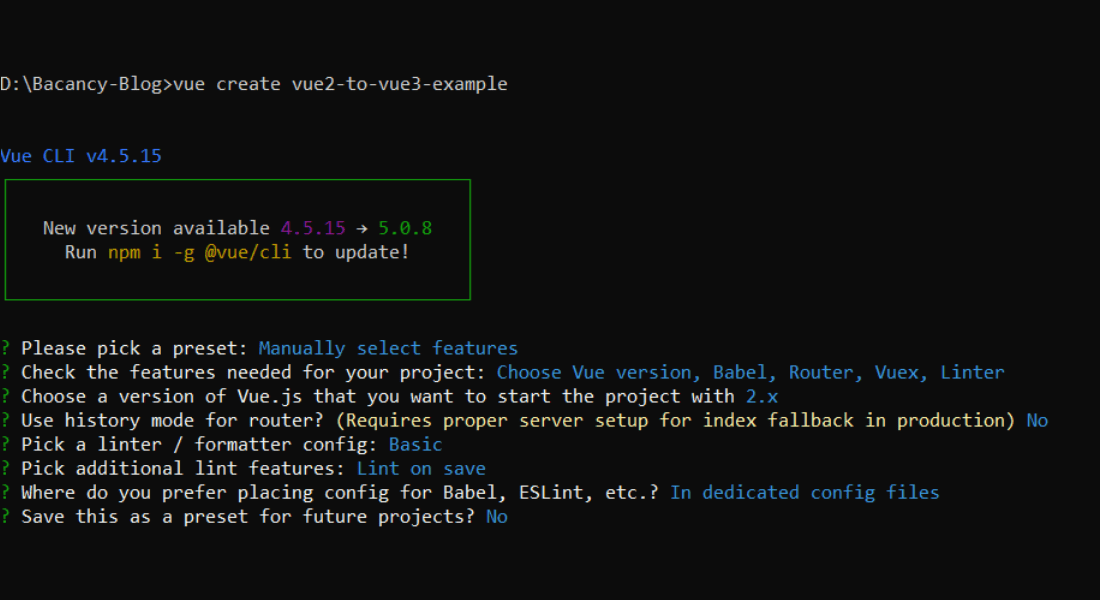 Navigate to your project and run the application using these commands.
Your browser will show the default UI as shown below.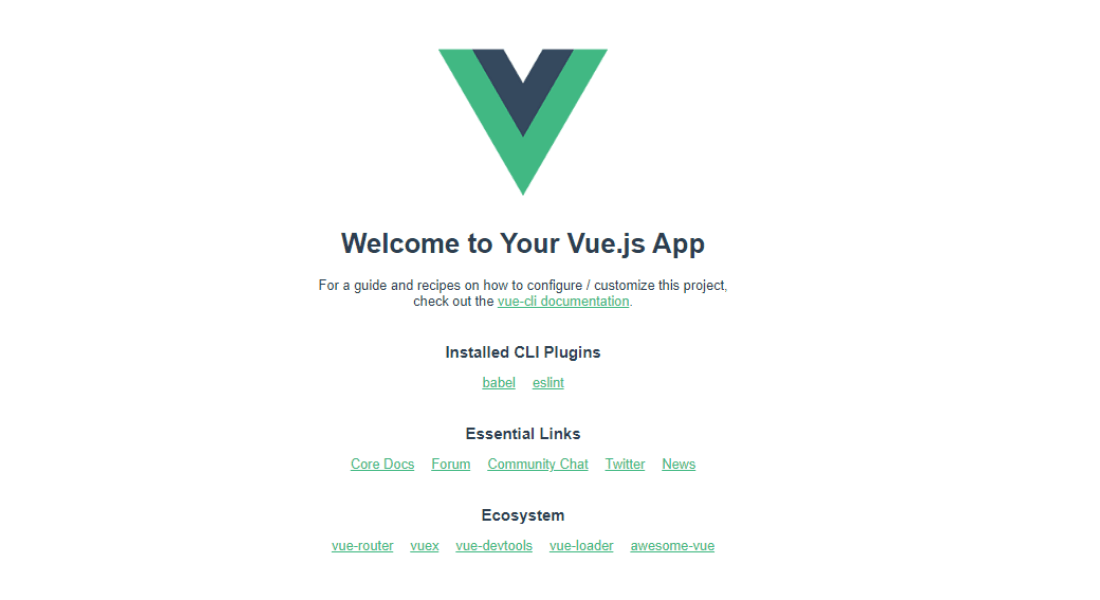 Vue2 package.json file.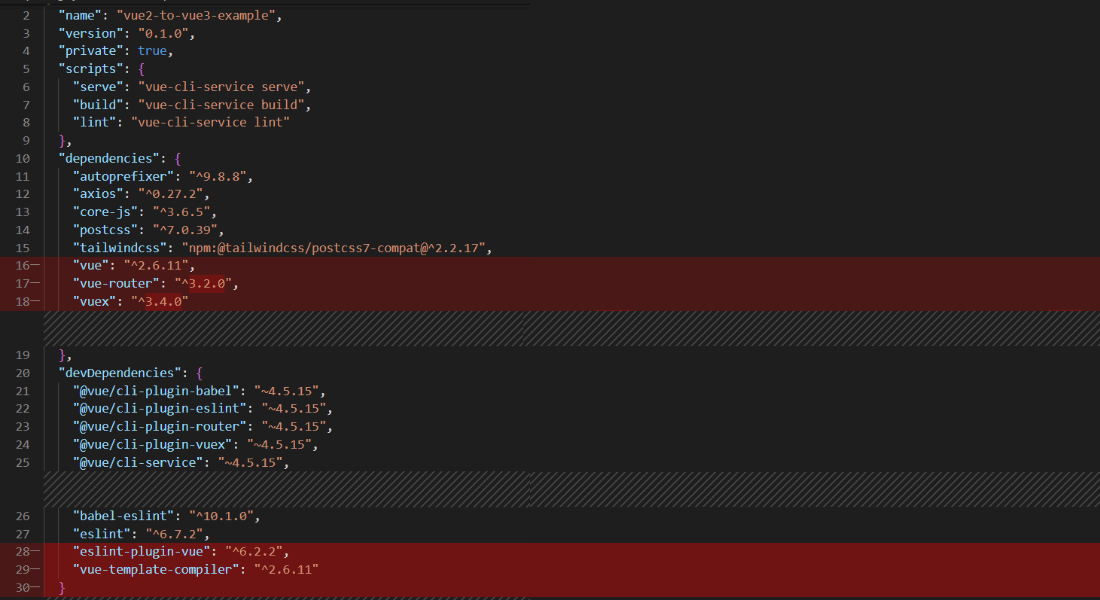 Build User Interface
Each Vue Component lives inside the .vue file. A Vue component consists of three parts.
1. < template > – Contains component's HTML
2. < script > – All the JavaScript logic is written inside this tags
3. < style >> – Component's CSS is written inside this tags
Are you looking for proficient VueJs developers for your project?
Bacancy is here for you! Contact us now and hire Vue developer to build, optimise, and deploy your application.
Creating Components
Here we create two components:
Home Component
UserList Component
App.vue
App.vue is the parent of all components. It defines the template of our page.
Home.vue
In Home.vue component we have done the following things:
We have called mapState, mapGetters, and mapActions from vuex
We use a 'mounted' hook to fetchUsers
We have passed 'getAllUsers' (mapGetter) and isLoading(mapState) as props to 'UserList' component.
UserList.vue
Here we will receive 'getAllUsers' and 'isLoading' props. Once the data is fetched we will use a table to display users' data. v-for will loop over the getAllUsers array on 'tbody' element and display user data. We will also implement one of the features offered by Vue2, i.e., 'filters.' Here we will use the 'SetEmail' filter. It will return the user's email with 1st letter small.
Configuring Store: index.vue
Output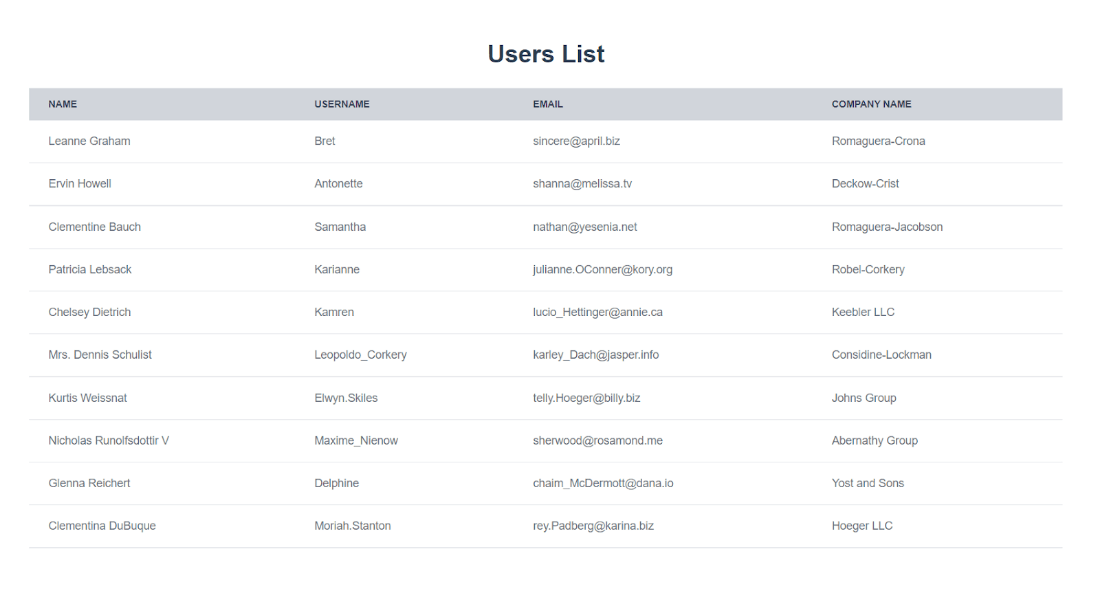 How to Migrate from Vue 2 to Vue 3?
Now, we are done building a basic demo application with VueJS 2. Before, moving on to the files here is the basic process that's need to be followed to migrate from Vue2 to Vue3:
First, we make sure that our @vue/cli-service is in the newest version.
To update our vue-cli command is – vue upgrade
Now modify our 'package.json' file. Here we have to uninstall vue2 and vue-template-compiler. They are not needed for VueJS.
Run the npm install command to install vue3, @vue/compat, and compiler @vue/compiler-sfc.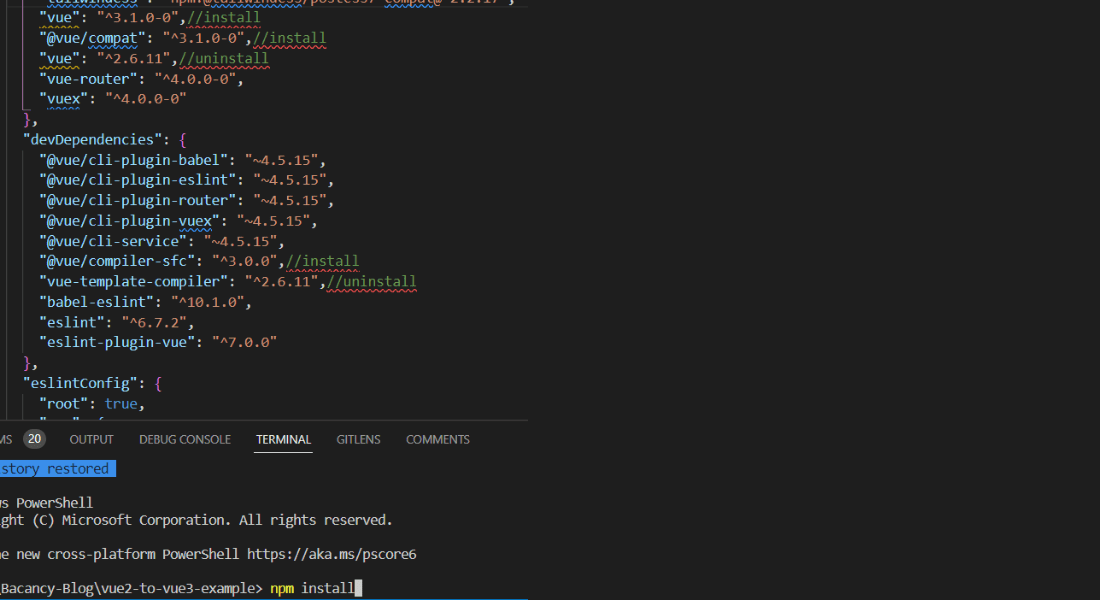 Install [email protected] and [email protected] and update them to the latest version as shown below.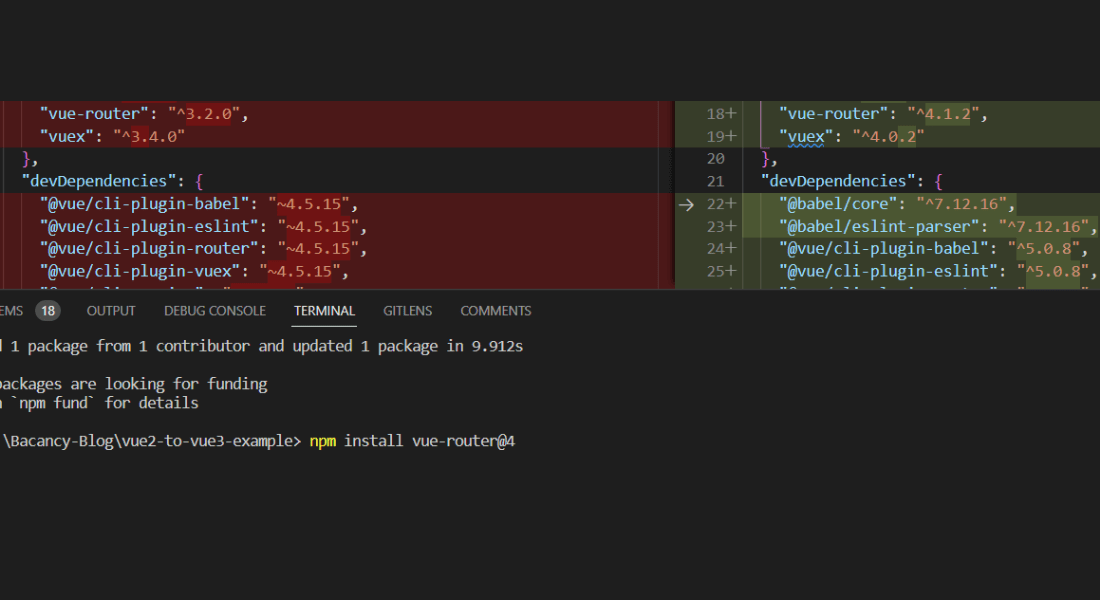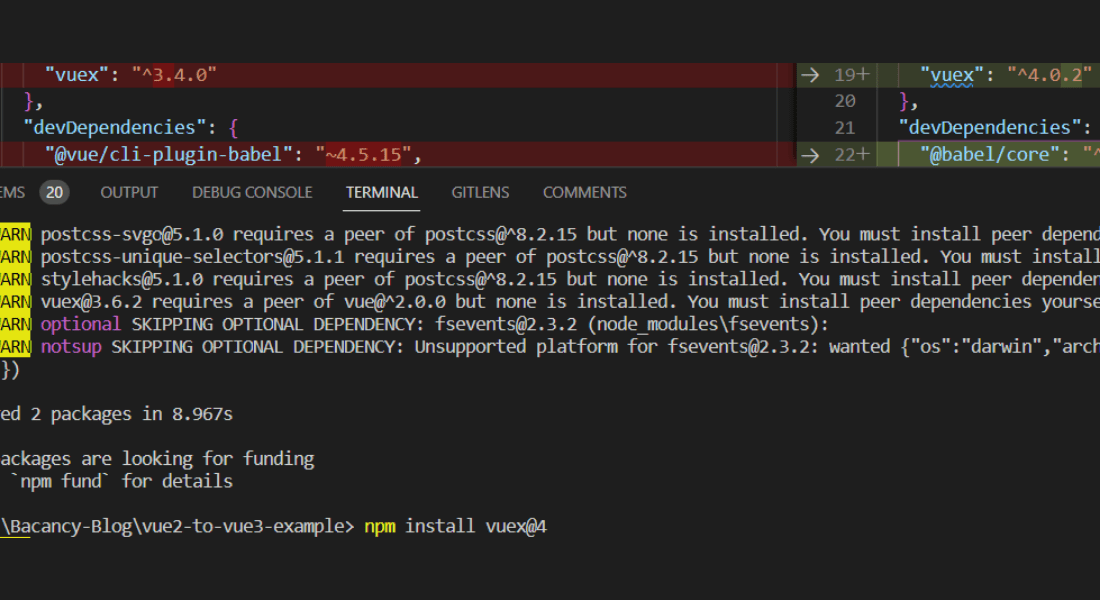 Create a vue.config.js file to set up the compiler option to get migration build work.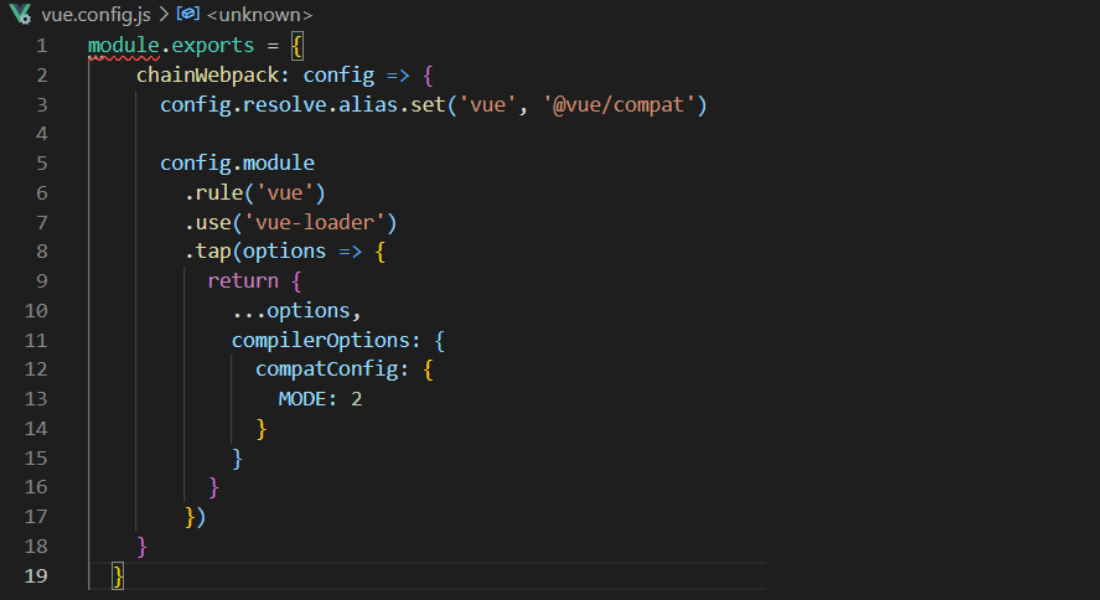 Once done with the basic configuration, start the development server. You will be notifies with some error messages. So, let's get started to solve them
main.js
First, we will fix the main.js file for vue3. Below is the comparison.
// main.js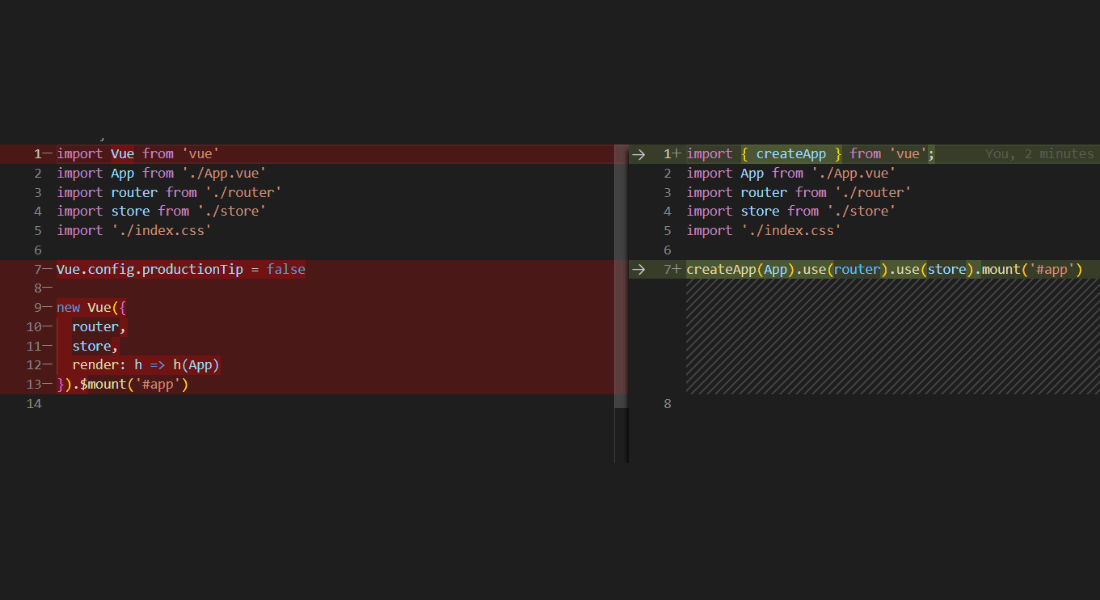 Router File: index.js
Now, open router file and use the below code for migration.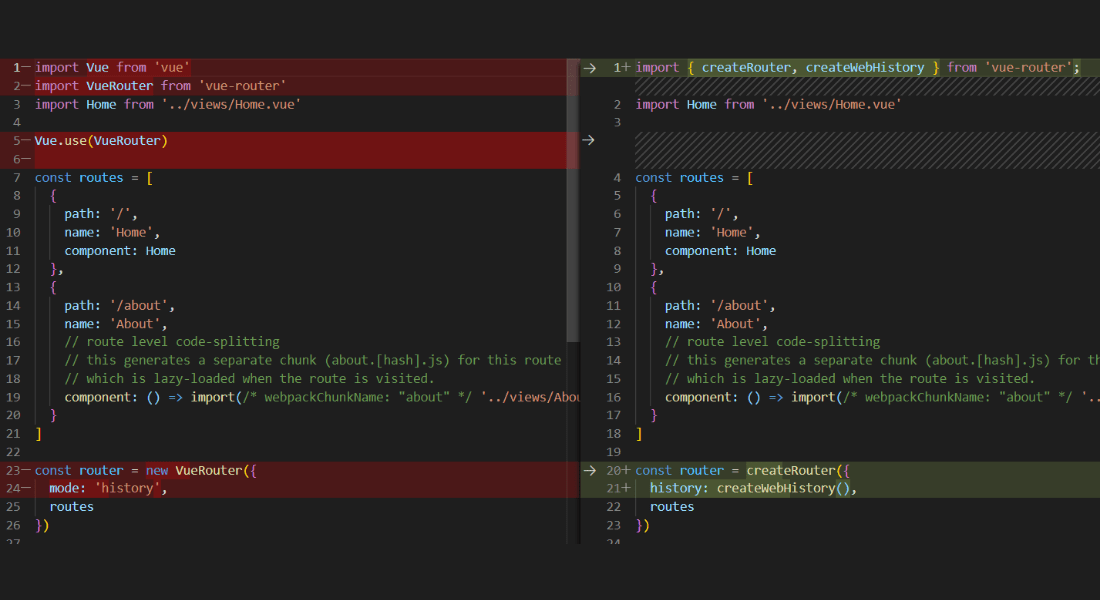 Store File: index.js
Now update store file.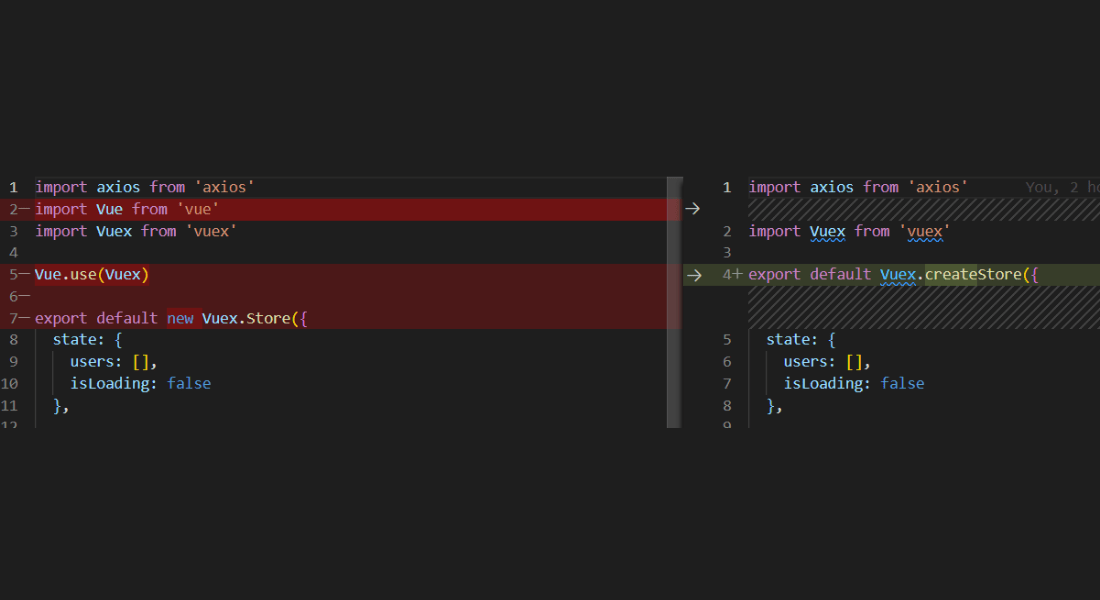 The remaing code in the store file would be as it is.
package.json file
We also need to update the package.json file. Use the below image where we have updated the dependencies.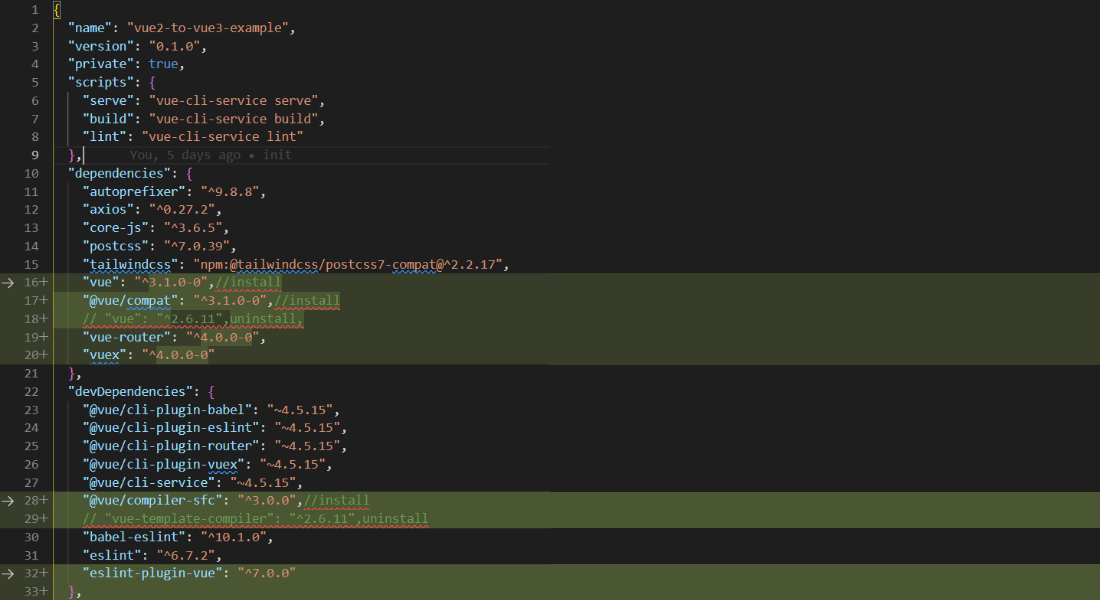 Home.vue
Vue 3 came with a new feature called 'compositionApi', which is a replacement for 'optionsApi' However, you can also use optionsApi.
Here we use compositionApi.
'onMounted' is called after the component has been mounted. To use it we have to import it from 'vue.'
'setup()' hook serves as the entry point for Composition Api usage in components.
'computed()' is same as computed() property in optionsApi. To use it in compositionApi, we have to import it from 'vue.' It takes a getter function and returns a read-only reactive 'ref' object for the returned value from the getter.
To access the store within the 'setup' hook, we can call the 'useStore()' function. It is equivalent to retrieving 'this.$store' within a component using 'Options API.'
UserList.vue
In Vue 3, 'filters' has been removed. Instead of filters, we can use the 'computed()' property.
Github Repository: vue2-to-vue3-example
So, these were the steps to implement the migration process from vue 2 to vue 3. You can visit the source code: vue2-to-vue3-example. Clone the repository and experiment with the code.
Conclusion