Last Updated on September 16, 2021 | Written By: Riken Solanki
Whenever you think about searching on the internet, Google is the first thing that comes to your mind. Whenever you think of chocolates, you think of Hersey's. And when it comes to binge-watching, Netflix is the only thing that comes to your mind. Beyond any doubt, Netflix has become synonymous of binge-watching to make the most boring evenings enjoyable.
Netflix is 21 and over.
Reed Hastings and Marc Randolph two technology entrepreneurs came together and formed an online DVD rental by email service called Netflix and become a platform for so much more. Fast forward two decades, Netflix has become biggest TV, movies, and series studio and now the platform is not only limited to online streaming service, but it has become a producer of original content with significant network effects. Netflix has 149 million subscribers globally in over 190 countries. So. Let's have a look at how data can help you enhance your creative product, just like the way Netflix did.
Unique Model and Different Strategy
Netflix started a completely new trend to deliver video streaming services on demand so the viewers can choose what they want to watch upon their demand. Netflix introduced a completely new way to consume entertainment contradictory to the traditional channel to watch your favorite show on a specific time.
Earlier cable channels and broadcast networks were making money by selling audiences to advertisers. In return to them, viewers were paying a monthly subscription fee to access the library content. Back in 2015, HBO introduced a subscriber-funded revenue model to make the library programs available on demand. HBO successfully succeed in subscriber-funded services as their users found the service worthy, then after many portals approached this way to provide access to a specific library. WWE Network subscription offers pay-per-view engagement model so the subscribers can enjoy more wrestling-related content and wrestling matches that fans can watch anywhere.
To enhance your product, adopt a differentiation strategy and an added value to ensure your product is unique from others in the market.
Just Like Netflix how You can leverage the Trends to drive the exceptional growth
Comfort: Netflix offered comfort and freedom from going out and shop for movies at the best value for their money
Technology: You can enjoy Netflix on any device
On-demand: Upon your availability, you can watch your favorite movie content from anywhere and anytime
Data-driven: The platform is not limited to recommendations, but pro-actively it is used to form content that fits personal preferences.
Subscription: With a low-cost monthly subscription, the platform's structure is so simple.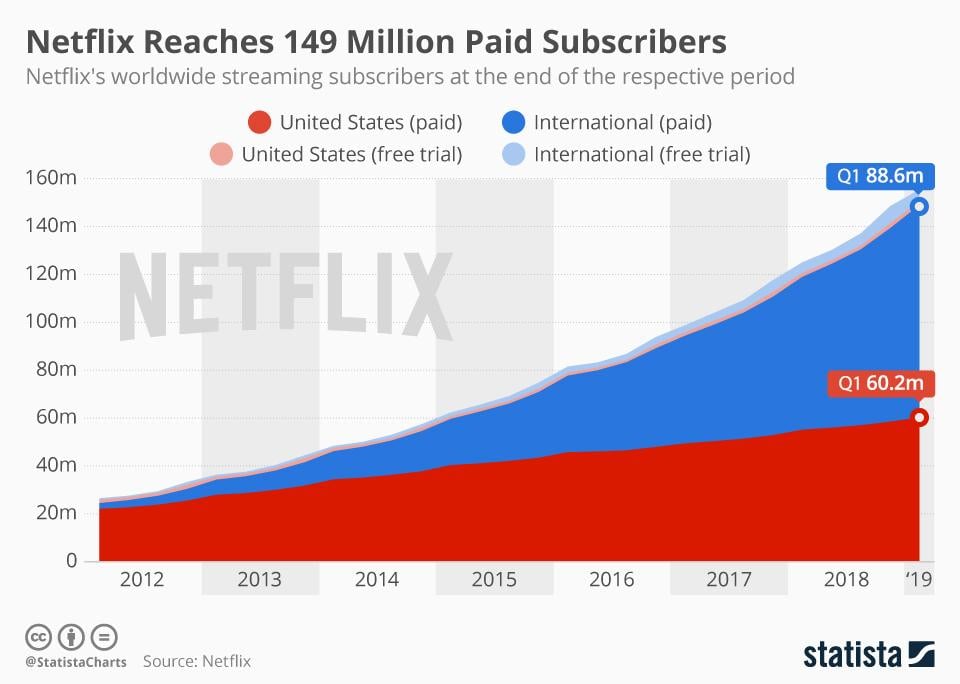 Digital Transformation and Netflix
Content marketing dominates our lives as its like walking on very thin ice because it requires so much expertise to enhance your user experience and improve your company's value. And Netflix took a brilliant move, instead of generating new content, the company decided to revive the license of canceled TV shows.
This was a successful move to adopt a great fan base for producing its content.
Instead of copy and paste the existing content, Netflix ensures to generate unique and original content. The most popular series, like Narcos, stranger things, Daredevil, and many more. Today the platform has hundreds of exclusive TV shows for different genres. To survive in a cut-throat competitive era, make sure your product is unique or at least delivering value to its users.
How does Netflix pull it off 149 Million subscribers with Product Enhancement?
Netflix has always ensured that the content does not gear for a specific audience. From action series to complicated dramas, from action series to horror series to exclusive films starring popular actors, Netflix has pulled it off to serve different audiences simultaneously and separately. Netflix is notoriously to gather viewing data from a global audience to distinguish micro-genres to understand viewer's interest. For different Netflix subscribers, there are different responses. For every individual, Netflix is different from small nooks and rooms to match the viewer's taste.
Amazon has a similar strategy; on the other hand, Hulu is both similar and different. On the other hand, Hulu is the joint venture of NBC, Disney, and Fox, so the platform is mostly filled with shows owned by these companies.
What are the Key Reasons to take into consideration to enhance your product just like Netflix?
1. User Ratings
Netflix encourages the user's ratings, and that is why keeping the customer experience at the forefront. Based on the user ratings, Netflix itself suggests that it will be worth watching for you. So, the users can discover TV shows and new movies to make it very easy as it helps to personalize the user experience. Give special importance to your user's liking and disliking.
2. High-Quality Original Content
Netflix is presenting a platform to create high-quality content to provide a unique selling point to engage the users. Netflix realized its importance and gained a competitive advantage. Along with the high-quality content here, you need to ensure that your users get more and more engaged with the content listed on your platform.
3. Commercial free content
Netflix is binge-watching, so the platform ensures that viewers don't get interrupted with the commercials. Another crucial thing to keep in mind is to let your users enjoy your product without getting distracted for a moment.
4. Free Trial
Netflix is offering 30 days free trial to showcase high-value content to its users who are not pretty sure or convinced with the service of Netflix. Giving away free samples or trail of your product will help you increase brand awareness as well as there are chances to transform your prospect users into potential customers. Furthermore, before the product goes into full production, it's an excellent way to test your product.
Key Lessons to Learn from Netflix
1. Identify the One Metric That Can Grow with Your Business
There is no secret to success. But some companies fail because they take too many risks. So, from the early days, identify a massive potential market to grow. Facebook has more than 2 billion users, and the company has always cared for its users and how to maximize the engagement with the active users.
Once you identify the core growth matric, measure its success with the real numbers. So, the question that you need to ask yourself is how you are driving growth around the core matric?
2. Find Out the Difference Between Obvious Moves and Dumb Moves
Work on solving your customer's problems and make their lives easier. There are very few percentages of people who use the product for the sake of using them. Ideally, people are using products to solve their problems and make their life easier. Ask yourself a very simple question, how am I making my end user's lives easier with my product?
How to improve your product

If your product's feature is so popular, then it will be going to use by a majority of your users. It's significant to keep your customers happy instead of keeping your competitors predicting.

Instead of interesting problems, focus on solving the hardest product

Interesting challenges may necessarily not be the most urgent problems facing by users. The crucial way is to remain focused on the most difficult problems as it helps to drive growth.

3. Quality Should Be the First and Foremost Focus

Netflix has always focused on doing whatever it does well. Instead of providing DVD faster to the viewers, they thought to develop their streaming platform. The dedication to quality and experience of quality content is what has helped Netflix to form a loyal audience of fans.

It is indeed true that the higher the quality of the product or service is, the higher your cost will be. So, take into consideration your vertical competition and march on with a question of whether you can afford to enhance your product with the higher-quality product or whether you cannot afford.

Wrapping Up

Today's rapidly changing market dynamics and business models want to enhance their services or functionality of their products to stay ahead of the competition. Sometimes the in-house development teams are lacking with the capability to deal with all requests for adding additional features within a required timeframe. In such scenarios, we provide an extension team in conjunction with your in-house team to scale your product development team.

If you want to seize the opportunity to enhance your product, then we will help you create sustainable products to add extensive value to your business. We have in-depth knowledge and extensive experience in exceeding your customer expectations and quickly bring a richer product to market at a lower cost with our top-notch product enhancement services.