Quick Summary:
Today, entrepreneurs wish to expand their businesses beyond traditional and customary boundaries in the fastest time possible. We all agree that IT Outsourcing is the ideal solution for achieving this goal. Still, you must be curious about how to plan the perfect IT Outsourcing Strategy for your business. In this blog, we have covered the basics of defining and executing your IT outsourcing strategy, the types and benefits of outsourcing, and how to overcome the challenges in the process.
Table of Contents
IT Outsourcing: First Step to Digitally Excel Your Business
Any business, today, needs to encompass the digital realm to reach its utmost scope and the broadest range of target audiences. Entrepreneurs are seeking ways to expand their reign digitally at the earliest possible because without going hand-in-hand with the updating world, one would surely be left out. Businessmen have heartily welcomed outsourcing services to buckle up quickly with the growing competition in the market.
However, many startups and SME business owners are still lurking in the decision yet to make, for they're uncertain about their IT Outsourcing strategy. Your IT Outsourcing Strategy is your business ideas meeting the desired outcomes with a planned action of choosing the right Outsourcing partner, electing the suitable engagement model, and executing the process efficiently.
Your business needs special care and attention in its growing stages, and remember that outsourcing is a gracious stepping stone that will help your business stay grounded yet to expand.
IT Outsourcing: Market Statistics
Looking at the world's adaptation of technology and digitization at such a core level, business owners have relied extensively on IT outsourcing. As an organization collaborates with outsourcing services, it makes room for internal resource management, planning, capabilities, and sustenance. Whereas, the outsourcing partner looks after the quality, rate of development, delivery, and testing of the digital product.
Let us have a look at the stunning market statistics depicting how crucial is it for you to define your IT Outsourcing Strategy.
As per GrandViewResearch, the IT Service sector is expected to be worth around $1,070.28 billion by 2025, and the IT Outsourcing sector around $ 806.63 billion.
According to a report, 37% of small businesses outsource a part of their business processes. Out of which, 59% of companies outsource to save their budgets.
Businesses that have outsourced in the past, are even more willing to outsource further.
Over the past 5 years, IT outsourcing reflects 10% growth owing to the spending and outcomes in the following domains: data center systems, IT services, devices, communication services, enterprise software, and applications.
In 2022, overall spending of $ 4,454,354 billion in IT services outsourcing resulted in 5.1% growth compared to 2021. And it is expected that in 2023, spending of $ 4,679,119 billion will result in 5% growth from the current level.
Are you ready to overcome the digital gaps that your business is facing?
Invest your valuable interests in the top IT outsourcing company to get the best IT staff augmentation services and see your enterprise success boom!
How to Define your IT Outsourcing Strategy?
It is essential for any IT company, big or small, to identify its particular requirements to select an outsourcing strategy specifically catered to its needs. To make an efficient outsourcing strategy, you may imply the following: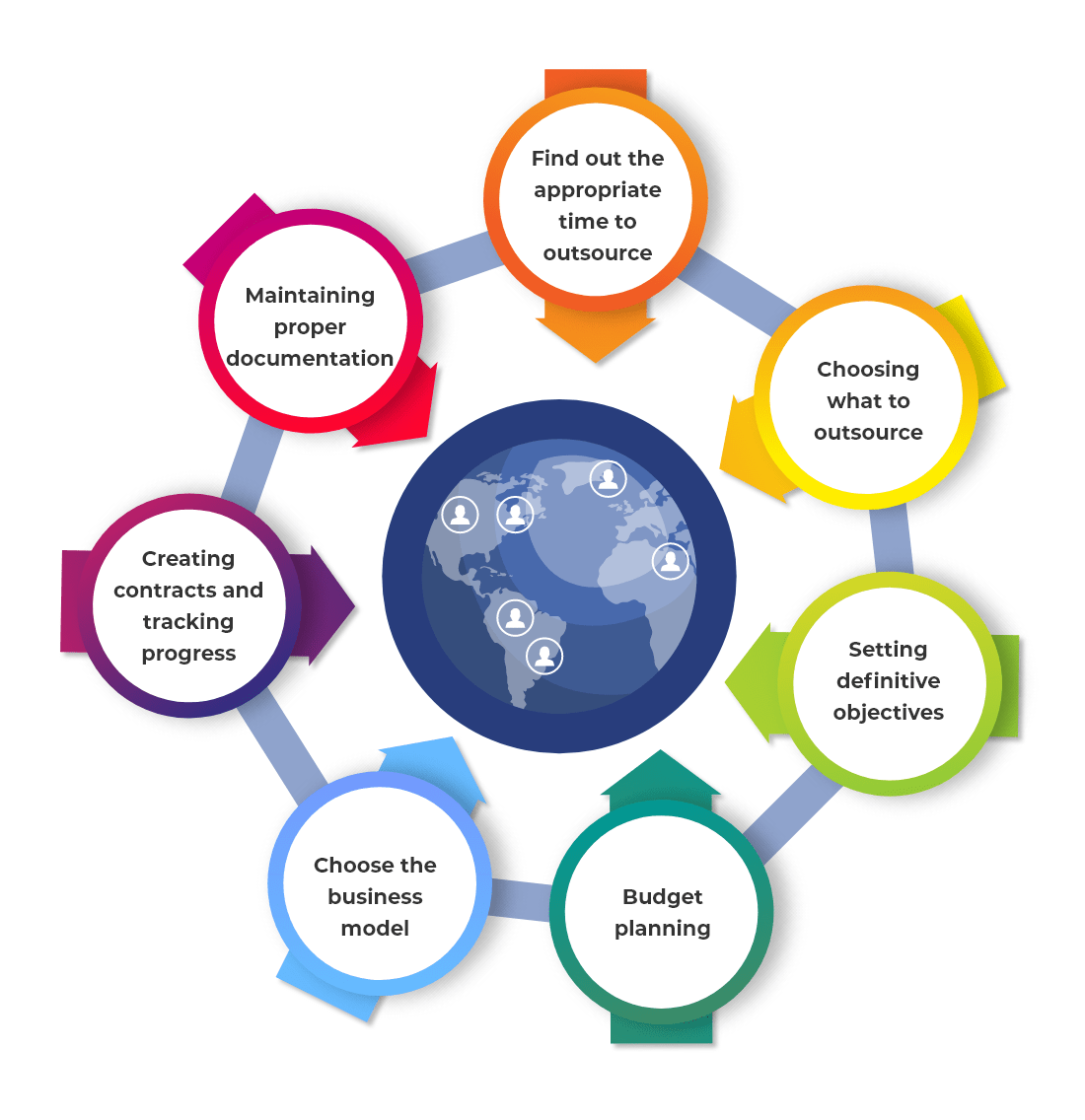 Find Out the Appropriate Time to Outsource
As per our discussion with Gadget-FAQs.com, There will come a specific time when you notice the administrative tasks are getting out of hand or the client requirements increase, resulting in overall work compromise. This should be your first sign of looking for the most viable and compatible candidates to manage the time crunch and not jeopardize the work quality.
Choosing What to Outsource
Considering a universal scenario, many general tasks can be outsourced to optimize work efficiency and time management. They can be anything from testing to collateral tasks such as data-center management and last-minute customer requirements. However, there will always be instances when you have to analyze requirements specific to your needs and decide to outsource accordingly.
Setting Definitive Objectives
It is essential to understand and establish clear goals for your tasks and company to find and choose the correct match to outsource your projects to. If it fails to do so, it may result in confusion, inability to understand, time wastage, work quality compromise, difficulty in communication, and friction in the team.
Budget Planning
The next step would be to plan a suitable and precise budget for outsourcing. This will not only help you narrow down your best candidates but also let you plan for unplanned costs regarding logistics, new requirements, and much more. The best outcome is when there is excellent work within a set budget.
Choose the Business Model
The next step is to take all the above-listed points into consideration and choose an effective business model that will be partial to your requirements. However, it is important to study and thoroughly review multiple business models to make the best choice.
Creating Contracts and Tracking Progress
In a way, outsourcing is like a partnership for a specific project. It is essential to bind this in a legal contract in order to protect both parties interests and responsibilities. Moreover, it is also essential to keep track of the progress of the outsourced project for maximum output. This will also make them feel part of the team and hold accountability in place.
Maintaining Proper Documentation
Here, we are not only talking about the legal contracts but also about the work documentation. It is important to make sure of proper documentation as they may be used in the future for references, upgrades, fixing bugs, and much more.
Types of IT Outsourcing Services
Now the next question would be what types of IT outsourcing services are available and which one would help me with my requirements? Your requirements according to our resources should fall under any of the following types of IT outsourcing services:
Project-Based Outsourcing
This is the most commonly known outsourcing service in the IT industry. Based on different engagement models, this is also known as offshoring or nearshoring. The comply hires a service for a specific project and all the contracts and bindings are done for this project alone. They are only catering and responsible for this particular project's needs.
IT Outstaffing
This service is more based on the time than the unit of projects. Based on their monthly or hourly rates, specific resources from the IT service provider can be hired. it is also known as Body leasing.
Research & Development Centers as a Service
Here, you outsource your R&D to offshore centers to achieve expertise, tools, and methodologies such that to withhold the markets stronger. The company opens offices in varied locations and hires resources from IT outsourcing companies to propel their projects.
Peace of mind is knowing your network and data are secure
We at Bacancy offer operational IT outsourcing Services with NDA and IP protection. Our services include Custom Software, Mobile, MVP and Web Development, Cloud Management, Data science, etc.
IT Outsourcing Strategy: What to Outsource & When
You might be confused as to what all and what exactly can you seek to outsource. When it comes to planning your IT outsourcing strategy, there are a number of things that you can outsource. However, the crux is what is safe to outsource, and what parts should be preferred in-house.
Here are most of the IT services that you can outsource:
Custom software development
Mobile app development
Software testing & QA
Database management
MVP development
Cloud management
UI/UX design
Maintenance & Support
When to Outsource?
The most probable circumstances when you should outsource your IT development needs are the following:
When you are short of time
When you have budget issues
When there is a lack of skilled resources
When you have security issues
Advantages of IT Outsourcing
As you imply a suitable IT Outsourcing strategy, you are certain to relish the many advantages of outsourcing your company's IT services. Have a look at the major benefits: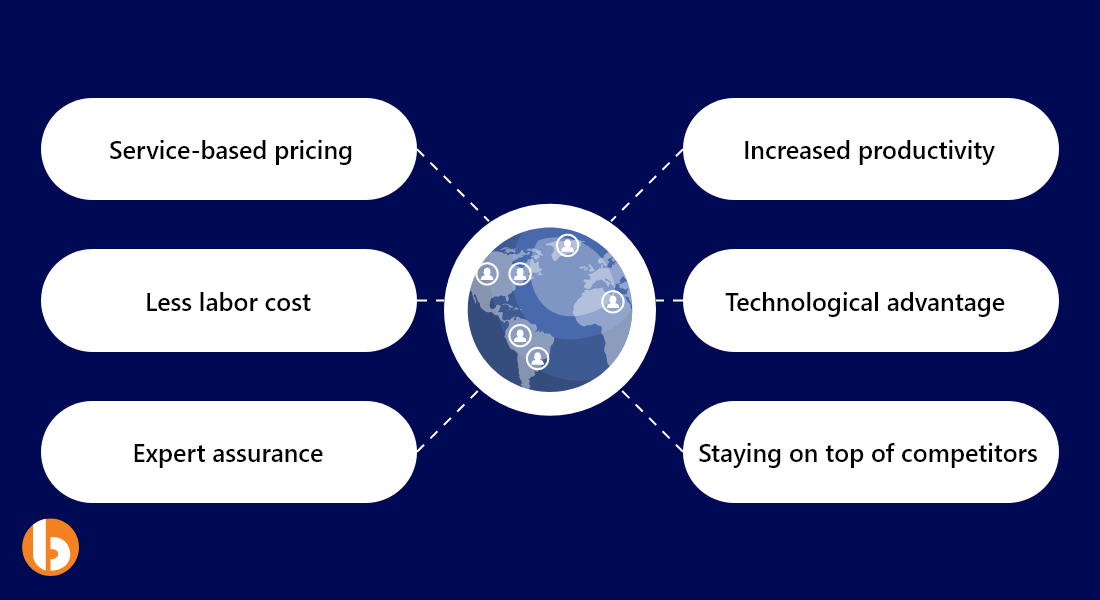 Service-Based Pricing
It allows you to only pay for services that you are undertaking from the service provider, thus managing the budget more efficiently.
Less Labor Cost
It allows you to avoid the lengthy processes of hiring, training, and paperwork for temporary workers and use the time and resources where they might be more useful.
Expert Assurance
Outsourcing offices go through the entire process of hiring so they assure you of developers who are trained, qualified, experienced, and certified.
Increased Productivity
As extra tasks are not taking up time, productivity increases as the focus are given to more impending tasks. This form of delegation guarantees better results as not many resources are spent on one task.
Technological Advantage
In certain cases, specific technology may be required for a task. Outsourcing is the best option here to avoid spending resources on finding a new expert and hiring for such a specific task.
Staying on Top of Competitors
Outsourcing is becoming more and more popular. It is being viewed as a preferable option by companies of all scales. On such a playing field, opting for outsourcing services to stay in the competition and maximize output has become necessary.
How to Overcome IT Outsourcing Challenges?
Some of the most-frowned cons or drawbacks of IT outsourcing are Data privacy & security, ownership of data, communication, and disaster recovery. There are high possibilities that you outsource your development with an offshore software development company and hence you are supposed to work with them in a contrasting time zone. Hence, pre-deciding a communication model is a must.
Your communication could be channelized if your partnered outsourcing company follows an Agile software development approach. With the Agile processes, you are certain that there are no miscommunications or misunderstandings, and you are always on the same page with your development team, constantly giving feedback on the updates.
The IT outsourcing strategy you define for your business is majorly dependent on the outsourcing vendor that you opt for. Hence, it is crucial that you do not merely look for a cost-friendly outsourcing company, but a reliable one. You can try reaching out to the previous clients of the vendor or affirm once you read their ratings on GoodFirms, Clutch, and SimilarWeb reviews.
Bacancy Serves the Best IT Outsourcing Strategy for your Business
Over a decade of delivering elite IT services beyond satisfaction, we strive to empower businesses to raise their bars beyond technology, people, and processes to attain esteemed outcomes. We host only the top minds of IT talent worldwide, which ensures the quality of our development services. We stand out as the top IT outsourcing company in the market owing to our prime considerations:
100% Budget Adherence
50% Staff Technology Adoption
99% User Satisfaction
At Bacancy, we offer the following business models to help businesses excel with our elite tech solutions: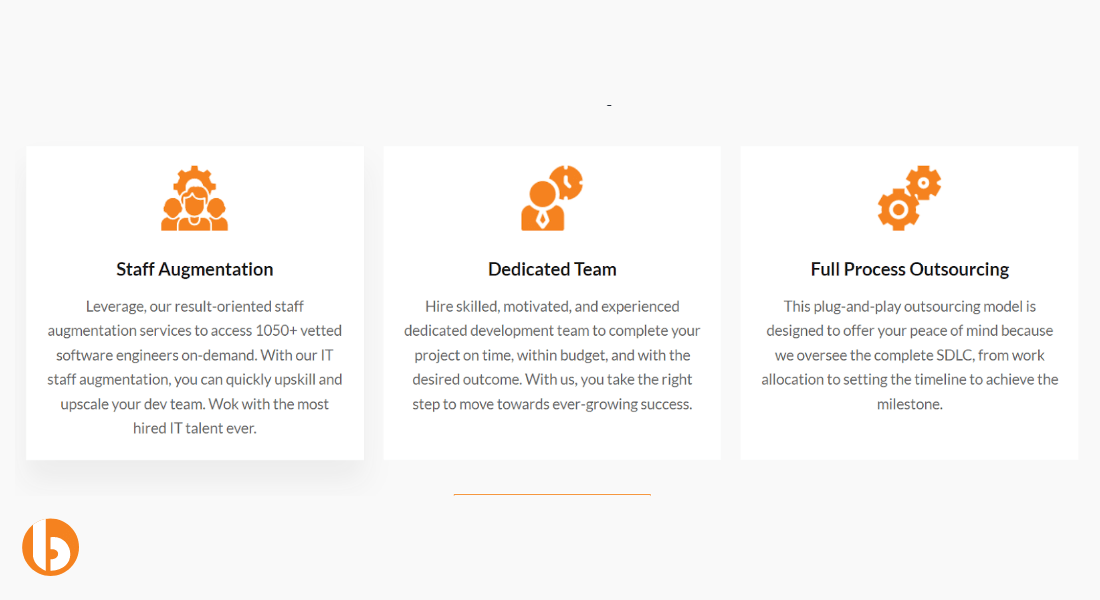 Invest your interests in only reliable, trusted, proven IT Outsourcing Partners. With a planned and sorted IT Outsourcing Strategy, you can reach desired outcomes with your business ideas.
Frequently Asked Questions (FAQs)
Business owners are scared to outsource their business requirements because of the taboo that they will lose control over their development project. However, this is not the reality. As you partner with trustworthy software development outsourcing companies like Bacancy, all the management and communication responsibilities are ours. We deliver the best outcomes at affordable prices and shortest time.
By defining your business partnership with an IT outsourcing company, you are sure to save costs, reduce expenses on resources & management, and improve the quality of your IT software development.
Some of the crucial points to consider as you decide to outsource are:
Decide what to outsource & the reason for outsourcing
Define your expectations
Proper documentation
Choose the right outsourcing partner
Select the ideal engagement model
Keep track of the process.