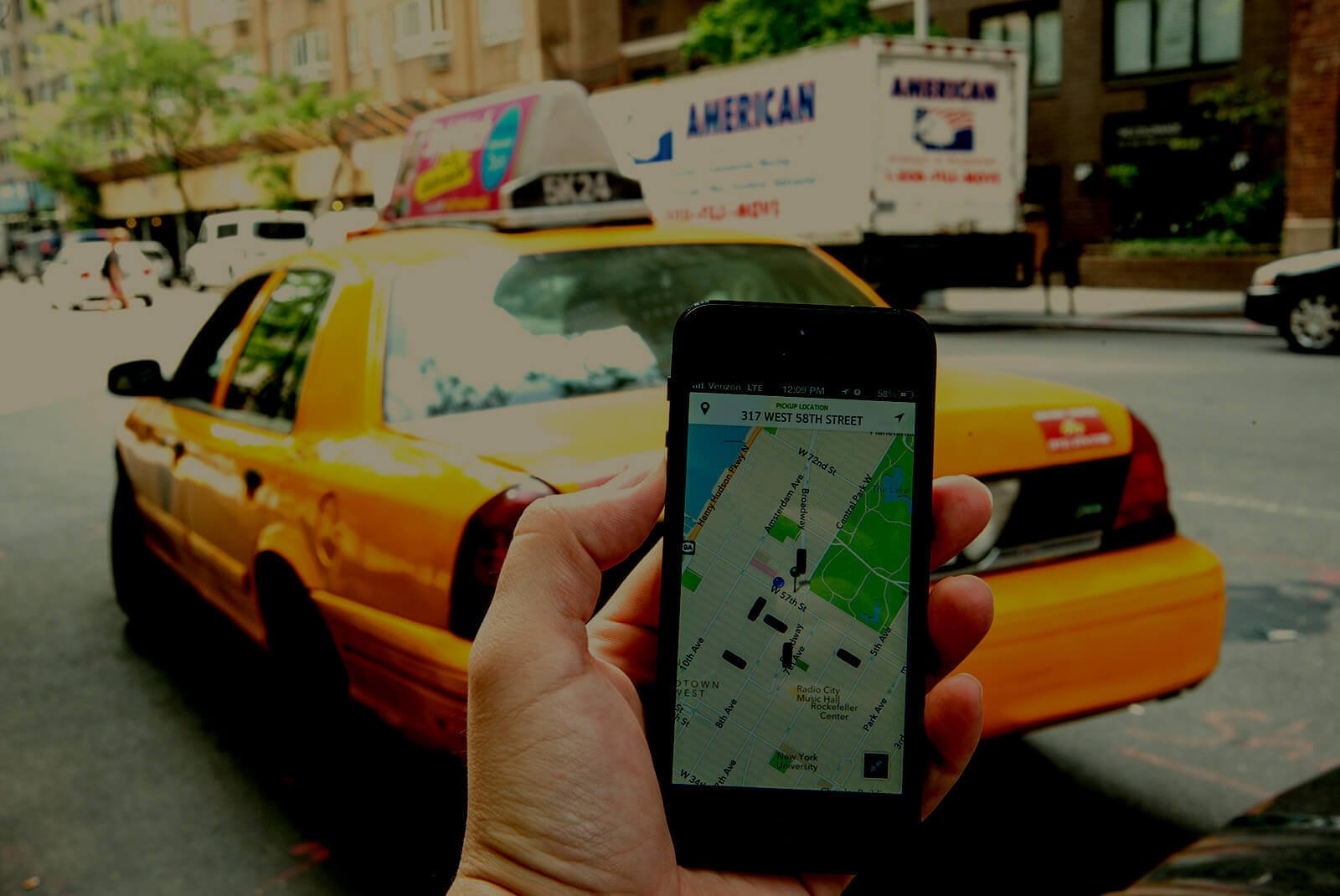 Taxi app design & development company
Get riders on board and drivers behind the wheel to accelerate your taxi business. We Bring-in the power of technology to connect your cabs to millions of local travelers.
Let's Schedule a Meeting
Key Features Of Taxi Hiring App
Real time tracking

supported by high precision gps tracking to search for available drivers nearby you.

Select the type of car

Car that fit your specific needs. Choose a car based on numbers of riders, cost and purpose.

Fare estimator

Set your pickup date, time, location, destination, ride type, and get a fare estimate.

Confirm/Cancel trip

Confirm your pickup and drop-off location to book the ride. Edit or cancel any time before your ride before it matched with nearby driver.

Driver verification

When you're matched with a driver, you'll see their name, license plate number, photo, and rating—so you get assured about who's picking you up ahead of time.

Convenient payment options

Pay for you ride with cash or the credit/debit card you have. Choose how to pay, because the choice is yours.

Register

Drivers get the platform to register directly from their mobile app.

Option to go on/off duty

For obvious reasons, the driver has complete freedom to sign on/off any time.

Status

The driver is allowed to update the passenger, when he accept or reject the trip, reach at the pickup point and drop-off the passenger.

Booking

The driver has been given 15 seconds of time to accept or reject new booking requests. They are shown the pickup point from current location as well as the travel distance.

Booking history

The driver has full access to track the booking history and check the status of each trip including cancelled trips.

Rating and review

It's a feedback section that let the riders compliment drivers with a personalized thank you note.

Dashboard

Quick summary & statistics of the total number of completed rides along with earnings.

Secure authentication

Riders are sent a unique one-time password via sms to complete the two-factor authentication process.

Profile management

For both drivers and riders – reviews, ratings and history of all the rides and relevant details can be managed under this panel.

Ride management

A complete history of all the rides along with the name of drivers and riders.

Transaction management

Access to extract account report about the total earnings at a glance.

Manage cms content

Ability to set/change smtp mail settings, manage site settings, sms templates, payment gateways and social networking site.
Top Ride sharing companies
| Name | Platform | Feature set |
| --- | --- | --- |
| Uber | iOS, Android & Apple Watch | The idea of "Single tap cab booking" has revolutionized the scenario of entire logistics industry. Uber is truly an inspiration for today's startups and entrepreneurs to come up with something new to the world.s. |
| Lyft | iOS, Android | Lyft offers a similar set of features as Uber. Lyft is one of the safest way to commute, weather you go alone at night or you are traveling in the wee hours of the morning. |
| Hailo | iOS, Android | Hailo has revitalized London's taxi scene and now powering its way across the world. A service called Hailo Hub, where users can book a cab on behalf of co-workers, friends and family have further increased the appeal of this cab-hailing app. |
| YOUR APP IDEA | iOS, ANDROID | Build your own taxi Application |
Get a complete Uber like Taxi app clone for $3000 USD (No Hidden Cost)
How much does it Cost to Build an app like Uber?
Get a complete Uber like Taxi app clone for $3000 USD
For single application programming interface, (weather its iOS or Android ) it will cost you $3000 USD and for both platform it will cost you $4000 USD. Uber like Taxi app clone script comes with an iOS and Android app for your customers & Drivers. We also provide a powerful admin dashboard so you can control pretty much everything.
Get it delivered in
2 Weeks
Straight Forward Pricing and Time Line.
No Hidden Charges Guarantee.
iOS or Android
---
Cost for One Platform
Trustworthy
---
We'll provide a fully signed NDA for your Project's confidentiality
iOS And Android
---
Cost for Two Platform
Excellent communication, great code and top-notch Hire Taxi App Developers
Your Success Is Guaranteed !
Frequently Asked Questions
How much skilled and experienced are your developers?

We have 250+ in house developers working in the same office holding an average experience of 3.5+ years.

Hire Dedicated Developers from us to work according to your time zone(EST/PST/CST/MST), deadline and milestone. For more get in touch with us at solutions@bacancytechnology.com or skype "Bacancy"

Will I have the complete control over your developers?

Yes, the developers your hire from us will dedicatedly work on your project as your employees only. You will have the total access to developers through chat, emails, calls and Skype on the daily basis.

Do you use any project management tool?

We use industry-standard project management tools like, Jira, Trello, Pivotal Tracker, Asana etc. Where you will be able to monitor daily progress. You can create the task, assign the work and monitor the development progress.

How do you manage the code?

For source code management and version control, we use Github / Bitbucket. Our developers will regularly push the code so you can review all the commits and manage it easily.

How do we communicate and monitor the project development with our hired developer?

We follow Agile and Scrum methodologies. In Scrum, on each day of a sprint, the team holds a daily scrum meeting called the "daily scrum." Meetings are typically held in the same location (we use Skype / Hangout / GoToMeeting / slack/voice call for communication) and at the same time each day. Ideally, a daily scrum meeting is held in the morning, as it helps set the context for the coming day's work. These scrum meetings are time-boxed to 10 to 15 minutes.
During the daily scrum, each team member answers the following three questions:

1) What did you do yesterday? 2) What will you do today? 3) Are there any impediments in your way?

By focusing on what each developer accomplished yesterday and will accomplish today, the team gains an excellent understanding of what work has been done and what work remains, so this is how you can have full transparency and control over your project and developers.

Do you provide Profile/CV of developers?

Yes. You can then choose the best developers whose skills and experience suits to your requirement.

How can I hire resources from Bacancy Technology?

We provide three types of engagement models for hiring resources. Clients have the option to choose from the following models: Dedicated Developer (Monthly basis) – 160 Hours/Month. 8 hours a day, 5 days a week Hourly Basis – Hours/Month We use time tracking tools like time doctor, hubstuff for time tracking Time and Material Base – Fixed time and cost based on the requirement Where you can share your requirements with our team. The team evaluates your specific requirements and then get back to you with the detailed estimation of your project along with time and cost as well as the roadmap of the project.

How absolute is my ownership of the final results from the project?

You will have complete ownership of your entire project. It includes the NDA, copyright, source code, intellectual property rights etc.

How do I pay? What are the payment models?

Dedicated Hiring: - For dedicated resources hiring, you are required to pay 50% of one-month payment upfront and for the remaining amount, you will be required to pay at the end of the month on the specific mentioned date. Hourly Basis:- In hourly basis, you are required to pay 1 week of advance payment and the remaining amount can then be paid in weekly, fortnightly or monthly payments pre-agreed contract with you. Time and Material Base: - For the time and material base hiring, you will be required to pay 20 to 30% cost of the project as upfront and the remaining amount will be based on the milestone so upon completion of milestone you will be releasing next % of payment.

Can I hire dedicated development team? What are the main advantages that I can get from hiring a dedicated team?

Yes, you can hire a dedicated development team. We want to present you with a couple of advantages:

An opportunity to work with dedicated and skilled developers.
A total control over the development process.
Hiring a dedicated team guarantees a Quality Assurance and Risk Minimization.
We will provide you with a dedicated Scrum Master (Project Manager) to manage your project and team, without any additional charges. At a free of cost.
A shared QA will be provided to assure quality without any cost.
And at last, but not least is the fact that developers work as a part of your team.