Last Updated on May 19, 2023 | Written By: Riken Solanki
February 15, 2017
7
min read
If you think that you can improve the quality of your existing business/service and make it on demand, then congratulations, my friend, you have the potential to become the next Uber. To build an application like Uber and submit it on Google Play and Apple App store is not an easy thing. However, Uber has successfully done it. Wondering how? Let's dig in.
The Inception
People who belong to San Francisco, especially in the tech community, are always enthusiastic about new tools. They approach and adapt everything to improve their quality of life. This is the reason; Uber was introduced in San Francisco. The community did word of mouth, and the early adopters took the blog and social media platforms to encourage others to try this cool application.
Even Uber approached go-to-market strategy to encourage new riders to try their service by offering g 50% discount on their first ride. It worked as Uber successfully transformed new riders into long-term customers. And if you are wondering that you would have developed an application similar to Uber and launched in focusing tech communities, sorry to say that, but it would most likely be overlooked. The grandeur success behind the Uber has a different story.
Uber Engineering
Uber was introduced with a mission to make transportation reliable and smoother as running water – for everyone and everywhere. To make it possible, Uber has worked with complex data, to facilitate drivers get along and assist riders to get around. The development team has very carefully engineered the complex uber system design to serve the massive amounts of traffic and handle difficult interactions.
As you want to know, What is the backend of uber, stay tuned, and continue reading.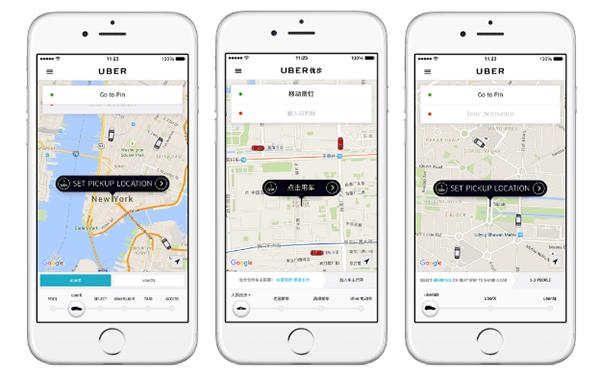 Being an uber-niser, I declare Uber as the best product of the decade. Uber has not only revolutionized the taxi industry, but it has enabled millions of people across the world to give up owning a car and makeover a hundred bucks an hour. Uber's significant rising impact, goes hand in hand with some of the fastest growth in startup history.
Chart summarizing the basic features of Uber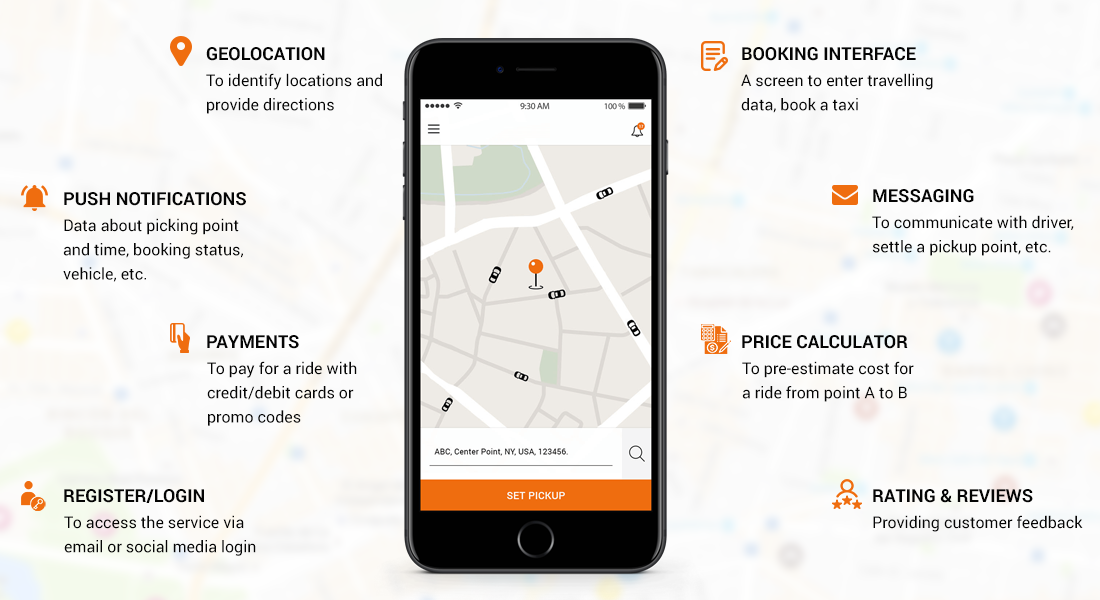 Basic Feature of Driver App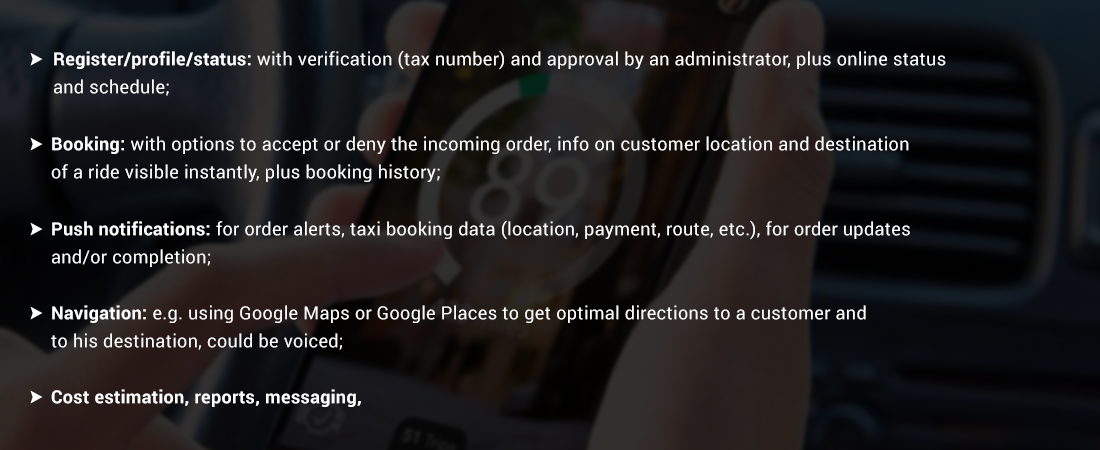 Basic Feature of Passenger App
Did you know that Uber holds 84 to 87% of the US hailing market?
At present, uber and technology service is available in over 65 countries and more than 600+ cities worldwide, and it is still growing.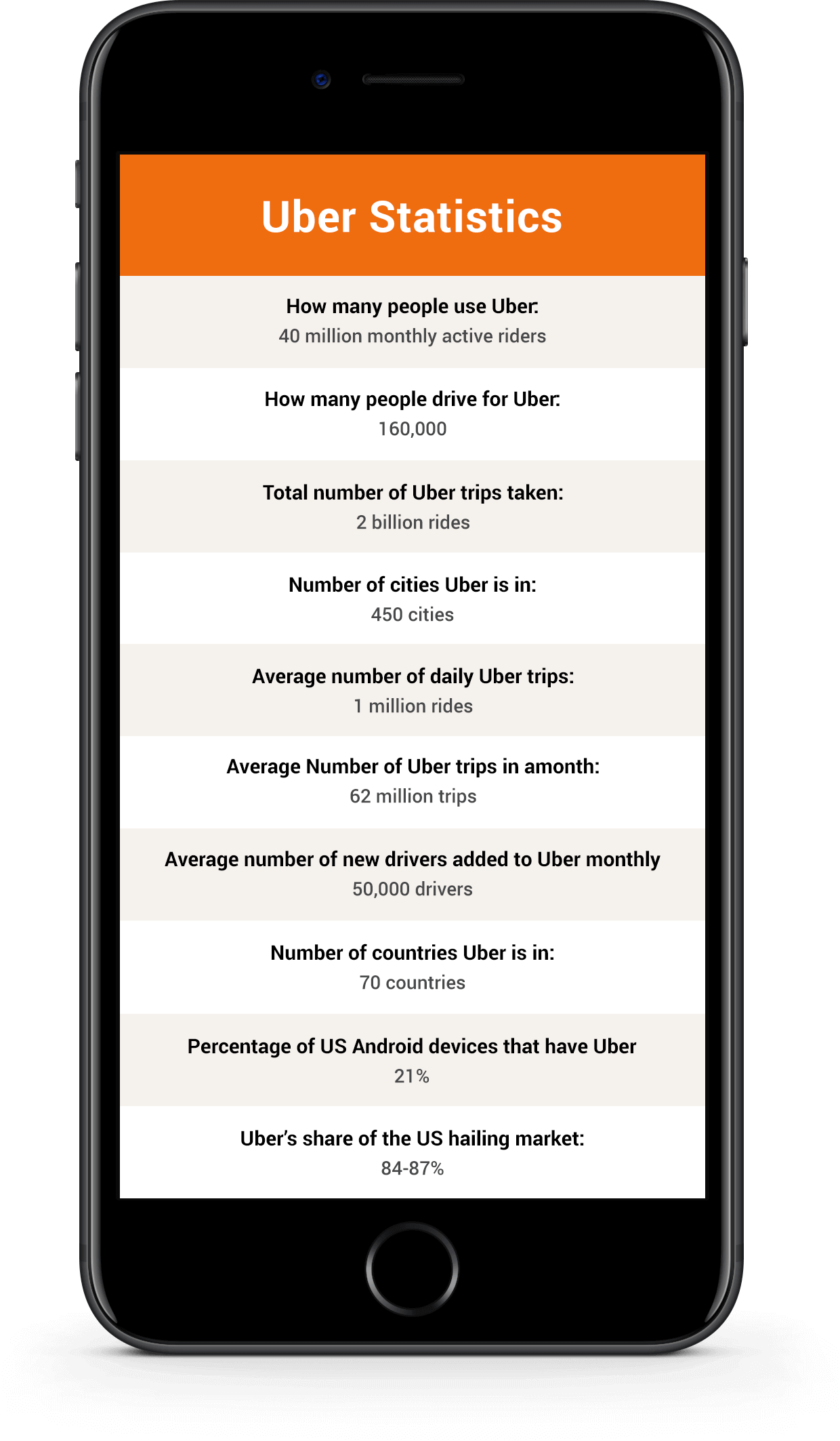 What is The Technology Stack Behind Uber?
To create your own taxi booking application like Uber, Garrett Camp and Travis Kalanick have to understand the iOS and Android geolocation features specifically.This is the Uber technology stack, or as you may call it the Uber Tech stack or Uber Architecture. If you want to know how to make an app like Uber, you would be excited to find this out.
Technology
Solution
iOS
Andriod
Mapping and Geo-location functionality
• Identifying a device's Place/location
• Providing driving directions
• Marking/highlighting direction
• Integrating with mapping software
• CoreLocation framework to locate iOS device.
• CoreLocation framework to plan and organize location delivery and send location actions to the server
• Uber also identify geographic regions to keep an eye on device movements
Geolocation for the Android is implemented using Google's Location APIs
Driving direction Solution
Registering the app as a routing app makes directions available to all other mapping software on a user's device.
To display point-to-point directions iOS use MapKit
Routes and directions are possibly available using Google Map's Android API
Mapping Software
Uber has purchased various mapping technology companies to solve their logistics issue. Uber wants to be the become the global king of local logistics and delivery of people.
Implemented Google Maps
Implemented Google Maps
Push Notifications and SMS
Uber sends couple of notifications like, when the driver accepts ride request, when the driver is about to arrive and when the ride has been cancelled for the specific reason. Messages can be received as SMS or push notifications.
For the iOS APP Messages are powered by the Twilio telecommunications provide. Uber is indeed required to implement push notifications using Apple's "Push Notifications Service".
For the Android app Uber is using Google Cloud Messaging (GCM)
Payment integration
Uber provides cashless system. Customer can use Debit card or credit card or use a promo code. The Payment Card Industry Data Security Standard is a must thing to comply with. Uber chose to partner with Braintree.
Uber uses PayPal's service for credit card scanning
It lets you manually enter credit card data to link your card with Uber.
I am sure you would have understood by now, how uber works technically, or what makes uber taxi technology so popular. As you might be looking to create your own custom taxi app, this table would have answered all your questions on the technology used in Uber.
At Bacancy Technology, we firmly believe that great ideas must be repeated again and again, Just have a look at the mountain behind Uber Technology: A powerful opponent of Uber from an Estonian named Taxify raises $100K; Cabify, another opponent of Uber from Spain and Latin America takes in $8M; a Berlin-based setup, Talixo also raises millions to help cabs compete with Uber. So, all around the globe, these Taxi apps are mushrooming everywhere, and almost every small to big investors are looking for an opportunity to make money. And yes, there is nothing wrong with doing so.
So, if you want to create your own on-demand taxi app, you now know what technology is behind the master of all on-demand apps- Uber. For your ease, we bring to you what other options you can have for building the technology stack for your uber-like app.
Here is the list of technologies that you can use for various features of your own custom Uber-like on-demand taxi app.
Infrastructure & Storage: The real-time services that you would require for the backend of your app can be fulfilled by PostgreSQL and Scalable TripStore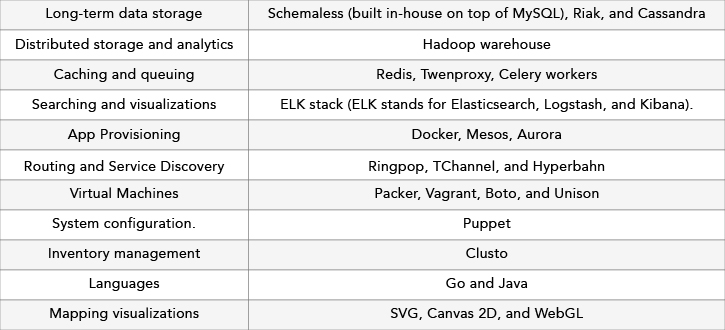 Front-end Web Development

Mobile App Development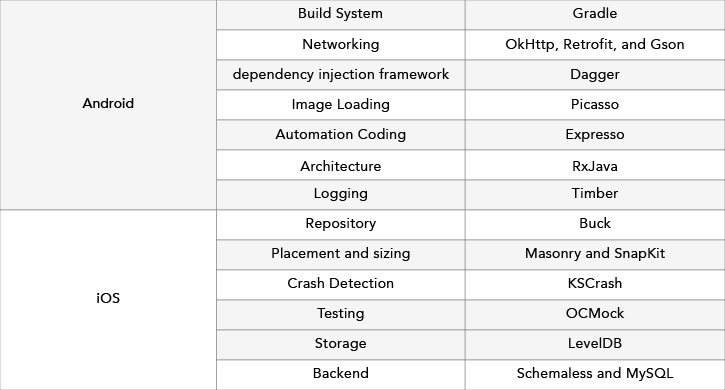 Take Away
You are never too late to start your own venture. And if you have already got a million dollar idea and wants to start your own business, then what actually needed is planning and execution. The grandeur success of Uber has led numerous of apps to offer renting and taxi booking services. The Bacancy Technology team is here to build your own custom taxi booking app and turn your ideas in reality.
I would love to have your thoughts on the above blog and pleased to assist you if required.
In the next post, lets look out for developing a Taxi Booking Mobile App – 10 Must-Know!
Technology stack behind the success of Uber: FAQs
Can you help me build a real-time app like Uber?

We offer a customizable Uber clone framework that comprises similar services that Uber offers. We are offering a white-labeled best Uber clone application that represents your brand name, logo, language, and much more. Following your unique requirements, we will equip you with a white-labeled Uber clone application that is technologically innovative for your business and advanced for your riders.

How much does it cost to develop an app like Uber?

When you develop a custom taxi booking app like Uber, you are required to take a laundry list of things into consideration because the same app requires different access for the application driver as well as for Rider. Checkout this in-detail blog post to understand the pricing structure. How much does it cost to develop an app like Uber?

Can you help me develop an app like Uber?

If you are looking to hire taxi app developers, we can offer your rich experience iPhone and Android App, developers. We would gladly assist you in becoming your taxi app development partner as we own special expertise in creating on-demand solutions. We have successfully helped numbers of clients creating an app like Uber.