React Native App Development Services
Mobile app development using React Native helps to save your valuable time and money. It helps to bring your apps to market sooner than the traditional route of building iOS and Android application separately.
Mobile app support & maintenance

Server-side apps for mobile

Agile development

Hire dedicated react native app developers

Hire react native UI designer

Minimum viable product
Our skillful designers and dexterous application developers work closely to create tailored React Native mobile applications. The best thing about React Native is that you are not required to develop an application for individual platforms like iOS and Android, one application developed in React Native works smoothly on both the platforms. It is advantageous in terms of saving time and money.
For iOS
React Native offers all the essential integrations that is required for developing a kick-ass iOS application. Being a customer-centric React Native Development Company, we ensure that your app excels in every dimension, be it the scalability, robustness or UI/UX, technology stack. We own expertise in brining native functionalities and developing integrations with definite nave modules for a seamless user experience.
For Android
A huge number of people across the globe are using Android devices. Android devices' access is not limited to only smartphones, but it is being widely used in watches and tablets along with smartphones. The various device sizes and resolutions seem challenging at once, but with React Native it is actually easy. We develop such React Native applications that look so amazing on Android devices. We also ensure that Android app user experience is consistent across all the devices and platforms.
Hire React Native Developer As Per Your Need
Binal Patel
CTO & President | Toronto, Canada
Bacancy Technology Inc.
In my 15 years of experience in IT as Technological leader, I can say React native gives you seamless user experience with increased productivity and you don't need to compromise look and feel of the application you dreamed of.
Leading startups are choosing react native as it is Single Code Base for iOS and Android, it allows performing development faster, and this framework uses famous ReactJS UI library developed by Facebook for user interfaces.
At Bacancy Technology, we're early adopters and established a team of React Native developer, who has expertise in converting ideas into code. We are rendering our resourceful react native developer that fulfill your varied business needs.
To leverage expertise of react native from our versatile developer, Just enter your details and let us reach to you.
Schedule A Developer Interview / Get A Free Consultation
React Native Technology Expertise
We use best-in-class tools, state-of-the-art technologies and modern approaches to scale up your business
Tools:
Express.js
Storybook
Jest
Redux and redux-saga
Code Review:
---
The Runners-Up:
Jest code coverage
Snapshot testing
Linting
---
Codecov
Flow
Deployment:
---
The Runners-Up:
Bitrise
Fastlane
Fabric Beta Deployment
---
Bitrise's own build steps and custom workflows
BuildKite
Testflight
Code Review:
---
The Runners-Up:
Jest code coverage
Snapshot testing
Linting
---
Codecov
Flow
Analytics:
---
The Runners-Up:
Fabric Answers
App Annie
---
Sentry
Google Analytics
Crash Reporting:
Fabric's Crashlytics
Sentry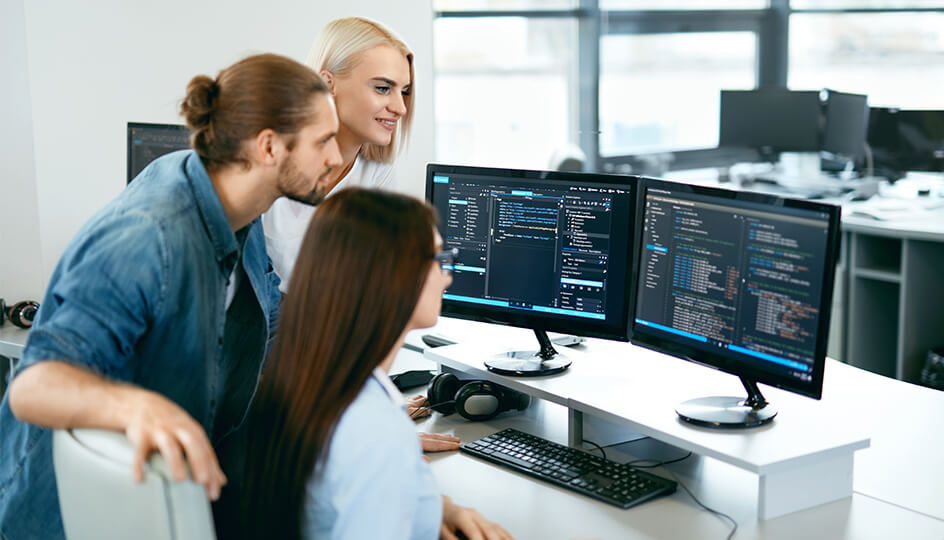 Hire React Native Developer or A Team
Globally renowned established organizations are leveraging the expertise of React Native in production. If you are too wondering to know what can be accomplished with React Native, then get in touch with our skilled React Native developers. We are not just early adopters of this front-end web development technology, but we have become a key player in this technology as well. This is the reason, why we are considered as USA's best React Native Application Development Company. Our dazzlingly skilled React Native developers are highly experienced in building complex React Native applications within a mentioned timeframe as well as guaranteed satisfaction.
Hire React Native developers from us to build the cross-platform mobile application using only JavaScript and following the same React architecture that you already know and love.
Talk to Our Expert
06

Certified
Scrum Master

40+

React Native
Developers
Ready to start your dream project?
How Does Bacancy work?
01.

/05

Submit Your Request

03.

/05

Interview Selected Candidate
Peace of Mind
Being a globally renowned React Native development Agency, We know that how to deal with programming hurdles.
You are exclusively hiring dedicated react native developers from us as an extension of your local team that is located remotely and it is 100% better than hiring freelancers. At Bacancy Technology, we take the responsibility of intellectual property protection and provide peace of mind with 100% guaranteed success. We also take care of all the unexpected scenarios if the hired developer falls sick, take 15 days' long vacation or unable to deliver desirable result.
David Carta

CEO/President at Telaeris, Inc.

"We have used Bacancy on a couple occasions for iOS, Android, and Ruby on Rails development. Overall, we have been happy with them and will likely use them again. For our project, they didn't appear to adhere to any agile workflow, but they did have a good management structure of engineers and project managers. As with many offshore groups, there are senior and junior developers, so the quality of the specific engineer on your project does vary. This being said, they do a pretty good job using the senior guys to manage the junior guys."

Edward Tatro

President Outfox Solutions, Inc.

"Vivek has provided application technical support for our company for over two years. Our application is a large, complex cloud based supply chain. Vivek quickly gained a grasp of our system environment and demonstrated an excellent understanding of the complexity associated with project requests. His technical expertise has been helpful in enabling us to keep up with ever changing customer requirements. I found him to be a very honest person and a pleasure to work with. Importantly, Vivek has been typically very accommodating with respect to the nine-hour time zone difference between our offices."
Frequently Asked Questions
Where is Bacancy Technology based in? What is the team-strength?

We are based in the USA, Canada, and India. We have 250+ in-house skilled developers with an average experience of 7+ years.

I am not tech savvy; will I still be able to work with your team?

Absolutely, you can. Choosing us gives you peace of mind, and we are here to help you fill the technology gap on your behalf.

May I know your developer's core expertise and industry experience?

We have extremely talented Agile software developers who have in-depth knowledge and extensive experience in all the top-notch technologies.

Do you work according to my time zone preference?

Hire Dedicated Developers from us to work according to your time zone (EST/PST/CST/MST), deadline and milestone. To know more get in touch with us at [email protected] or skype "Bacancy."

Will I have complete control over the hired developers?

Yes, the developers your hire from us will dedicatedly work on your project as your employees only. You will have the total access and complete control on them through your convenient communication platform.

Do you use any project management tools?

Yes, we use industry-standard project management tools like Jira, Trello, Pivotal Tracker, Asana, etc. Where you will be able to track the productivity of developers and monitor the daily progress of your project. You can create the task, assign the work and monitor the development progress.

How do you manage the code?

For source code management and version control, we use Github / Bitbucket. Our developers will regularly push the code so you can review all the commits and manage it easily.

No, not at all. We ensure not to re-use your license keys, patented processes, trademarks or proprietary algorithms or anything specific that we have used explicitly for your project only.

What is your project development methodology?

We follow Agile and Scrum methodology. Where the team does a daily standup, meeting called "daily scrum." Preferably, the meeting is held in the morning and it lasts 10 to 15 minutes. During the daily standup, each team member is required to answer the following questions:

1) What did you do yesterday?
2) What will you do today?
3) Are there any blockers or impediments in your way?

The developer is required to mention what he/she accomplished yesterday and will he/she work on today. It helps the entire team to understand what work has been done so far and what work has remained to achieve the milestone. This is how you can have full transparency and control over your project and developers.

How can I choose a developer of my choice?

After careful consideration of your project requirement, we assign a skilled and seasoned programmer to work on your project under a well-established IT set-up.

If you prefer, you can conduct as many interviews as you want, before you hire a developer of your choice. If in-case, the expertise of a hired developer does not deliver the desired output or if you want to add more developers with the diverse skill-set, then we will help you in both situations right away. We are offering peace of mind with 100% success guaranteed.

What is the cost and engagement options available at Bacancy Technology?

We provide three types of hiring engagement models.

Dedicated Developer - Monthly basis 160 Hours a Month. 8 hours a day, 5 days a week Hourly Basis – Hours/ Month We use time tracking tools like time doctor, hub stuff for time tracking Time and Material Base You can share your requirements with our team. Our team will evaluate your requirements and then get back to you with the detailed estimation of your project along with time and cost as well as the roadmap of the project.

What's your pricing model?

Dedicated Hiring: - For dedicated resources hiring, you are required to pay one-month upfront payment and when the next invoice will be generated once the cycle of one month is completed. Hourly Basis: - -In an hourly basis, you are required to pay one week of the advance payment, and the remaining amount can then be paid in weekly, fortnightly or monthly payments as per the pre-agreed contract with you.Fixed Time and Cost Model: - For the time and material base hiring, you will be required to pay 20 to 30% cost of the project as upfront payment and the remaining amount will be based on the milestone so upon completion of milestone you will be releasing next % of payment.

How absolute is my ownership?

You will have complete ownership of your entire project. It includes the NDA, copyright, source code, intellectual property rights, etc.

Do you have service level agreement in place?

Why should I hire a dedicated development team?

There are a couple of benefits of hiring dedicated and skilled developers

An opportunity to work with dedicated and skilled developers
Total control over the development process
Hiring a dedicated team guarantees a Quality Assurance and risk minimization
We will provide a dedicated Scrum Master (Project Manager) to manage your project and team, without any additional charges. At a free of cost
A shared QA will be provided to assure quality without any cost
And at last, but not least is the fact that developers work as a part of your team