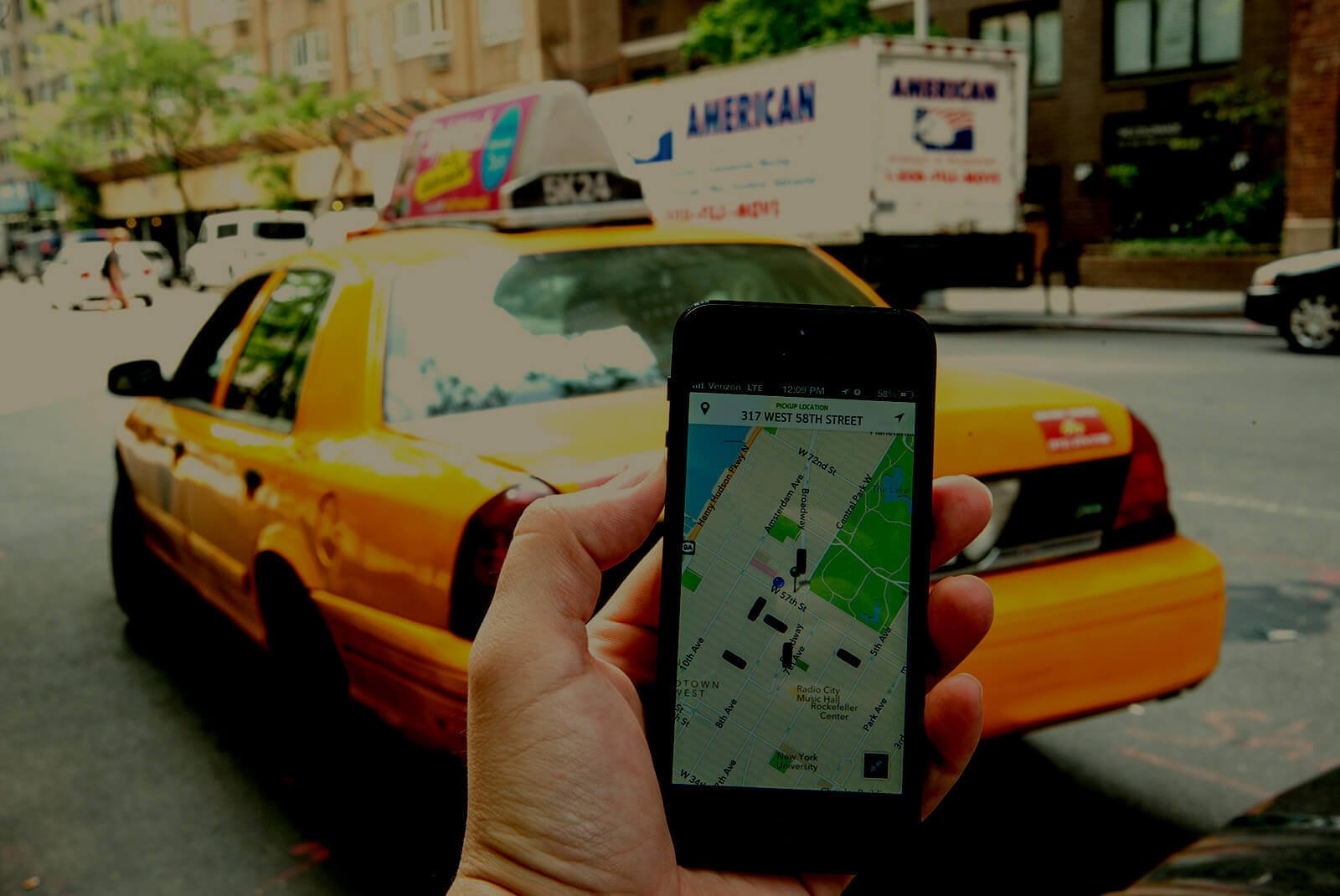 Empresa de diseño y desarrollo de aplicaciones de taxi
Obtenga pasajeros a bordo y conductores al volante para acelerar su negocio de taxis. Ofrecemos el poder de la tecnología para conectar sus taxis a millones de viajeros locales.
Programemos una reunión
Características principales de la aplicación de contratación de taxis
Seguimiento en tiempo real

compatible con el seguimiento gps de alta precisión para buscar conductores disponibles cerca de usted.

Seleccione el tipo de vehículo

Coche que se adapte a sus necesidades específicas. Elija un coche basado en el número de pilotos, el costo y el propósito.

Estimador de tarifas

Establezca la fecha, hora, ubicación, destino, tipo de viaje y obtenga una estimación de tarifa.

Confirmar/Cancelar viaje

Confirme su ubicación de recogida y entrega para reservar el viaje. Edite o cancele en cualquier momento antes de su viaje antes de que coincida con el conductor cercano.

Verificación del conductor

Cuando te emparejen con un conductor, verás su nombre, número de matrícula, foto y clasificación, para que tengas la seguridad de quién te recogerá antes de tiempo.

Cómodas opciones de pago

Paga por tu viaje en efectivo o con la tarjeta de crédito/débito que tengas. Elija cómo pagar, porque la elección es suya.

Regístrese

Los conductores obtienen la plataforma para registrarse directamente desde su aplicación móvil.

Opción de encendido/apagado

Por razones obvias, el conductor tiene total libertad para encender/apagar en cualquier momento.

Estado

El conductor puede actualizar al pasajero, cuando acepta o rechaza el viaje, llegar al punto de recogida y dejar al pasajero.

Reserva

El conductor ha recibido 15 segundos de tiempo para aceptar o rechazar nuevas solicitudes de reserva. Se les muestra el punto de recogida desde la ubicación actual, así como la distancia de viaje.

Historial de reservas

El conductor tiene acceso completo para hacer un seguimiento del historial de reservas y comprobar el estado de cada viaje, incluyendo los viajes cancelados.

Valoración y revisión

Es una sección de comentarios que permite a los pilotos complementar a los conductores con una nota de agradecimiento personalizada.

Salpicadero

Resumen rápido y estadísticas del número total de viajes completados junto con las ganancias.

Autenticación segura

Los pasajeros reciben una contraseña única de una sola vez a través de sms para completar el proceso de autenticación de dos factores.

Gestión de perfiles

Tanto para pilotos como para pilotos, en este panel se pueden gestionar reseñas, valoraciones e historial de todos los recorridos y detalles relevantes.

Gestión de viajes

Una historia completa de todos los paseos junto con el nombre de los conductores y jinetes.

Gestión de transacciones

Acceso para extraer informe de cuenta sobre las ganancias totales de un vistazo.

Administrar contenido de cms

Posibilidad de establecer/cambiar la configuración de correo smtp, administrar la configuración del sitio, plantillas de sms, pasarelas de pago y sitio de redes sociales.
Mejores empresas de reparto de Ride
| Nombre | Plataforma | Conjunto de características |
| --- | --- | --- |
| Uber | iOS, Android y Apple Watch | La idea de «reserva de cabina de grifo único» ha revolucionado el escenario de toda la industria logística. Uber es realmente una inspiración para las startups y emprendedores de hoy en día para llegar a algo nuevo en el mundo.s. |
| Lyft | iOS, Android | Lyft ofrece un conjunto similar de características que Uber. Lyft es una de las formas más seguras de viajar, el tiempo vas solo por la noche o estás viajando en las primeras horas de la mañana. |
| Hailo | iOS, Android | Hailo ha revitalizado la escena de taxis de Londres y ahora se abre camino a través del mundo. Un servicio llamado Hailo Hub, donde los usuarios pueden reservar un taxi en nombre de compañeros de trabajo, amigos y familiares han aumentado aún más el atractivo de esta aplicación de taxi. |
| TU IDEA DE APLICACIÓN | iOS, Android | Construye tu propia aplicación de taxi |
Consigue un clon completo de la aplicación Uber como Taxi por $3000 USD (sin costo oculto)
¿Cuánto cuesta construir una aplicación como Uber?
Consigue un clon completo de la aplicación Uber like Taxi para
Para la interfaz de programación de una sola aplicación, (tiempo su iOS o Android) le costará y para ambas plataformas le costará. El script de clon de la aplicación Uber como Taxi viene con una aplicación iOS y Android para tus clientes y conductores. También proporcionamos un potente panel de administración para que puedas controlar casi todo.
Consíguelo en
Precios directos y línea de tiempo. Garantía sin cargos ocultos.
iOS o Android
---
Costo para una plataforma
De confianza
---
Proporcionaremos una NDA totalmente firmada para la confidencialidad de su proyecto
iOS y Android
---
Costo para dos plataformas
Excelente comunicación, excelente código y de primera categoría Contratar Taxi App Desarrolladores
¡Su éxito está garantizado!
Preguntas Frecuentes
Where is Bacancy Technology based in? What is the team-strength?

We are based in the USA, Canada, and India. We have 300+ in-house skilled developers with an average experience of 8+ years.

I am not tech savvy; will I still be able to work with your team?

Absolutely, you can. Choosing us gives you peace of mind, and we are here to help you fill the technology gap on your behalf.

May I know your developer's core expertise and industry experience?

We have extremely talented Agile software developers who have in-depth knowledge and extensive experience in all the top-notch technologies.

Do you work according to my time zone preference?

Hire Dedicated Developers from us to work according to your time zone (EST/PST/CST/MST), deadline and milestone. To know more get in touch with us at [email protected] or skype "Bacancy."

Will I have complete control over the hired developers?

Yes, the developers your hire from us will dedicatedly work on your project as your employees only. You will have the total access and complete control on them through your convenient communication platform.

Do you use any project management tools?

Yes, we use industry-standard project management tools like Jira, Trello, Pivotal Tracker, Asana, etc. Where you will be able to track the productivity of developers and monitor the daily progress of your project. You can create the task, assign the work and monitor the development progress.

How do you manage the code?

For source code management and version control, we use Github / Bitbucket. Our developers will regularly push the code so you can review all the commits and manage it easily.

No, not at all. We ensure not to re-use your license keys, patented processes, trademarks or proprietary algorithms or anything specific that we have used explicitly for your project only.

What is your project development methodology?

We follow Agile and Scrum methodology. Where the team does a daily standup, meeting called "daily scrum." Preferably, the meeting is held in the morning and it lasts 10 to 15 minutes. During the daily standup, each team member is required to answer the following questions:

1) What did you do yesterday?
2) What will you do today?
3) Are there any blockers or impediments in your way?

The developer is required to mention what he/she accomplished yesterday and will he/she work on today. It helps the entire team to understand what work has been done so far and what work has remained to achieve the milestone. This is how you can have full transparency and control over your project and developers.

How can I choose a developer of my choice?

After careful consideration of your project requirement, we assign a skilled and seasoned programmer to work on your project under a well-established IT set-up.

If you prefer, you can conduct as many interviews as you want, before you hire a developer of your choice. If in-case, the expertise of a hired developer does not deliver the desired output or if you want to add more developers with the diverse skill-set, then we will help you in both situations right away. We are offering peace of mind with 100% success guaranteed.

What is the cost and engagement options available at Bacancy Technology?

We provide three types of hiring engagement models.

Dedicated Developer - Monthly basis 160 Hours a Month. 8 hours a day, 5 days a week Hourly Basis – Hours/ Month We use time tracking tools like time doctor, hub stuff for time tracking Time and Material Base You can share your requirements with our team. Our team will evaluate your requirements and then get back to you with the detailed estimation of your project along with time and cost as well as the roadmap of the project.

What's your pricing model?

Dedicated Hiring: - For dedicated resources hiring, you are required to pay one-month upfront payment and when the next invoice will be generated once the cycle of one month is completed. Hourly Basis: - -In an hourly basis, you are required to pay one week of the advance payment, and the remaining amount can then be paid in weekly, fortnightly or monthly payments as per the pre-agreed contract with you.Fixed Time and Cost Model: - For the time and material base hiring, you will be required to pay 20 to 30% cost of the project as upfront payment and the remaining amount will be based on the milestone so upon completion of milestone you will be releasing next % of payment.

How absolute is my ownership?

You will have complete ownership of your entire project. It includes the NDA, copyright, source code, intellectual property rights, etc.

Do you have service level agreement in place?

Why should I hire a dedicated development team?

There are a couple of benefits of hiring dedicated and skilled developers

An opportunity to work with dedicated and skilled developers
Total control over the development process
Hiring a dedicated team guarantees a Quality Assurance and risk minimization
We will provide a dedicated Scrum Master (Project Manager) to manage your project and team, without any additional charges. At a free of cost
A shared QA will be provided to assure quality without any cost
And at last, but not least is the fact that developers work as a part of your team

Either Party to this agreement may terminate the agreement, with or without cause, by providing at least 14 days (2) weeks written notice to the other Party. Upon termination of this agreement, the Bacancy Technology shall deliver a termination Invoice for work completed to date, which shall be paid by the the client (in 3 business days). The Termination Invoice shall specify all unpaid work and the remaining amount of the work done till termination date. On termination all work completed to date shall be delivered to the client in a usable electronic format.
Still have questions? let's talk