The Challenge
On time delivery was one of the most significant goals of this project. We had a deadline and we don't want to miss it as it was specifically developed for Winter Olympics in Sochi. No one would delay in the Olympic games opening, because the application wouldn't be ready yet.
We involved our maximum number of resources to release Winter Olympic Games in Sochi and to succeed in time frame goal. We developed an application as well as server side for both iOS and Android versions.
Development
Notifications
To update users about the challenge winners and its upcoming events the application has push notifications. This specific feature made RedBull Sputnik app an essential tool for all the participants on Olympic Games in Sochi.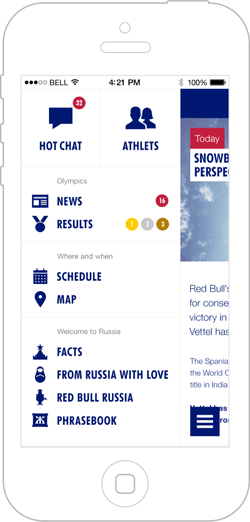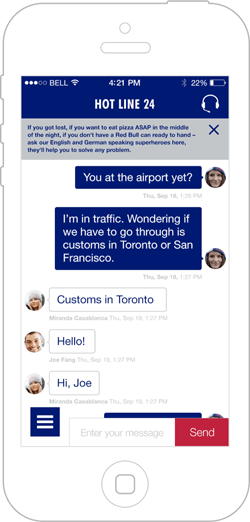 Chat
Another significant reason to use this application was chatting. This app is offering two chats. First one for the connected athletes and another one to let its users connect with the Olympic Games support.
Map
Map has various categories that assist users to find locations they want to perceive. Map contained listed below places like: sport events, athletic fields, Red Bull events, places to visit like pharmacies, grocery shops.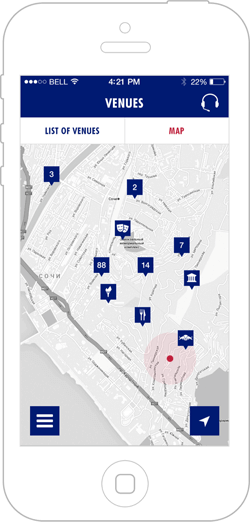 News
Users didn't require to close the app if they wanted to update with the latest news. They were represented by events sports, entertainment events and Olympic challenge winners. Users can watch live videos from official Red Bull YouTube channel from the app.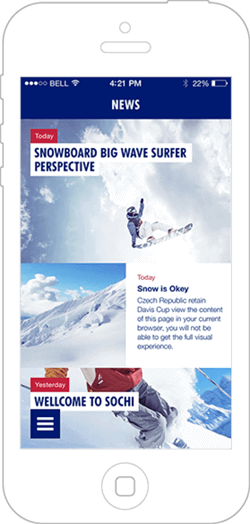 Phrase book
Most common phrases like privet (hello) and spasibo (thanks) were used in a creative form in a phrasebook. Famous phrases from popular Russian movies and songs were represented. It made the communication more entertaining between the athletes and hosts.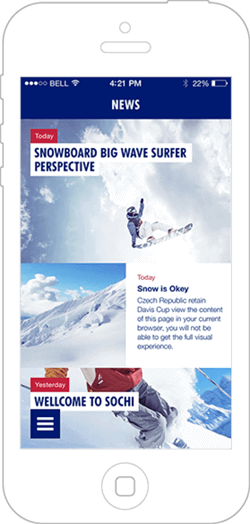 Result
We successfully released the application of Winter Olympic Games in Sochi on the mentioned time frame. Application was developed in a short period of time; however, the quality was not compromised at all. We offered athletes a bug free application so neither the athletes nor the users were annoyed by bugs or crashes.
The Application was a must have for all athletes as it helped to communicate with other users and also updated with the upcoming sports, Red Bull promo events as well as entertainment. The application assisted users to find out more about the host country and its people.
RedBull Sputnik application made the Olympic Games in Sochi full of comfort along with the useful information so athletes could concentrate on the things that matter - their performance on athletic fields!
Let's Get Started