Service Satisfaction Analysis Tool for Healthcare Sector
Data-driven Tool to Measure Service Quality and Provide Patient Satisfaction analytics details
Domain: Medical / Healthcare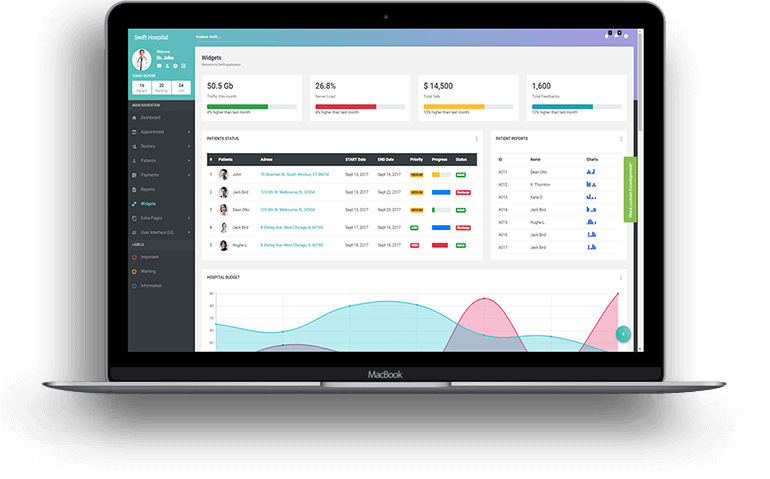 Overview
This solution utilizes sophisticated artificial intelligence algorithms, OCR, technological behavioral analysis aids and data science based research mechanism to find out the concerns of patients and thereby, improve the quality of service for businesses in the healthcare sector. Empowered by AI and Data Science, the tool checks multiple medical service related metrics and calculates the level of patient satisfaction.
A US-based hospital group is currently utilizing our Service Satisfaction Analysis Tool to understand the reasons for patient retention rate and factors which could improve their brand's image in the market. Our implementation digitized the said hospital, revived their business, increases patient satisfaction rate by manifolds and helps doctors & other medical staff perform better.
The Problem
A successful healthcare business is the one which has the highest patient satisfaction rate.
In the USA, the average patient satisfaction rate is 77%, higher than all other countries. Hence, competition among medical service groups is ever higher.
All hospitals ask their patients to fill a questionnaire in order to assess their contentment level, but this data is recorded as paper documents. Though hospitals can separately understand if they provided good services to a particular patient or not, it is almost impossible to portray good conclusive insights for improving the satisfaction rate.
Assessing the quality of services provided by doctors, nurses, pharmacists, hospital staff, insurers, etc. is very difficult if there is no good system in place. However, if this data could be fetched, hospitals will be able to draw significant conclusions and improve their services for sure.
The Solution
Digitized existing patient data, choosing the satisfaction metrics, training hospital staff to upload the records in the newly-built system and deciding the way of calculating contentment rate were a few tasks which required brainstorming, research and discussions.
Hospital management wanted to keep track of the performance of different types of members, e.g. doctors, nurses, etc. individually as well as a mechanism for collective insight calculation was needed. So, we had to develop a bigger metrics alongside multiple group-wise performance measurement metrics.
Our product development team had to carry out several surveys in order to understand which aspect is critical for patient satisfaction calculation and which is secondary.
Our Solution Comprised
Two implementations for collecting patient data – a mobile solution, which has a user-friendly interface for patients and a robust OCR system for patient data, collected offline.
A module to dynamically manage questionnaires and weight their criticality in the calculation of customer (patient) satisfaction rate.
An Optical Character Recognition algorithm to digitize the papers and record the important data from those papers.
A Data Science based algorithm which measures the final contentment rate – For different servicing groups within the hospital and the average rate.
A feedback system which sends notifications to different groups and suggests them the ways for improving their performance.
Outcomes
The goal of this project was to build an automated system, which could understand which factors could improve the patient satisfaction rate for our client's hospitals. Once deployed, its powerful suggestion mechanism for management and actionable recommendations for teams started doing wonders.
Client reportedly found a 70% reduction in negative feedbacks, as common problems were noted and resolved by staff to avoid it from re-occurring. The productivity of different teams increased by 15% (average) and significant improvement in the performance of employees was recorded too.
Patient satisfaction rate was improved by 10% and therefore, the customer retention rate was increased by 28% for the client business.
Technical Stack
Front end
Angular JS
Javascript/CSS
HTML
AWS Service-Stack
AWS Lamda
AWS Aurora
Appsync
PMS & Communication Tools
AWS ML Stack
Keras
Python
OpenCV
AWS Sagmaker
Contact us


1
React Developer

1
NodeJS Developer
1
DevOPS Developer

1
Python Developer
1
AWS ML Specialist