We have all witnessed and experienced the growing number of problems associated with limited parking. There is nothing worse than going out to the city or town and struggling to find a parking spot. Sometimes, you can search for an hour before you find a parking spot – only to realize that you are now going to have to walk a mile or more to your destination.

The problem with parking is only escalating as the economy gets better. When the economy continues to grow, more individuals can purchase vehicles for transportation – which compounds the parking problems we currently experience.

As the number of cars continues to rise, the number of parking spaces and parking lots remain the same. This means there is greater competition to secure a reasonable parking spot now more than ever before.

Finding a parking spot now can almost feel like playing the lottery – you are more likely to lose out than win. As a business owner, the last thing you want to hear is that customers are no longer using your business cause they cannot find parking in a reasonable timeframe or within a reasonable distance.

As the problem continues to grow, the evolution of new parking structure innovations is slow. Companies aren't willing to invest thousands of dollars to make it easier on you and your business, so you're forced to find other alternatives.

If your customers or clients cannot find a parking spot near your business, then they will look for other alternatives. This ultimately means that you are losing out on potential revenue when they decide to go do something else that has adequate parking.
Fortunately, there is a parking app solution from
Bacancy Technology.
This is where Bacancy Technology comes in – we develop and build the most comprehensive on-demand parking finder apps for you and your customers.
Not only will we develop a parking app solution for you and your customers – but we'll also help generate additional revenue for your business.
If you want to find out how you can help solve the parking problems your business is currently facing, then you need to learn about our comprehensive parking finder app development process.
The comprehensive parking finder app development process we go through with you not only helps generate additional income for you and your business but ensures that your customers feel at ease when they decide to visit your business.
Request A Demo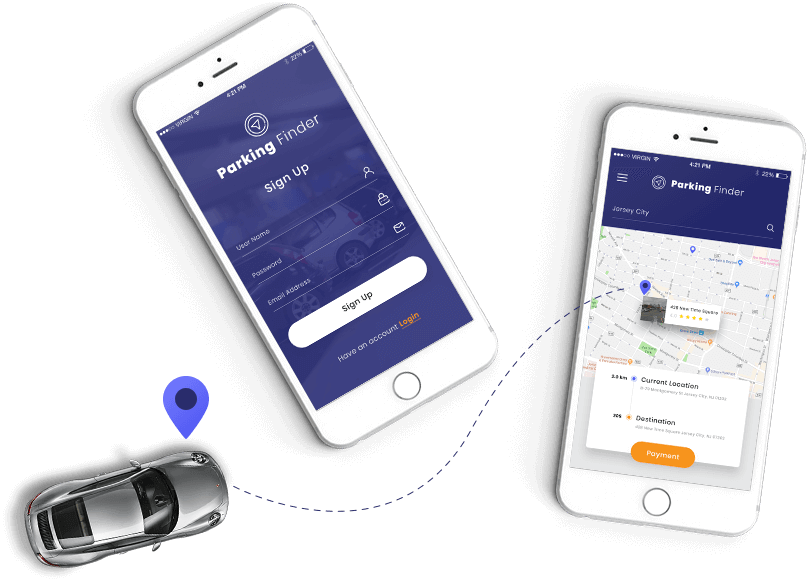 Bacancy Technology Car Parking App Development Drives More Money For Your Business
As other companies look for ways to solve the parking problems of the future, you could potentially miss out on thousands of dollars in additional revenue from your own car parking app solutions.
If you've ever wondered how you can solve the parking problems that are currently plaguing your business, and earn revenue off that solution – then you don't need to look any further. At Bacancy Technology, we've come up with a custom car parking app development process that ensures you stand out amongst the competition in making it easier for your customers to visit and park near your business.
Not only do we strive to make it easy for your customers to park near your business, but we also make it incredibly easy for you to drive revenue through the unique tools we've incorporated throughout the parking booking app development process.Some of the core features we've placed within the custom parking app development process ensure that you can manage the parking process for your customers and earn additional income.
Below are the core features that separate our custom car parking app development from others for you and your business:
Location Availability

Parking is all about knowing which spots are available and when. Which is why we've made it incredibly easy for you and your business to figure out which parking spots or parking spaces are available at any given time. Simply log into the application and look for the available or occupied spaces. We have conveniently colored each spot differently, so it easy to gather the important information quickly. As a business owner, you can understand how many spots are currently available or occupied, and your customers can easily identify how many spots are available and occupied. This ensures that your customers have an easier time of finding potential parking spots.

Heat Map View

One of the critical things that separates ourselves from other custom parking app development companies is that we have a passion for putting more power in your hands as a business owner. With our custom Heat Map View, you can see where the most popular parking spots or parking spaces are. When you know where these popular parking spaces are, you can choose to introduce Surge Pricing. This means that you have more power over your potential earnings than other applications.

Surge Pricing

Our parking application development services want to ensure that you have all the tools you need to make the most money for your business. This means that we have incorporated Surge Pricing as a tool in your Admin Dashboard, that will allow you to charge more during peak hours for high-demand parking spaces or parking spots. Surge Pricing is easily managed through your parking finder application admin panel.

Bulk Billing

Another tool we wanted to incorporate for you and your business was the ability to find and attract new customers. One way you can do this as a business owner is to use Bulk Billing – where you can offer a discount for multiple parking spots or parking spaces at any given time. This discounted rate to your customers will incentivize them to park closer to you and your business and attract new customers faster.

Audio QR Payments

One key aspect of a successful custom parking app development process is the ability to incorporate an easy billing process. We've incorporated an easy billing process for your customers, so they don't have to worry about complex payment procedures when they find a parking spot or parking space using your custom built parking app. The easier it is, the more they'll use it in the future – which ultimately means more money in your pocket.

Commission Manager

Earning money is fantastic, especially when you can track it with no hassle. We've incorporated a no-hassle commission manager within the app to make it easy for you to track your earnings. We've also incorporated beautiful graphics that simplify everything in a unique user interface to present the important information to you quickly. When you choose our car parking app development services, you can rest assured knowing that our focus is on making it easy for you to earn more.
Bacancy Technology Puts The Custom Parking App Development Process In Your Hands
At Bacancy Technology, we're passionate about putting more power in your hands. When you have more power, you can decide how much money you want to earn from your parking app. This means we also offer the features below to help drive more consumers to your parking spaces and enable you to earn more money over time.
Business Features

Rate Card

Rate Cards allow you and your business to set different rates for different times/zones. This feature gives you and your business more power to dictate how much you want to charge for specific times. The best thing about this feature is that you can then showcase those times in easy to read presentations for both you and your parking app users.

Advertisements

In-app advertisements are a great way for you to drive additional revenue streams for your business. Through advertisements in the custom parking app solution, you can drive additional revenue streams through tailored advertisements directed towards your parking app users.

In-App Communication

Our unique in-app communication system allows you to communicate directly with parking space users. We have made it easy for you to communicate with other admins, drivers, or users through voice, video, calling, or messaging. This helps your business stand out as customer-friendly because it is easier for your customers to get in touch with you if something ever goes wrong.

Cloud-Based Technology

We used a cloud-based technology infrastructure to ensure that you don't have to worry about complex server or hardware malfunctions. Cloud-based infrastructure ensures that your app is fully functional, fast, protected, and easy to use. In addition, all important and valuable data is easily accessed remotely with no issues.

Instant Alerts

Instant alerts are extremely useful for you and your business. Instant alerts allow you to understand when bookings are reserved, canceled, scheduled, various parking times of users, and the leaving times of each user. Instant alerts allow you to stay more connected with your business at any time.

Wearable Interaction

Our custom parking app development process ensures that you don't have to carry around a huge tablet, laptop, or sit remotely at a desk to understand what is going on with your business. We have taken steps that you can check on and manage your business at any given time through the use of wearable technology. All you have to do is connect your wearable device to the parking spot finder application, and get all the access you need to manage and run your parking space business.

Multiple Cities and Locations

One important feature we wanted to include through our custom parking space app development was to ensure that you weren't limited to one location. Your parking space app business is scalable. This means you can manage and grow your business from one city or location to multiple cities and locations. In addition, your app users can access parking spaces or parking spots in those multiple cities from one application.

Operational Zone Setup

As we mentioned previously, you can set various operational zones for your parking space business. This ensures that you let your users know where they can find potential parking spots or parking spaces in different cities and locations.

Reservation Management System

Our easy to use reservation management system allows you to review parking spot bookings. In addition, your users can easily view and access parking spaces to reserve them for future dates without worrying about the unavailability problems associated with other applications.

Consumer Benefits

Vehicle Tracking

One of the scariest things about leaving a parked car in a parking space is what will happen to that car when it is left unattended. With vehicle tracking, your customers no longer have to worry about that. We have made it easy for your customers to track the position of their car and ensure that their car is safe in the parking space.

Rate Card

Rate Cards are great for your parking app users, as they can see what the different rates will be for individual parking spaces at different times. This lets them make more informed decisions about when they should reserve different parking spots or parking spaces, and understand how they will be charged as their reservation proceeds.

Map Search

Map Search allows your app users to get a map to find the quickest and most efficient route to the parking spot. Other apps merely state where the parking spot is, but don't direct the users to get there. We've incorporated maps into our app to ensure that your users have an easy time getting to the parking space.

Nearby Parking Spot Locations

In the event that there is an issue with availability, we have also incorporated nearby parking spot locations for your users to have access to. This means that they can find nearby parking spots without having to start from scratch in the search process.

Social Media Logins

Creating an account to use your app has never been easier. Parking app users can login with their social media logins and have it automatically saved with the system.

In-App Communication

In-app communication makes it easier for your customers to contact you in the event something goes wrong.

Geolocation Services

Geolocation services are critical to the success of the parking space business. This feature ensures that your customers can find available parking spots near them, in addition to the most efficient path to take to get to the parking spot based on where they are located in real-time.

Instant Alerts

Similar to the instant alerts that you have access to as a business owner, users can receive instant alerts for the bookings, cancellations, scheduling, and real-time updates of when they park and leave the parking space. This helps them stay in touch with what the status of their parking space reservation is – and builds more trust for you and your parking space app business.

Multilingual

One of the biggest problems in the parking app industry is that there aren't enough applications that are multilingual. When an app isn't multilingual, the number of customers they could potentially have is limited. We have solved this issue and made sure that the application is multilingual – thus attracting more business and driving more revenue for you.

Multiple Cities and Locations

Your parking app users can locate your various parking spaces and parking spots in multiple cities and locations with ease. This means they don't have to use different apps to find different parking spaces. You can retain their business by showcasing your different parking spots in different locations at any given time.

One-Tap Requests

One-tap requests make it easy for your parking space app users to rebook a previously booked parking space. The easier it is for your user to use your parking app business again in the future, the more money you earn in the long run.
Our Custom App Panels Provide All The Tools You Need For Success
We've incorporated beautifully designed app panels for both you and your users. We have Admin Panels that present all the information you need to check on the status of your business, manage earnings, and more. We have User Panels that help your parking space app users find available parking spots, reserve spots, make payments, and more. Learn more about these individual features below for each panel:

One key thing we wanted to ensure was ease-of-use for the users of your car parking app service. Here are some of the key features we've included for the Users in the User Panel of the app:
Register – We've made it incredibly easy for your users to register to use the parking space app. Users can login through their social media accounts or an email account that saves their information securely.
System Vehicle Tracking – Users can easily access and view the status of their car to ensure that they are comfortable with leaving their car at any given time. With the help of GPS, users can track the location of their vehicles and estimate the distance between themselves and the vehicle.
Search and View Pickup Location – If a user elects to have a driver pick up their car and deliver it to them, they can search and view the pick-up location for their vehicle, so they can collect it with ease.
Enter Estimated Arrival Parking Time and Estimated Departure Time – Users can input their estimated arrival parking time and their estimated departure time to find the best parking spots for their time range and estimated costs to reserve different parking spots.
Schedule Parking – Users can use this feature to schedule a reservation for individual parking spots with ease.
Easy-To-Use Payment Integration – Users can seamlessly pay for their parking charges through the app in their preferred payment method. They can choose to pay through their wallet Credit Card, Debit Card, Online Transaction, or the QR Codes we mentioned above.
View Parking History – Users can easily access and view their previous parking history to see where they previously parked their car, and easily rebook the spot if they liked that previous parking spot. In addition, users can view all of the charges associated with their account to see how much it cost at any given time.
Ratings or Reviews – Users can also give out various ratings and reviews for parking spaces or parking spots they have utilized in the past. In addition, users can share their review of the app on popular app marketplaces like Apple's App Store or the Google App Store. The more individual users who share their review, the more business you generate in the long run.
Choose
Bacancy Technology

For Your Custom Parking App Development

Driving more revenue for your business has never been easier than with Bacancy Technology and the custom parking app solutions we can provide. With a custom parking app development, you can separate yourself from the competitors and offer the most complete parking app solution for your users and consumers.

With the advanced features, knowledge of the latest technology, seamlessly integrated features, financial benefits, and management fundamentals – you can put more money in your pocket today with a parking space app business.
Contact us to get started today!
Request For A Demo