Are you on the quest to decide the front-end framework for your next web project? Let me get you through some reasons why ReactJS might be a good fit for building interactive UIs!
With the numbers of front-end frameworks and libraries out there, the web frontend development tech stack is overloaded with extremely rich and multifaceted Java Scripts. Being a product owner, before you take your business online, choosing the right technology framework is undoubtedly a tough call. The technology framework you choose remains a crucial aspect for the forthcoming success of your business.
React is a widely used and robust library that is steadily gaining traction amongst programmers as well as business owners. Due to a number of its benefits, ReactJS has become a go-to web development tool.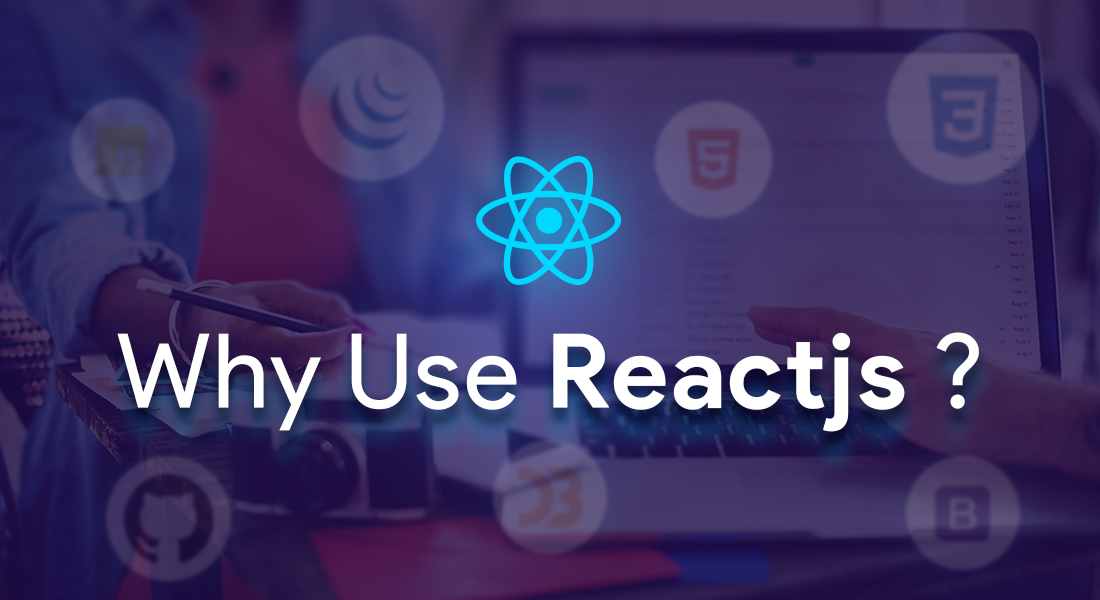 In this blog, I'm going to give you a comprehensive guideline about what makes ReactJS work, what React is good at, and we will also discuss some context to help you decide, why this front-end framework is a perfect fit for your next front-end project. It's an open-source framework which, to date, has raked in over 115,824 stars on GitHub.
Main Characteristics of ReactJS:
Simple:
The ReactJS framework is so easy to work with and offers interactivity to the layout of the user interface. Moreover, it's not a full-blown framework, but it's a library for rendering views. Build a fast and quality assured application to save your development time and cost.
Declarative:
Design simple views for the individual state in your application and React will efficiently update right components by the time your data changes.
Provides component reusability:
Reusability of your components is a magic bullet for the programmers. It allows developers to reuse the components to build some other applications with the same functionality. It reduces the development effort and makes sure that the components perform flawlessly.
Facts Behind the Success of ReactJS:
The library of JavaScript:
To build an application on ReactJS, a perfect blend of HTML and JavaScript syntax is always used that simplifies the development process of writing codes for the anticipated project. Whereas, the JS library offers specific functions that merely convert the HTML components into the required features that makes the entire project easy to understand. Along with this single function, it has various parameters in the wide-spread library of JavaScript.
Integrated with lightweight DOM:
ReactJS embraces the flawless implementation of the DOM. Without the use of a browser, it allows programmers to manipulate the existing DOM available in the memory. This functionality automatically enhances the performance of the application.
Exceptional Component Support:
ReactJS offers a perfect combination of JavaScript and HTML tags that makes so easy to understand for programmers. Making use of JS codes and HTML tags, it's so convenient to deal with data containing Document Object Model. ReactJS performs as a mediator that represents the DOM and facilitates to decide which component requires modifications to get the exact results.
SEO Friendly:
Traditionally developed projects were not at all SEO compatible, but the improvements suggested by Facebook helped React to stand out from the herd. The new phase of ReactJS development offers superior compatibility to browse on different search engines. React app's high speed and performance to a better SEO provides an overall better visual experience.
Front-end Framework Result
In the battle of JavaScript front-end frameworks, React is still a dominating player.
Great Business Stability
Open and Rich toolset:
ReactJS is open source technology that is free and open for all. It holds a rich ecosystem including must-have tools like redux or flux along with Node.js on the backend, listed on NPM.
Easier to Test:
React's primary component and abstraction takes in data and outputs an illustration of the DOM without any adverse effects. It allows developers to create states in the DOM making React components easier to break down and test.
Improved Debugging Speed:
It provides data regarding snippet of code and exact section to make a specific bit of user interface. This procedure makes the development process more accessible and eliminates errors.
Summing Up
By deeply analyzing the features mentioned above and facts, it is inevitable that ReactJS is advanced, responsive and non-risky to build interactive and intuitive front-end interfaces. It makes ReactJS an ideal choice for startups and enterprises alike. So, if you are looking for ReactJS development company or planning to hire a dedicated reactJS developer to fulfill your requirements, then count on us to leverage top-of-the-line ReactJS development services. We are mavens in this field, and we always try our level best to meet your business requirements.