September 23, 2019
5
min read
Last Updated on February 15, 2021
App Development is one of the domains that are witnessing growth at a pace faster than ever. The app world is buzzing, and nearly every company now, has an app to promote its products and services. One thing that comes to question here is, which domain should one build the app so as to get maximum traction?
Or, which technology needs to be deployed in order to have the most efficient app built? Android or iOS? Native or cross-platform apps? After a series of debates and discussions, the verdict was inclined more towards cross-platform support. Now, this called for another question, which framework would be best when we talk about cross-platform apps?
While Xamarin and Ionic were doing a great job, the advent of Flutter changed all. The fact that it enables the development of cross-platform apps would sound sufficient to gather attention. It is recently been into talks about undertaking the Hemingway plan. Now, there isn't any other framework that induces the same, and so, Flutter for app developement is getting one step ahead of all.
Statistical Facts
Flutter stands 34th in GutHubs most popular software repo.
There exist more than 300 Flutter apps on the Play store.
After the beta, there prevail more than 250000 developers of Flutter.
A lot of hype and bundle of facts, but what is Flutter?
Apart from the ideology of flutter being a cross-platform app development framework, Flutter is a Google product and open source mobile SDK. Though flutter has been in the industry for long, it was, after Google's I/O in 2018, that the platform saw the light of the day. Since then, there has been consistent application of the same with the top tech giants, one being Alibaba as the current user of Flutter technology.
Flutter – An Overview
Flutter is both free to use and an open-source SDK.
The updated version of Flutter is based on Dart (a fast language with features of object-oriented programming
Flutter can entail its own widgets, painted with a self-made high-performance engine. These are pretty fast and customizable,
The integration of widgets lays an attractive look in the apps, enhancing the user interface and likewise, experience.
Flutter's architecture is based on reactive programming.
Flutter is rising to be the competitor of React Native and native app development.
Why Use Flutter For App Development?
Quick Code Compilation

Flutter gives developers the ease to write and manifest changes in a real-time scenario. Meaning that, as and when changes are made in the program, the impact can be viewed then after their across all applications. This function is regarded as Hot Reload. It takes milliseconds for a modification to reflect on the app and has support to plentiful of features. With Flutter, developers work along with designers and testers to analyze bugs and fix them as early as possible. Native app development does not support such kind of testing.

Single Code For Multiple Platforms

Considering the fact that flutter is a cross-platform app development framework, a single piece of code can be used to run applications on all platforms. Also, the framework has its own set of designs and widgets which turns it, platform-independent. On the whole, you can have a similar application for different platforms.

Reduced Testing

Considering the fact that there is a single application for both platforms, testers need not run a separate test scenario for the same. The quality assurance team can take over the entire testing process faster and quicker.

Elegant Designs

Using Flutter, developers can create their own designs and widgets which are far more attractive, and hence, the interface is such that users love to see.

Extended Support For Old Device

No, the app won't lose out on the compatibility with older versions. The app works well on different software versions, and yes, you need not pay a penny to aid the same.
Sounds excellent right? Well, no doubt Flutter is the present and the future of mobile app development. Given the bundle of benefits to users as well as the developers, Flutter has a long way to go. Having said that, it's not time to exemplify one of the most enticing features of Flutter mobile app development.
Wondering what?
It's the ability to build a reusable widget using Flutter. We know you too are curious about it, so let's head towards the technicalities and not waste time further.
Building Reusable Widget
Flutter along with dart enables building reusable widgets. Dart is strongly typed language and the product of Google. And Flutter, as we know, is the cross-platform app development framework written in Dart.
In order to get started with building reusable widgets using flutter, you must be well versed in the following:
Flutter SDK 1.7+
Decent programming skills
Android/iOS emulator
When we talk about Flutter, the entire concept revolves around Flutter. As a matter of fact, widgets are the instance of Dart class which behaves in a similar way as a component.
There exist two different kinds of widgets:
Stateless widget — one not having a state
Stateful widget — one having a state
With respect to the reusable widget, we will consider on the stateless widget:
Reusable stateless widget
When we work on apps, we need to have a screen every time. However, with Flutter, we can make use of these screens and get rid of the need to have a new screen.
Having a new screen, the following things can be altered:
Top page title
Card title
Card subtitle
Card icon
The action of the cancel button
The action of the proceed button
Even custom data can be transferred using the screen while navigating.
Coding the reusable screen
Let's take the material styled widgets as our example. We start first with a new screen and name it as the ReusableScreen. We then extend the StatelessWidget since we don't entail any state.
We add a total of six properties:
screenTitle
titleIcon
titleTitle
tileSubtitle
cancellButtonAction
proceedButtonAction
The screenTitle, tileTitle and tileSubtitle are of type string, the titleIcon for type IconData and cancellButtonAction and proceedButtonAction are of type function. These are final properties as data needs to be passed only once.
Within the constructor of ReusableScreen, we refer to local properties and turn them required by placing the term @required before each.
Now, we need to override the build method of StatelessWidget. A Scaffold is returned where the screen title is passed into the AppBar.
The body has Card with child Column.
The mainAxisSize is set to a minimal value and
Then the multiple children widgets are passed
There has to be a widget of ListTile at the top to accept the vapues of tileIcon, tileTitle , and tileSubtitle. And the bottom must have an action button. This will take the value of cancelButtonAction and proceedButtonAction on the passing of either of them.
Implementing the reusable screen
For navigation to our ReusableScreen, we add the onTap method. This method uses the Flutter's Navigator widget, which can be pushed when required. You can move the way you desire with Flutter app development services. The ReusableScreen widget is then moved inside the push method. It enables the passing of our custom arguments, and the reusable widget is ready to be used in the app! To build beautiful native applications with a single codebase in record time hire Flutter developer from us.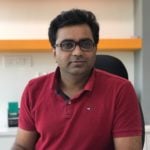 Chandresh Patel is a founder & CEO at Bacancy Technology. He is a founder of vision and mission of Bacancy Technology and constructed work ethics
@bacancytech
to achieve that vision and mission. He oversees Business development, day to day execution of strategic planning and also looks after customer service & delivery. He's an avid blogger and writes on the publications like
Dzone
,
e27.co
,
Marketo
,
Smart Insights
and featured in
Insightssuccess
.