Quick Summary:
Just as mobile phones have varied types of chargers, power banks, and type-3 chargers available, so do Electric vehicles. EV charging has been quite a debatable and decision-making factor for charging station investors, EV market researchers, EV owners/ consumers, as well as hardware geeks. No matter which of the above-mentioned category you may fall into, this blog gives you ethical information on the types of EV chargers, charging levels, and connectors available in the market.
Introduction
When you own a non-electric vehicle, there's not much confusion, as, your car will either need petrol, diesel, or gas for functioning. However, the matters with EV car chargers and EVs need some ground understanding. In the basic classification, there are two forms of charging for your electric vehicle- AC or DC. Going further, AC charging has two options devised for re-charging your electric vehicle- it's either slow charging or fast charging, whereas, DC provides rapid charging
For EVs, the charging times vary depending on the types of EV chargers. To highlight, a hybrid vehicle may or may not require external charging depending on whether it is a plug-in hybrid or a traditional regenerative hybrid vehicle. Let us look at the different charging types available for electric vehicles.
Different Types of EV Chargers
On a general classification, there are three types of EV charging, which are:
Level 1 (Slow Charging)
Level 2 (Fast Charging)
Level 3 (Rapid Charging)
Level 1 and Level 2 are both AC type chargers, whereas Level 3 is DC charger. As the level of charging raises, the charging speed reduces. The more the power of EV charging, lesser-time it takes to get charged.
A typical EV charging cable has two ports- one for the vehicle and one for the charge point. You will need a cable depending on the type of EV or the type of power speed charging station.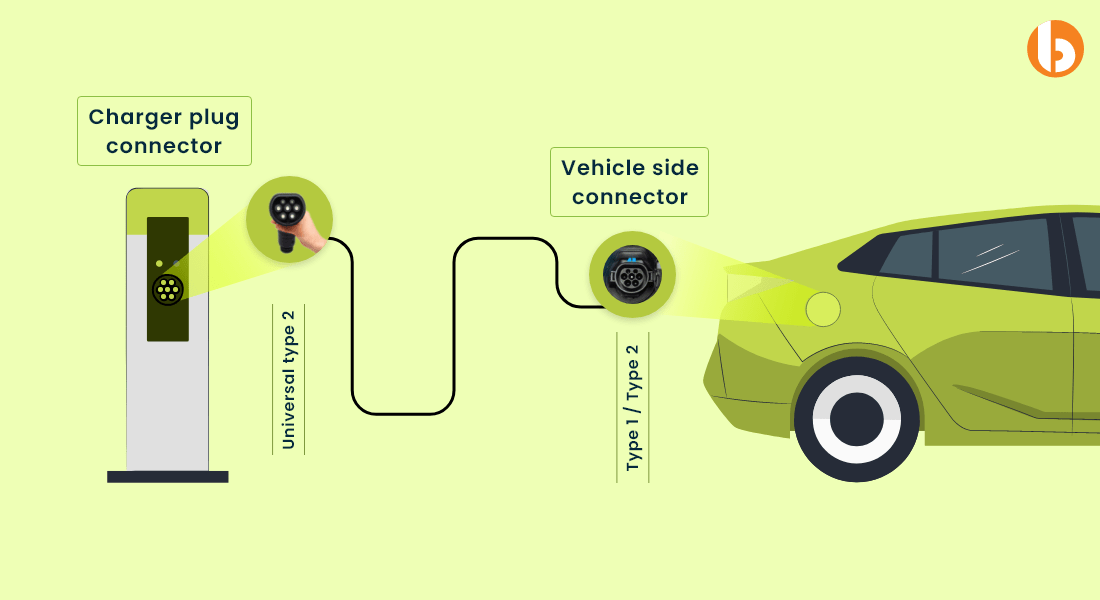 Here are the basic three types of EV chargers:
Slow Charger (Level 1 EV Chargers)
There are in general, the most commonly found EV chargers in households where the EV-owner can recharge their vehicle in the comfort and convenience of their home and routine. This EV charger for home takes a comparatively longer time to completely charge the electric vehicle.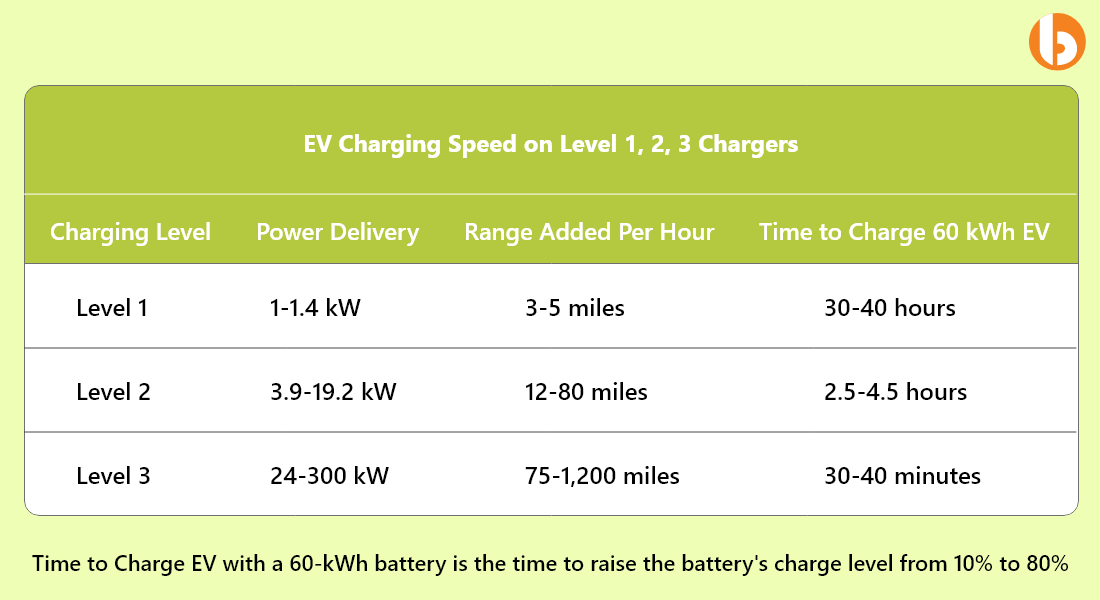 Fast Charger (Level 2 EV Chargers)
The fast charger is mostly found in public places such as supermarkets, public parks, shops, leisure centers, and else. Almost every EV and plug-in hybrid electric vehicle (PHEV) can be charged using a type-2 charger.
Rapid Charger (Level 3 EV Chargers)
The DC charger for electric vehicles charges the vehicle super fast and the reason is that it is supported by direct current. The DC charger converts the AC current incoming into direct current at the charging station. It generally charges an electric car upto 80% within 20 minutes, and can fully charge the vehicle in an hour's time.
Build an EV Infrastructure without a mess or any hurdles by eliminating the cost to convert AC to DC current.
Set up your brand new DC Charger for EVs and rapidly satisfy the EVs as well as your customers. Customize your Rapid EV Charger with Us.
AC Chargers for Electric Vehicles
The AC chargers for EVs are level 1 and level 2 chargers, where the AC current coming from the charging station is converted to DC current at the EV's onboard charger. The domestic AC supply has a maximum power of 7kW. These are the slow chargers for EVs, and you can control and manage the AC charger for EVs with the AC charger controller.
Here let us look at the two standardized charger levels and also a customized variant for AC chargers.
Slow Charger | Level 1 | AC Charger
The Indian market is filled with this type of EV car chargers where the power output is 3 – 6 kW and the EV will take 8-12 hours to recharge. Some key features of a Type 1 AC Charger for EV are:
Favors all 4 types of AC connectors on 3 – 6 kW
Tethered or untethered cables for charging units
Can function as a specialist charger or the mains charger
Primarily covers home charging.
At Bacancy, we have 6 different AC charger controllers to meet the modern-day demands of EV chargers.
1. Hybrid AC Charger Controller: Type: (IEC 60309 socket (2 socket)+ Type 2 AC)
2. AC Single Gun Type 2 (7.4Kw Controller)
3. AC Dual Gun Type 2 Controller (Three phases)
4. AC Single Gun Type 2 (22KW) Type: 3-Phase Controller
5. Bharat AC001 Controller Type: 3 socket (IEC 60309)
6. AC Controller: Single Connector With BLE Standalone Or Wifi
Fast Charger | Level 2 | AC Charger
The type 2 fast chargers function at 7 kW or 22 kW and are the most common public EV chargers. The charging speed and the charging rate will depend on the type of EV or the unit speed per hour. Some key features:
Tethered or untethered cables for charging
7 kW charging with speed on either of the 3 connectors
22 kW speedy charging on either of the 3 connectors
11 kW fast charging with Tesla.
Manage and Control your AC chargers for EVs to the needs and expectations of your consumers.
Bacancy's custom AC Charge Controller is the magician's wand for ruling the EV world. Connect with our Product Engineer to get your custom AC charge controller!
DC Charger for Electric Vehicles
The DC chargers for EVs are the Level 3 or Type 3 chargers, and these are the fastest chargers with maximum power capacity. There can be a single-gun or double-gun DC charger and accordingly either one or two EVs at a time can be recharged rapidly.
The rapid DC chargers provide 50 kW whereas the ultra-rapid chargers provide 100 kW or more. Some key features of DC chargers:
Tethered cables for rapid units
50 kW rapid charging on either of the two DC connectors
100 kW and more on one of the connectors, charing ultra-rapidly
43 kW AC charging on one connector type.
We, at Bacancy, have our CCS2 Controller, which is a DC charge controller for DC chargers.
Conclusion
Having the accurate knowledge of the EV charging levels, types of EV chargers, and connector types are vital when you wish to put a foot forward in the industry with EV chargers installation. I hope this blog satisfied your quench for EV charger information. You can write to us with any further queries and we will be more than happy to assist you.
Frequently Asked Questions (FAQs)
Type 1 or Level 1 EV charger, which is an AC charger for electric vehicles is the most common EV charger for home. It takes around 8-12 hours to charge an EV.
A compact suitcase-size power reserve that supply electricity for EVs when no other charging types are available.
AC charger of type 2, which is a fast charger, works with 3.9 kW to 19.2 kW power supply and is the commonly found public EV charger.