March 11, 2019
7
min read
Ruby on Rails is an excellent framework for building web applications with plenty of powerful features that help to accelerate your web development using an MVC pattern. RoR is designed in such a way that it can be easily extended using most popular Ruby gems provided by the RoR community.
Here at Bacancy Technology, our skilled developers are well-versed with Ruby on Rails development and can help you build a choice of a custom product using Ruby' gems. Ruby on Rails is an advanced solution that allows web developers to fill in various functionalities in the application using the `Gems.`
Here's best Ruby on Rails gems you can't Miss in 2020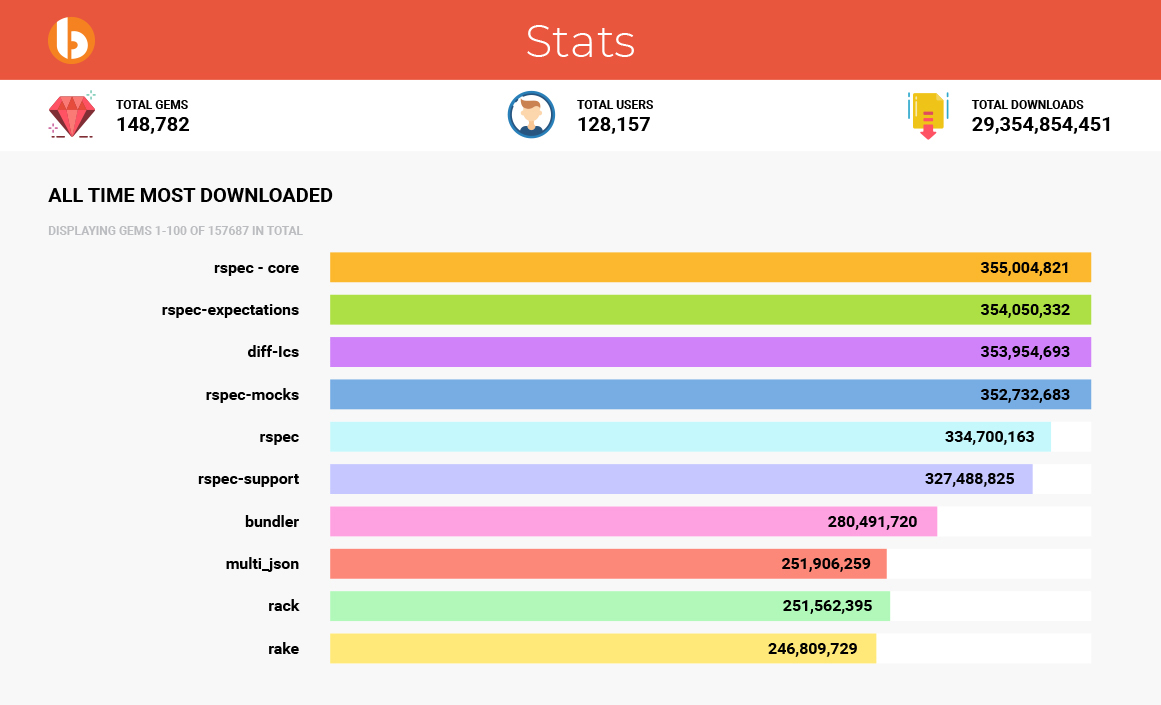 Do you know about Ruby useful Gems and their usability?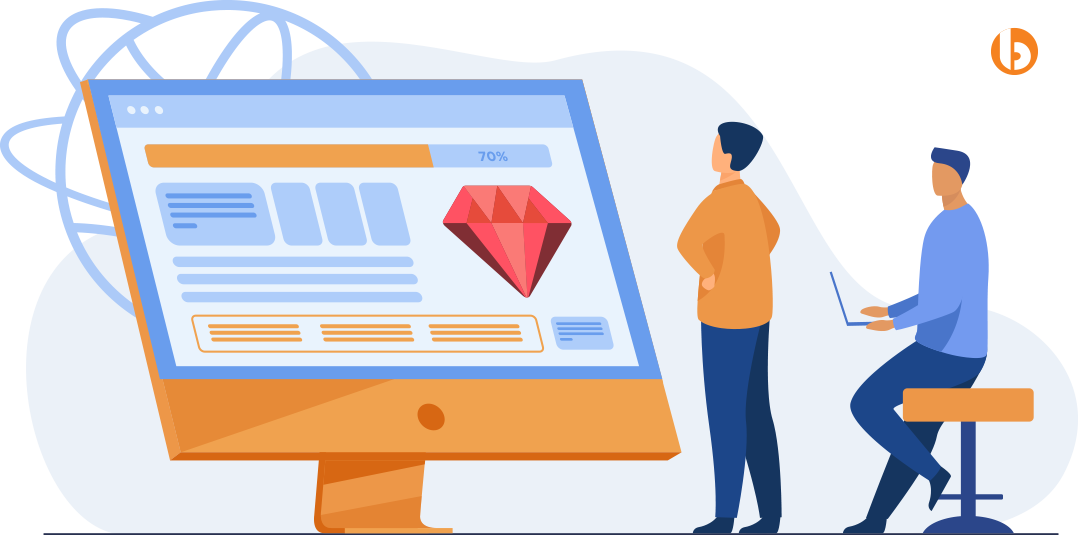 Usually, a web app development takes months, but using the 'Gems', it can be built in a few days. They are modular and offer the advantage of high performance. Moreover, their integration into the new applications is very easy. The Ruby community has created a huge number of gems for the use.
Check out the list of top 15 Ruby gems Rails we regularly use in our projects – and Enjoy!
1. ACTIVERECORD IMPORT
Bulks of records can be easily inserted using ActiveRecord-import. It works according to the ActiveRecord associations while generating minimal SQL insert statements as required. With this gem in, if you hire a dedicated ror developer with enough knowledge, they won't have to deal with the N+1 insert problem.
ActiveRecord is an ideal choice to upload ten records. Uploading hundreds of records with this gem can prove out to be a daunting task. However, it is extremely useful for the import of external data. The conversion time is significantly reduced with ActiveRecord-import.
2. DRAPER
With Draper, developers can easily build decorators around their models. The gem helps them to make their views much cleaner. There is no need to write helpers with the Draper in use. Developers can easily define a decorator instead of calling helpers procedurally with models. They are also provided a list of attributes and extended methods for the object.
3. PRY
Developers usually face library integration issues or difficulties in binding the gems while generating the code. During that time, they have to deal with a lot of errors. So, it is always better to Hire Dedicated ROR Developers with good enough experience.
In order to eliminate these issues and debug the errors, PRY turns out to be an ideal choice. This gem allows the developers to set the breakpoints and implement code debugging step-by-step. Pry comes with a unique set of features, which includes Syntax highlighting, Runtime invocation, Command shell integration, Exotic object support, flexible and powerful command system.
4. RSPEC RAILS
RSPEC RAILS is a perfect choice for the developers, who are into writing the unit test cases. This gem facilitates application developers with the integration of RSpec framework into any of the Rails projects. Users simply have to generate the required spec helpers and configuration files. The framework is used in TDD and BDD environments. In simple words, RSPEC RAILS features descriptive and neat syntax.
5. Figaro
Figaro is Heroku-friendly and simple Rails best gems app configuration. It a YAML and an ENV file for secure configuration of the applications that are created using Rails. This gem introduces a convention, which is potential enough to keep the configuration data and SCM separate from each other. It parses the YAML file and loads its value into ENV.
6. DEVISE
When creating an application on any of the social networks or when building an e-commerce solution, developers usually need to log into the social media page. Obviously, they'll need to provide authorization and authentication for the particular application. Where some of the developers prefer using their own code for the purpose, others prefer using Ruby gems for authentication. DEVISE gem turns out one of the best rails gems 2019. It makes work effective and easy.
DEVISE includes 10 modules, namely- Omniauthable, Database Authenticatable, Registrable, Confirmable, Trackable, Recoverable, Lockable, Timeoutable, Rememberable, FriendlyId, and Validatable. The resource URLs are easily identified by the primary key (database ID) of each module. However, developers may have to deal with the unoptimized URLs of the web page. FriendlyId easily transforms the URLs to an easy to remember and much friendlier web page URLs. The best part is that it doesn't require any code modifications in the web application that's make it a famous Ruby gem.
7. AHOY
It's an analytics platform, which is used for tracking the events and visits in the native apps like JavaScript and Ruby. Technically, Ahoy is not a gem but a Ruby engine. It is responsible for creating visit tickets that contain the traffic's source, place of origin of the location and the client's device information. It also enables the users to know about the UTM parameters of the website visits. Ahoy can even track events and visits in the application.
8. PAPERCLIP
It is not easy to work with the file attachments. Typically, they involve a huge amount of work. It's too time-consuming for the developers to ensure proper and secure implementation of the task. Paperclip is designed to keep track of the entire process inside the Rails application. The additional benefits offered by this gem include the transformation of images into thumbnails.
9. DELAYED JOB
The Delayed Job gem is the best ruby gems 2019 when it comes to handling the longer running actions for background tasks. It can be extracted directly from Shopify, where multiple tasks are handled by the job table. Some of the unique features of Delayed Job include Image resizing, sending a huge number of newsletters, updating smart collections, spam checks, HTTP downloads, batch imports, and updating solr after the product changes.
10. KAMINARI
With approx. Five million downloads, Kaminari tops the list of most popular Rails Gems. You can paginate anything using this gem. Pagination can be carried from ActiveRecord imports to easy arrays using an easy to use scope-based API.
11. CANCANCAN
CANCANCAN Gem is perfect for developing complex applications. It allows the users to have numerous rules, but developers need to restrict access for some users. This gem offers the ease of setting up the user access restrictions, and all of this can be managed in one place.
The "Authorizations definition library" module of CANCANCAN allows developers to set the rules for users. In addition, it offers the ease of accessing different objects to the helpers, given they need to check those permissions prior to access.
12. ACTIVE ADMIN
This framework is for building interfaces of administration style. Active Admin abstracts the business application patterns and makes it easy for developers to implement elegant and beautiful interfaces with less effort. Its various features include Scopes, User Authentication, Global Navigation, Action Items, Sidebar Sections, Index Styles, Filters, Downloads, and APIS.
13. ACTIVE MERCHANT
This Ruby Gem is maintained and written by Shopify. The main goal of Active Merchant is to facilitate the users with a unified API that offers access the multiple payment gateways using different internal API's. Developed especially for Ruby on Rails web applications, Active Merchant can also be integrated as a plugin. In addition, it offers support when used as a stand-alone library.
14. Bullet
The bullet is designed for increasing the performance of an application by reducing the queries. It keeps a watch on the queries during the process of app development. This RubyGem notifies the users whenever (N+1) queries are needed. The users are also notified when the counter cache is to be used.
15. Webpacker
This RubyGem is specifically designed for serving JavaScript and the assets like fonts, CSS, and images related to component-based JavaScript. Webpacker can also be used for all the assets of the application. Overall, it offers an amazing solution for Rail application development.
You may find this blog interesting Ruby on Rails: Let's Bust the Myths, Get Some Facts and Understand Why RoR Is Ideal Choice for Web App Development.
Conclusion
Using Ruby gems is standard practice when developing Ruby on Rails web applications. The above-listed gems are efficient enough to solve common issues in Rails applications. They can easily solve the problems related to file testing, uploads, authorization, and authentication.
In addition, the gems eliminate the need to reinvent the wheel for each app. However, gems won't solve all your application development problems. When you Hire Dedicated ROR Developer, he/she will need to work on them a little if not much. Using these gems frequently isn't bad at all, but it is important to use them the right way so that perfect applications are built.
Top Ruby on Rails Gems in 2020 – FAQs
Gems in rails are software packages and libraries. Linux and Unix are operating systems that have repositories of software that are installed similarly. It is excellent that communities such as Ruby and Python wrote package management tools for their languages.

Which website hosts the gem for Ruby on Rails?

Bluehost is the website that hosts the Ruby gem for Ruby on Rails and offers full-feature support.

A file created for describing gem dependencies is called a Gemfile. In stock, it is a collection of code written in Ruby that you can extract when you need them.

Chandresh Patel is a founder & CEO at Bacancy Technology. He is a founder of vision and mission of Bacancy Technology and constructed work ethics
@bacancytech
to achieve that vision and mission. He oversees Business development, day to day execution of strategic planning and also looks after customer service & delivery. He's an avid blogger and writes on the publications like
Dzone
,
e27.co
,
Marketo
,
Smart Insights
and featured in
Insightssuccess
.