April 17, 2020
5
min read
Last Updated on September 17, 2020
Front-end plays a considerable role in the success of any modern business application. Of all the popular front-end JavaScript frameworks, React.js is the most efficient and trending web framework highly preferred for Mobile and Web application development. React is a widely used and robust library that is steadily gaining traction amongst programmers as well as business owners. Due to a number of its benefits, ReactJS has become a go-to web development tool.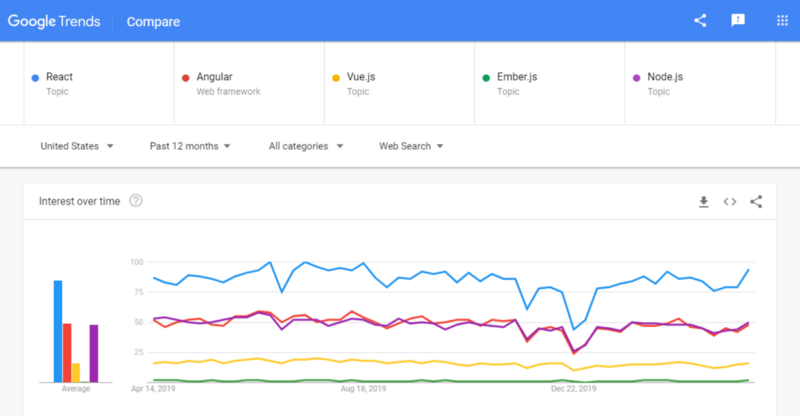 React ensures efficiency and high code reusability. You can develop "scalable" applications with React js and that too faster, as compared to other frameworks.
Approximately 1.6 million websites are using React as per the statistics of BuiltWith. Some of the top services today that are using React js are Facebook, PayPal, Yahoo, Airbnb, ESPN, and more. Read more to know What makes React JS the future of Javascript?
Why Outsourcing React.JS Development?
In such a pandemic time period, where all the businesses are affected, it's hard to bring benefits to the business. But, considering the future scenario, if you are planning to build an application, I would suggest you to go to React and outsourcing React.JS development services. Often React.js is stated as the React that was developed by Facebook and delivers UI components. Both front-end and server-side is supported by it. Competently it produces intuitive components like tab bars, list, modular, and reusable. Effortlessly you will experience the preferred components by designing simple views in your application for each state.
Declarative

ReactJS simplifies significant data changes that, in turn, result in an automatic modification in the specific parts of UIs. Because of having this advanced functionality, you are not required to perform any additional functions to update your UI.

Reusability of Component

Reusability is a remedy for programmers. Making use of this platform, programmers have the authority to reuse the components developed for some other application using the same functionality as it reduces the development effort and makes sure that components perform flawlessly.

React lets you reuse code components to save valuable time.
Most of the frameworks demand an extensive list of concepts that are only useful within the framework. However, in the case of React, it strives to do the contradictory.
You can leverage the advantages of all the advancements in the Java language and its ecosystem.
Benefits of Outsourcing React.js Development
You can utilize the maximum leverages of the React framework by Outsourcing react.js development to an offshore dedicated development team.
Here are the top 10 advantages of Outsourcing React.js project.
Cost-Efficient
Focus on core business activities
Access to Experts
No Maintenance costs
The flexibility of Team scalability
Less Paperwork
Tax Benefits
Speedy Time-to-market
Broader Perspective
Wider Talent pool
Let us go through the benefits mentioned above one by one.
1. Cost-Efficient
As you compare your in-house expenses to hiring an offshore company for your React.js project development, Outsourcing is anytime more favorable to your pockets. Think of hiring employees, training them, paying electricity bills, investing in talent management software, office rents, and much more.
2. Focus on core business activities
As you are relaxed of all the hiring troubles, you can now concentrate on your core business practices like marketing, strategizing against competitors, etc. So keep off your management and administration tasks and hand it over to a reliable partner. By choosing Bacancy, which is the right combination of Agile Development and Outsourcing React.JS development, your business gets a Sure Shot Way to Success.
3. Access to Experts
It may be challenging to hire remote React developers in your budget in your geography. However, as you hire an offshore React JS development company, like Bacancy Technology, you can get assured full-stack expertise.
4. Low Maintenance teams
By Outsourcing, you stay away from the everyday little troubles within the team-members. From Corporate politics, internal conflicts, handling the market crisis, dealing with pressing questions, to all the team-turmoil, everything is just a bad dream. Just wake up from it and let your Offshore Managers handle the rest from communicating, paperwork, to team-building.
5. The flexibility of Team scalability
Ideally, managing software development is like playing a gamble. You never know what and how much your project demands. Sometimes, looking at the opportunity, you may want to speed-up your development rate needing more developers. It may not be effortless to hire an in-house developer within no time. Whereas, you can any day wake up, and ask for more dedicated React js developers from your offshore partner.
Similarly, your project managers may have over-estimated your project and hired more developers than required. We're sure it is not easy to cut the people involved. With us, you can add more dedicated developers when needed and terminate the collaboration when not required, without any aftermath.
6. Less Paperwork
You would no longer be seeing your business managers struggling with employee contracts, salaries, tax, and financial management. As you make a deal with an Offshore Partner, all the responsibility is on their shoulders.
7. Tax Savings
Employee's tax overhead is too high for many countries. A business manager/owner needs to pay upto 50% (in some countries) over each of his employed developers.
Hence, outsourcing your project to a fully remote organization will save you the tax payments.
8. Speedy Time-to-market
Outsourcing is any day faster than in-house development. Your work is ongoing round-the-clock as you choose an offshore partner in a different geography.
We are experienced in all kinds of domains and industries. Hence, you can spare the learning of your in-house developers and hire dedicated React js developers from us who are experts in their work. Just be assured that your project's time-to-market will be cut short.
9. Broader Perspective
Sometimes, when you are too close to your favorite thing, you are unable to find fault with it. In the case of software development, the experts of your offshore team can many-a-times analyze the flaws in your project. They can bring solutions to your problems which you didn't even think existed before.
10. Wider Talent pool
Entrepreneurs like you do not have to be dependent on the local React developers in your location when you have got the option of Outsourcing with the best Agile Software development company. You can expand your search of talented React.js developers and be ready to crash the market with your killer React Js Application.
Go check out our ReactJS Development Services To Build Experience-Driven Businesses.
Wrapping Up
Outsourcing React.Js development is the right choice for both small-scale and large-scale enterprises because it increases efficiency and reduces costs. If you are looking for an offshore development company who have well-versed React developers and hold top-of-the-line expertise, then I would like you to get in touch with our experts. But if you are already convinced, then you can hire a dedicated React.js developer or a custom ReactJS development team.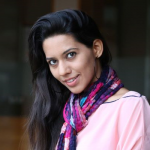 A Vivacious soul with an Idealistic mindset. I am an originator who specializes in content writing, social media marketing, and everything that lies in the vicinity. Writing about trending technologies and emerging domains is my core expertise, and I write to ignite, illustrate, and substantiate. I often submerge into spirituality, cooking, or talking without warning.