September 16, 2020
10
min read
Last Updated on August 25, 2021
Introduction
In the fastest growing technological era, web and mobile apps are buzzing words; whether you are an entrepreneur, a startup, or an enterprise-level organization. A dedicated team of developers is the most important factor that leads to successful web application development. Dedicated developers are well-versed at taking care of everything from app ideation to app deployment to craft awesome digital solutions. Let's have a look at how to hire a dedicated developer for your next project.
There are 23 million developers globally, which is expected to grow in 2023 by 27.7 million, as per Statista.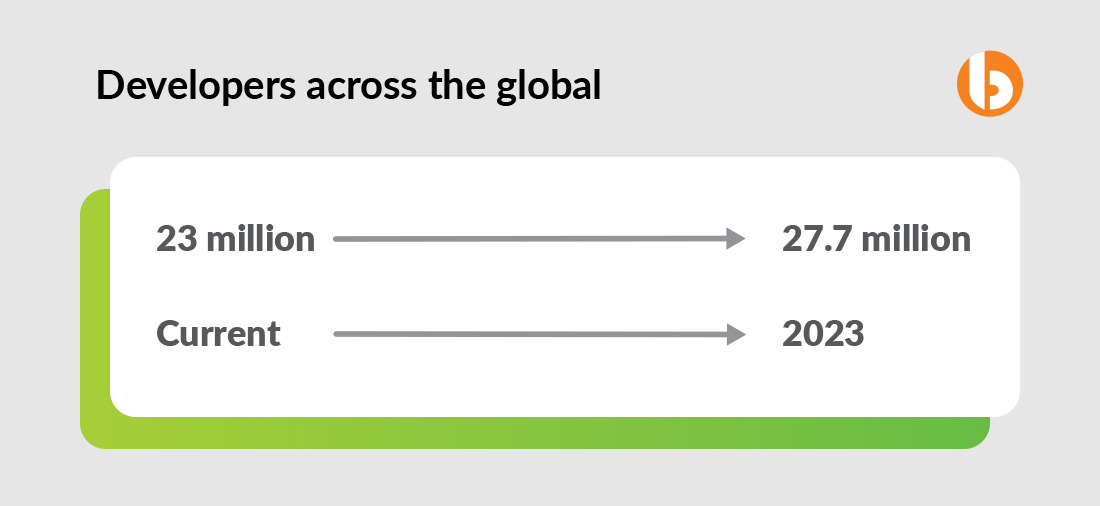 Let's cope with the terminology first,
What is a Dedicated Developer?
A developer who is hired for a certain period of time by an agency (generally an offshore company) to serve their development purpose where they're specifically working with one project.
When you need to hire it or signs that say you need to hire dedicated developer?
You should consider hiring a dedicated developer for your project when you have limited resources and funds, and you seek to attain goals at a faster rate.
When you plan to hire remote developers for your project, it's obvious to come up with numbers of questions, such as;
How to hire dedicated developers?
What does remote development team in a software company mean?
How to hire and manage a dedicated development team?
How can I manage a remote software developer better?
What skills do remote developers have?
How to hire dedicated developers for your project
So, here are the answers to all your questions that you need to understand before hire dedicated developers for your project.
7 Things to Take into Consideration Before Hire Dedicated Developers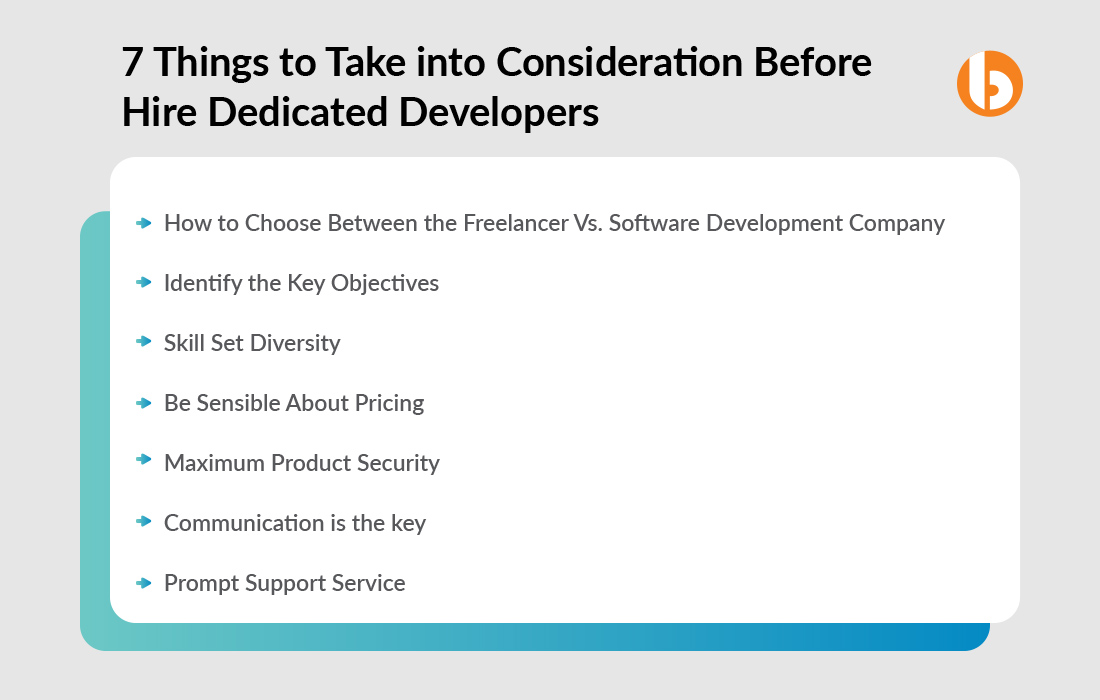 1. How to Choose Between the Freelancer Vs. Software Development Company
First of all, decide whether you want to hire dedicated developers from a software development company or want to give your million-dollar project in the hands of a freelancer.
Hiring developers from IT agencies offer numerous benefits in the comparison of freelancers. It's obvious. Still wondering how? Let me get you through the hiring benefits of a software development company over freelancers.
Offshore software developers can help you screen top coders in minimum time
You can replace your non-productive coders with the result-oriented ones
Dedicatedly work on your project at your convince and time zone
Fixed-rate payment for the rendered work
You're free to choose a front end or back end developer with the required skill set that fits in your project requirements to develop a high-quality solution.
2. Identify the Key Objectives
It is essential to know your project's objectives before you hire a developer or software company. Every application is developed using different technologies, so it would be great to get yourself educated with the required functionality.
If your project is effectively planned and appropriately standardized, you may find good quality programmers to fulfill your business requirements with your idea's clear objective. That's why it is advisable to choose a company that follows agile software development methodology to develop modern agile solutions.
For example, If you want to create the next million-dollar cross-platform mobile application. So, it is significant to choose a company that offers expertise in cross-platform top mobile application development frameworks for app development.
In today's digital world, to become successful, it is essential to choose an ideal software development partner who is updated enough with the advancement in application development trends. Always choose a technology partner having a diverse skill-set.
3. Skill Set Diversity
Organizations always look for endurance when it comes to hiring dedicated developers; however, what truly matters is not durability, but pure talent. Hiring a development team should be based on skill-set diversity.
When you are shortlisting the developers, apart from talent, focus on skill-set such problem-solving skill, accuracy, and attention to detail, knowledge of development tools, should be aware of BDD and TDD, deployment (e.g., Jenkins, Hudson), and should ensure the latest software release tested and deployed to an application server.
4. Be Sensible About Pricing
Outsourcing software development services is not restricted based on the cities or countries' rates and research; you can search on it and go for the best one. To reduce the development cost, opt for agencies to hire dedicated developers India; I would like to suggest you refer to this comprehensive guide to hire dedicated offshore development team just like your in-house team.
It is said that 'quality never comes cheap,' so don't commit the disgrace of hiring developers based on the pricing factor. It can result in inferior code and reflect on your brand image and decline if you are looking for opportunities.
5. Maximum Product Security
There are constant attacks on random websites and applications by hackers, and it may happen that your valuable data may leak. So, you should give special attention to choosing developers who have in-depth knowledge and extensive expertise in developing foolproof security apps. Every client has an objective to scale the business when they hire developers, so it is essential to choose developers and best development practices to build secure web solutions.
6. Communication is the key
Whether you're directly communicating with the service provider or over an email, communication plays a vital role and offers you insights into their professionalism. But direct contact with your development team is an excellent idea for hire dedicated developers from a company and makes the app development faster and more efficient.
Hiring dedicated developers to give you the freedom to interact and manage your developers at your convenience and communicate on your preferred channel.
7. Prompt Support Service
When you're hiring developers, think about the process rather than the project. Maintenance is equally important as talent, whether it's an application or website. Ensure that the software development company has a well-structured support team that can handle complex issues and promptly resolves them.
Websites and applications are critical tools in the tech world, so you need to hire a dedicated development team that fulfills your unique requirements. At Bacancy Technology, our skilled developers are well-versed with the latest tools, libraries, and frameworks for developing top-notch web as well as mobile solutions. So without a doubt, you can rely upon our developers to resolve the unexpected bugs and for quick support service.
Check-list to Hire Dedicated Developer
✔ Determine your internal business processes and reduce administration to ensure a quick and efficient start of the collaboration.
✔ Know the requirements, and ensure that your developers clearly understand your business objectives and end goals.
✔ Develop your communication plan and prepare communication tools.
Task management tools (ClickUp, Trello, Things, Flow, Todoist, Visual Studio Online, Wimi)
Video Conferencing tool (Zoom, Google Hangouts, Skype, LifeSize Go, Slack Video calls, Free Conference)
Source code repository hosts (Bitbucket, GitLab, CloudForge, Launchpad, Codeplane, GitHub)
Continuous integration tools (Buddy, TeamCity, Codeship, Jenkins, Wercker, CircleCI)
Messenger applications (Telegram, Skype, Twist, Amazon Chime)
✔ Follow Agile software development methodology
✔ If the development team is utilizing your updated tools and technologies, then install all the necessary applications ahead of time.
✔ Assign a product owner for managing the entire development team and reviewing the project on time.
✔ Inform your existing in-house development team about the new persons' joining.
4 Tips to Hire Offshore Developers
1. Comprehensive Search
When you hire dedicated developers from us, we work as your development partner. We value your time and money. On behalf of you, we do comprehensive competitive research, so we can lend a helping hand to build a top-of-the-line product.
2. Shortlist Development Partner Based on Below Criteria
The hiring process becomes complex if you're going through hundreds of IT services companies, and it is impossible to do so. You're free to set some criteria that can help you narrow down a few companies and then choose the one that best suits your business requirements and get in touch with them.
Take into consideration the three main aspects when looking for an outsourcing country:
Check the developer's proficiency with the required skill-set you are interested in
Ease of doing business in the country
Culture fit
Here are some of the criteria to hire dedicated developers from the development company:
Experience and connected backgrounds
Varied Skill-set
Proven Portfolio
Valuable Feedback
Hourly Rate
Hassle-free communication
Time-zone Availability
Ensure that the organization is offering dedicated developers that can be managed from the single point of contact between you and the company.
3. Interview the Dedicated Developers
Whether you are looking for an extended arm, It staff augmentation services, or want to outsource your entire project, make sure to follow a proper procedure, analyze, and choose your choice of developers wisely.
If a developer or team fits into your requirement criteria, ask one team member to conduct an interview. At Bacancy Technology, we let you conduct as many interviews as you want before you hire your choice of developer. After following this procedure, you're now ready to proceed with the perfect development team for your project.
4. Hire Dedicated Offshore Development Team Just Like Your In-House Team
Your work is not done until you're unsure that the developers you have hired are implementing the development process effectively. Take some interest in how your vendor conducts onboarding of the new developers and moves faster and more effectively. Give all the required information beforehand and conduct a meeting to introduce the latest development team for an excellent place to start.
4 Qualities to Take into Consideration When Hiring a Dedicated Developer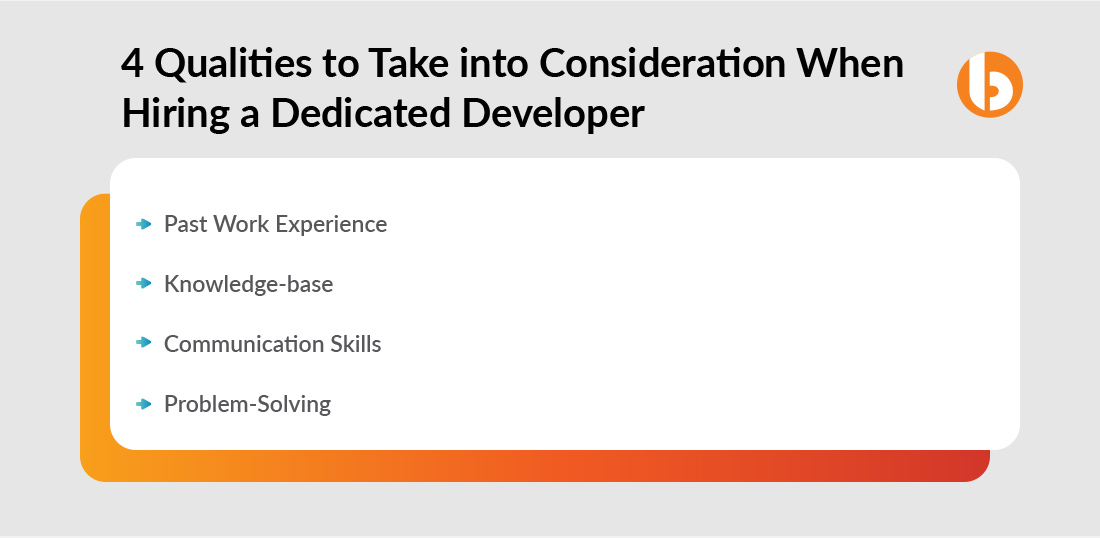 Past Work Experience
When it comes to hiring a dedicated developer or an offshore development company, it is essential to check the past work experience of the development team to ensure the relevant expertise and skill-set. Considering case studies is an ideal approach for the evaluation. The reputation of an excellent offshore development company can weed out all hassles associated with turnaround time, quality, and right code.
Knowledge-base
It is essential to ensure the technical knowledge base during the hiring process, which is the most fundamental thing before hiring developers. You can ask numerous questions starting from being up to date with all the technological advancements and the latest technology trends while building your project.
Communication skills
Communication is the keystone of strategy. The development team should be conversant with different communication modes such as audio, video, email, and phone. Communication between service providers and business partners over messaging applications becomes an effective alternative to lengthy email communication.
If you prefer to talk in person in real rather than typing lengthy emails, ensure that a developer you choose is equally at ease in communicating over the latest communication tools and software. Effective communication means that the developer understands what is on-going is doing with the internal team.
Problem-Solving
When it comes to choosing remote developers, problem-solving is a fundamental skill-set that needs to be in place from the get-go. To ensure the skills of your remote developers, have a look at the past experiences and the projects they've worked on.
While working on your project, if the developer finds any issue, they should know how to handle the problem and resolve them promptly.
Freelancer Vs. Software Development Company: Whom you should choose
You can find decent dedicated developers on the platform like Clutch, but unlike a software development company, the freelancer doesn't make your hiring process more manageable. Go through the profiles on your own and manage the work to ensure your project will be delivered on time.
To make your it simple, here is the comparison between freelancer and a software development company, depending on some essential criteria you should consider while hire dedicated developers.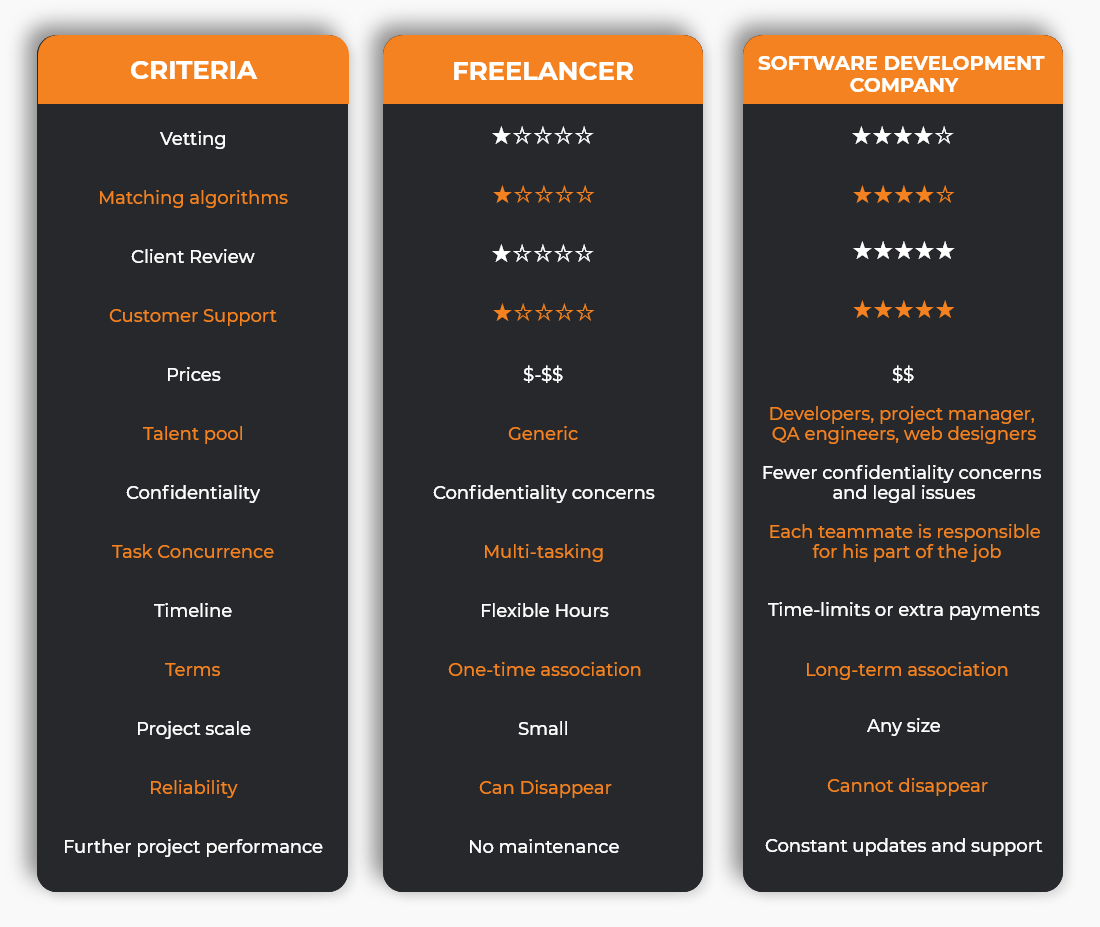 You can clearly have a look at the chart and assume why you should hire dedicated developers instead of Freelancers. Freelancers are less reliable at offering prompt support as they do not take any responsibility for the failure of the project and missed on-time opportunities.
Final Thoughts
Developing a highly-functional and secure application is a serious job. Numbers of IT organizations in the service market make it challenging to choose the right web and mobile app development company. But if you follow the proper procedure while hiring a dedicated developer, it becomes easy for you to select the offshore developers that perfectly fits your business requirements. A developer is like an architect that develops the structure of your application.
Dedicated developers are usually referred as an architect that builds the structure of your product – application. If you're planning to make your development journey smooth and looking for screening hidden talent, then hire dedicated developers from the top-notch company to pitch your business on the top.
FAQs
What is a dedicated developer?

A developer who is hired for a certain period of time by an agency (generally an offshore company) to serve their development purpose where they're specifically working with one project.

How do I hire an offshore development agency?

A company who has a rich experience of working with the offshore development model would be reliable and additionally, an Agile development company turns to be ideal.

How do offshore developers work?

The offshore developers work as per the employer's time-zone and requirements keeping them in loop with all the development progress. Their tasks may vary from web to mobile app development, web app development, and product development.

When should you hire dedicated developers for your project?

Clearly, it is a straightforward and less-expensive way to achieve development goals in a short span with accuracy and high-end results.

Freelancer Vs. Software Development Company: What to choose?

However, the ultimate choice depends on your needs, but you must go through this comparison Freelances Vs Bacanceyer for better understanding.

How do you make sure your development team is truly dedicated?

Choosing the right offshore dedicated development company is the first crucial step, and then communication is vital. Agile software development is the best approach to assure that your hired team is truly dedicated to your project development.