Quick Summary:
Businesses are always looking for ways to broaden their brand visibility and enhance customer experience. They adopt various methods to engage the customers with their platforms. The digital marketer usually uses several tools to grab the users' attention, but it is impossible to manage different marketing activities from several platforms. To help this out, Salesforce brings an innovative product into the limelight, known as Marketing Cloud. The Salesforce marketing cloud helps organizations to manage and control their online marketing activities seamlessly. Whether it is monitoring social media accounts or running customized email campaigns, you can do everything from a single platform known as Marketing Cloud.
This post will guide you on how Salesforce marketing cloud 2021 helps you stand ahead of your competitors and bring a difference to your business.
Introduction
The way businesses connect with their customers is continuously evolving with every passing year. According to the experts, delivering a smooth customer experience and expanding brand visibility is essential for the companies as the products or services they offer to their consumers and business buyers. That's why the Salesforce marketing cloud comes into the picture and gets massive demand in the market worldwide.
In Oct. 2019, the world's most excellent CRM, Salesforce, introduced Marketing Cloud that helps businesses power up their digital marketing, know their customers, build robust customer relationships and optimize business image from anywhere.
This post will guide you through the complete Salesforce Marketing Cloud platform and its business benefits, products, and importance that help you understand how Salesforce Marketing Cloud 2021 can bring a difference to your business process.
Before digging into deep, let's understand first-
What is Salesforce Marketing Cloud?
Marketing Cloud is one of the innovative and engaging products of Salesforce that help organizations to expand their business visibility on the online marketplace. This platform is designed to boost the businesses' digital marketing, assisting them in sending the right message at the right time to their customers, knowing them with a perfect 360-degree view, and engaging them in multiple ways.
This platform helps organizations grow with it; it comes with marketing automation tools that offer customization to every customer and bring new digital capabilities to the company. Its integrated marketing tools let you deepen customer relationships and power your marketing to a great extent.
At present, Salesforce Marketing Cloud market share is 2.14%, with more than 11309 companies using this software. Popular industries like Retail, hospitality, finance, media & entertainment use this software to enhance their business reach.
Moving on, let's discuss-
Salesforce Marketing Cloud Products
Salesforce marketing cloud 2021 comes with a wide range of products that help companies to accelerate their digital marketing activities. Every product comes with unique features and functionalities that play a vital role in customer touchpoints and boosts business sales.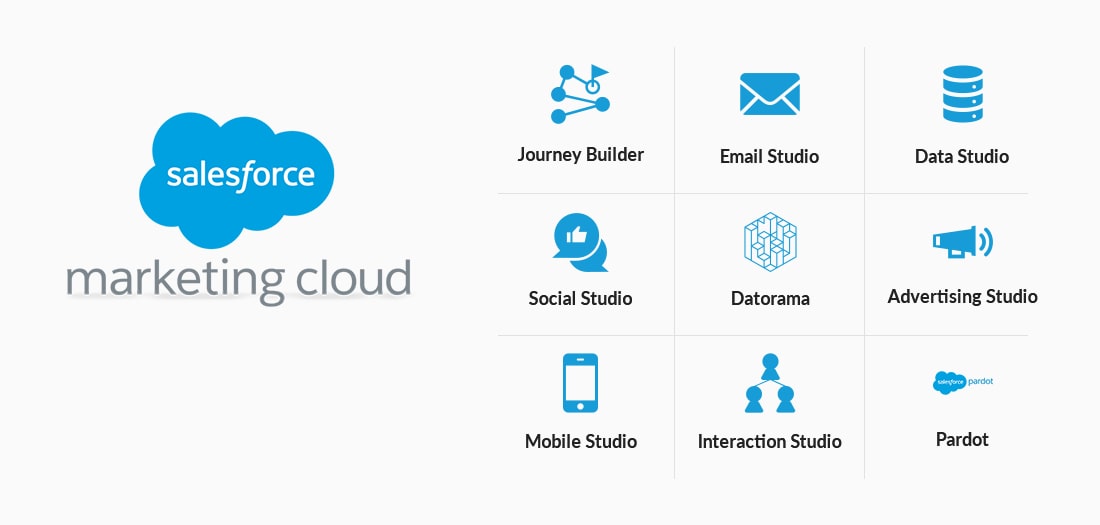 This section mentioned the critical marketing cloud products that help you increase customer engagement and brand visibility.
1. Journey Builder
Journey builder is one of the exciting salesforce marketing cloud 2021 products that help organizations deliver personalized customer experience at every stage of the customer lifecycle. This platform allows you to understand how to establish a seamless customer experience with every interaction via mail, advertisements, mobile, and web. It assists you in identifying the humanized moments that define the customer experience and using them to establish one-on-one relationships with the customers.
It harnesses all your customer data based on their behavior, browsing habits, purchase history, preferences, and expectations and builds personalized messaging. Whether it is email, mobile, web, or apps, it connects your message to every marketing channel so that your customers can get it at the right time from anywhere.
2. Email Studio
This Salesforce product lets you tap the large audience size by building smarter emails. It is another unique marketing cloud product that helps digital marketers to drive success with email. Whether it is a primary marketing campaign or sophisticated one-to-one messaging, Email Studio will help you reach your potential audience with the perfect content.
This platform comes with drag-and-drop segmentation tools that help companies filter millions of customers' profiles in seconds. It segments the profiles based on their data, making it easy for the companies to tap customers with personalized emails. Be it custom messaging, data imports, or customer reports, it automates everything for you quickly.
3. Data Studio
Marketing Cloud's Data Studio helps you with premium customer data. It is a comprehensive product that allows organizations to discover unique customer insights. Its audience discovery tools assist marketing professionals in finding new audiences quickly.
This platform lets enterprises manage their data like a pro; it comes with features that allow organizations to keep and share their data according to their will. They can make their data publicly available or do private data sharing with their trusted partners.
4. Social Studio
Social studio helps organizations to know the customer experience with their brands in real-time. This product offers comprehensive reports of the company's social accounts. It allows businesses to get a clear picture of their customers by routing their social media posts to their CRM platform. Moreover, it assists professionals in creating and approving content for different social networks and accounts.
The marketing command center lets marketing professionals monitor the social and marketing campaigns activities with a single interface.
5. Datorama
Datorama is a one-stop dashboard that helps businesses gather and review all marketing channels' insights. It offers comprehensive reports and insights of email, social, web landing pages, and sales platforms that allow businesses to improve their efficiency and scalability. With this marketing dashboard, marketing professionals can easily optimize leads, pipeline growth, and conversion
6. Advertising Studio
This platform helps build a personalized customer experience by harnessing customer data across marketing channels. Be it Google or Facebook, it synchronizes the customer data instantly and keeps them updated. It helps companies to reach potential customers on a large scale.
Are you planning to expand your business marketing reach?
Implement Salesforce Marketing Cloud in your business system today.
Connect with us!
7. Mobile Studio
This product helps enterprises to tap their customers via mobile marketing. Whether it is customized messaging, SMS, push notifications, or group messages, it assists digital marketing professionals to reach their customers on any device.
8. Interaction Studio
This product takes personalization to an entirely new level; it allows organizations to take 1-to-1 personalization in action. With this product, organizations can easily understand their customers' needs and demands. It monitors their digital behaviour like active-inactive time, offline behaviour, browsing pattern to understand their interest and expectations.
9. Pardot
Pardot is one of the most efficient salesforce marketing cloud tools that empower sales teams to close more deals. This product helps you to automate your marketing campaigns, generate more leads and calculate marketing ROI. The smart lead nurturing feature in Pardot helps sales professionals to close more deals effectively.
What is Salesforce Marketing Cloud Einstein?
Salesforce marketing cloud einstein is a tool that provides organizations with detailed insights and reports that informs the content and timing of the marketing activities. With marketing cloud Einstein, you can add AI into your marketing process and solve standard use cases with better results.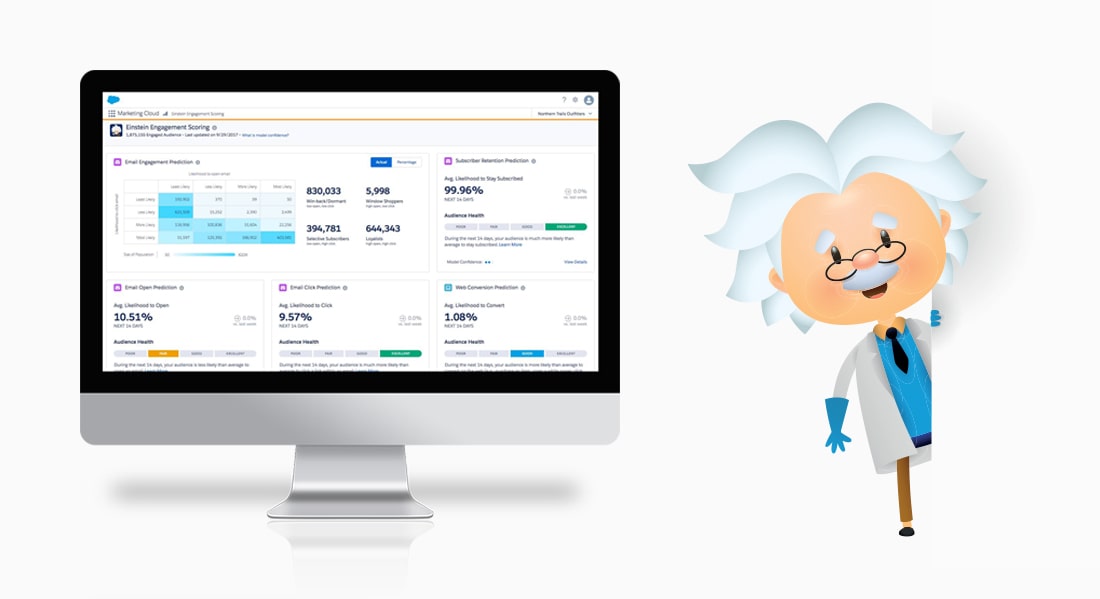 The Einstein tool comes with smart data analytics that helps marketers to make good predictions. With the Einstein app dashboard, the professional can generate qualitative predictions, analytics, insights. Moreover, it helps you make your marketing performance better; it sends timely alerts that allow you to change your marketing performance regardless of the stage of the marketing cloud you are in.
Following are the popular Einstein cloud solutions that assist you with enhanced customer experience, social reach, customer engagement, and more.
Einstein Engagement Scoring
Einstein Messaging Insights
Einstein Send Time Optimization
Einstein Engagement Frequency
Einstein Copy Insights
Einstein Content Selection
Einstein Content Tagging
Einstein Email Recommendations
Einstein Web Recommendations
Benefits of Salesforce Marketing Cloud 2021
Sfdc marketing cloud offers a wide range of business benefits that helps you to take your business to the next level. Following are a few critical benefits of the Marketing cloud that attracts a large number of companies to opt for it:
Customization
One of the most significant benefits of the Salesforce marketing cloud is customization. With the help of AI, this platform makes the interaction more personalized. It equips your customer's data with the Einstein tool and enables you to communicate with your customers more effectively.
Security
When it comes to security, no one can beat Salesforce to date. It comes with encryption functionality that keeps your data highly secure and safe from everyone.
Innovation
The salesforce marketing cloud platform comes with a wide range of solutions that help businesses connect with their potential customers on a large scale. Be it for social media, marketing campaigns, or generating leads, the marketing cloud has perfect solutions for all the business requirements. It offers unique ways to tap customers and deliver them a seamless customer experience.
Connected Ecosystem
Salesforce marketing cloud 2021 is a unified platform that offers multiple solutions. Whether it is sending emails, creating engaging social posts, tapping customers via personalized SMS, running advertisements, or creating content, businesses can do it perfectly with this single CRM product.
Enhanced Customer Experience
It offers personalized customer services that help in boosting customer engagement towards the business platform. It lets organizations understand their customers deeply by providing them with a complete 360-degree view. This allows them to create tailor-made solutions for their customers and boost engagement.
Boost Sales
It helps marketing professionals to predict sales with the help of detailed insights, analytics, and reports. Its marketing automation tools drive ROI and accelerate sales to a great extent.
Why Choose Salesforce Marketing Cloud 2021?
In this section, we have mentioned a few questions which are general yet crucial for organizations. If most of the answers are in NO, then it is high time for you to go for Salesforce Marketing Cloud:
Do you know your customers' next move or demand?
Do you know how to manage and track all your events and webinars at one centralized location?
Have you created customized content and landing pages using templates?
Do you know the impact of marketing campaign's on your end prospects?
Can you track your marketing and sales funnels all over the world?
If your team cannot track down all the things seamlessly, then it is time for you to integrate the Salesforce Marketing Cloud 2021 into your business system today.
Undoubtedly, the Salesforce marketing cloud brings digital success with better customer service and acquisition and takes your business to new success heights.
Final Words
Indeed it is a long post to read, but we hope you like this marketing cloud guide and understand how salesforce digital marketing works? Today every company wants to see itself on top in its respective fields; to achieve it, they need to balance all the business operations. Be it marketing, sales, service, or commerce operations, Salesforce has a wide range of solutions for your business.
So what are you waiting for? Integrate salesforce marketing cloud 2021 and give your business digital marketing a new kickstart.
Do you know how to use salesforce marketing cloud or implement it, we can help you with it. We are a leading Salesforce development company that holds robust experience in CRM solutions. We have helped numerous organizations with the best Salesforce support services; we can do it for you as well. Connect with us today, and let's start your project.
Frequently Asked Questions (FAQs)