October 18, 2019
9
min read
Ok, there has been a lot of buzz regarding the technology or the framework of React Native. Multiple debates and endless discussions, yet many aren't still aware of what react-native actually is or what the entire ecosystem of react-native is all about. So, not to deter all the fuss and help you get straight with react native ecosystem, we have drafted this whole piece that deals with the tools, backend, the database, and the efficient libraries within the ecosystem of react-native.
Of course, this is a long journey, and the level of excitement in me to share is as same as the enthusiasm in you to explore the same.
Hold on, hold on! Before we exemplify all associated with React Native, let's see what exactly react native is!
React Native – JavaScript Framework
Tailored to build feature-rich native frameworks, React Native is based on Facebook's JavaScript library, React. Attractive designs and user-friendly interface, React Native is different than React, in the sense that the former promotes mobile applications, whereas the latter is targeted towards websites. To put it this way, the present-day web developers of React can efficiently work on building mobile apps with the help of React Native, a framework similar to what they excel in. Further, the framework embeds a fully native interface with the capability of sharing codes between platforms. This in a way enhances the development process, making it easier for a single developer to reuse the code and develop apps for both Android and iOS platforms.
Much like React, React Native codes in XML markup and JavaScript language. Once the code is ready, the React Native bridge invokes significant APIs in Java/Objective-C to deploy applications on Android/iOS, respectively. This, in a way, transfuses the web-based application to display mobile-friendly interface, instead of webviews. And all of this with similar ease and integration.
Sounds good! The introduction to what is appealing, and now that we know all about React Native, we head towards describing its vast ecosystem.
To start with, we first magnify navigation to React Native.
LNow, for some, this might be easy, in reality, react native is pretty a tough task. With a bundle of options and plenty of solutions, navigation in React Native is often confusing.

As a matter of fact, React Native offers three different solutions for navigation:

Navigator
NavigatorIOS
NavigationExperimental (no longer used)

Apart from these, there is different module based implementation, which enables developers to induce navigation within the developed apps.

1. JavaScript-Based Implementation Module:What makes these modules different from the natively codes navigation tools is the fact that JavaScript-based implementation modules are robust and ensures better performance. When working on embedding navigation within the React Native apps, developers can choose from two different variants.

a. React Navigation: widely used navigation library, works well with the integration of navigation tool to react to native apps. Also, it is regarded as the improvised version of the Navigation Experimental.

b. React Native Router Flux: A robust library and the most preferred by all developers, RNRF is easy to use and demarcates the navigational logic from the UI of the developed apps.

2. Native-Based Implementation Module: Often, developers try to experiment and come up with excellent navigational solutions. It is, in such cases, that they opt for a module different than the one based on JavaScript, or to be straight, the Native-implementation based.

a. Re-route Native: A full typed interface that, by default, supports the native elements, eliminating the need to rely on JavaScript threads for embedding the same. Re-route animations run on declared APIs allowing developers to override the same when needed.

b. Native Navigation: Used rather built by the developers of Airbnb to induce a native type navigational component in react native, this module has an excellent library to use for your app.

3.Others:Let's keep this straight!

a. Animated Tabs: Used for introducing navigation between tabs, React Native Animated Tabs is the first choice of the devs.

b. React Native Scrollable TabView: Meant only for the Android developers the React Native Scrollable TabView adds flexibility in navigation.

React Native has multiple backend services that promise to enhance the overall functionality of your app.

Baqend: Acting as the serverless platform, Baqend is basically used as the backend-as-a-service to build exceptional apps. Additionally, this uses Redux as its container and is capable of rendering services such as automated caching, real-time data storage and querying, and protection of DDoS.
FireBase: Another backend-as-a-service platform, fireBase, is the first choice of many developers. Offering benefits such as real-time database, offline database, simplified learning curve and upscaling, fireBase is both secured and network resilient. It is proven that apps built using FireBase have 2X faster speeds.
GraphCool: Another serverless backend-as-a-service, GraphCool has an exceptional execution speed, which makes it convenient for the developers to build mobile applications. Further, GraphCool is open-sourced and has an in-built set of building blocks that promotes the deployment of data-centric apps.

Next is the local storage facility, as provided by React Native. The same offers plenty of options, right from dynamic storage to local database. At times, we need to store data locally, whereas few instances witness data storage offline, and then the same is retrieved online. It is important that developers have a sound understanding of their ecosystem, to determine which local data storage would serve their purpose best. The most promising ones include:

SQLite: Offering a self-contained and null configuration engine of the database, SQLite is one of the most popular databases used for React Native. It is seen that more than 40% of the developers prefer using SQLite as the database for their developed apps.
Realm: Designed specifically for Android and iOS, the Realm is an excellent alternative for SQLite. The library of the Realm is proficient enough to store more than 10000 data records and help developers make the most of the data.
Couchbase Life: The most essential aspect of the Couchbase Lite database is the ease with which developers can add data synchronization and persistence within the react native app. It is a no SQL database and compatible with both Android and iOS devices.
PouchDB: Another alternative for the databases, as mentioned above is PouchDB. The database allows developers to store data locally and when required, they can restore back the data, primarily when they are online. So, irrespective of the fact that whether the user is logged in or not, all data remains in sync.

The best thing about using a framework is the bundle of tools they come along with it. These are designed in a way that eases the task of the developers throughout the development life cycle.

1. Debugging Tools:

a. Chrome Developer Tools: One of the easiest and the simplest form of debugging the code of React native is using Chrome. Developers need not install any other third-party apps to debug the code. All that he/she is expected to do is press ⌘+D on the iOS simulator, and for the Android emulator, ⌘+M. Another option is to shake the real devices to view the in-app developer. Once displayed, the developer needs to tap on the "Debug JS Remotely," and the work is done.

b. Reactotron: Primarily a desktop-based application, reactotron is used to debug both react as well as react native apps. From inspecting to subscribing and modifying the state of the app, Reactotron can also track the request of https as made through the app. This in a way, ensures optimizing the performance of the app and also tracks errors. Redux along with reactotron is capable of dispatching actions and tracking sagas.

2. Testing & Automation Tools:

a. Detox – A Wix product designed primarily for react native, detox is an end to end scalable testing and automation tools. Working as the library, developers can build enormous test variables and further simulate the behavior of the user, based on the interaction a user has with the app. To top it all, the tool has an array of configurations and notifications, compatible with different devices.

b. Mocha: Based on the framework of JavaScript, Mocha, as the testing and automation tool from react native, runs on Node.js The tool has been tailored, keeping in mind the basic requirements of asynchronous user testing. It is pretty easy to set up the tool and use it on the go.

c. Enzyme: Another Airbnb product, Enzyme is a Javascript testing utility designed for React. With Enzyme as the testing tool, developers can easily assert, traverse, and manipulate the outcome of the component of React. The API embedded within Enzyme is highly flexible and intuitive and has been built as the replica of JQuery PI for DOM manipulation. The fact that it enables easy and hassle-free simulation with other testing libraries makes it one of the most popular testing tools.

d. Appium: An excellent tool promoting the end to end testing of react-native code, appium automates functional testing of mobile apps. Though it is highly functional, the fact that it is generic and integrates selenium features, developers prefer using this as the testing tool only when they have extensive experience of the same.

e. Bitbar: Coding is definitely easy, but automating the entire process of testing isn't the same. But with bitbar, automation of testing procedures works effectively. It is primarily a cloud-based testing framework for mobile applications.

f. Bridge: Test your react native codes on the go with this excellent testing and automation tool, bridge. The tool is proficient enough to execute the JS code of your application into node.js and automate the testing without having the need to dig in the code.

g. Jest: While the tools for testing and automation as provided by React Native does not have ended, but we will end our search with Jest. It is one of the best and the most efficient automation and testing tool that gives developers the ease to take a snapshot of every test scenario and save the results. Further, they can use these images to compare and analyze the test results under different inputs or app components. Jest is wholly a Facebook-owned JavaScript tool used for mobile application testing.

3. CI/CD Tools

a. Microsoft Codepush: Cloud integration in one of the vital aspects of the present-day digital world. And when we talk about cloud, CI/CD has to be an essential topic of discussion. When working on react native apps, using Microsoft Codepush would help you create an infrastructure that supports over-the-air updates and is integrated directly in the user's app. Also, Microsoft Codepush enables reinstate bugs without having the users to update their app or download a newer version.

b. Bitrise: Definitely, the choice of the majority of the developers, Bitrise, is an excellent tool for integration of CI/CD within your app. The tool enables the developer to embed test cases and debug errors on the go.

c. CircleCI: Another cloud-based CI integration tool, CircleCI, needs minimal adjustments and configurations to deploy updates in real-time.

4. Libraries

a. Carbon-UI: Regarded as the material design library supporting the development of React native apps, Carbon UI is seen to integrate seamlessly with multiple platforms and comes along with an end to end customizability.

b. Next-Frame: An excellent library, Next-Frame is capable of breaking the entire code in smaller chunks, which, in a way deter the possibility of tasks blocking UI operations. Additionally, this library entails exceptionally high performance.

c. Panza: With several components and performance-driven elements, Panza is a must for developers building an app using the framework of React native. The library is bestowed with some exceptional UI based components that are proven to enhance the overall functioning of the app.
Conclusion
The ecosystem of react native is wide enough for you to anticipate and ideate. Along with the databases, libraries, tools, navigation, and back-end, the ecosystem has a lot more. React native extends support for integrating push notification tools, animation tools, lists, and other technology-specific elements. To know more in detail get in touch with our expert that how you can hire React native developer from us and leverage their top-of-the-line React Native development services.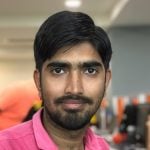 Hiren Vaghela is known for his boundless energy to write code for 12+ hours a day straight. He is a React developer and has a knack for writing about trendiest technologies. He would like to invite you on a learning journey where you can discover about the upcoming trends and cutting-edge technologies. Currently, Hiren is focusing on discovering and sharing unique insights about React Native.