March 8, 2016
11
min read
In this era of eCommerce, every organization is keen to make an impact online. This has created a massive demand for web developers like never before. According to a recent survey, there are more than 1.7 billion websites in the world (April 2020), and the count is still increasing. There are many platforms available for web development in the market. But, AngularJS for web development is a first and foremost choice. AngularJS was incepted in 2009, and since its inception, use of Angular has created some ripples in the market. AngularJS web application development revolves around HTML (Hyper Text Mark-Up Language), CSS (Cascading Style Sheet), and JS (JavaScript).
Why Angular
AngularJS is a solid JavaScript framework that was designed and developed by dedicated developers from Google to simplify front-end development. The resource comes with so many frameworks and plugins for designers as well as developers. It's hard to imagine the development of a modern single page application without AngularJS. It helps developers to build most architecture and maintainable applications. Thus AngularJS is also termed as the next big thing for the web applications.
If you haven't tried your hands yet, it's never too late to start. I would like to make you understand to try this fast and reliable JavaScript framework to ease your development process. There are myriads of AngularJS advantages over other frameworks, but the listed ones are admired the most by developers.
Here, I am going to list down 15 compelling reasons that why use Angular your front-end development so you can very well understand the potential and help software engineers to understand that why should I use Angular in my next project.
The Basic Concept
It's an open-source framework (and not a library!) that allows creating the hip and handy single-page applications (SPAs). After its launch in 2009, Angularjs has quickly gained popularity and is not going to lose its ground. It is indeed the most popular JavaScript framework — it has been holding first place on GitHub by forks and stars for a long time.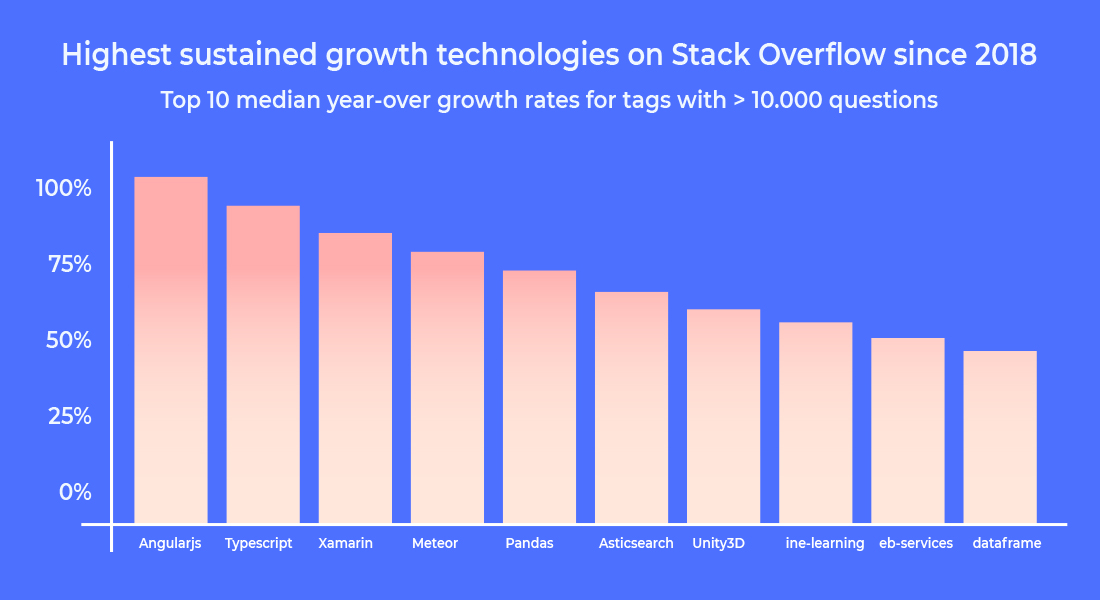 (1) Supported by Google
AngularJS is developed and maintained by dedicated Google programmers
Hobbyists initially developed AngularJS as an open-source community. While their ongoing community and passion of developers forged AngularJS into the framework. It means that there is a large community of developers to learn from along with there are highly skilled and enthusiastic engineers to assist you with your Angular questions.
You would be surprised to know that it wasn't Google's first attempt at a JavaScript framework, Google has earlier developed its comprehensive Web Toolkit that was extensively used by the Google Wave team. However, with the rise of HTML5, CSS3 and JavaScript as both the front-end as well as back-end language, Google acknowledged that Web was not meant to be purely written in Java.
(2) Simplified MVC architecture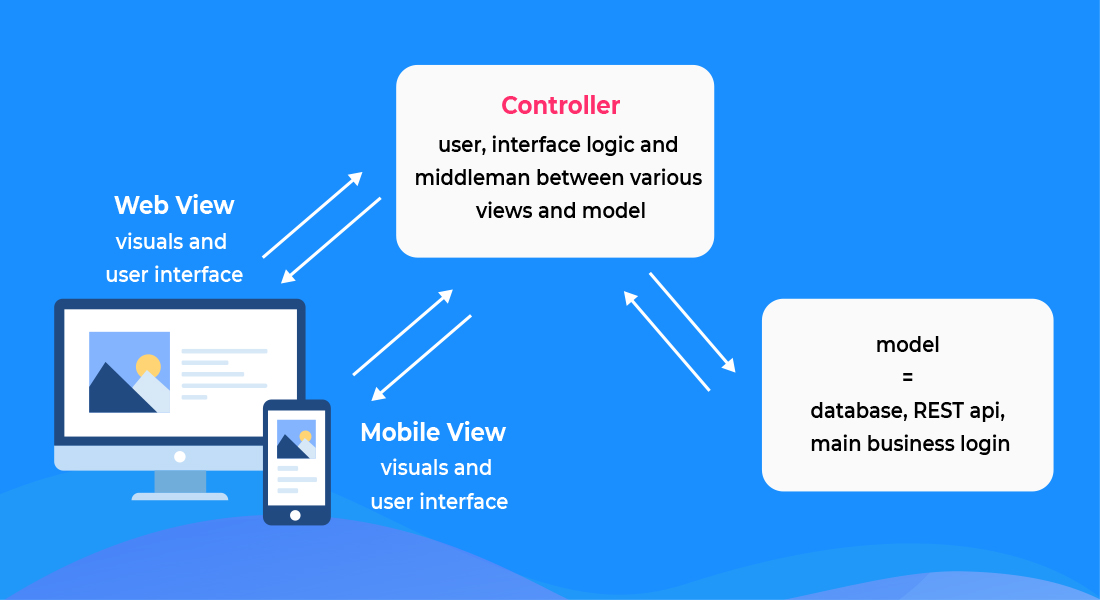 AngularJS makes use of MVC architecture to develop robust and interactive developing web applications. For Implementation of MVC, all you are required to do is split your application and rest everything will be get it done by AngularJS.
MVC stands for Model View Controller wherein:
The model maintains the data.
The view is accountable for displaying the data
The controller performs as a bridge for the establishment of a connection between View and Model
(3) Large Community
Angularjs is built and maintained by dedicated (Google+, Reddit) skilled engineers. It includes both members of the core development team and those who just stopped by to make some fixes or suggest a few improvements for an open-source framework. Conferences devoted to Angularjs are held worldwide; it is discussed at hackathons and in various IT communities. There are many books and online resources on AngularJS for developer.
It means, you are not part of hug open-source community, but you will be associated with shrewd engineers to assist you with your Angular answers.
(4) Declarative code style
Declarative paradigm is used for creating patterns in Angularjs. It makes the code more lightweight, as well as easier to read and support since instead of describing all the steps needed to achieve something, we describe only the necessary result.
With HTML and Javascript
< !DOCTYPE html >
< html >
< head >
  < title >Demo App< /title >
< /head >
< body >
  < table id="employees" border="1" >
    < tr >
      < th >Name< /th >
      < th >Designation< /th >
    < /tr >
  < /table >
  < script type="text/javascript" >
    var employees = [
       {name: 'Ankit Vadi', designation: 'Sr. Software Engineer'},
       {name: 'Uzaif Nilger', designation: 'Sr. Software Engineer'},
       {name: 'Gautam Moradiya', designation: 'Sr. Software Engineer'},
       {name: 'Pratik Panchal', designation: 'DevOps'},
       {name: 'Harshil Sanghavi', designation: 'Sr. Business Development Manager'}
    ];

    var employeeList = document.getElementById('employees');

    employees.forEach(function(employee){
       var employeeDetail = document.createElement('tr'),
           employeeName = document.createElement('td'),
           employeeDesignation = document.createElement('td');

           employeeName.innerHTML = employee.name;
           employeeDesignation.innerHTML = employee.designation;

           employeeDetail.appendChild(employeeName);
           employeeDetail.appendChild(employeeDesignation);

           employeeList.appendChild(employeeDetail);
    });
  < /script >
< /body >
< /html >

In AngularJS
< !doctype html >
< html >
  < head >
    < title >My AngularJS App< /title >
    < script src="https://ajax.googleapis.com/ajax/libs/angularjs/1.5.6/angular.min.js">< /script >
  < /head >
  < body ng-app="EmployeeApp" >
    < table border="1" ng-controller="employeesController as empCtrl" >
      < tr >
        < th >Name< /th >
        < th >Designation< /th >
      < /tr >
      < tr ng-repeat="employee in empCtrl.employees" >
        < td >{{ employee.name }}< /td >
        < td >{{ employee.designation }}< /td >
      < /tr >
    < /table >
  < /body >
  < script type="text/javascript" >
    employeeApp = angular.module('EmployeeApp', []);
    employeeApp.controller('employeesController', function() {
      this.employees = [
        {name: 'Ankit Vadi', designation: 'Sr. Software Engineer'},
        {name: 'Uzaif Nilger', designation: 'Sr. Software Engineer'},
        {name: 'Gautam Moradiya', designation: 'Sr. Software Engineer'},
        {name: 'Pratik Panchal', designation: 'DevOps'},
        {name: 'Harshil Sanghavi', designation: 'Sr. Business Development Manager'}
      ];
    });
    
  < /script >
< /html >

Output:

(5) Two-way data binding
Angularjs uses two-way data binding: any changes in the user interface immediately influence application objects and vice versa. When the framework encounters browser events, module changes, and user actions on the page, it outright updates the necessary patterns. At the same time, there's no need to store links to DOM elements and directly manipulate them. We simply describe the result with model state terms and don't need to use low-level constructions.
(6) Using directives
As its pattern language, Angularjs uses HTML. It is expanded with directives (for example ) that add to the code information about the necessary behavior. Directives make you focus on creating logic and thus allow you to work more productively. You can reuse them to improve code readability.
We can use directives as a HTML elements
< listing > < /listing >
custom class names
< div class="listing" >< /div >
or custom element attributes
< div listing >< /div >

(7) POJO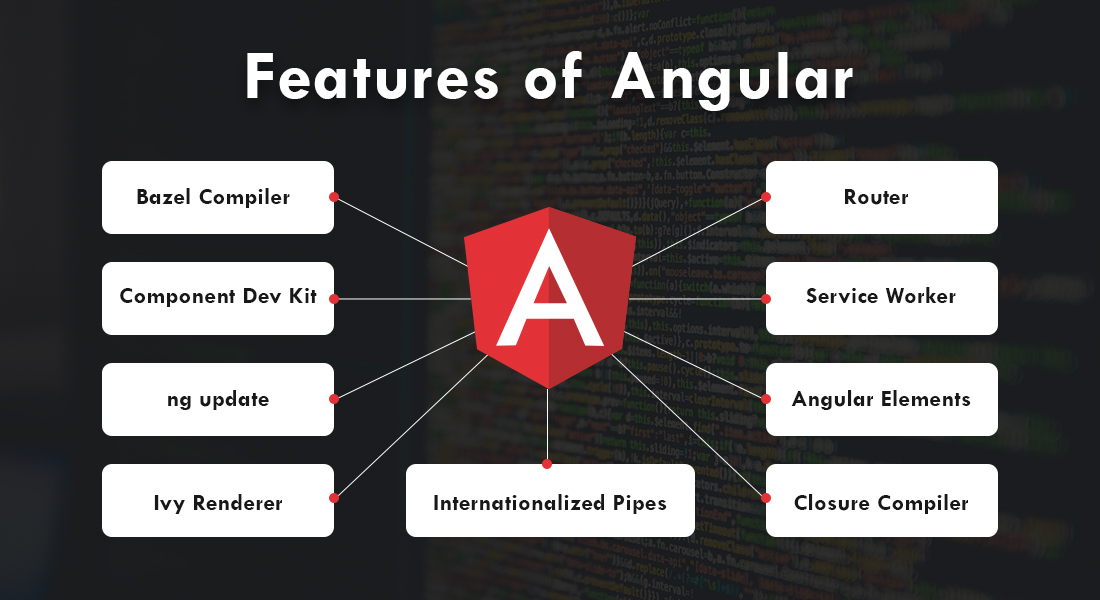 Every object used in AngularJS is POJO (Plain Old JavaScript Object), which means you don't need an extra getter and setter functions. POJO provides you all the standard JavaScript functionalities for object manipulation. It facilitates you to remove and add properties from the objects and can loop over objects at will.
(8) SPA-oriented features
Angularjs and SPAs simply belong together. For example, Angularjs provides forms of validation capabilities. If a page uses forms, FormController writes down their states. Using this data, we can change the behavior of the HTML elements in UI, for example, hide Clear button form if it is empty). Angularjs has built-in validates for error handling, but you can create your own validates if you need them. It is possible to show error messages for the whole form or separate fields.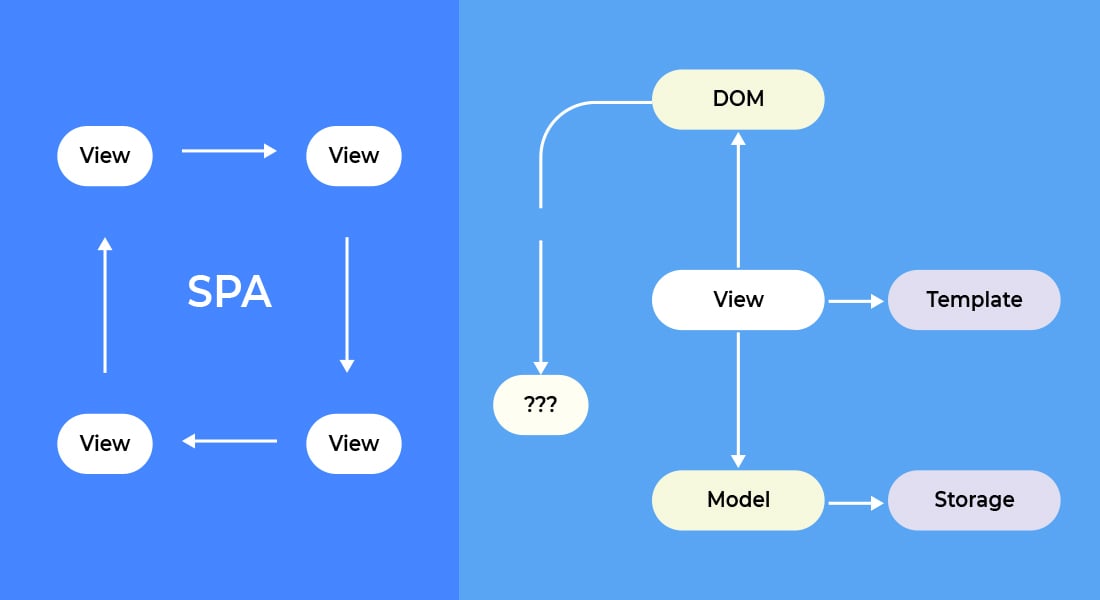 (9) Enterprise-level testing
As mentioned above, AngularJS does not demand other supplementary frameworks or plugins. Parts of the application are placed inside Angularjs modules that are easy to manipulate. Module separation allows you to load only necessary services and effectively perform automatic testing. Also, if you follow "one file — one module" principle, there's no need to remember the module loading order.
(10) Client Side Solution
AngularJS functions on the client-side and is compatible with both desktop and mobile browsers. AngularJS can be used for any project as there are no backend modifications required. Therefore, it can be used safely for developing the front end of any application.
(11) Ease of Use
AngularJS, with its rich feature set, makes development easier by reducing the need to write code. It takes the burden off your head by implementing MVC architecture. For implementing data models, you don't need to write getters and setters. Also, directives are not part of the app code, so they can be managed by another teams working parallel. All these things minimize the need for writing the code.
(12) Interface-Based Programming
AngularJS is a good team player, and the best thing about this framework is, it does not demand commitment. Even it is stated on the official website that you can use this framework upon your project requirement. Like, if you want to use custom directives, then just include this feature and use it.
(13) Incredible Productivity
Templates to Create Fast UI

The updated framework is loaded with powerful syntax that helps Angularjs developers to create their choice of views.

Better IDEs

Personalized IDE enables software developers in faster development by tracking instant error.

Angular CLI

Angular CLI stands for Command Line Interface that enables Angular developers to build application faster, add components as quickly as possible and makes deployment easier.
(14) Familiar to Backbone or JavaScript MVC
If you are familiar with Backbone or JavaScript, you are just a few steps away from building a relevant super flexible front end. Further, it doesn't require any external plugin or framework to build a web application. Employ Angularjs, and that's it!
(15) Gives Structure to Your App
JavaScript has not specific, well-defined structure. It is suitable for small-scale applications, clearly not suitable for large-scale applications. With AngularJS, it is possible to structure your source-code by following MVVM or MVC pattern. It's an MVW framework where W stands for whatever is suitable for you. Angular allows you to form your code into modules that vividly improves the maintainability and testability of your application.
Angular JS Usage Statistics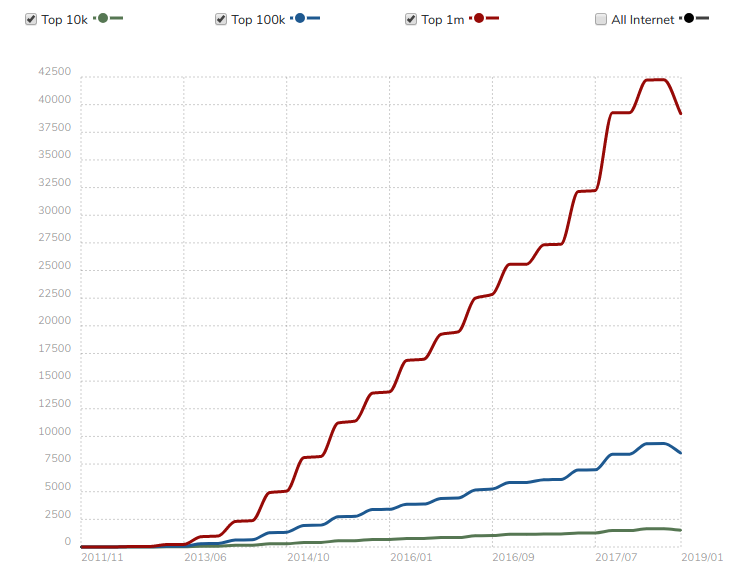 Worldwide.2004 – Present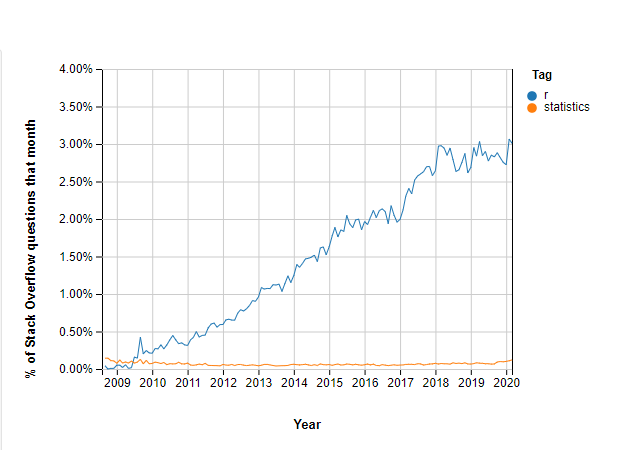 Stack Overflow Trends (April 2020)
The above statistics indicate how successful the evolution of AngularJS is over the years. The level of acceptance demonstrates that it has not just gained the interest of programmers, but has inspired a wide range of audience. The AngularJS community has higher expectations from the framework, and it seems like it has proven beyond doubt within a matter of period.
Rest is convenient with AngularJS
AngularJS, with its rich feature set, makes development easier by reducing the need to write code. It takes the burden off your head by implementing MVC architecture. For implementing data models, you don't need to write getters and setters. Also, directives are not part of the app code, so they can be managed by other teams working parallel. All these things minimize the need for writing the code.
What Kind of projects can benefit from Angular?
1. Enterprise web apps
TypeScript has everything that is required to build large-scale projects. TypeScript is appropriately equipped with navigation features, advanced refactoring, and autocompletion. The best thing about this tool that attracts entrepreneur is code reusability and easy maintenance.
2. Apps with dynamic content
AngularJS was introduced with the primary purpose of building SPAs. It has a long list of tools that can be used for SPA development. This open-source JavaScript framework is ideal for the websites where content changes dynamically, considering user behavior and preferences. Dependency injections make sure that if the one component changes, then the other will be changed automatically.
3. Progressive web apps (PWAs)
Progressive web apps were developed and introduced by Google in 2015. So many times the Angular team has already forecasted its upcoming popularity and the procedure of creating PWAs.
Popular apps Built with AngularJS
The many benefits Angular provides to developers is the main reason why Angular is the most preferred framework for web application development around the globe. In the blow image listed are some of the most popular companies using AngularJS.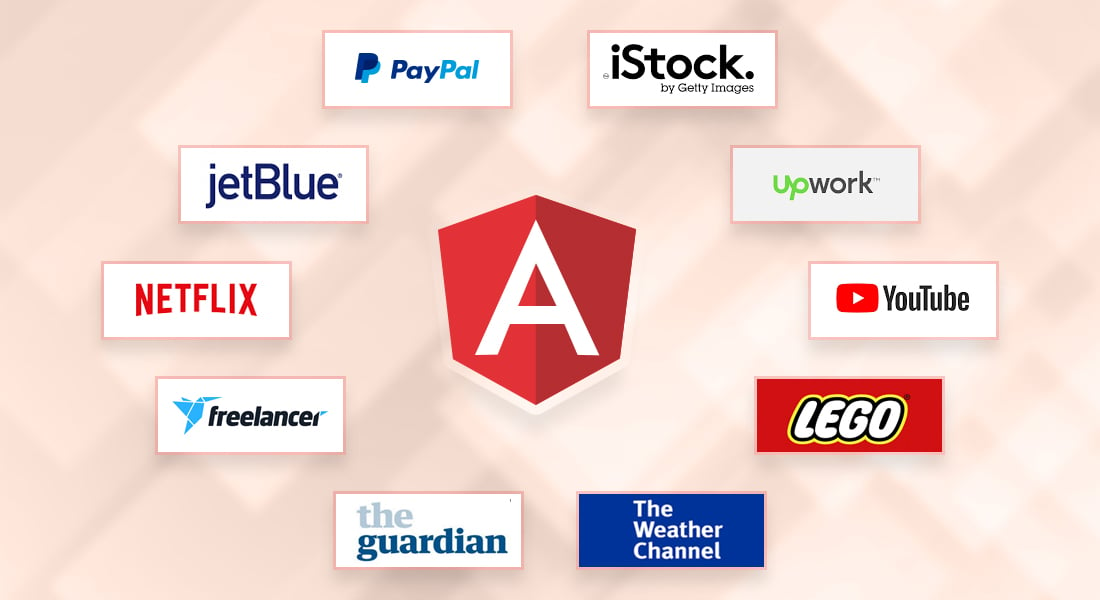 Why we need AngularJS
Staying Updated isn't Hard Anymore with Angular
Angular maintainers frequently release upgrades with new features, and your application continues to lag behind, as Angular's latest version Angular IVY is out now! The common pitfalls and security risks keep piling up. If you are planning to migrate or upgrade your existing Angular application to the latest version of Angular Ivy, then without a doubt, you should take a step forward to this approach. Angular features like Ivy compiler, TypeScript 3.7 Support, bundle size, runtime, lazy loading are just a few groundbreaking changes that increase the desire to upgrade to the latest version. The latest version Angular 9.0.0, is the most tested version of Angular ever.
Wrapping Up
There are a couple of significant things to take into consideration when it comes to choosing Angular. Angular is apt to opt for building dynamic and enterprise-ready web apps. If you are too curious to know what is Angularjs used for and what other things can be accomplished with AngularJS, Hire AngularJS Developer from us. We are globally recognized as one of the top-notch Angular development company let you outsource Angular development services as well as let you hire remote Angular developers at your convenience. Still, if you have any questions or you want us to help you make the right decision, let's get in touch with our top-of-the-line Angular minds.

Storyteller, Marketer, Developer, Writer, Thinker, Enabler, Rescuer, Wordsmith. I see myself as a Content Strategist. I love to write about anything and everything that pertains to the digital world, as I believe it's an ever evolving space creative in its own way. I love facing challenges, Blogging and sharing technologies