Table of Contents
Initial Set-Up: Laravel and NPM Dependencies Installation
First of all, you need a fresh Laravel version and node dependencies installed to get started; run the below commands mentioned one by one to install the required stuff.
Note: If you face this error
"Cannot find module 'webpack/lib/rules/DescriptionDataMatcherRulePlugin'"
Run this command
Then in the separate terminal, run the laravel server by using the following command
Include /js/app.js and app tag in the view
Your app.js file will be compiled and saved to public/js/app.js. Make sure to also have a root element with an id of the app to your HTML scaffolding. Otherwise, Vue won't know where to mount the components.
// resources/views/app.blade.php
VueJS Set-Up: Razorpay Payment Gateway Integration in Laravel and VueJS 2
// resources/js/app.js
Create App.vue File
This file contains the Payment data for now; in your real-time application, you need to pass the user information and amount on the "pay" button click.
// resources/js/App.vue
Create Razorpay Account
Create an Account from here: https://razorpay.com
Get id and secret from here: https://dashboard.razorpay.com/app/keys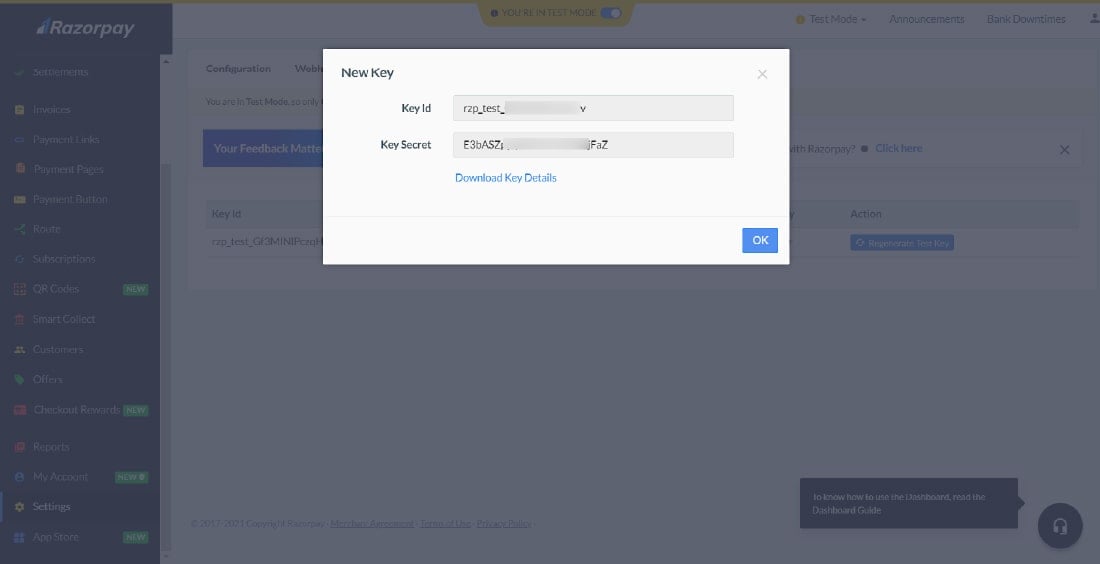 Open .env file and add RazorPay key and secret to it
// .env
Set-Up and Install Razorpay Package
Use the below command to install RazorPay package
Create config file to access .env values and use the below code.
// config/values.php
Create Razorpay Controller
Use the below command to create a controller.
// app/Http/Controllers/RazorPayController.php
Add Routes
Moving further in our tutorial: Razorpay payment gateway integration. Let's add routes for displaying the Razorpay page and verifying requests. Open the routes/web.php file and use the below code.
// routes/web.php
Now, add an API route to access through VueJS. For that use the following code.
// routes/api.php
Create Razorpay View
This is the Razorpay gateway, users will enter the credentials and will pay using various methods. Here you can enter your company/personal details like name, description, and logo to show users who they are paying.
// resources/views/razorpay.blade.php
You can also prefill user data if you have already; you need to add this under options.
Check Transaction
The user interface will look something like this.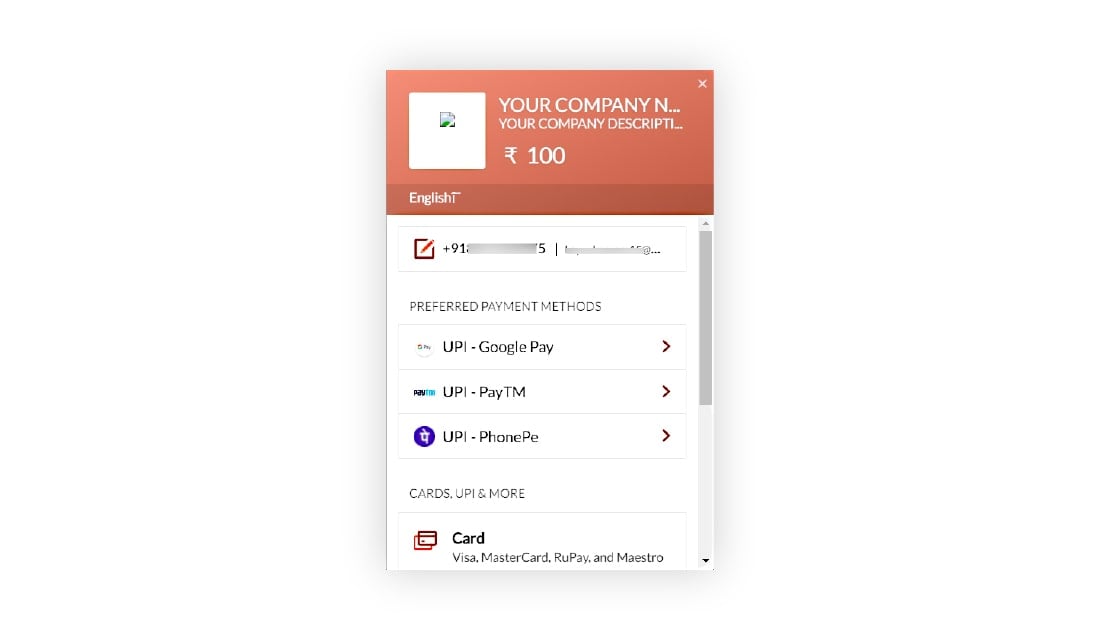 Now it's time to check the payment transaction; for that, visit RazorPay Dashboard.
Here is the reference image:
The entire source code is available here: razorpay-payment-gateway-integration-example. Use the below command to clone the repository and play around with it.
Conclusion