Last Updated on April 25, 2023
March 24, 2015
4
min read
Google has officially announced the release date of its new Mobile-Friendly update. And it will be filtering mobile-friendly factors in its mobile search results from 21st of April, 2015, onwards.
What is this Mobile Friendly Algorithm/Update?
This update by Google is something more fatal than its Penguin and Panda updates. Mobile Friendly update is aimed to provide mobile users with better search results that will make them experience comfort of surfing a good website/web page/etc., on their handset.
This update will display a 'Mobile Friendly' label on search results obtained from a mobile browser. See an example of this in the below screen shot:
Webmasters have already started rolling out their update in order to find those sites lacking mobile friendly factors and have started notifying them about the lack of mobile friendliness via mail.
See an example of this in the below screen shot:
Google has clearly disclosed about the term Mobile in its update. Accroding to Google, Mobile Friendly here relates to Search Results on Smart Phones having OS akin to Android and iOS. Tablets and iPad structured handset gadgets are excluded from this 'Mobile- Friendly' tag. 3
Know more about the term 'Mobile' according to Google:
https://developers.google.com/
Though their aim is to serve smart phone users first, Google has also added clear statements about optimizing sites for Tablets and Featured Phones. Read it here:
https://developers.google.com/
How to Know Whether Your Site is Mobile Friendly or Not?
Google has provided a testing tool that will help website owners to test whether their site is mobile friendly or not.
Test Your Site:
https://www.google.com/webmasters
What if Your Website or Web Page is Not Mobile Friendly?
The first consequence you have to face in this matter is the loss of mobile search engine ranking. Until your website is labeled with the 'mobile friendly' tag, you won't be able to climb up on rankings, even your site would not be displayed in the search results. This will directly result in loss of visitors, leading to loss of sales or profit or potential visitors.
What Should You Do Now?
Since the evolution of smartphones, more people have been searching for things on internet via mobile phones. eCommerce sales has experienced a new arena of sales via mobile gadgets and mobile apps.
The below screen shot exclaims the Interest Over Time Trend of Mobile Shopping and Mobile vs Desktop search in Google Trends:
From this, one can assume the loss of sales they are going to face if their site is not mobile friendly.
What is a Mobile Friendly Site?
The first thing that clicks our mind listening to the mobile-friendly term is, Responsive. A responsive website is one that gets compressed on a mobile device and still gives rich user experience. Visitors are easily able to run and surf the site the way they can surf it on desktop.
An Example of Responsive Site:
Google has put forward a list of points that needs to be changed and modified by developers while developing a responsive website.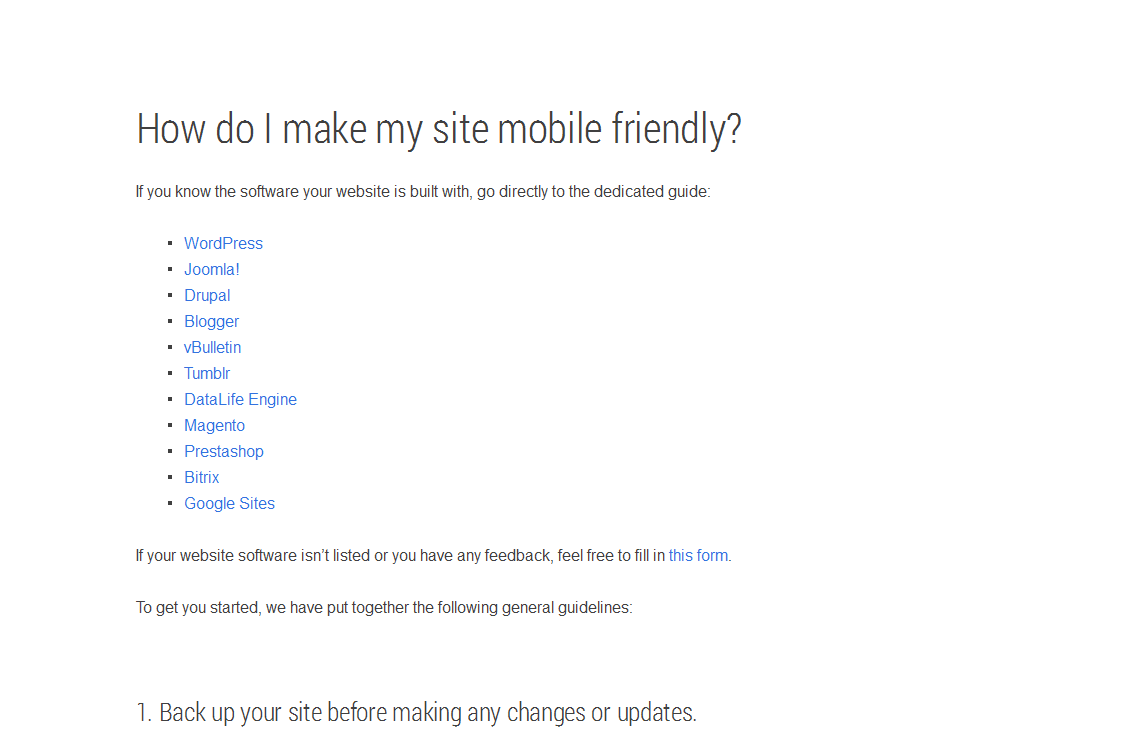 Read more about how to make your website 'Mobile-Friendly': https://developers.google.com/webmasters
Is Your Website Responsive? Is Your Website Ready to Get the 'Mobile-Friendly' Tag?
Test it here:
https://www.google.com/webmasters/tools/mobile-friendly/?utm_source=wmc-blog&utm_medium=referral&utm_campaign=mobile-friendly
If your website is not responsive, this is your time to take some serious steps and make it responsive as well as mobile friendly by inserting mobile friendly factors. Google has provided with a well described document and changes that are necessary to be made in a website to make it 'mobile friendly'.
Screen Shot of the below link:

Want to make your website responsive and mobile friendly?
Hire dedicated developers and designers from Bacancy technology to convert your existing website into a responsive and mobile friendly one.
Simply fill the form, put forward your requirement, select a budget, and get your solution within 24 hours. Jump in- get quote