Last Updated on April 5, 2023 | Written By: Riken Solanki
In detailed Magento information for those who want to opt or looking for an ecommerce platform to build their online store. Get Complete Magento Solutions & Answers!
The demand curve of online shopping has been on the rise since 2012 as we can see in the below graph via Google trends. Though one can not accept any information as perfect, but one can observe or try to observe the things around and thus can get the answer about versatile topics or facts or trends. Similarly, if one starts swirling its thoughts back onto 2010 or 2011, you will see nothing related to online shopping or ecommerce other than the one and only ebay.
During those years, ebay used to be the first and largest ecommerce portal/market place. With the increasing demand for ease in everything and swiftness on the other hand, the eCommerce trend ignited. Though Amazon was also in the queue during 90's, however it was intended to sell books online rather than selling stuffs, the way ebay did. The foundation of Amazon was put forward during 1994 while ebay came into existence in 1995.
Not stretching the history, today ecommerce industry stands atop with an estimated sales of $79.6 billion during fourth quarter of 2014, as declared by U.S Department of Commerce, read more about online sales stats 2014 here https://www.census.gov/.
And why should not it be? Online shopping has grown immensely due to the reason that it allows ease of purchase, innumerable options to choose from, ease of delivery, ease of payment, unlike virtual stores where you have to travel miles to buy a stuff. However, life is like economics, there are exceptions and assumptions for every thought or action or any materialistic thing, and so does ecommerce has.
And in this situation if you did not hedge into the swiftly moving trend of new ways of selling stuffs and business, no one can assure a defeat or reduced sales, but can surely exclaim limited or no growth in business/sales at all.
Carrying this thought, innumerable merchants are in the process or have already opted for an online store. If you too are looking to develop an online store or to migrate from your current online store to a new one, you should have landed on Magento or should have heard/read about Magento ecommerce platform.
The decision of choosing an online platform is completely yours, however we can just boost up or support a technology to get opted by more and more people, neither because we work on it, nor because we want to create sales, but only for the sake of technology and for the sake of people's good and lastly to let people know the pros and cons of a platform, leaving the job of ultimate decision onto their hands.
Why We Love & Recommend Magento To Many?
The First reason We Love Magento is ebay!
Since Magento belongs to ebay, one can see lots of flexible features and changes that have been made in Magento. Acquired by ebay during 2011, these were the general FAQs and answers put forward during acquisition-
http://www.magentocommerce.com/
We can not brag that there have been expedient or influential changes, for there is no written or disclosed evidence about it, but one can observe the features and flexibility Magento has now and can expect the experience of ebay behind the same. However, here's a blog you can read to know what changes were seen after this acquisition-

http://dimitrigatowski.com/
Magento Extensions
Extensions are amazing additions or we can say functionality plugins that you can add into your Magento store. Extensions can be used in order to add a feature or functionality you wish to have in your online store.
For example if you wish to have a 'Like' button under each and every product of your store, you can add the same by including an extension.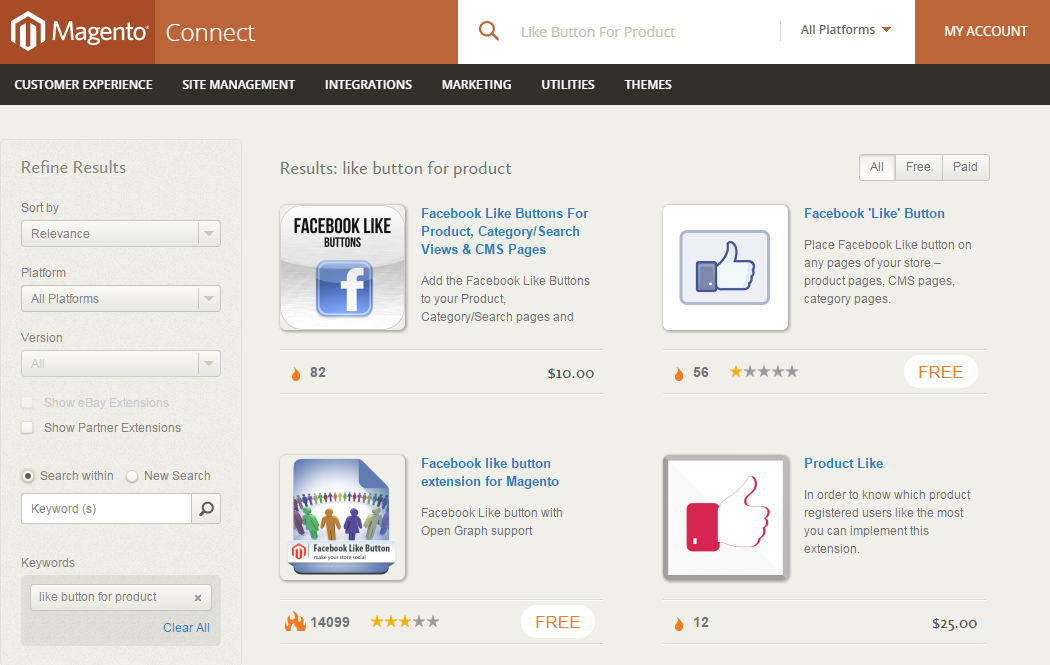 Where to get these extensions?
Extensions in Magento are available easily and are easy customizable too. You can find your favorite extension within the Magento community- http://www.magentocommerce.com/magento-connect/
This is why having such a big community rocks!
What if the extension you need is not available?
If the extension you need is not available in the official Magento site, you can develop one for yourself easily. An expert Magento developer can develop an extension the way you want.
SEO Friendly
Basic SEO features such as creating or redirecting URL, search terms that will help you what people are looking for within your store and thus you can optimize the product more. One of the best SEO feature in Magento is 'Google Sitemap'. Sitemap is an important SEO aspect and can lead to rankings, and submitting sitemap in Magento is just trouble free!
Other SEO factors available in Magento such as Meta Information, URL Key, Cache Management (to increase site speed), and more are of extreme importance and beneficial for optimizing an ecommerce site.
For increasing Magento site speed and clearing the cache you just need to- Login Admin- System- Cache Management

Responsive (Mobile Friendly)
The newer versions of Magento are pre responsive and thus you need not to customize it to make it mobile friendly. Though older versions are not responsive by default, they can easily be modified into responsive one and mobile friendly too!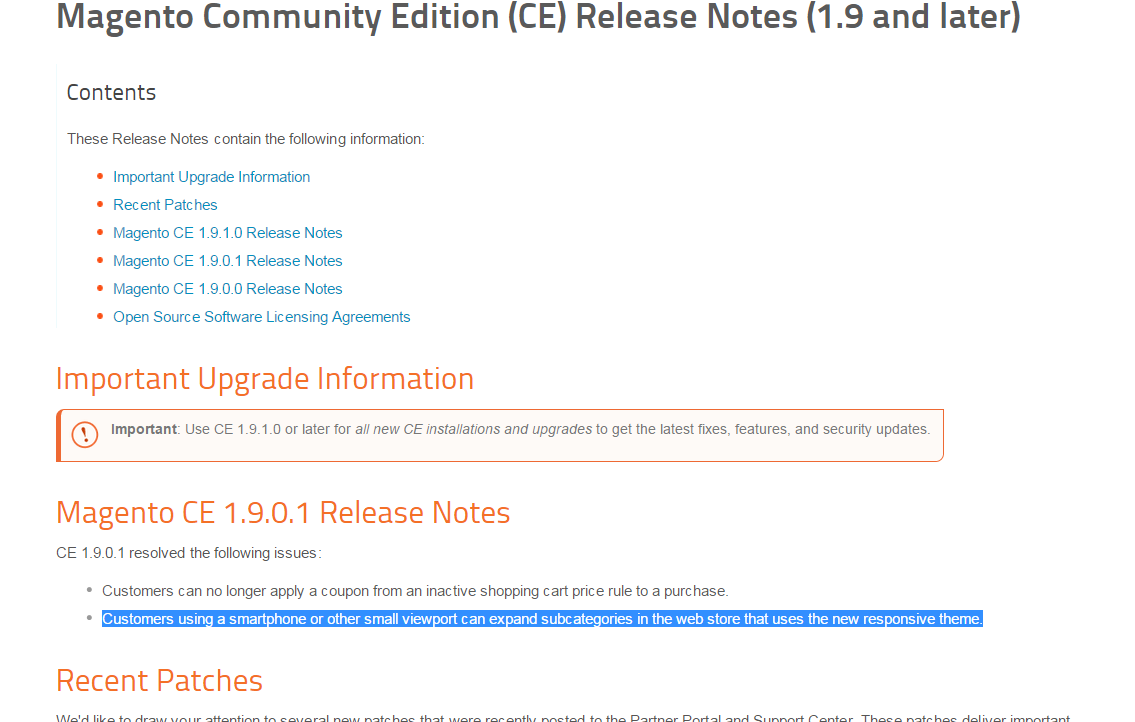 Payment Gateway
Magento comes with pre built payment gateway, we all are (possibly) familiar to, known as PayPal. Other than this if you wish to jump onto some other option for payment gateway, you can easily integrate one into your store, for there are payment gateway extensions available easily within the Magento community.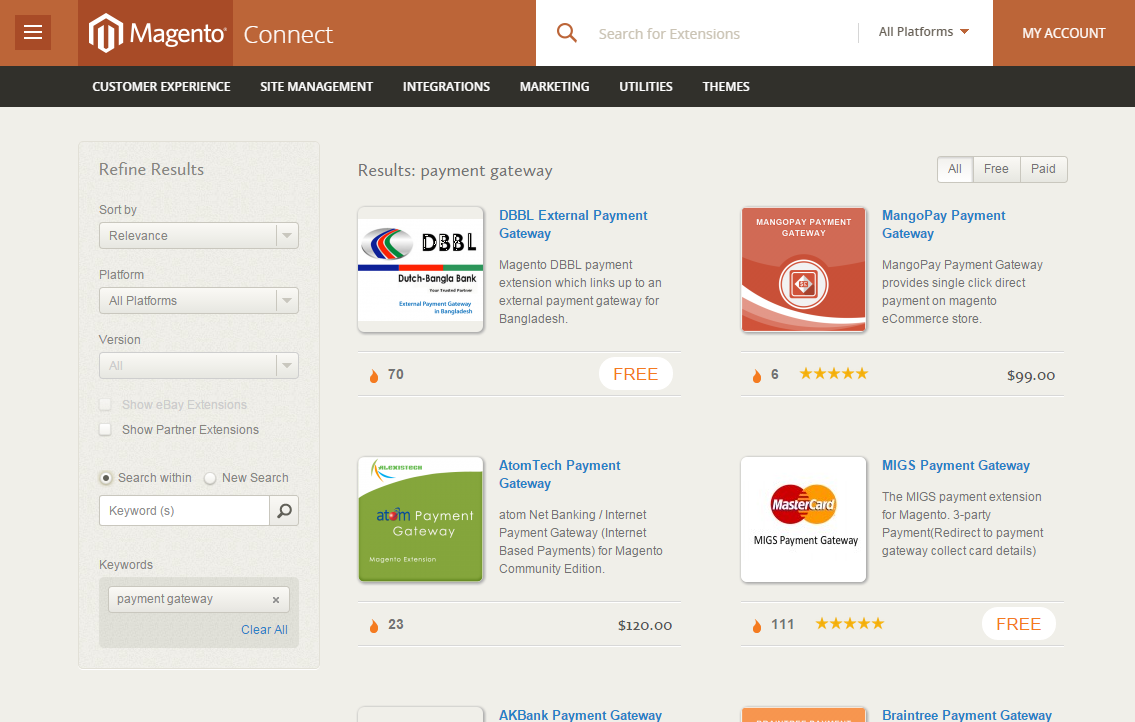 Influential Marketing Features
Magento has got really influential marketing features. And if you want to survive in this brutal competitive world, you certainly need robust marketing tactics. And Magento has got that pre built in it. May be this is why we love Magento and ebay.
You can use the following extensive marketing features of Magento:
Newsletter-
Send pre built newsletters carrying news about discounts offered or new arrivals to customers and attract customers.
Promotion-
Promote your business and products via this simple promotion feature that allows you to create discount within the store.
Coupon-
One of the best marketing tactic in order to attract a customer these days is 'Coupon Discount' via coupon codes. Magento offers the option of creating coupon code and providing discount by using the same. You do not need an additional extension for this!

Online Visitors-
Have an eye on current visitors present on your store and know their current location in your store.
Customer Data-
The Manage Customer feature allows you to have an access to the customer data that have been or have transacted within the store. This data can help you understand, manage, and interact with the customers.
Other Resourceful Features, and The Last Reason Why 'To Magento' Instead of Not To-
Reports-
Reports are essential in order to predict future actions to be taken and the current position of the business.
Tax-
Manage and control Tax Rules, Product Tax, Customer Tax, and more via the simple Tax option available in the admin panel of Magento. Find the tax option- Login Admin- Sales- Tax.
Backup Option-
One of the most resourceful options we find in Magento is the Backup option.

Wrapping Up
Wrapping up this, above were the most resourceful and effective features of Magento, and the reasons why we recommend Magento to many. Yet, we can not exclaim about any technology being superior or inferior to other. Every technology has its own merits and demerits and one should opt for any technology according to the suitability and requirement. For example the Magento enterprise edition might not be suitable for small business, and vice a versa.
If you still have doubts about Magento or how much does it cost to build a Magento ecommerce store, simply send us your words at [email protected].
And if you have decided to go for Magento, you certainly might be looking to Hire a Magento Developer from Bacancy Technology. The Leading Web Development Company. Straightaway put forward your requirement and estimate here contact us and we will get back to you PROMPTLY!