Did you know?
Majority of the leading brands ruling over the market like Facebook, Wikipedia, Pinterest, and WordPress are built using PHP. Have you built yours?
The above question sounds similar, isn't it?
For the creation of a functional and responsive website, one of the best programming languages which are used in the world is PHP. This programming language works with the help of the best frameworks.
Are you on the lookout for a PHP Framework but don't know which one to choose? This is a very common issue which is faced by different web developers who want to open up new start-ups.
When we talk about the selection of the best PHP frameworks, two names always come to the mind, and those are Laravel and Yii. So, having a head-on comparison of the products and their features is essential to pick out the best one.

If you look at the Google Trends traffic, Yii is leading the show, but then something strand happened, and the situation changed. If you ask any developer @ Bacancy Technology which framework they prefer more to build responsive yet robust framework, you will rarely find someone who would prefer both. Because there's always a winner and a dupe!
So, before concluding with the "show stellar" let's dive deeper and have insights about both the leading frameworks.
Some Facts to Be Known About Laravel Framework
It is one of the frameworks which have been rightly used by the web developers due to the superb syntax and the elegant build of it.
The web application development process becomes a lot simpler with the use of this effective framework, which uses authentication, routing, caching processes, and sessions for the use.
It also facilitates the unit testing and also has a lightweight and fast engine for templating, which is known as Blade.

About 118,441 websites all over the world are currently using this framework for their web development, most of them being from America.
With the superior features and its agility, companies Hire Laravel Developer, and it has consistently been voted as one of the most popular frameworks for the developers these days.
Some Quick Facts about Yii
Yii is noted as one of the most popular frameworks which were developed in the year 2008 for the high-performance and secure app development.
About 93566 websites all over the world and 97 countries in total are currently using this framework for their web development, and Russia is the leading name when it comes to the use of Yii framework.
With the help of the Composer Dependency Manager, this framework manages to handle the process of easy installation.
Along with that, the JQuery integration provided in the framework is responsible for speedy coding, which is revolutionary when it comes to front end development of the websites.
Scaffolding is another one of the techniques used by Yii for the generation of code, which makes it a very functional framework. This is one of the main reasons why Yii is known to be one of the fasted frameworks for PHP.
So, now that you know a little bit more about the respective frameworks, it is not time to move into the other details. Here we are going to find out the differences between these PHP frameworks to find out which is more suitable for the web development process.
Laravel V/S Yii – Who's The Winner?
Laravel vs. Yii: Differences in parameters
Here we are presenting the head-on comparison between the benefits and features of both Laravel and Yii.
1. Requirements
Yii is just compatible with the PHP 5.4 version or the higher ones however when it comes to Laravel; it is more compatible with the different versions of PHP which include the PHP5.4 version and higher options, MCrypt PHP extension, and PHP JSON extension as well. So, in case you want to have proper compatibility with the higher versions of PHP choosing Yii would be a good idea. But in case you want compatibility with more versions, then hire the Laravel development services.
2. Installation
The ease of installation is another important factor to consider. Yii tends to be a bit easier when it comes to the installation process. All you have to do here is download the application to run your software, and the process is completed very smoothly without any difficulties. You don't have to be a professional expert or experienced web developer in for the installation of this framework.
In the case of Laravel, there is a Composer PHP uses for the process of installation. It means that the installation process will accurately take place without any particular bugs. Along with that, Laravel installer also comes with an installation guide which can be used to simplify the process of installation further. You will find an instruction manual which can be a great help. I found the installation process to be very simplified and easy with the installation guide in hand.
3. Testing
When we are talking about testing, Yii will be able to support a large number of tools which can be used for the process of testing. However, it doesn't support Codeception testing and PHP unit testing. But in the case of the Laravel framework, there are many different testing tools such as BrowserKit, HttpKernel, and DomCrawler, which is supported properly by the framework.
4. Debugging
There is a comprehensive console for debugging present in the Yii framework, and it has multiple level options for logging. This can be a great help when the developers need to request the database logging, and it also provides the debugging benefits as well.
Laravel can be a slightly better option if not equal when there is a talk about debugging because of the different actions that take place in the framework, which include Imho and logging. Imho can be a bit limited in options, but it is very beneficial when there are some issues related to the Laravel-debugbar extension.
5. Migration
There is a very effective migration tool provided in Yii, which can be used very efficiently by the developers. The tool is functional and makes the process of migration very easy in the Yii framework. But then when we talk about a Laravel development company, the developers will get an ability to include seeders so that the migration process becomes hassle-free and easy to use. Also, this is a great assistance when it comes to static directory filling and testing process.
6. Speed Of Learning Curve
Yii can be considered as one of the world-class and high-performing frameworks of PHP. So, it is often touted to be the top choice when it comes to the development of mobile applications and networking websites. This is because of the learning speed curve of the framework, which is exceptional to work with. The framework is pretty easy to use and can be installed and operated by any developer very easily. You don't have to be an expert here to operate this framework.
Laravel, on the other hand, might have some issues with the learning speed curve, but these are minimal issues and can be solved very easily. For example, the speed when it comes to the response communication can be a bit slow in case of Laravel. Also, the real-time collection of data takes a bit of time. So, in case you are on the lookout for a slow and steady performing framework, then using this one would be a good option. On the other hand, the framework is very easy to use and efficient as well. There are 6 databases present in both frameworks. However, Yii has the speed factor with it.
7. Extensions
The number of extensions is also an essential criterion for deciding the worth and functionality of a particular PHP framework. To be precise, there are about 2800 extensions present in the Yii framework. The number might be a little lesser than the number of extensions present in Laravel which amounts to about 9000 in total. While there might be a huge difference between these two frameworks when it comes to the number of extensions, and you might have a lot of options if you choose Laravel, both these frameworks are equally appealing to the customers out there.
8. Security
Both Laravel and Yii stand shoulder-to-shoulder in this competition of security options because both of these frameworks come along with multiple levels of security choices such as authentication, passwords, Cross-Site Request Forgery, SQL Injections, Site Scripting along with a lot of other amazing options.
Let's Have A Look Over The Tech Specification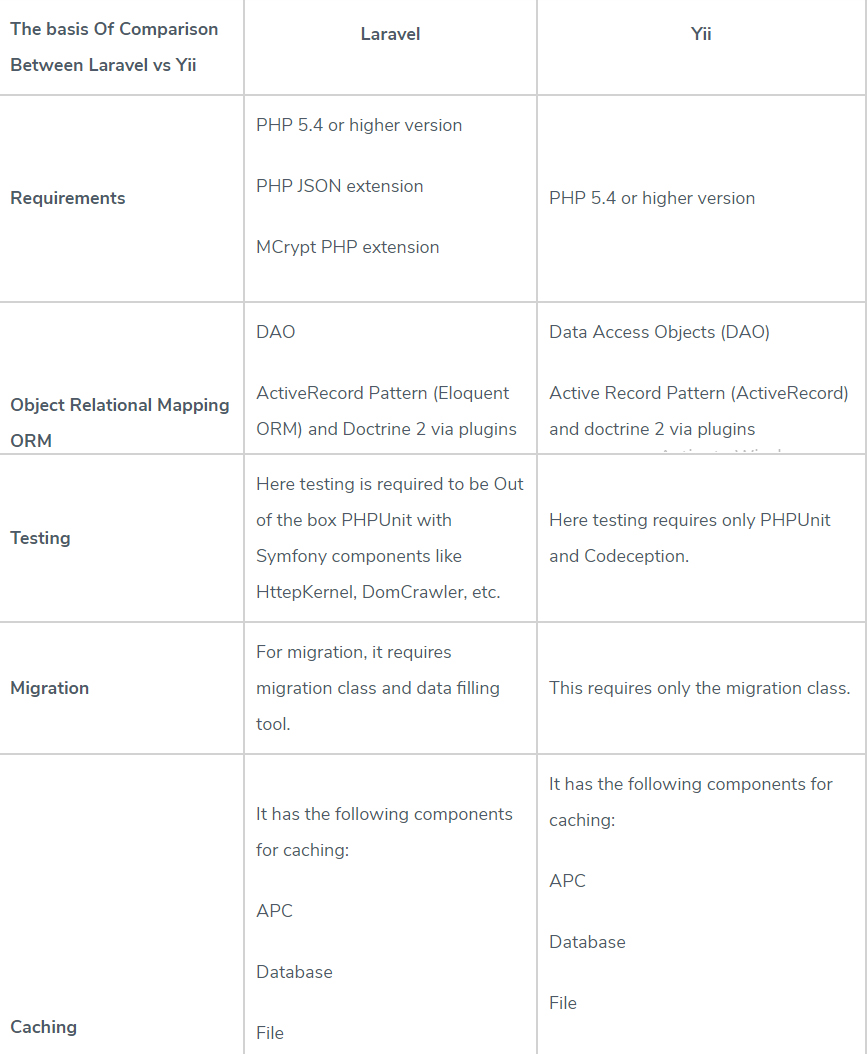 To Conclude: Which Framework To Choose For Your Next Project?
In the end, all we have to say here is that there are positives and negatives to both this framework for PHP, and it ultimately depends upon the project requirement to choose a suitable one. While Yii offers some benefits such as easier installations and higher levels of security, Laravel woos you with amazing features such as testing processes along with interesting template engines which would help a lot in making your work filled with value.
Still, if you have any questions and want to discuss in detail, then get it to touch with today. However, if you are already convinced with what has mentioned above and have made up your mind to choose the one framework, then we have experts for both. Upon your availability and project requirements, you can hire Laravel developer or hire YII developers from us to transform your potential business idea into a viable platform and get the job done. Good luck!