Last Updated on February 4, 2021
If you are starting to program in Android, it is very recurrent that the language we use is Java. And Java is everywhere. However, Kotlin arrives, which brings considerable improvements. For the above, we have decided to prepare this post of Kotlin vs Java. Which language is best?
To understand the difference between Kotlin and Java in Android, first of all, we decided to talk a little about each language. We will start with Java, and you will know its advantages, disadvantages and also what we can do with this language.
Next, we will talk about Kotlin, so that this language serves, advantages, disadvantages and what we can create? Finally, it will be great to understand the key differences and advantages of Kotlin vs Java.
Kotlin vs Java: What is Java?
Java is a programming language created by James Gosling. In this, we can create any type of program, it also supports almost any type of machine. It is in Linux operating systems, Windows and also for mobile in Android.
Currently, Java has one of the most important and largest communities in the world. This language, both on the Internet and in the computer field, is very important. Java can be used to do almost anything.
It should be mentioned that Java is completely free and can be used by anyone in the world. In this way, Java is a safe, powerful and a universal programming language.
What can we program?
If you are an incredible programmer, you can create anything with Java. Among the most useful are websites, applications for Android, voting systems for companies, among other things.
On the other hand, if you are a novice on the subject of programming in Java, there is no problem because you can start with a simple hello world, and then become the programmer to change this world.
Advantages and Disadvantages of Java
The advantages of programming in Java are immense. Well, this is a general-purpose language and also object-oriented. Also, Java is an independent programming language, this means that it works almost on any computer that currently exists in the market.
On the other hand, Java is not only being used to program on the client side, it is also used on the back-end side. Likewise, it is a key language for the development of Android applications.
Kotlin vs Java: What is Kotlin?
It is a programming language created by JetBrains. Kotlin was announced in the Google I/O as the official language of Android. In addition to Java and C++.
Kotlin is an open source language, under the Apache 2.0 license. It's creators believe that developing an App on Android will be faster and more fun.
What can we create?
With Kotlin we can create a number of things, whatever comes to mind. Some projects that are made in Kotlin are Pinterest, Flipboard, Square, etc.
Advantages and Disadvantages of Kotlin
Kotlin, in its compiler, emanates Java byte-code. But what does that mean? Well, Kotlin can make calls to Java and vice versa.
On the other hand, the intention of every Kotlin App Development Company is through NativeScript to take Kotlin in your browser or multiplatform. Another advantage of Kotlin is that it uses functional programming guidance. In this language, new features are appearing that cannot be implemented in Java.
A disadvantage of Kotlin is that until now, the amount of information available is very limited. In addition, at the enterprise level, Java is a preferred language. Currently, there are more professionals familiar with Java.
Kotlin vs Java: What language is best for elbowing on Android?
The most key difference between Kotlin and Java in Android we can see their incompatibility, the use of syntax, and simplicity. Also, Kotlin is focused precisely on providing products to the Developers.
Since the learning curve with Kotlin is less complicated and freedom is felt when programmed.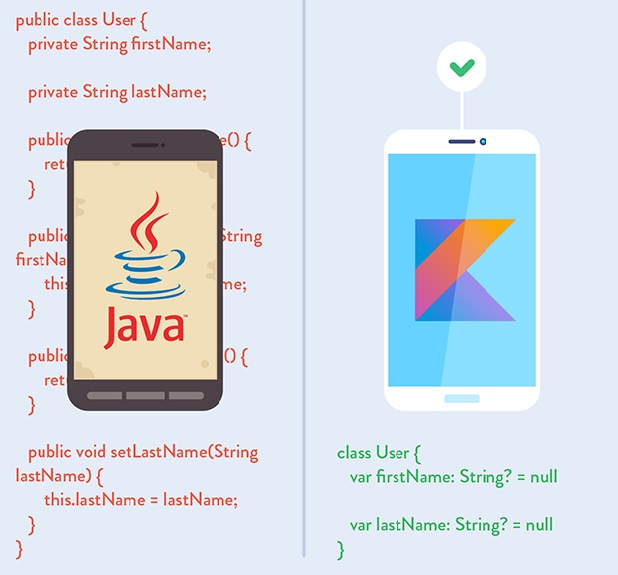 Speed -Kotlin vs Java
The speed of work is also an important issue to touch. Java, Kotlin's father is not exactly faster than his son. So, the assembly of a project in Kotlin will not be so slow.
In summary
As a personal opinion, Kotlin is a programming language that continues to grow day by day. Kotlin's documentation is very well implemented. If you look at the advantages of Kotlin App Development, it is much better than Java on topics such as security, syntax, compatibility, and functional programming. Therefore, we can say that Kotlin is better than Java.

Storyteller, Marketer, Developer, Writer, Thinker, Enabler, Rescuer, Wordsmith. I see myself as a Content Strategist. I love to write about anything and everything that pertains to the digital world, as I believe it's an ever evolving space creative in its own way. I love facing challenges, Blogging and sharing technologies