Last Updated on March 9, 2022
April 17, 2018
4
min read
Developing a mobile web app often involves a considerable amount of resources as it is necessary to program the application at least twice, one for Android and one for iOS, and a third for Windows Phone. If you want to create a native app, in case you are "satisfied" with not particularly brilliant performances you can opt for a hybrid approach.
Fortunately, over time, more than a company has posed the problem of creating tools for the development of cross-platform apps without sacrificing native performance.
Let's discuss Top web development Javascript frameworks In 2022
React Native
React Native is a Javascript frameworks released in 2013 by Facebook. React allows you to build applications for iOS and Android using JavaScript. React Native does not build an application in HTML5 or a hybrid application. On the contrary, it is used to build a real application.
React Native builds the interface of your application using the components that are actually made available by iOS and Android. So using React Native you build an application that has real components, but that uses JavaScript and React to position them and to define their logic.
React Native can be an ideal solution for a more development-oriented team in javascript. This is because it offers tools that facilitate and, in some way, unify business logic and deployment on various mobile platforms.
AngularJS
Angular is also one of the popular JavaScript frameworks sponsored by Google with the clear aim of simplifying client-side development, introducing a declarative syntax that mixes with the classic HTML in an easy-to-use and fast-to-learn meta-language.
In the case of AngularJS the data-binding ensures an equivalence link between model, or more generally a javascript variable, and its visualization in HTML, that is its implementation in a DOM (Document Object Model) object. This link is a huge relief for the developer, who does not have to worry about updating the DOM every time it updates the variable, basically because it does the framework in its place and in complete autonomy.
Meteor.JS
MeteorJS is a cohesive, open-source platform for developing reactive web apps. Reactivity is the key idea that encircles the MeteorJS platform.
What does it mean that the app is reactive? It means that every change of data in the database is instantly mirrored by a change happening on the user's screen, with no refresh needed. Let's say that our application displays a list of posts. When a new post is added into the database, the list is automatically repopulated with the new post included. So all active users see the data changes simultaneously, even if there's thousands of them, it is happening live.
Meteor is based on Node.js, thus all Meteor projects are written in JavaScript frameworks for both client and server side; that means you don't have to know any other language than JavaScript.
Ember.JS
Ember.JS is a web frontend development Javascript frameworks that organize your code into clean, reusable. With its powerful tools and concepts at your disposal, you can create large-scale Web applications that rival native applications.
No matter how great your application gets, Ember.JS makes the code manageable. Here is the architecture of Ember.JS: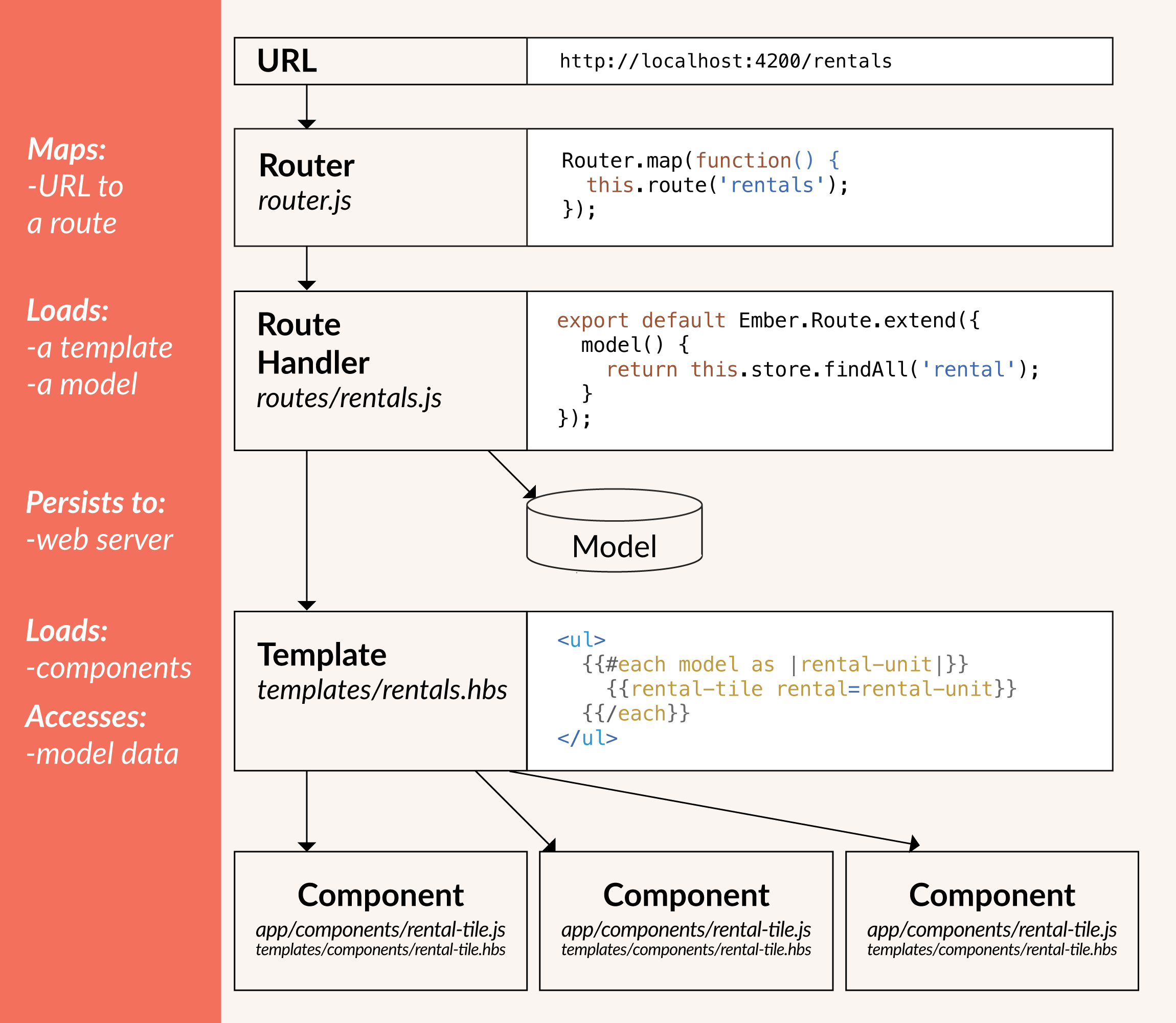 Vue.JS
Evan you created vue in February 2014, and in the Javascript frameworks, it started to have a huge success in 2016 when version two was released. We can say that he made big numbers, considering that he does not have the support of any big company and that the team is made up of a few dozen developers.
The first thing that has impressed us is the documentation, weakness that almost all the competitors have. It is very simple and full of examples. It guides you step by step in everything you need without neglecting anything. This greatly reduces learning time , starting almost immediately to build your web app.
Another very interesting thing to start with just import into the head of your web page this script < script src = "https://cdn.jsdelivr.net/npm/vue" > and without configuring anything you can already build your application. https : // cdn . jsdelivr . net / npm / vue "
Last but not least, html and javascript code are written in the same file as in React, but are separated from each other like in Angular. Rest you will know the architecture when you hire dedicated React js developer and get your project started.
Conclusion
Frameworks and libraries can be a valid aid to lighten the work with JavaScript, even if those presented here are just a selection of the many tools available. Have a look at major frameworks:
Bacancy Technology has a diverse experience in all the above JavaScript Frameworks. We understand what the end user expects from an app and how to meet that expectations with an optimal solution. Also you can opt to Hire Full Stack Developers, who can assist you in choosing the right framework for your app.