Quick Summary:
Salesforce comes with various functionalities, features, tools, services, products, and sources that have made this platform a natural choice for businesses looking to manage their business solutions seamlessly. And if you want to explore the full benefits of this powerful CRM solution, Salesforce consultants can help you with this.
This blog post will define how salesforce consultants will help organizations to meet their business missions with Salesforce.
Introduction
Today, Salesforce has become one of the most popular CRM solutions, which is widely used for maintaining customer relationships by enterprises worldwide. From Gen Z startups to Big MNCs, the enterprises considered Salesforce a robust platform for service cloud-offering. According to Statista, the annual revenue of Salesforce has reached 21.25 billion U.S. dollars in its 2021 fiscal year, a record high.
Today, for every business, the most crucial part is to improve the business operations, which leads to an increase in profits and holding up customers for lung runs with the best customer satisfaction services. Here Salesforce comes as a blessing for such organizations helping them in increasing their agility and customer interaction within a collaborative environment.
If you plan to integrate a Salesforce CRM solution for your business, you are on the profitable side. But Salesforce comes with vast potential, and companies often fail to determine it, which falls in their project. If you want to explore the unlimited potential of Salesforce, you require to hire Salesforce consultants.
Yes, Salesforce consultants are your reliable partner that further supports you to attain rapid growth and enhance customer satisfaction. As earlier said, Salesforce is an extended platform with an inclusive range of products and services.
It contains several services like-
⦿ Commerce Cloud
⦿ Sales Cloud
⦿ Service Cloud
⦿ Data Cloud
⦿ Marketing Cloud
⦿ Vaccine Cloud
⦿ IoT
⦿ Community Cloud
⦿ Manufacturing Cloud
⦿ Analytics Cloud
⦿ App Cloud
⦿ Work.com
These varieties often leave companies in confusion about which Salesforce services to opt for. Here the Salesforce experts help you to customize your CRM solution according to your business requirements.
This blog will help you understand how salesforce consultants help you with various leading cloud services like service cloud, marketing cloud, and sales cloud.
So let's first start with Salesforce Service Cloud.
What is Salesforce Service Cloud?
Salesforce Service Cloud is one of the most popular and widely used customer service software solutions. It is a service management platform that helps organizations provide excellent services to their end customers and partners. The end goal of this service management platform is to pace up the one-on-one marketing relationships with customers through multiple channels and devices.
Service Cloud is considered one of the best CRM solutions for sales associates. It listens and responds to customers via several social platforms and automatically routes the cases to respective authorities. It gives organizations a complete 360-degree view of their customers and helps them deliver innovative and quick services.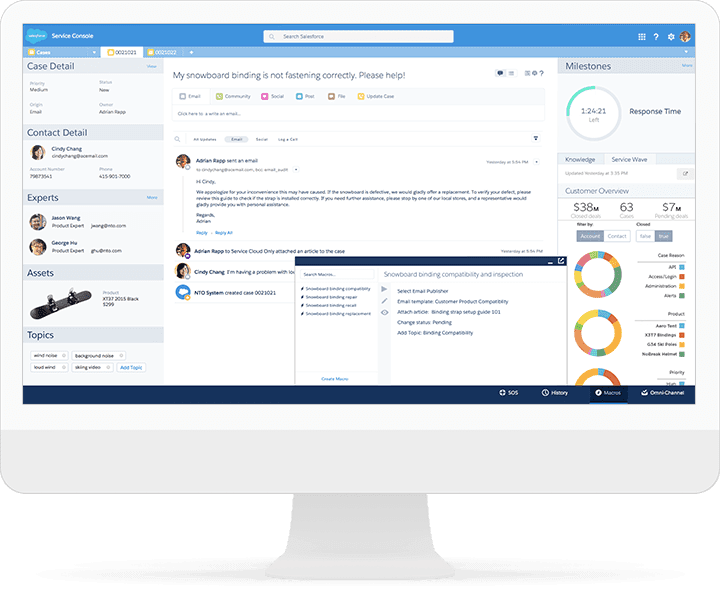 From live chat to knowledge management, Service Cloud helps you manage cases faster, provide more innovative agent workspace, omnichannel routing, asset and order management, and deliver support everywhere.
Why do businesses require to hire salesforce service cloud consultants?
Delivering innovative and fast services to customers and increasing the business's productivity is the ultimate goal of every second company in the market. To make customers happy and satisfied, companies integrate highly rated customer service software solutions.
If an organization plans to implement the Salesforce service cloud software in their existing system, a few things hit the business persons' minds, including the set-up of the service cloud, its offerings, and seamless working. Here the Salesforce service cloud consultant comes into the picture.
Hiring Salesforce Service Cloud Consultants will help you-
Design and implement the service cloud solutions that help you meet your business requirements and contribute to long term business success.
With strong analytical and problem-solving skills, they help you to map your business objectives with Salesforce features.
The salesforce consultants will help you implement service cloud features and functionalities into the existing system that automates and streamlines the complete customer service and support lifecycle.
The consultants can anticipate and mitigate risks. It helps you take necessary actions and improvements when required and deliver superior, efficient services.
The certified Salesforce service cloud consultants can discover when to incorporate custom application development or third-party applications.
They help you identify the capabilities for case management utilizing social media like Social Hub, Salesforce for Twitter and Facebook.
Empower your sales team with accurate and latest customer information that enable quick and intelligent decisions.
Moving onto another superior salesforce service- Salesforce Marketing Cloud.
What is Salesforce Marketing Cloud?
Marketing Cloud is a pre-eminent salesforce platform that is specifically created for marketing automation and customer engagement. It is a platform that supports marketing phases, including omnichannel campaign execution, active customer journeys, social media engagement and advertising, data management, and more.
The Marketing Cloud platform comes with two components, "Studios" and "Builders". These components are used to manage and engage with communication channels and maintain data, content and customer journey.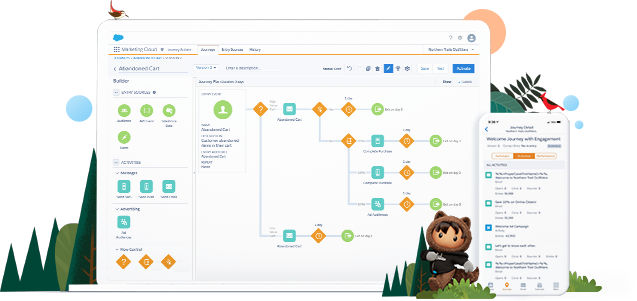 With the Salesforce Marketing Cloud, businesses can get customer engagement in real-time; they get an opportunity to connect with their customers over multiple channels, including phone, email, text, web and mobile apps.
Now let's discuss-
What are the benefits of hiring Salesforce Marketing Cloud Consultants
Sales and Marketing have always been the critical pillars for businesses to drive engagement and revenues. Therefore aligning them with the emerging technologies empowers your organization to make crucial decisions and bring more value to your business.
When it comes to implementing Salesforce Marketing Cloud, it is essential to plan out each component based on priorities and planned usage.
It defines many aspects, including platform configuration, marketing technology stack and the project timeline. A proper implementation becomes the base of the long-term success of your project with the salesforce marketing cloud.
Hiring Salesforce Marketing Cloud Consultants will help you with-
Define your marketing objectives with Salesforce, whether you require detailed reports, sales cycle or email marketing campaigns to automate your sales-related processes. Salesforce consultants will help you with that.
They help you leverage the power of marketing automation that allows your marketing and sales department to remain focused on solving higher-level difficulties seamlessly.
Salesforce Marketing Consultants assist you in understanding, learning and engaging with your customers via multiple sources.
The consultants will recommend the best possible salesforce service edition that helps you address your business challenges without additional expenses on unnecessary functionalities and features.
Help you with market research and analysis to target prospects across various channels.
They assist you in designing personalized sales and marketing workflows that enable you to build active engagement on the platform through social media activities like targeted advertising campaigns, personalized customer journeys, and more.
Support you in simplifying time-consuming marketing activities, generating qualified leads, personalized touchpoints, and calculating marketing ROI.
Now let's discuss the other big salesforce service- Sales Cloud.
What is Sales Cloud?
Sales Cloud is one of the preferred services of Salesforce that help organizations to grow their business, boost productivity and make quick, intelligent decisions. Salesforce sales cloud is an all-in-one tool that efficiently manages and automates entire sales processes via one platform.
From managing leads, monitoring pipelines accurately to closing more deals quickly, Sales Cloud assists businesses to achieve successful sales from anywhere in the world. According to the market reports, Salesforce brings in $5.19 billion per year in fees related to Sales Cloud. That's 25.97% of total subscription and support revenues, making it the world's most trusted sales automation software.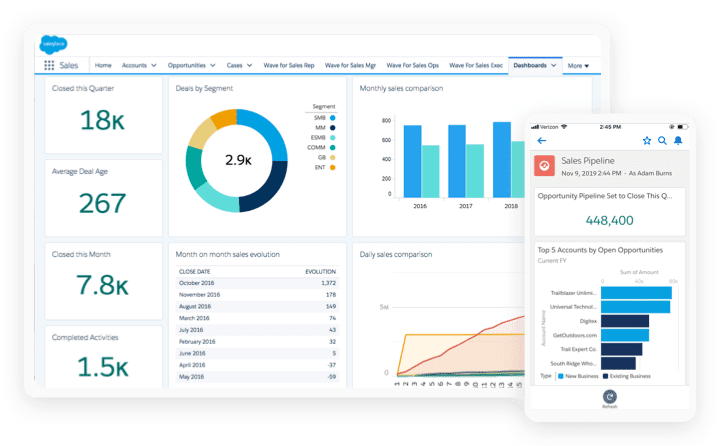 One of the best examples of using the sales cloud is OLX that has witnessed an increase of 35% in customer visits per salesperson per day.
Why hire Salesforce Sales Cloud Consultants a smart decision?
The Salesforce sales cloud is wholly focused on enhancing the efficiency of the organization's sales teams and boosting the sales of the enterprise. With this software solution, businesses can quickly get an idea about the potential of a lead. It also enables them to expand their contacts base and tap new customers efficiently.
Integrating this sales platform in your business will automatically open the door of opportunities for new leads and customers.
Hiring Salesforce sales consultants will help with-
Sales cloud consultants will help you to create custom-tailored solutions that perfectly fit your business demands.
They provide comprehensive end-to-end sales cloud support and training that help organization's extract as many benefits of sales cloud.
Whether you are looking to implement the sales cloud software from scratch or want to customize it in your existing solutions, the certified salesforce sales cloud consultants can do it for you.
When an organization is confused about choosing the suitable edition of the sales cloud for their business, the sales cloud consultants help them map their business requirements, future goals, challenges, and IT strategies.
If a company is looking to integrate the sales cloud in other third-party solutions or existing applications such as ERP, social media, CTI and eCommerce platforms. The salesforce integration consultants will help businesses to accomplish such requirements.
Not only implementation and integration, but the sales cloud consultants can help organizations to migrate their existing CRM to the sales cloud without breaching their data security.
Final Words
So these are a few benefits of hire salesforce cloud consultants while opting for Salesforce in your businesses. Implementing a salesforce software solution into the business is not enough for achieving success. A company must know how to get the comprehensive benefits of that particular salesforce solution to win over the market. And here, the salesforce specialists play a vital role. Undoubtedly they have more experience and a greater understanding of this platform; they know how, when, and where to use that particular salesforce solution to bring value to your business. Therefore hiring salesforce consultants is always an intelligent decision that organizations must go for.
Indeed it is a long post to read, but we hope this post clarifies what significant role a salesforce consultant plays in achieving your business goals? To know more about salesforce services, schedule a call today; we'd love to hear from you.