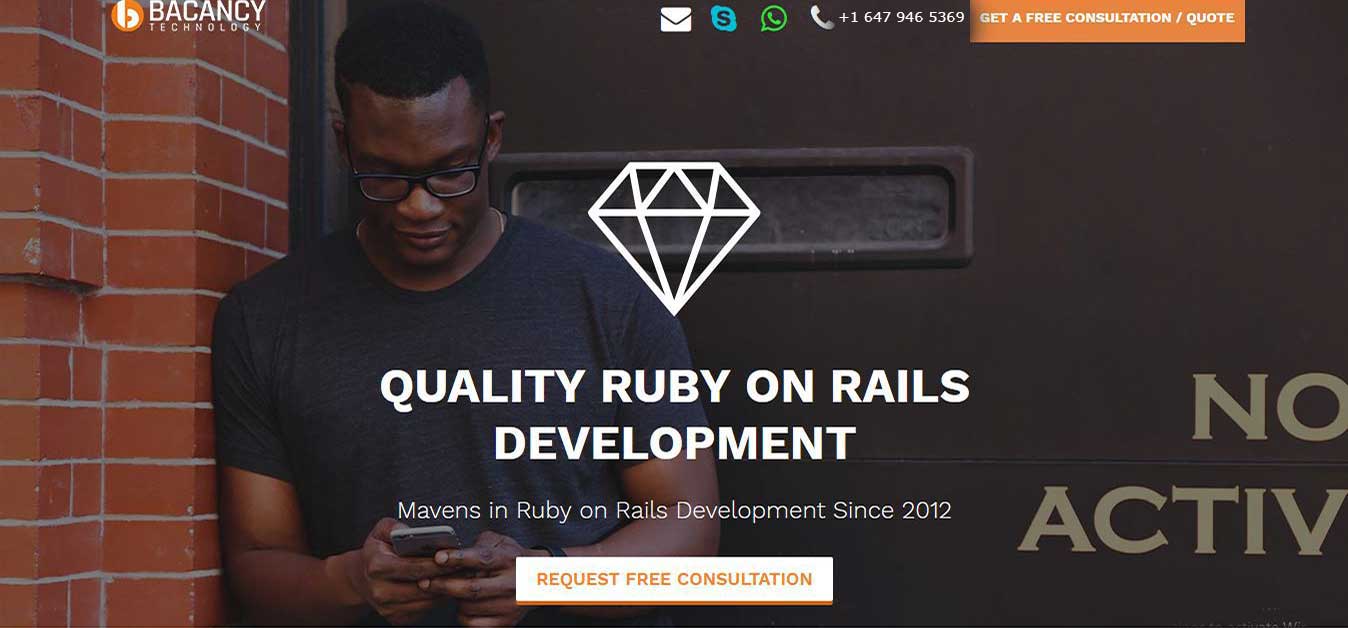 Since competition in IT is prevalent, we need quick web and mobile application development services alongside cost effective too! Keeping this phenomenon of cost and time, Remote developer and Outsourcing services has emerged as the best option.
Ruby on Rails (RoR) being a really very powerful framework has become the first choice of most enterprises so as develop web applications quickly and effectively. Twitter, Hulu, Shopify, GROUPON, GitHub and many more are some popular examples of RoR.
At Bacancy Technology we carry experienced RoR developers since our inception. Our enterprise lies in RoR, PHP and .NET web and mobile based applications.
To reach every corner of the world we carry remote developers serving you as per your requirement and stipulation. Thus where ever you are in the world you can easily get cost effective, timely and ingenious application development services via our remote developers.
Skills Our Developers Possess:
Proficiency in Web and Mobile Application Development using PHP, RoR, .NET, iOS, Android and many more
Good knowledge of Relational Databases i.e. Postgresql, SQL, MySQL and more
Familiar with Front-End Development using Javascript/jQuery, HAML/SASS, AngularJS, NodeJS, EmberJS and more
Strong Portfolio showing their expertise and work done perfectly in technologies from Ruby on Rails to PHP up to .NET, Android, and iOS.
Expertise in hottest frameworks like Laravel, Phalcon, Symfony, Code Igniter, Zend and many more.
Developers with relevant skill and expertise as required by clients globally
Benefits of Choosing Bacancy Technology for Remote Developers:

5+ years experience
Prestige on Clutch- https://clutch.co/profile/bacancy-technology with over 15000+ worked hours
Regular reporting of work to clients via project management tools such as Asana, Pivotal Tracker, Team Foundation Server and more
Uninterrupted Communication System
NDA for client's confidentiality
Interactive Applications with Agile Working Method
Dedicated developer working only for you
Use of hottest and latest technology
Timely delivery of product or project and many more

Remote Developer Services at Bacancy:

Hire Ruby on Rails Programmer Remotely
Hire Remote PHP Developer
Hire Remote .NET Developer
Hire Remote Android Developer
Hire Remote iOS Developer and many more
Bacancy Technology has become the synonyms for Hire Ruby on Rails developers with over 5k+ delivered git commits and 60+ rails applications developed. Bacancy Technology is a team of Ruby on Rails experts and each of our developer has in-depth knowledge and extensive experience in this area of a field. Hire Ruby on Rails developers to drive customer engagement and boosts innovation in business.
So, if you are agreeing with the virtues and wondering how Ruby on Rails fit in your business idea for your next product or application, then get in touch with us at solutions@bacancytechnology.com to talk to our expert.
---
---