The tech industry is one of the fastest growing industries in this modern world. According to a trends report by CompTIA, "The global information technology industry is on pace to reach $5 trillion in 2019."With its growing popularity, entrepreneurs are recognizing the opportunity that it holds.
That is one of the prime reasons why a lot of new up and coming tech companies have been launched in the market. A lot of companies are now looking to either invest in or create their own digital product to be launched.
If you are one of those enthusiastic entrepreneurs looking to delve into the tech industry with a product or service of your own, you must be equipped with enough knowledge about the overall software development process as well. No matter the product, mobile application, web application or custom software, the knowledge of web development is a must.
This is based on the type of product you're looking to build. You must have an idea as to what industry your software is going to target, the team you would require to develop the same and the scalability of your project.
One of the most important aspects of web development is defining the technology stack for the same. This will help you understand the team that you shall need and the kind of developers you will need to hire. For this, first, let us get insight into the technology stack required for web development.
What Exactly Is A Technology Stack?
When you are looking to develop a digital product, there are a lot of aspects that are to be considered. Multiple programming languages, tools, and frameworks are required to develop software or an app from scratch. The combination of these aspects is a technology stack.
What tools, languages and frameworks required? For this, it is necessary to understand multiple parts of web development, each aspect needing a different technology stack.
What Type Of Developers Needs To Be Hired?
Here are the three main parts of the app or software for which you need to hire skilled developers:
1. The Front-end
Front-end is the visual aspect of the software. This is the part that a user sees when they interact with your software. Think of applications such as Facebook or Instagram. The 'Feed' that you see the features that you interact with, what is displayed on your phone is the front-end of these applications. Here are a few languages used to create these visuals i.e. the front-end:
HTML

HTML (Hypertext Mark-up Language) is one of the most basic and most popular languages used to create an overall structure of an application or software.

CSS

CSS (Cascading Style Sheet) is the language used mainly to define the designing aspect of an application. CSS is used to develop the visuals of an app.

JavaScript
JavaScript is used for more dynamic and interactive visuals such as animations or video integrations. Angular and Reach are two of the most popular forms of JavaScript these days.
2. The Back-end
Back-end defines the functionality of an application. Again, using the example of applications like Facebook or Instagram, you comment on a picture and your comment is instantly posted on the feed. The entire process for the same is carried out through the back-end.
The basic functionalities, the 'behind the scenes' aspect of an application which is not visible to the direct user is called back-end. Some of the most popular tools and languages used for back-end development are Node js, PHP, Python, Java, etc.
Back-end, in simple language, is where all the logic is developed and coded for the smooth functioning of an application or software.
3. Middleware
The logic for software is developed through the back-end. The visual platform for user interaction is built through the front-end. But what about the information and the data generated through this entire process? How is the data management process for an application carried out? What is the communication channel between the front-end and the back-end?
This portal of communication where front-end and back-end units and the platform where all the data generated is stored and managed is called the middleware. Think of it as a database management platform for your overall application or software.
Now that you're equipped with the basics of web development and the multiple aspects of development, you must comprehend the team that you shall require to get started on the same.
You can figure out the particular languages and frameworks that you need your developers to be skilled in and hire individual developer's expert in that particular aspect of development. Either, you can hire full stack developer who are well-versed in all these languages and frameworks or at least have a good understanding of all aspects of web development.
Why Hire Full Stack Developer?
Companies and organizations dealing with web development often lean towards hiring full stack developers.
According to US Labor statistics report, demand for full stack developers reaching 8,53,000 by 2024. In India alone, the demand for full stack developers had increased by 20% in 2018 according to a report in Zee Business.
Some More Reasons to Hire Full Stack Developer
Here are a few reasons as to why companies often lean towards hiring full-stack developers who have knowledge of all the attributes of development rather than hiring individual developers with a niche skill-set:
1. Cost-effective
Investing in multiple software developers skilled in individual languages might provide you with the necessary expertise. But, a drawback to the same is the additional cost to be incurred.
Hiring full stack developers will reduce the team size without compromising on the skill-set of your tech team. This will help you save up on the salary cost of individual developers relatively. Hence, hiring full stack developers is a more cost-effective solution.
2. Time-saving
To hire a full stack developer for your project is a more time-effective solution as well. This is right form the overall hiring process, trusting the aptitude of candidates, time and money invested in recruitment to the orientation process.
It is a time-saver. It also simplifies the tech team management process for the person-in-charge. Rather than having to coordinate with, multiple developers for multiple aspects of the project, it is better to have a smaller team of full-stack developer's in-charge of particular aspects of the project.
3. Coordination with DevOps
Full-stack developers are also well-equipped with the DevOps process. They have a better understanding of the system of how the entire development process is carried out, the sprints and the planning process carried out by DevOps.
Hence, it is a better option to hire full stack developer from the perspective of DevOps as well.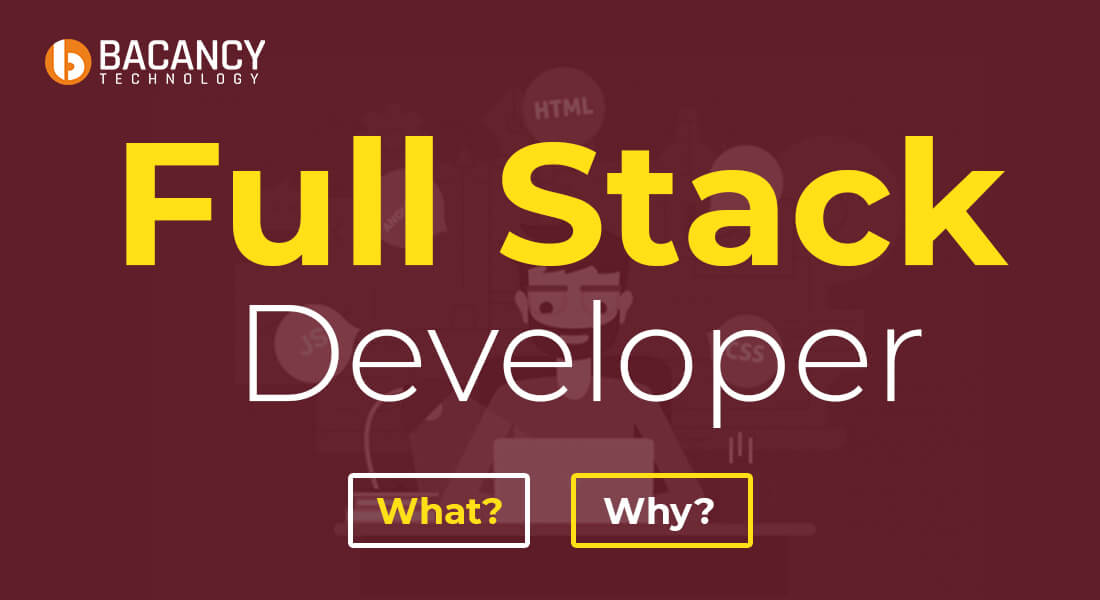 What Things Need To Be Taken Care Off Before Hiring Full Stack Developer?
It is because of these benefits that the demand for full stack developers is on the rise. If you're considering hiring full stack developers for your project, there are a few things you need to do before you begin the process.
1. Have a clear Idea in Mind
It is best to have a clear idea of the technology stack that your project would require developers for particularly. It is best to define the individual languages you'll need to expertize in for front-end, back-end and the middleware.
For this, you must understand the basics as to what industry will your project target? How basic will your application be? If at all you shall need any animations or advanced features to be developed for your software or application, etc. This will help you understand the overall skill-set that you need to look for.
2. Research, Research and Research
Once you're clear about what kind of full-stack developers you're looking for, do your research. Check out the current market requirement for developers, understand the hiring process for finding talented developers, etc. you can even research and prepare your own sample task to be provided to these developers.
Research is the key to finding the perfect fir when it comes to full-stack developers. Have a thorough background check with previous work samples and references of the developers that you're considering for your project.
It is best to define an MVP (Minimum Value Product) i.e. the first prototype of the product that you shall launch in the market to gain user reactions. This will set you on the right path for the development and the hiring process. You must also keep in mind the scalability of your product as well as the tech team that you're looking to build.
Concluding Thoughts:
Thus, the overall software development process along with the task of hiring full-stack developers for the same can be a little overwhelming. But, if done right, it can take your product to the next level, guaranteeing market success.
Looking Forward to Hire Dedicated Full Stack Developer's Team For Your Next Project?
If yes, what are you waiting for? Bacancy is one of the leading web and mobile app development companies that hold 10+ years of remarkable experience in serving clientele globally with the unmatched and astounding products. Our portfolio consists of 500+ projects for diverse industry, all thanks to our team of skilled and dedicated employees.

Chandresh Patel is a founder & CEO at Bacancy Technology. He is a founder of vision and mission of Bacancy Technology and constructed work ethics
@bacancytech
to achieve that vision and mission. He oversees Business development, day to day execution of strategic planning and also looks after customer service & delivery. He's an avid blogger and writes on the publications like
Dzone
,
e27.co
,
Marketo
,
Smart Insights
and featured in
Insightssuccess
.