October 16, 2019
5
min read
Last Updated on February 16, 2021
With billions of apps in the play store, staying ahead of others is no less than a challenge. Competition is at its peak, and no matter what you think or perceive, the industry is one the cusp of disruption.
At times, it might so happen that while you are still working on your unique idea, someone already built a product basing on precisely the same idea that, at your end was under processing. This is not just a threat but also incurs tremendous costs. Knowing that your idea is already up in the market and the difference being the owner is anyone but you, hardly can you continue with the same USP.
But, where is a dent, there has to be a coverup, and in this case, the best you can induce is MVP.
And what is this MVP?
MVP is a minimum viable product, one that developers develop to announce their upcoming product. It is the simplest version of a product capable of solving specific problems. Having an MVP is like validating your startup idea and, alongside, test the product in a real-time scenario. Pre-launch testing helps developers get a better view of the market, restructure their business idea and finally, come up with a product that is not only anticipated but also awaited.
What makes MVP the talk of the industry is it's
Simple interface
Has a restricted feature set
Scalable
Cost centric
Furthermore, MVP is more of a workable product and not just a minimum viable product.
According to research, around 70% of the startups fail to shine, and the reason being poor market acceptance. Using an MVP to promote your idea is an excellent way to understand the market, get feedback and, likewise, gain user trust. Even better, having a working model of the idea streamlines the pitching process and attracting investors.
What's say? Final product or an MVP first?
The difference – MVP vs. Original Product
Opining on the fact that adopting MVP is a better approach, I got to thinking what benefits does a company has when it works with MVP and when it chooses to move ahead with the actual product (without having tested with MVP)?
To put it this way, a company that starts with an MVP before launching the final product can:
(a) Have a better view of the customer's expectations and improvise the product in the development phase itself
(b) Streamline money with time to make the most out of the development
(c) Target the right audience
(d) Grab investor's at an early stage
(e) Test the market value of the product
All of this is compelling enough to convince a developer to build an MVP first. Right?
You would be surprised to know that even the top industrial players started with an MVP. Where dropbox used a video to promote their services, Uber tested their base in San Francisco first with a credit card based payment approach. Remember, it is not the idea but the approach that determines the success. If you are wondering about developing an MVP for your business idea, I would suggest you go with flutter development.
Why Flutter?
Working as an open-source cross-platform app development framework, flutter is packed with tools and features that support the development of apps faster and quicker. Also, flutter has a considerable community base, which gives developers the ease to be heard and solve their problems.
Sounds good?
Well, every framework voices on being the best, and they are definitely in some way or another. What we wish to deduce here is how flutter gels with MVP development?
Flutter ~ MVP
Low-Cost App Development With Flutter For MVP

It is a known fact that MVP helps to develop cost-effective apps and flutter seems to offer the specific feature. Considering the fact that flutter is a cross-platform app development framework, developers need to code only once, and the same can function across all platforms. Further, a single code base ensures fixing issues on a single stance. Developers need not employ separate solutions for separate problems as the code has been reused and similar for all platforms. Being backed by native features, MVPs developed using flutter are feature-packed and pixel perfect.

Building MVP Apps Faster With Flutter

Where MVPs look for faster deployment, flutter ensures rapid development. Given the hot reload feature in a flutter, developers can view changes in a real-time scenario, or as, and when the modifications are made in the code, it gets reflected in the interface at the same time. Spontaneous visibility of the alterations turns the entire process time saving, leading to quicker integration. Using the above features, the developers, designers, and the code testers all work in conjunction to get bugs fixed as early as possible. Nobody needs to wait for anybody. As everything takes place live, they can continue working on app enhancement.

Attractive Designs By Flutter For Attracting Investors

One of the most critical aspects of MVP is that it helps the entrepreneurs or the developers promote their product to the outside world and in a way, attract investors' attention. Now, if your product has a frictionless interface and alluring designs, the possibility of grabbing attention just doubled, and with flutter, you can triple the extent.

Flutter has an extensive set of UI features, compelling designs, and embeds the latest tools or technologies. With everything is a widget approach, apps built using flutter are seen the gain higher traction as compared to others, and similar could be the case with your MVP. Using flutter, you can integrate motion rich widgets, behavioral and interactive interface, and even customize them, if needed. The support to 2D accelerated APIs allows you to embed animation in your MVP and build engaging apps to better influence the investors. Remember, the first impression is the most crucial one. If they like what they see, they will hear you more!

Reduced Resources With Flutter For MVP

We know that MVP works on minimal resources, and we also know that flutter owns firebase integration. Meaning that the latter does not require server-side programming, and the former can use it to build apps in the least possible time, reducing the time to market. Flutter's integration with firebase includes features of Authentication, Analytics, hosting, cloud functions, real-time database, crash reporting, cloud storage and many more. So you would not require any additional resources to make scalable and competent apps. A serverless app backed by google, nothing could be better than this.
What's Your Call?
From quality to quantity, features, and back end support, flutter has all that takes to build an excellent MVP for your business idea. Surfaced over the above, flutter has google support, meaning that there ain't a thing that cannot be created with flutter.
No doubt, every product, and every idea are unique, but to stand out in the market, you need to adopt something that is faster and at the same time, cost-effective. Flutter is precisely what you are looking for. Attractive designs, feature-loaded, Google support, and serverless programming, what else can you expect when developing an MVP with flutter.
If you are still in doubt, then I would like to suggest you get in touch with our expert and schedule a brainstorming session to gain detail knowledge on why you should choose Flutter for MVP development. But, if you are already convinced and planning to hire flutter developer from us, then directly get in touch with us at [email protected] to discuss your specific project requirements.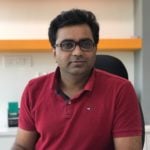 Chandresh Patel is a founder & CEO at Bacancy Technology. He is a founder of vision and mission of Bacancy Technology and constructed work ethics
@bacancytech
to achieve that vision and mission. He oversees Business development, day to day execution of strategic planning and also looks after customer service & delivery. He's an avid blogger and writes on the publications like
Dzone
,
e27.co
,
Marketo
,
Smart Insights
and featured in
Insightssuccess
.