Last Updated on July 12, 2019As technology advances, facebook fits itself in the flow and emerged with modified API 'v2.0' or 'version 2.0'. Incorporating changes necessary for developers to accommodate; here are some points differentiating v2.0 from v1.0.
Evolving from API v1.0 to the newly modified and structured API v2.0, facebook placed emphasis on privacy of the user, logging in versatile apps. Changes have been introduced in server side APIs, SDK, Dialogs and related areas, thus affecting developers' community more than users. Following are the highlights of technical modifications made in API v2.0, being launched at f8 2014:
Facebook Login, in apps:
Grant for All friends_*- Unlike v1.0 where an app can acquire permission to see data of a user's friend like their birthdays, likes, followings etc, v2.0 has arrived rigorously removing all such permissions.
Friends authorized to your app will be included- In v2.0 the list of friends returned by the user will be limited to the persons who also have an access to your app while the whole list of friends was gettable in v1.0.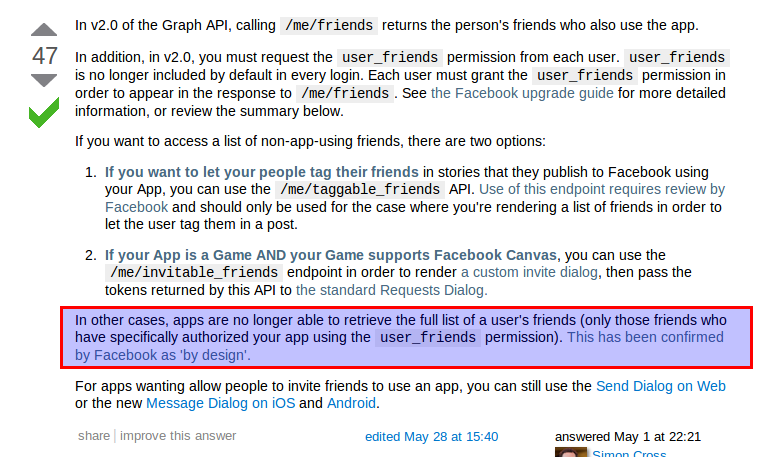 "Basic info" turned into "Public profile"- Basic info i.e. default permission earlier has been modified and turned into Public profile. Public profile steps back disclosing a user's friend list.
Review of apps asking for bulk information- Facebook will now undertake scrutiny of apps asking for more than limited measure of user friends, public profile, email etc.
Further Changes:
Audience network- A widget has been developed for IOS and Android that will provide high quality and significant ads to the users.
Notable and numerous changes like Message Dialog, App Links, Like Button for Mobile, JavaScript SDK have been installed in the new API version. Perceptible point over here is that all these changes are going to affect developers' more than general users.
Need Help?
To assist you regarding application development, consulting service etc using the new facebook API v2.0, Bacancy Technology has emerged as one of the leading offshore application development company with footmarks in India and USA. To overcome such changes to me made in your application, Bacancy provides you a full stack offshore consulting services along with application development.

Storyteller, Marketer, Developer, Writer, Thinker, Enabler, Rescuer, Wordsmith. I see myself as a Content Strategist. I love to write about anything and everything that pertains to the digital world, as I believe it's an ever evolving space creative in its own way. I love facing challenges, Blogging and sharing technologies