Last Updated on October 5, 2021 | Written By: KrishnaVyas
November 5, 2018
6
min read
Ruby on Rails is an open source framework using Ruby language to develop web applications. Associated with an Agile methodology, it allows the very fast development of web applications. The major advantage of Ruby on Rails is therefore its high productivity. Ruby on Rails fully responds to complex issues, special requests and greatly reduces the development time of web applications while maintaining a very high quality. Ruby on rails accompanied by Agile project management methods is the assurance of having an innovative, scalable and efficient website. To go a step further, let's start with a presentation of the Ruby language, the language on which Ruby on Rails is based upon.
Ruby on Rails has qualities that other frameworks do not have and all its strength lies in its flexibility, dynamism, productivity and comprehensive tools.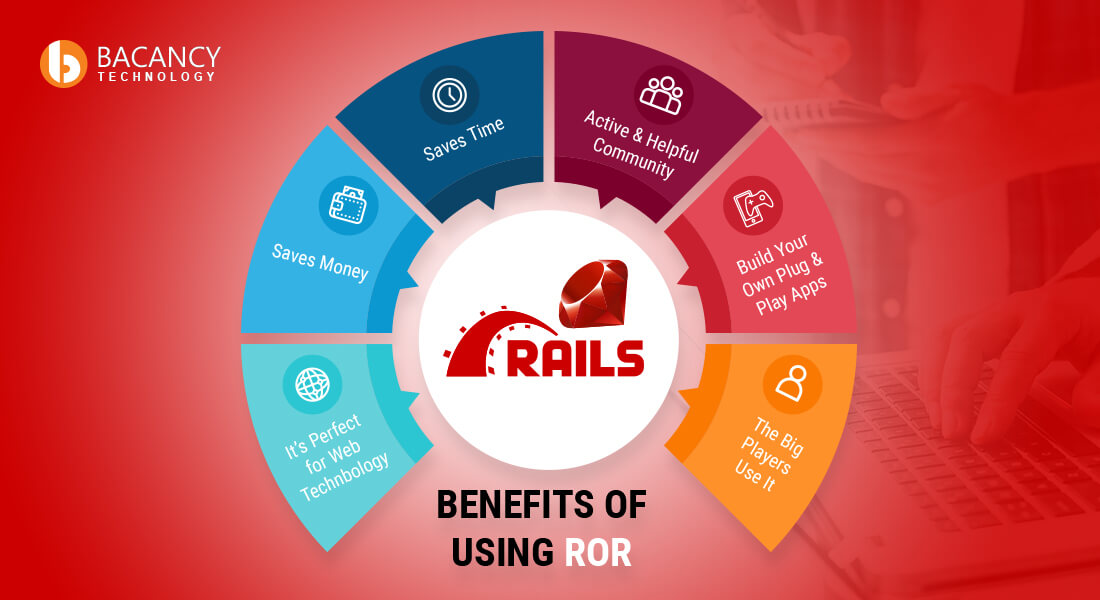 Ruby, An Object-Oriented And Multi-Paradigm Language
Ruby on Rails harnesses the qualities of the Ruby language to adapt it to web development. Ruby is an object-oriented programming language, inspired by Smalltalk and Lisp. The object-based programming improves quality, productivity, design, maintenance, and evolution. All these qualities presented by the Ruby language are exploited by Ruby on Rails. RoR is coupled with the multitude of tools, gems and plugins those are associated with the strong Rails community which is the ideal web application development tool.
Ruby on Rails, A Complete Framework
Ruby on Rails is designed on the MVC model (Model: ActivateCord – View: ActionView – Controller: ActionController). More than any other framework, Ruby on Rails is associated with a philosophy: the pragmatism illustrated by "Convention over configuration". This makes it an interactive tool and a certain simplicity. Conventions make it possible to avoid thinking about the configuration before proceeding with the development. The configuration will be done as and when the need for development. This does not imply that we cannot configure, on the contrary we can even configure everything we want.
Conventional programming not only eliminates the need for immediate configuration but also reduces the lines of code. The code is structured and has a powerful infrastructure. It's a radical opposition to other frameworks and that's what makes it one of the most "beautiful" and readable languages. Soon you will understand the need of RoR for complex business applications or for the recovery of code during the evolution of the application.
It is a framework that encourages good practice through the automation testing tools that are available i.e. the code generators provided with RoR. Generators allow you to create the code that is often used so you do not reinvent the wheel every time. These generators are a huge time saver and they can make websites even faster.
The Agile Method For Successful Rails Projects
Ruby on Rails is in itself a great tool that must still be apprehended and nothing beats the experience of the developer to push this framework up to these retrenchments and exploit all these possibilities whether in configurations or the management of mounted load or security. Experience in tools is an important variable for the rapid and complete development of a web application. Managing a project is another important variable. Designing a web application, developing it, maintaining it and making it evolve is a long-term project. Faced with the problems of each project, we adopt an Agile methodology.
Our conception of the Agile methodology is relatively simple: a regular exchange with the customer, a short presentation of the tasks in process (iteration) and to always be interested in the essential functions.
Starting a project with the Agile method involves some experience in developing web applications. It is a flexible project management where at each iteration the application can change in relation to the specifications at the request of the client. The customer has a very important place in this process. Agile projects involve developer responsiveness that is only allowed with experience and dexterity. The Agile methodology is a disruption of practices and results in a website with high quality.
The Agile method is particularly good when you already have a few lines of code under your belt or a little web development experience. Each project has a vocation where it is necessary to understand the "business model" that is behind the web application. We recommend you to Hire Ruby on Rails developer who are experienced in Agile methodology for a smooth transition of your project.
Therefore, Start-ups for large groups have chose to design their websites and web applications with RoR. Here are some illustrations of the possibilities they offer:
1) Airbnb
Founded in 2008, it counts 15 million users and 250,000 homes in 2012.
Its success is due to its innovative concept which is to connect the user and the host without mediator.
The scalability of applications built with it is a big advantage. Thus, AirBnb can constantly enrich its service offering.
The latest feature is "Trips". It allows the renters to book on the place of their rental "experiences". These are activities imagined and animated by locals around their passions: Street-art in Tokyo, scuba diving in Cape Town with local enthusiasts for the protection of the oceans and so on. The idea is to be able to offer renters to live like locals.
Another new feature: AirBnB now offers i.e. accommodation for business travelers. The affected units also have the "AirBnb Business Travel Ready" badge.
2) Groupon
Groupon is best-known discount coupon site. It allows its users to locate Groupon products and services around the world. It is a web and mobile application made with Ruby on Rails.
Buying products via this application provides discounts of 50 to 70%. The use of coupons can be done at any time within the limits of the planned dates.
They have access to a whole range of analysis tools for their operations, a voucher verification system, and so on. The interface is easy to use and the rich browsing is a great demonstration of Ruby on Rails.
3) Basecamp
This web application allows to manage the collaborative work in a disciplined manner. The tasks in progress can be followed by employees as well as clients.
Its design is based upon on Ruby on Rails that allows it to display a simple and effective interface.
Let's see some of the possibilities offered by this tool:
a) File sharing:
To avoid losing data, all files are filed in the same place. You can upload files of any format, for example the models that the client can view.
b) Shared messaging:
It allows a direct and simple communication between all the participants of the project.
c) Private and general "to-do-lists":
There are lists those are fundamental to any organization of work. Here, the tasks can be assigned to a person those can be classified in terms of priority and deadlines.
d) The calendar objectives:
The principle of time management teams is based on a deadline and not an imposed schedule. The teams organize themselves. The tool allows you to manage the due dates of the tasks and the important steps of the projects. The late stages are indicated in red and at the top.
In summary, the key words of Basecamp are exchange, communication, flexibility and centralization of data.
4) Github
Finally, here is the essential platform for software collaboration with source code management and project hosting.
It's undeniably, THE Social Network of developers! All code enthusiasts find themselves there. It accounts for 9 million users in 2015 and around six million software project repositories. Github offers a series of online tools that allow you to collaboratively develop and control your code. It can be used to host its online sources as well. Again, the interface of this web application is made with the Ruby on Rails framework and many features are easy and quick to use.
Conclusion
Ruby on Rails is one of the best solutions for professionals and individuals to develop web projects. That is the reason not only big giants but the portals of tech geeks are designed and developed in Ruby on Rails.
If you ask about a RoR developer on Github then you will find our offer of Hire Ruby on Rails Developer Hourly Rate very economic.