Last Updated on February 25, 2022 | Written By: Riken Solanki
December 8, 2016
6
min read
Introduction
If you are wondering how much does it cost to develop an app like Quora? So, for the above question, every individual will come up with different answers. Most people will answer – It depends!
Generally, it takes approximately 800 hours of the time period and at the $20/Hour the cost equates to $16,000.
But, if you are still not convinced with the above given numbers and wondering, then let me get you through the straight answer.
Imagine a coffee shop. It's dark, and all kinds of people, such as lovebirds, classmates, business people, and exhausted employees, walk into the place and sit at the table, drinking coffee while being comfortable. Some tables discuss the cultural activities of the university; others discuss the latest offers on the market and few employees argue about their office work.
Now you are entering into a café, entranced with the activities around and perplexed where you fit in. Being a tech geek, the latest apps in the marketplace discussion, easily grab your attention. Titbits of apps knowledge,making you feel significant and your experiences purposeful. And you are acquiring gazillion bytes of valuable knowledge.
This, my friend, is Quora for you. https://www.quora.com/ has been registered for 6 years and ranked #120 in the world and ranked #22 in India.
How did the Quora app attracted audience?
The platform developers did it themselves a few months after the release; they created the content for the platform themselves. They asked and answered questions from their accounts. At the same time, another related and strong platform, Reddit, adopted a complex form. Instead of using their accounts, they created many fake accounts to show that different people post the posts. Creators of Reddit recently indicated that it would take a while for users to participate before they stop publishing themselves.
Why There Is Need To Develop A Web Application Like Quora
Take a look at these user statistics and data analytics that show the achievement of the Quora website. These figures motivate you to design your applications, such as Quora.
Daily Visitors: 2.1 million
Daily Pageviews: 3,421,990
Daily Bandwidth:200-250 MB
Daily Revenue: $54,795 USD
Website Worth: 2 billion
Server Signature: nginx
IP Address: 54.84.216.68
I think the above numbers are enough to make you understand why you should develop an application like Quora. And if you are wondering how much does it cost to develop an app like Quora? So, for the above question, we come across with different variations approximately 10 times a day. The answer always is – It depends!
Quora is not a simple Q& A database. It involves artificial intelligence concepts, NLP (Natural Language Processing), algorithms, and machine learning. To develop an application similar to Quora, you would require a team of developers & designers and some months of the time period to get the prototype.
Features of Quora app
After successfully creating your Quora account, let me introduce some of the basic features as it will help you to better understand Quora…
1. Your Activity Feed
The activity feed is displayed on your home page and it helps you with the content that interests you. The activity feed is about two important things; Topics and People.
Following Topics Just like Twitter functionality, it allows you to follow people on the micro-blogging site.
2. Add Answers to Questions
It let's you add an answer to the question with editing and adding later functionalities. You can even draft your answer if something comes up that demands immediate attention.
3. Sharing a Question and Answer
With your social media community, Quora gives you the ability to share your question or answer.
The Quora Inbox: The Quora Inbox is a message chatting box that helps you to take your discussion further.
Your Quora Profile: It is your personal portal to everything on Quora.
Quora Home: It shows a list of the relevant questions and answers of the people or community you follow.
There are numbers of other significant features Quora has to offer like,
Zen mode
Anonymously asking questions and giving answers anonymously
Upvoting and Downvoting the answers
Answer can be posted as a blog post
A2A price can be kept free and change accordingly as and when required
KPIs of Quora Application
1. Number of active users.
Total users refer to the numbers of active people and to grow in numbers by leaps and bounds, you should encourage people to have more followers by inviting their friends on this platform. Understanding your application's value can get you more numbers of users.
For example, slack is one of the successful team communication messengers. All of its features are also specifically designed to help the teams to be more productive and exchange information in a simpler way. So, if you want to develop an app similar to Quora, you will have to understand your targeted audience and then show them how they can leverage the benefits from using this product.
2. Retention rate.
Users acquisition is as significant as their retention rate. Lets the users synchronize their app to other social media platforms. Notify their contacts every time when a new person from their friend lists joins the application. Push notification will for sure draw attention to your application and throughout the day, there will be a favorable user retention metric.
3. Audience Engagement.
QnA apps are not just useful, but it is also entertaining to acquire more numbers of users. Making your application fun to use UI is the most important thing to work on. Creating your own new features like going anonymous, upvoting for the likable answer, downvoting for dislike, Answer edit suggestion, special thanks, and inbox chat to discuss further on the topic can help you promote your application.
Now that we have briefly looked into which KPIs you should consider if you want to create a web application like Quora, let us look into potential monetization strategies.
How Much Does It Cost To Develop A Web Application Like Quora
Considering all essential features a web application should have, here's an estimation on the cost of Quora – one of the most popular QnA out there. Our estimate includes versions for both iOS and Android, including design and backend.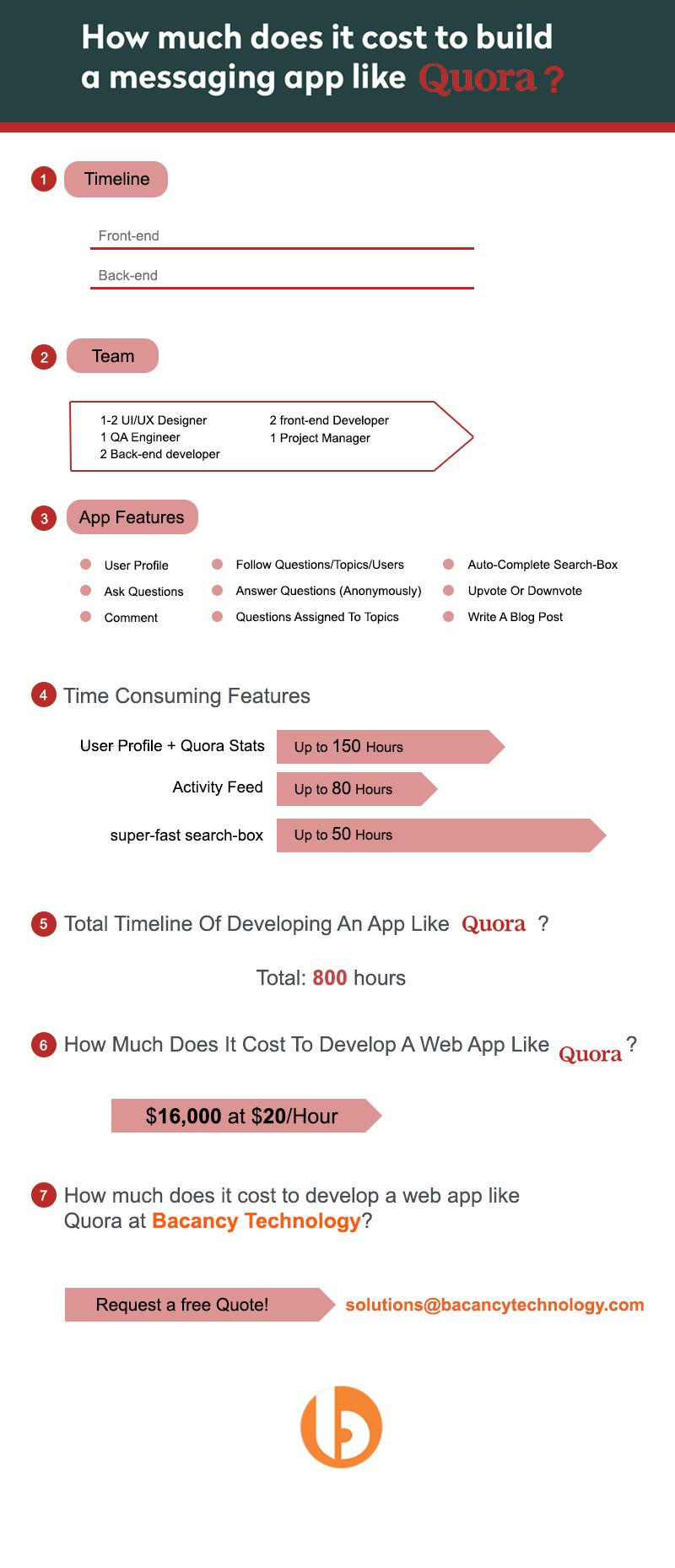 To conclude
Building a successful web application is a long-term process, choosing the right web developer is especially important. Do not go for rough estimates or the cheapest offer. Say right away no, if the one promises to build such platforms in 4 to 6 weeks. Instead, go to an organization with good performance history because you are choosing coders but going for partners. Going for an organization Bacancy Technology is the right decision, because we not just build another web app, but makes the most out of it and lead you and your application to success.
On the contrary, if you are looking for programmers to develop a Question and Answer app like Quora, you can hire Python developers from us. For more information Mail us at [email protected] and we will get back to you within 12 hours of the time period.